Regulators Request Data from 12 Automakers for Safety Review of Self-Driving Technology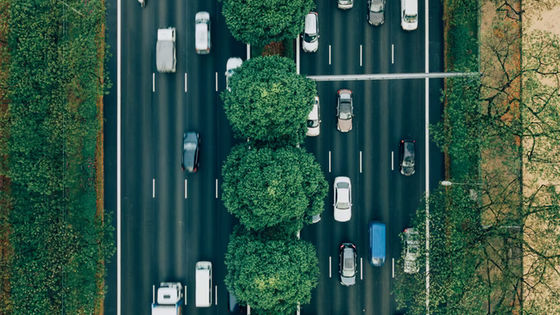 Following a series of collisions with emergency vehicles due to Tesla's auto-pilot function, the National Highway Traffic Safety Administration (NHTSA) of the United States has asked 12 major automobile manufacturers to 'drive assistance systems' following
an investigation into Tesla.
We are requesting the provision of data on so-called autonomous driving technology. This is an order from the authorities, and refusal to provide data could result in fines of up to $ 115 million.
NHTSA seeking driver-assist data from 12 automakers in Tesla Autopilot probe | Automotive News
https://www.autonews.com/regulation-safety/nhtsa-seeking-driver-assist-data-12-automakers-tesla-autopilot-probe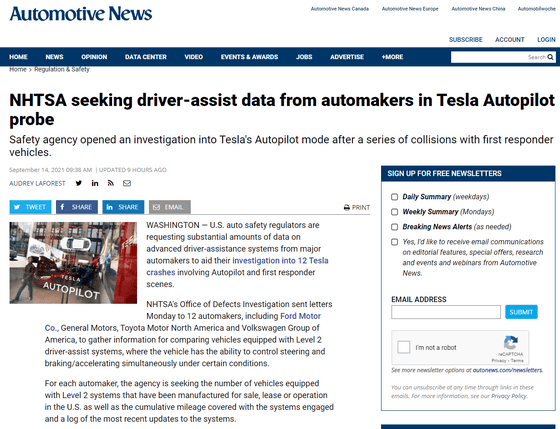 The investigation into Tesla Autopilot's emergency vehicle problem is getting bigger --The Verge

https://www.theverge.com/2021/9/14/22673497/tesla-nhtsa-autopilot-investigation-data-ford-gm-vw-toyota
NHTSA collects information about vehicles equipped with Level 2 driver assistance systems. 'Automatic driving' is classified into Level 1 to Level 5, and Level 2 is a function that controls steering, braking, and accelerator at the same time under specific conditions. NHTSA wants the number of vehicles equipped with Level 2 systems in the United States, the cumulative mileage covered by the systems used, and the latest update logs.
We know that Ford received the following documents:
NHTSA Ford letter | PDF | System | National Highway Traffic Safety Administration
https://www.scribd.com/document/525253207/NHTSA-Ford-letter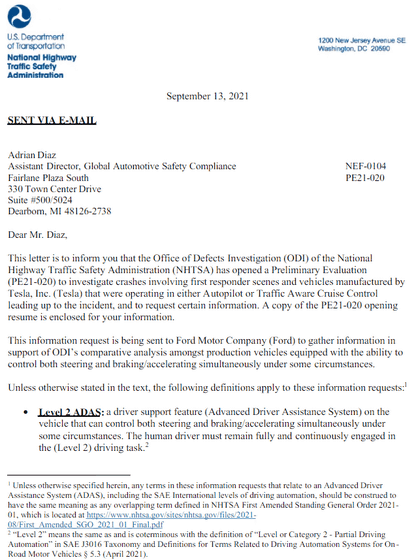 NHTSA has launched an investigation in the past 12 accidents in which a Tesla vehicle equipped with an 'autopilot function' collided with a stopped emergency vehicle, 17 were injured and 1 died. It is due to the circumstances. All accidents have occurred since the surroundings became dark, and the autopilot function software ignores warning lights, smoke bombs, cones, reflectors, and other items installed at the site to prevent accidents. rice field. A survey of 765,000 units is already underway for Tesla.


The US government agency has started a formal investigation of Tesla's 'autopilot function', and there have been a series of accidents in which it collides with a stopped emergency vehicle --GIGAZINE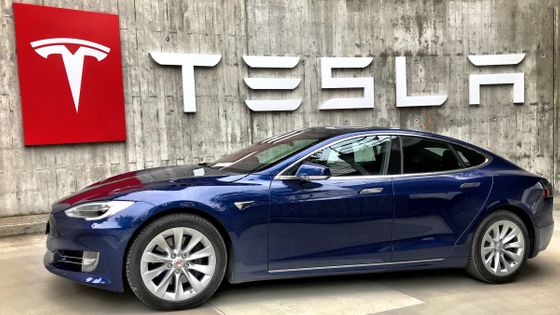 The deadline for data provision is October 22 for Tesla, November 3 for US-based Ford, GM, Stellantis, etc., and November 17 for other automakers such as Toyota, Subaru, Nissan, Honda, etc. I am.

Toyota has already announced that it will comply with NHTSA's request, but a VW spokeswoman declined to comment. The person in charge of another manufacturer did not respond to the comment request.


in Ride, Posted by logc_nt