Introducing 'Leonardo', a hybrid robot of bipedal walking and drone that can fly in the sky and can also skateboard and slackline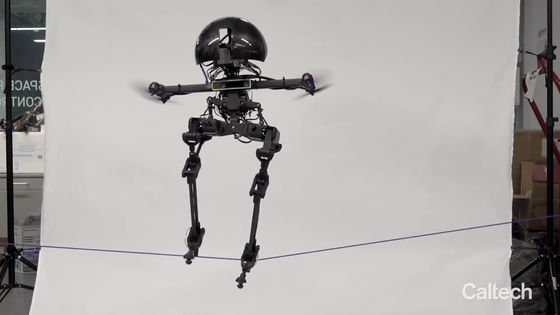 A research team at the California Institute of Technology's
Center for Independent Systems Technology
has announced the
Leonardo
biped robot, which can fly, skateboard, and slackline. Leonardo will be the first robot to achieve a high level of control and balance using articulated legs and propeller-based thrusters.
A bipedal walking robot that can fly, slackline, and skateboard
https://www.science.org/doi/10.1126/scirobotics.abf8136
LEONARDO, the Bipedal Robot, Can Ride a Skateboard and Walk a Slackline | www.caltech.edu
https://www.caltech.edu/about/news/leonardo-the-bipedal-robot-can-ride-a-skateboard-and-walk-a-slackline
Creepy Robot Combines Walking With Flying, Watch It Ride a Skateboard Like a Pro --autoevolution
https://www.autoevolution.com/news/creepy-robot-combines-walking-with-flying-watch-it-ride-a-skateboard-like-a-pro-171128.html
The research team at the Center for Autonomous Systems Technology developed Leonardo, inspired by the movement of birds walking on the ground and flying in the sky. The research team has realized hybrid movement that combines 'flying' using a propeller and 'walking' with two legs in order to reproduce the high balance feeling of a bird dexterously walking on a transmission line with a robot. ..
You can see how Leonardo actually works in the following movie.
Leonardo: The Skateboarding, Slacklining Robot-YouTube
This is Leonardo.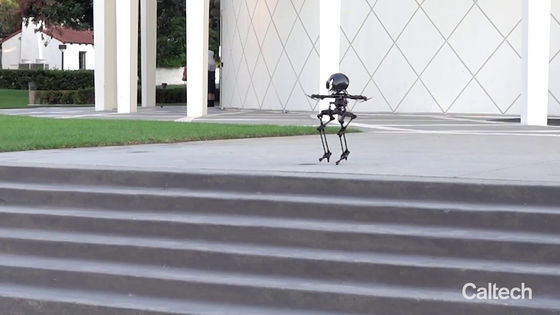 At first glance, it looks like a normal bipedal walking robot, but it flies softly ...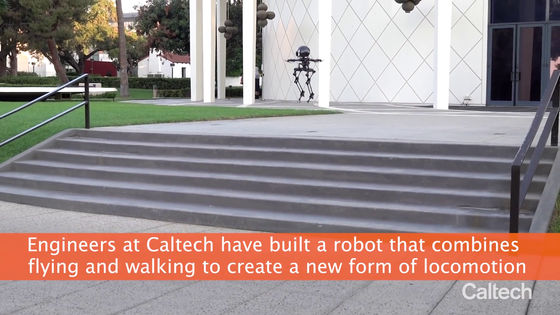 Just skip the stairs and land softly.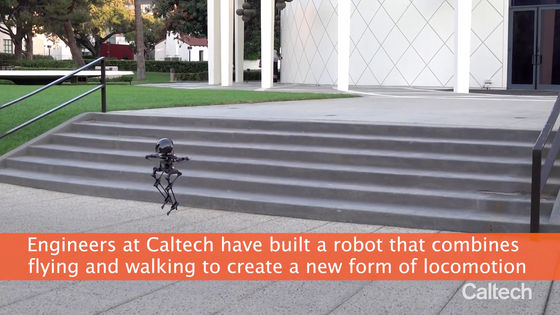 Leonardo looks like this, with two propellers facing diagonally outward on the shoulder part of human beings, which can be used to fly in the sky or maintain the system when walking. Possible. The leg is an articulated leg with three actuating joints. The current size is about 2 feet high.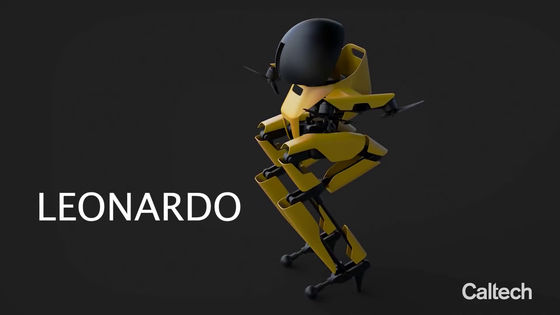 Leonardo is an abbreviation for 'LEgs ONboARD drOne'.



In addition to just walking and flying in the sky, we have realized a hybrid movement that uses the propulsive force of the propeller to assist when walking with two legs. This provides an amazing sense of balance.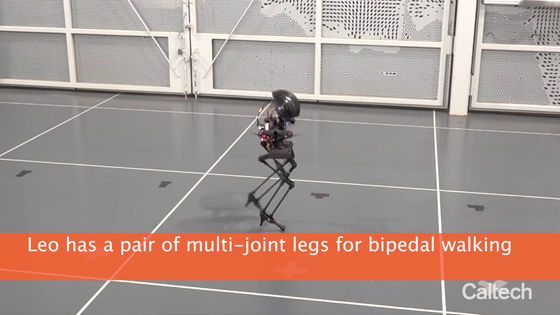 Standing on one leg ...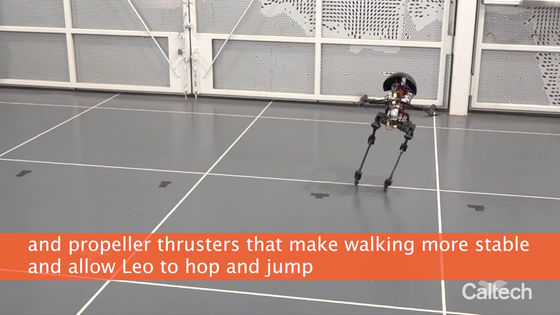 Walking on the
slack line ...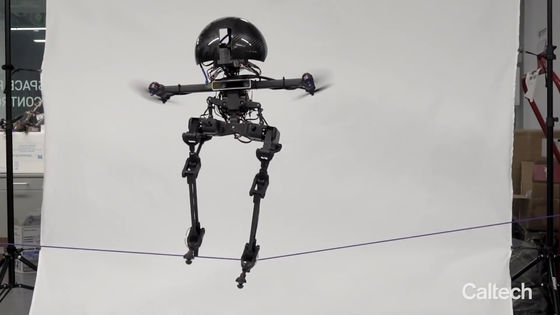 You can also ride a skateboard.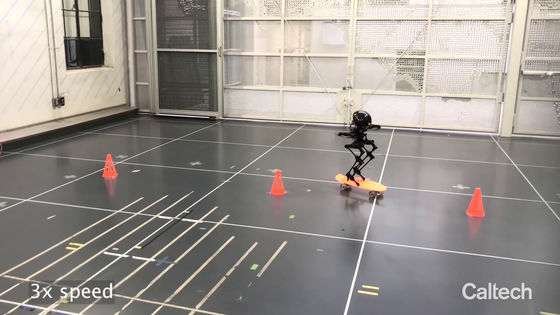 By achieving a high sense of balance, you can also walk in an environment with strong crosswinds.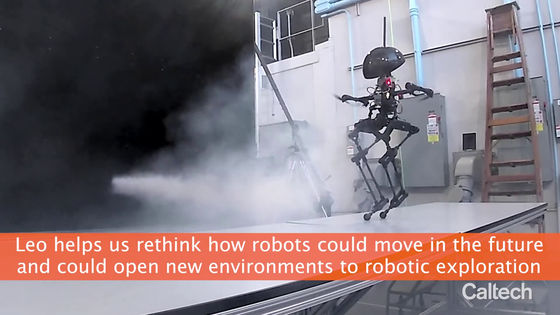 Kyunam Kim, who was involved in the research, said, 'This robot with multimodal mobility can move in difficult environments more efficiently than conventional robots by appropriately switching the available means of transportation. It will be. '

Soon-Jo Chung, who led the study on aerospace and control and dynamic systems, said, 'How a person in a jet suit uses his legs and thrusters to control balance when landing and taking off. There are similarities in how Leonardo uses his legs and propellers to control his balance. '

The research team aims to improve the overall performance of Leonardo by developing more durable legs that can support more weight. In addition, after improving the legs, it aims to increase the propulsive force of the propeller.

In addition, the research team aims to make Leonardo more autonomous. Specifically, we aim to allow Leonardo to independently choose the optimal combination of walking, flying, and hybrid modes when moving from one location to another.