Interview with director Eiji Suganuma of the animation 'Lupin III PART6', aiming to express the image that the scenario is looking for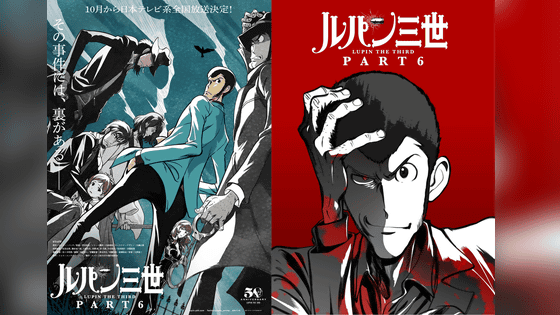 The latest work in the 'Lupin III' series, 'Lupin III PART6 ', which is celebrating its 50th anniversary of animation, will finally start tomorrow, October 9, 2021 (Saturday) at midnight. The stage of this work is London. Scotland Yard, MI6, the familiar Zenigata police officer will stand in to prevent Lupine, and detective Sherlock Holmes will also appear.

Mystery writer Takahiro Ohkura is in charge of the series composition. As a guest screenwriter for each story, Mr. Masaki Tsuji , a writer and screenwriter who worked on the novel version of 'Lupin III', and Mr. Mamoru Oshii, an animation director known for works such as 'GHOST IN THE SHELL' , Mystery writer Taku Ashibe who has written such as 'Steam Opera Steam City Detective Tan', and novelist Akio Higuchi who has written such as 'Dog in the Shell' and made his debut 'Lupin III Battlefield is Freeway' , 'Confession', 'Utopia', 'Bokyo' and other novelists, Kanae Minato will participate.

We asked director Eiji Suganuma about how such works were put together and put into shape.

TV anime 'Lupin III PART6' official website
https://lupin-pt6.com/

GIGAZINE (G):
First of all, I would like to ask Mr. Suganuma how he came to talk about becoming the director of this work.

Director Eiji Suganuma (hereinafter referred to as Suganuma):
The 'Lupin III' series is produced by the team of producer Koji Nozaki of TMS Entertainment , and Mr. Nozaki used to make an animation called 'Sonic X'. Makoto Bessho , who was directing at the time and is now the director of 'Idolish7 ', asked me 'Why don't you join us?' And participated in the work, where Nozaki I have a relationship with Mr.'s team. Since then, I have had the opportunity to work on the original drawings on a regular basis, and I also had the experience of helping with the images of the 'Lupin' pachinko machine. I got in touch with him after a long time and asked him to speak to 'Lupin III PART6'.

G:
Hmmmm.

Suganuma:
From my point of view, I don't know how my name came up, but ... I'm sure there is a production vision, but I wondered, 'Should I not ask?'

G:
(smile)

Suganuma:
I think that you mentioned the name while assuming the director in various ways. When I was told, I was a little confused, but I decided to participate, thinking positively, 'If you have pushed me with all my might.' After calling out, in order to understand the work well, I directed the TV special 'Lupin III Prison of the Past ' and did some original drawings, and what the work 'Lupin III' aims for The flow is that the producer talks about what he wants to try.

G:
Mr. Suganuma tweeted about 'Job Request' on December 11, 2020, saying, 'I feel that the projects I was unsure about to accept were often a good branch for me later.' .. What is the point of getting lost when a job request comes in?

I feel that the projects that I wasn't sure about when I received a job request were often a good branch for me.
So I hope the good news is waiting for you this time as well.

— Eiji Suganuma (@LandSoda) December 10, 2020


Suganuma:
I'm proud of the work I've been involved in, but I'm not such a well-known director ... In this regard, the title 'Lupin III' was big (laughs).

G:
I see (laughs)

Suganuma:
Whenever I get involved in the work, I try to think about how I can contribute, but in 'Lupin III' I think about what I can do. , I saw the goal of 'I wish I could draw like this', so I decided to accept it.

G:
The main story of this series is announced as 'Lupin III vs. Sherlock Holmes'. It is true that the Arsène Lupine series also has 'Lupin vs. Holmes', but I'm really curious about how this story came about because it's true that anime would do such a thing. Is this the part that was already solidified when Mr. Suganuma decided to participate as a director?

Suganuma:
Yes, it was solid. The scenario team for the first course was also decided, and Hiroki Marufuji was in charge of the character design, so the final production of 'what kind of film taste' was not decided. It feels like it was fitted as a piece.

G:
What was your impression when you heard that the subject was 'Lupin vs. Holmes'?

Suganuma:
I'm not very familiar with it, so I felt that I might have to study a lot. I wasn't worried at all because special people wrote about the story. ' PART4 ' and ' PART5 ' are set in Italy and France, respectively, and I felt that creating an atmosphere was important, so this time I have to do what I can do to digest London, which is the stage. felt.

G:
This time, the script has all the 'special' people, but I was particularly surprised by the participation of Mamoru Oshii, who once talked about directing the movie 'Lupin III'. ' I am grateful to the creators for adopting this script, ' said the comment, but what was your first impression when you read the script?

Suganuma:
In a word, it is 'interesting'. It was fun as a script.

G:
'I can't take responsibility, but I'm sure everyone, including Mr. Okura, will fight,' but did you have to fight something?

Suganuma:
I think Mr. Oshii's lip service made comments that raised the expectations of the work (laughs).

G:
(smile)

Suganuma:
In the sense of 'fighting', it can be said that it was a 'fighting' from the part of searching for materials to investigate how to express in order to make a video by pulling in myself, the literary team, and the production team. I can't show the characters, so it's about how to convert them into video. In this story of Mr. Oshii, a specific place called 'here' comes out.

G:
method.

Suganuma:
I have to investigate it thoroughly, but I couldn't go to the interview because it was this time of the year, and I did my best to collect the materials. It was quite difficult ... The rest is who draws the storyboard (laughs)

G:
(Laughs) Now that we've just talked about storyboards, I'd like to ask you about the tweet that Director Suganuma mentioned about storyboards. On July 25, 2021, I was tweeted, 'I'm glad that you respect the storyboards, but I'm a little troubled to be pulled by the storyboards. Is the condition ideal?

I'm glad that they respect the storyboards, but I'm a little troubled to be pulled by the storyboards.
Myself.

— Eiji Suganuma (@LandSoda) July 25, 2021


Suganuma:
Ideally, it will exceed your expectations. However, even if it exceeds the limit, it is not good if it deviates from the content of the storyboard. I'm also an animator, so based on my experience and reflection, I'm implicitly saying, 'You can't just feel good.' There is a storyboard for the animator, and there is a scenario for the storyboard artist, but the scenario is decided by having adults face each other for weeks and consulting with each other, 'No, not this.' Therefore, it is not something that the storyboarder can change according to his feelings at that time. It's different from the people in each section inflating themselves. Perhaps at that time, I felt that kind of trend in what I saw on Twitter.

G:
I think one of the features of this work is that six people, including veteran Hiromasa Ogura and Yusuke Takeda , are participating as art directors, but this is a reproduction of the stage in England. Is it the result of putting in a lot of energy?

Suganuma:
As far as I know, the influence of Corona was great. As the work flow changed, this system was established.

G:
At this time of the year, I think the production was influenced by Corona. I think there was a lot of work done remotely, but how was this production environment for Director Suganuma?

Suganuma:
I don't feel so stressed myself, and I think I'm benefiting from it. Isn't there much work damage caused by corona? When.

G:
Oh.

Suganuma:
You may get angry, but when the state of emergency was declared, the scene was confused, so thanks to that, I was able to slowly proceed with the storyboard (laugh)

G:
(smile)

Suganuma:
There are good points and bad points, so I thought I shouldn't think too seriously.

G:
What are the benefits of taking time out of storyboards?

Suganuma:
When thinking about the direction of expression of 'cuts that should be fascinated', it can take time. It may take 3 or 4 days to say, 'If this one cut doesn't come out, we can't move on.' It's a good idea to think in advance, but it's not easy.

G:
Hmmm, I see.

Suganuma:
Regarding this work, it became a parallel work to draw a storyboard while locating on Google Street View to see what will happen where in London, so I took time to do that.

G:
This was also from Suganuma's Twitter, and there was a tweet about retake. He said, 'It's really painful to get rid of whatever the content is,' but I guess there are times when I still have to tell. Is there anything you keep in mind when directing?

It is work to retake.
I have a troublesome smell, so it's quite difficult to take it out. I'm tired.
I'm not saying it's mean or harassing. It's better if you don't have to put it out. Ideal.

— Eiji Suganuma (@LandSoda) April 24, 2021
It's really painful to spoil whatever the content is.
I hesitate as much as I think it is not suitable for the director.

— Eiji Suganuma (@LandSoda) November 21, 2020


Suganuma:
There is no doubt that everyone is doing their best to make it. I'm also in the position of being an original artist and directing, so I don't want to deny the crystallization of such efforts. But sometimes I have to say clearly, 'This is not the case.' That's why I try not to think that I'm angry when I'm out of luck. If you make the other person uncomfortable, you may not be able to accurately convey what you need to convey, so you are intentionally smiling.

G:
Don't make the atmosphere as serious as possible, but tell it lightly.

Suganuma:
I don't want it to look sweet because of that ... (laughs)

G:
Although I'm leaving this film, the director used to say, 'When I was in the third year of junior high school, the slogan' Patience and guts 'was put up in the classroom, and I really hated it. However, it was difficult for me as a dull mediocre student, 'he tweeted looking back on the past. When did you decide to make an anime production, design, and drawing business?

I remembered that when I was in the third year of junior high school, the slogan 'Patience and guts' was posted in the classroom, and I really hated it.
I'm sure it was a plan for cool lively students, but it was a pain for me as a dull mediocre student.

— Eiji Suganuma (@LandSoda) April 22, 2021


Suganuma:
It is the second half of high school students. Many graduates were employed at the high school I attended, but I didn't want to get a job because I had an amanojaku personality (laughs), so I was spending time hanging out without looking at the employment information.

G:
Well (laughs)

Suganuma:
About two friends who liked anime came there and said, 'I have a school, but why don't you go?' So I had him pull me and take me, and I decided to submit an application for the International Animation Institute. However, when I went to school, I didn't have any friends who invited me (laughs).

G:
not present?

Suganuma:
When I noticed, I was getting a job.

G:
terrible! (smile)

Suganuma:
It's really terrible (laughs). However, I am interested in the act of moving pictures, which is animation, and I thought it was fun, so I am grateful now.

G:
Mr. Suganuma's first directorial work was ' Ninja Cadets, ' and in May 2020, the storyboard at that time was tweeted. What kind of thing did you have when you first directed this film that you didn't understand?

A few months after I went to pick up my personal belongings from a certain company.
Because of the car inspection, when I took my luggage out of the car, there was something nostalgic.
I mean, it was often left.

The storyboard when I was the first director. pic.twitter.com/5PWr0kSlzw

— Eiji Suganuma (@LandSoda) May 23, 2020


Suganuma:
When I first became the director, I had little experience in directing, and I had no connection with anyone other than the animators around me, and I didn't have the knowledge of the positions and ideas of the section members such as color designer, art, and sound. I think I was biased towards animators and the way of thinking about drawing.

G:
What are the difficult points that have remained the same since you were the first director?

Suganuma:
Thankfully, I was blessed with good staff and was able to work even when I was a 'Ninja person'. Eventually, I was able to use my wits as the schedule for delivery was about to run out, and I was invited by excellent helpers.

G:
Is there a moment when you still feel blessed at that time?

Suganuma:
of course. I'm a rather sloppy person, so everyone is so solid and decent that I feel sorry. In particular, Mr. Tom's has a tight time, and in the time of Corona, it has become apparent that he is a company that cares for the production people so as not to overwork. The boss is looking at his subordinates properly, and the hierarchical relationship is also working well. Being in such a place makes me embarrassed.

G:
I saw this work in a preview, but it was a work that said, 'This is'Lupin III'.' What is the origin of this 'Lupin III' look and feel?

Suganuma:
'What is this,'Lupin III'?' ... What is it? (smile)

G:
As a director, how was your impression of the completed episode 1?

Suganuma:
I'm just grateful. First of all, he said that he worked so hard at the stage of making the video. Storyboards solidified their foothold without relying on themselves, but it was about whether it was possible to incorporate it into the video. The on-site staff responded to that, and I felt like 'I did it!' At the time of 'Prison of the Past', I helped with the part production and showed the quality of the original storyboard of the team, and when I thought 'I can rely on this strength', I can draw this much I used to make a storyboard that would be, but I was happy with that.

G:
The director often RTs tweets about the gun itself and how to hold it, but is it a reference because it is difficult to draw a gun?

Suganuma:
It also means that I would be grateful if you could be aware of this as a point, and because my friend Shunji Murata , who died in 2020, was very bright about firearms, it also meant sharing information. Now that I'm doing 'Lupin III', I'm also very interested in guns and cars.

G:
In this work, there was a big change in that the role of Daisuke Jigen was replaced by Kiyoshi Kobayashi and Akio Otsuka. How about the site?

Suganuma:
I have never witnessed the dubbing of Mr. Kobayashi's time, and I only know Mr. Otsuka's dubbing, but Mr. Yoji Shimizu , the sound director, has a longer relationship with the 'Lupin' series, so I'll leave it to you. I've been involved for many years and have a deep understanding of 'What is Lupine?' I'm just objectively watching it as 'awesome'.

G:
This time, I tried to direct the series instead of directing the part, and although I was worried, what was it like that I was able to do well?

Suganuma:
As a response of my own, I think that I can put out the proposed scenario as it is without bending it as much as possible. Since there are so many writers, I will propose the part that I want to guide in advance at the scenario stage so that extra storyboarding will not be added at the storyboard stage and the good part will not be spoiled. I tried to eliminate the part 'Let's do something with storyboards'. In the end, I would like to avoid including 'my own interpretation' as much as possible and express the image that the scenario requires.

G:
So that's it. Thank you for today.

The anime 'Lupin III PART6' will start broadcasting on NTV and others from 24:55 on Saturday, October 9th. In addition, from 25:30 on Saturday, October 9th, distribution will start in sequence through various distribution services.

[2nd PV] The latest series 'Lupin III PART6' will be broadcast nationwide from 24:55 on Saturday, October 9, 2021! │ 'LUPIN THE THIRD: PART 6' New Trailer 2021 --YouTube


[Character PV: Goemon Ishikawa visit! ] The latest series 'Lupin III PART6' will be broadcast nationwide from 24:55 on Saturday, October 9, 2021! │ 'LUPIN THE THIRD: PART 6' --YouTube


[Character PV: Fujiko Mine ♡] The latest series 'Lupin III PART6' will be broadcast nationwide from 24:55 on Saturday, October 9, 2021! │ 'LUPIN THE THIRD: PART 6' --YouTube