'Space Battleship Yamato 2205 New Departure' series composition, interview with Harutoshi Fukui & Kenji Yasuda, dare 'Director who is not the Yamato generation'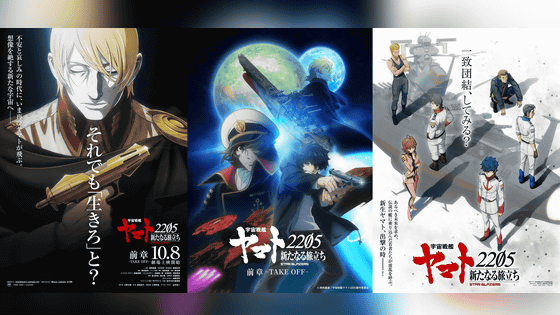 The latest work of the 'Space Battleship Yamato' series 'Space Battleship Yamato 2205 New Departure' previous chapter -TAKE OFF- is being screened in theaters from October 8, 2021 (Friday). This work is a story that continues from 'Space Battleship Yamato 2202 Love Warriors ', and depicts Yamato taking on a new journey three years after the battle with Gatrantis.

Harutoshi Fukui, who works on this work, has been in charge of the series since '2202'. Meanwhile, director Kenji Yasuda has joined the production team. In a remote interview, I asked him how the new series was made, and why Director Yasuda, who said he was not the Yamato generation, decided to work on this work.

'Space Battleship Yamato 2205 New Departure' Previous Chapter -TAKE OFF- Now showing
https://starblazers-yamato.net/

GIGAZINE (G):
I heard before that Mr. Fukui had been planning this work since 2018, but what was your impression when you first heard that 'Space Battleship Yamato 2205 New Departure'? mosquito? Was it surprising, or was it a convincing story 'after all'?

Harutoshi Fukui (Fukui):
That's right ... 'After all' (laughs)

G:
(smile)

Fukui:
I heard that 'Space Battleship Yamato 2202 Love Warriors' is doing well, so I thought it would happen. Immediately after I finished writing the script, I honestly felt like I was done, so I thought that someone else would take over, but when I think about it, at the end of '2202', I put the earth itself in that kind of environment. Partly because I had done it, I first felt that 'I can't leave this to others ...'.

G:
So that's it.

Fukui:
When ancient times return to Earth in that situation, many people will probably say, 'He's back instead of a time fault,' and he'll be chased by a weekly journalist, and there's no private life. You will be put in a difficult situation. Also, if there is a sign that a war is about to occur, I am in a position to accept such an atmosphere, saying, 'There is no time fault on the earth because I helped this guy. What should I do?' I can't ask someone to write an anime with such a human being as the main character. That's why I decided to do it.

G:
You can hear the story that '2202' was popular in various places, but it was a good start from the start, so it seems that you decided to listen to the story of '2205' early.

Fukui:
I think it was the timing when I was able to take a break after making a good start.

G:
Next is a question to Director Yasuda. Mr. Yasuda states on the introduction page of the official website that he is a 'generation who did not experience Yamato in real time.' So, when I investigated what kind of animation I was watching, in the project called 'Creator's Selection ' posted on Bandai Channel, the original experience was ' Gamba no Bouken ', and when I was in elementary school, ' Combat Mecha Xabungle' I heard that I was watching robot animations such as ' Aura Battler Dunbine ' and ' Heavy Metal L-Gaim'. What was your impression of the 'Space Battleship Yamato' series for Mr. Yasuda?

Director Kenji Yasuda (hereinafter Yasuda):
I knew the work was there because my brother had a book and put a movie poster in the room, but to be honest, it wasn't the work I was crazy about and actively watching. I knew that there was such a character at the level of common sense, but it wasn't reruns that I saw in earnest, but after I took on this job.

G:
Perhaps it was because of the tastes of the time that it wasn't something that was actively viewed. Or was there a reason such as 'because it's the work of my brother's generation'?

Yasuda:
At that time, there was a development of a plastic model of 'Mobile Suit Gundam', so I felt it was sober compared to that. Also, although the story doesn't matter, I intuitively thought that it was a work for my brother's generation, not for ourselves.

G:
While Mr. Fukui has been in charge of this work since '2202', Director Yasuda has joined the production. What was the flow of Mr. Yasuda's arrow as a director?

Fukui:
From the beginning of the story of '2205', I asked him to say, 'If you want to do the next Yamato, let's call a director who is not the Yamato generation.' In that sense, Mr. Yasuda was a Don Pisha, a person who had experience as a director, was well-trained, and came with a snap.

Yasuda:
At first, there was a question, 'I don't know much about Yamato, but is it okay?' So far, Yutaka Izubuchi, Nobuyoshi Habara , and Yamato enthusiasts have made the series with their own thoughts, so I don't think they have the same amount of energy. However, he said, 'Dare to be a person who is not the Yamato generation,' so if it's okay to work from an objective point of view, I'd definitely try to get on (laughs).

G:
(smile)

Yasuda:
When I actually participated, it was a series with a long history, and since the remake series was made in this way recently, there are quite a lot of things to remember such as flow, terms, settings, etc. It's a situation that I faced myself, even though I thought, 'You shouldn't take on it easily' (laughs)

G:
(Laughs) You said that you saw it in earnest after you took on the job, but did you notice anything when you looked at the 'Yamato' series again?

Yasuda:
I have the impression that the first work was a work that fit well in the times. It became a theatrical animation one after another, and fans gathered like a festival every year ... As prior information, I knew that it was Yamato that not only watched the act of 'watching anime' as a viewer unilaterally on TV, but also became an entertainment that I could participate in, so I renewed it. Looking back, I thought it was a work that was fresh and inspiring. Since I am looking at this era in this way, I think that it will be different from the impression of those who saw it at that time, but by looking at it objectively, there is pressure to disappoint the expectations of those who were captivated by Yamato at that time. I felt it was sick.

G:
Mr. Fukui and Mr. Yasuda said that this work is the first tag. Mr. Fukui commented, 'I treat it more carefully than Mr. Habara,' in the 'Space Battleship Yamato' publicity conference in 2021 AD.

The era of 'Space Battleship Yamato' Sendenkaigi in 2021 AD <Participation> --YouTube


Fukui:
(smile)

G:
What kind of person is Mr. Yasuda from the perspective of Mr. Fukui?

Fukui:
I'm a real professional. This time, when it came to how to express it in the shaku, there was a part that was solidified in the scenario, but there was also a part that I handed over, 'I don't know what will happen here ... However, the cooking of the handed part was also exquisite. And the way of catching the character is extremely accurate. What matters is the idea that 'ancient times don't say this.' You need to understand that the Susumu Kodai of the current series is different from the Susumu Kodai you know, which was drawn in the previous series. That's what I thought, 'The commander of this work must be a person who doesn't know Yamato.'

G:
Oh, I see.

Fukui:
The script and story capture what the story requires and replace it with a video, so I felt a great sense of security.

G:
So that's it. What kind of person is Mr. Fukui from Mr. Yasuda's point of view?

Yasuda:
I think that he is the one who knows the world view and characters of the remake series best because it has been continuously cast from '2202'. For me, instead of giving out strange sex appeal and commitment, I try to cherish the story and the appearance of the characters that Mr. Fukui is aiming for. Since it is written as a guts in the scenario, I checked the meaning of '...' at the meeting and tried to draw a storyboard. My role is how to effectively visualize what has been created in Mr. Fukui.

G:
In addition to Tasuke Tokugawa and Shigeru Sakamoto who appeared as new characters in the TV special ' Space Battleship Yamato New Departure ', Ryusuke Domon and Heiji Bando of 'Space Battleship Yamato III ' have appeared in this work. As for the story, the opening video already includes the part that clearly corresponds to the element of 'Yamato III' that Desler visits the planet Garman. What's more, the re-appearance of the '2199' character, which did not appear in '2202', and the design of the combat aircraft carrier Hyuga, which incorporates that of the Earth aircraft carrier that appeared in the PlayStation version of the game, have been packed with everything. I have an impression.

Fukui:
From Mr. Yasuda's point of view, I am 'a person who is familiar with Yamato', but from my point of view, there are many more detailed people in the staff. When that happens, the two of us play a role in deciding which way to steer the work, and it's like taking on the challenge of how much we can accept the opinions of the strong people around us. What is it?

G:
Challenge (laughs)

Fukui:
Basically, it was a style that I managed to incorporate everything that came up. Of course, some of them said, 'I can't fit that far,' but ... Hyuga was actually going to be lined up on the left and right of Yamato with the same design as the supply mother ship Asuka. Let's omit various things. However, when Mr. Tamamori came up with that design, he said, 'I have no choice but to put this in.' The real thrill of group work is that the process of fleshing out elements that you didn't have in yourself, such as bushes, becomes richer than you imagined. I think I was able to go with a good group.

G:
In the script making for '2202', Mr. Fukui first made a plot that would be the core part, and based on that, Mr. Oka made a detailed long plot and
proceeded to the script zero draft.
But is it a little different this time?
Fukui:
If anything, it feels like it was my job to have the 'meat' of 'flesh' thrown (laughs) and mold it.
G:
That is not to say, 'Let's make' Yamato III 'mixed with' New Departure 'from the beginning', but the book is finished by fleshing out 'What if I mix and make it?' It was a work ...?
Fukui:
That will be the case. However, I was originally wondering if I should mix 'Yamato III'. That's because the new crew members are completely different in 'New Departure' and 'Yamato III'. If it is the original, the connection between the works will be weakened after 'New Departure', and the taste of the single work will become stronger. However, there is a general 'taiga drama' flow, so I decided to take it properly and spend time to establish a taiga. It is too early for the Garman Gamirasu Empire to be established in one year, so I decided to leave it for several years.
G:
surely.
Fukui:
Originally, I wanted to make the best use of the potential of the series and rewrite it again, so I thought about how to arrange the meat chunks that are being thrown more and more.
G:
From the perspective of Director Yasuda, it seems that if you prepare for it, you will suddenly make a complicated work that has application problems, but was there any confusion?
Yasuda:
The reference materials I received this time were enormous, and it seemed to be difficult to read them from corner to corner, but it tells me that 'the important part is here'. There was a detailed staff member, and I didn't mean to 'reproduce everything as it was', so I was able to concentrate on putting it into the storyboard and visualizing it.
G:
This time, regarding Yamato's design, I saw information that it is not a cell-look finish but a realistic one, from the aim of Director Yasuda, 'Because it is a big battleship, I want it to look big.' There was a change in the way the belly swelled from '2199' to '2202'. Is there any change in the same way?
Yasuda:
Well, there are many changes in the details. To be honest, I don't even know 'Is that changed?' (Laughs)
Fukui:
Mr. Yasuda's comment mentions not the design itself, but the look when it is incorporated into the video. The design itself is a basic type. In the case of '2202', the back view of the last was impressive, so I asked him to make the nozzle of the butt larger, but this time I made it smaller again. After that, there are elements on the side that can store new mechas that will come out in the future.
G:
So that's it.
Fukui:
In addition, there are many parts that Mr. Tamamori of the design 'voluntarily changed this' about the details, but it is really already in a state of searching for esoteric mistakes.
G:
As expected, Mr. Tamamori is particular about it ...
Fukui:
No, it's totally amazing. I never dreamed that the shapes of Hyuga and Asuka would be so different. If you look at the two ships side by side, I think there are many parts that seem to be 'Oh ~'.
G:
I think that production under the influence of Corona has become a daily routine. I've heard positive and negative opinions about different production styles, but how was it in the production of this work?
Fukui:
It depends on the job title. I think it would be better for animators to have an environment where they can concentrate at home rather than gathering all together, but we can't get together and talk for a while, so we have a hard time communicating. There was a place. After all, it was necessary to meet face to face for the liver part ... How was Mr. Yasuda?
Yasuda:
It wasn't all bad for the production site, but I couldn't say 'Please do this here' or I couldn't look over my face, so 'Who is in now?' There are some good points and some bad points because I don't understand at once. After all, dubbing has a big influence.
Fukui:
Well, Gaya also has to be recorded one by one.
G:
Oh, that's hard ...
Fukui:
Of course, there are plays that can only be recorded by one person, but after all, we have never been able to do it together.
G:
In 'Yamato',
I heard that it was a serious game because we decided to record the dialogue scene at the same time
, so it seems that the influence will be great.
Fukui:
As Mr. Acoustic knew about that, by recording in order from the veteran, I was able to get a good guide for young people and record without lowering the tension. …… But I want to get back to normal soon.
G:
This time, various elements were fleshed out in this way, and a work with many new characters added was completed. Did you find any characters that you were interested in, whether they were old characters or new characters?
Fukui:
After all, is it Domon? Coupled with the acting of Tasuku Hatanaka, I think we were able to take a step different from the 'common characters of the same kind'.
Yasuda:
When Mr. Yuki came up with the design, Domon was a type that had never been seen in the remake series so far, and the design was completely different from the original, and I felt that 'this is the beginning of a new journey.' The voice is also very natural, and while there are many plays with a sense of urgency such as making a voice in battle, it is the synergy between Mr. Hatanaka's acting and voice that the lines with a strong presence come out without being buried. I wonder if it depends on the effect.
G:
From the first time I saw the visuals, Domon felt something like 'thickness' or 'strength' compared to other characters. This is the centerpiece of the new crew, so I wonder if there was any request from Mr. Yuki, 'I want you to do this.' Or is it something that naturally oozes out of the character?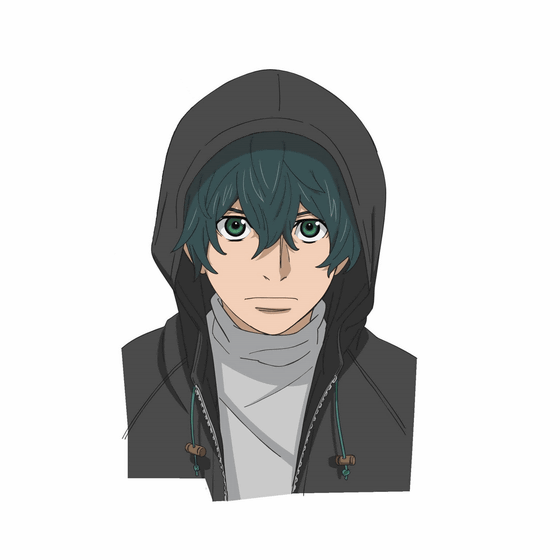 Yasuda:
I don't think I asked for anything special when designing.

Fukui:
Well, there is no such thing, but since it is a new character, it is a character that other animators can not understand unless it is drawn by the founder, Mr. Yuki, so it may be the result of drawing firmly so as to be a model.

G:
Among the other new characters, I have a particularly strong eye, which is very impressive.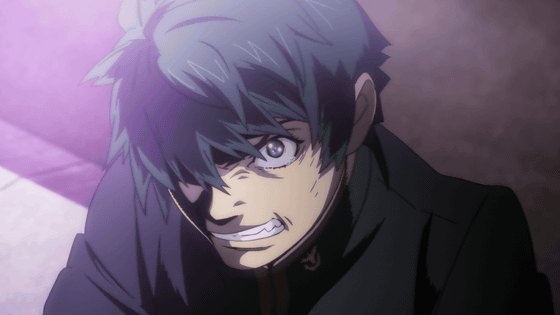 Fukui:
So that's it. It's more about the impression of cutting than the design. Domon is the only crew member on board Yamato that has a clear purpose. While adults, like the ancients, who seem to be solid and have not yet decided where to put their feelings, while being children, they ask 'why' straight away. .. It is the power of production that makes the eyes look strong.

G:
At the time of the special newsletter and trailer, I didn't know what the theme song would be for this work, but I was surprised at 'Yamato !! New Departure' that Yamato emerged and flowed in the preview.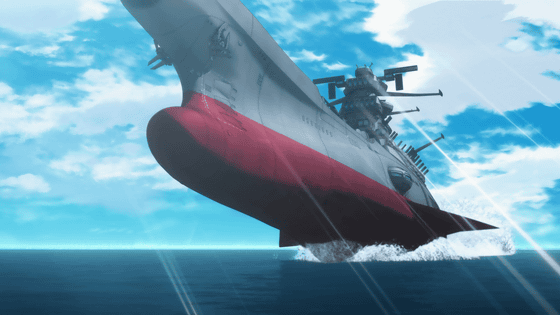 Fukui:
I see? Because if it's 'A New Departure', this is the only song (laughs). I didn't have the option of not using it.

G:
Just because it's a remake, it doesn't mean that the theme song is the same, so even if it's realized, I thought, 'This is this!'

Fukui:
However, it is ironic to use 'Yamato !! New Departure' now. It is said that 'fear and mourning should be separated', but in the present world, 'fear and mourning' are attacked on a daily basis. The same is true of the world in the play, and I don't know when I will be involved in the war again. It's ironic that the song reverberates in it, but that's why, as Barrel and Serizawa said just before, it's amazing that we, who were enemies until then, are talking together in this way. .. By not overlooking such a small step forward and carefully growing the buds, I thought that one day I would be able to bring it to a world where 'fear and mourning can be separated'.

G:
Finally, as the new work of the 'Yamato' series will be released to the world again, I would like you to tell me the part 'I did well here, so please look carefully'.

Fukui:
As Mr. Yasuda did, 'Yamato' seems to be a work that has nothing to do with the generations in their early 40s and below. However, it's a work that you can proudly say, 'When you look at it, everything you want is here,' so please think that you've been fooled. A summary that shows the outline of 'Space Battleship Yamato' so far is also included at the beginning, so it is okay to see from this work. I hope you will see it at the theater.

Yasuda:
Many new characters have appeared, and there are many pillars of the story, and with the tempo, I think it's a work that makes you feel full after watching it. As for the video, I am particular about the lighting in the live-action film, and I make it so that you can see at a glance how tense or painful the scene is. We hope that you will visit the theater and check it out.

G:
Thank you for today.

This work, which is not a remake of the previous series 'New Departure' as it is, but also incorporates elements such as 'Yamato III', is currently being screened as
No. 1 on the weekend box office ranking screen average of the public week.
'Space Battleship Yamato 2205 New Departure Previous Chapter -TAKE OFF-' This Notice --YouTube
The first 14 minutes are published on YouTube.
'Space Battleship Yamato 2205 New Departure Previous Chapter -TAKE OFF-' Opening 14 Minutes Video --YouTube
'Later Chapter -STASHA-' will be screened on February 4, 2022 (Friday).