A broadcast accident occurred in which an adult movie was inadvertently played in a weather forecast program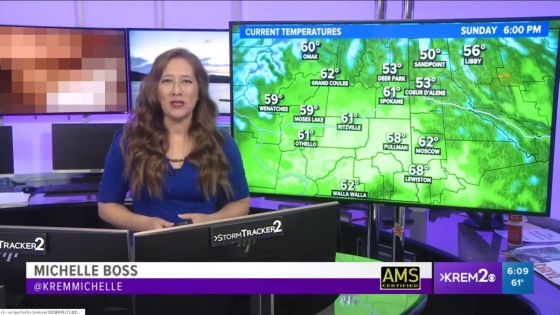 KREM
, a television station in Washington State, USA, has caused a broadcasting accident that 'an
adult movie is projected during the broadcasting of the weather forecast.'
This broadcast accident has been a hot topic and has evolved into a situation where police investigations have begun.
Spokane Station Apologizes After Airing Porn Clip During Weather Report
https://www.adweek.com/tvspy/spokane-station-apologizes-after-airing-porn-clip-during-weather-report/235652/
Cops investigating after Washington State TV station airs 13 seconds of PORN during a weather report | Daily Mail Online
https://www.dailymail.co.uk/news/article-10108153/Cops-investigating-Washington-State-TV-station-airs-13-seconds-PORN-weather-report.html
The broadcast accident in question occurred in a weather forecast broadcast around 6:30 pm on Sunday, October 17, 2021. You can check the video that has actually been broadcast from the movie embedded in the link below. Please note that the scene in question has not been mosaicked, so please be careful when browsing.
NSFW: Spokane Weather Report Airs 13 Seconds of Pornography
https://www.mediaite.com/weird/nsfw-spokane-weather-report-inadvertently-airs-13-seconds-of-pornography/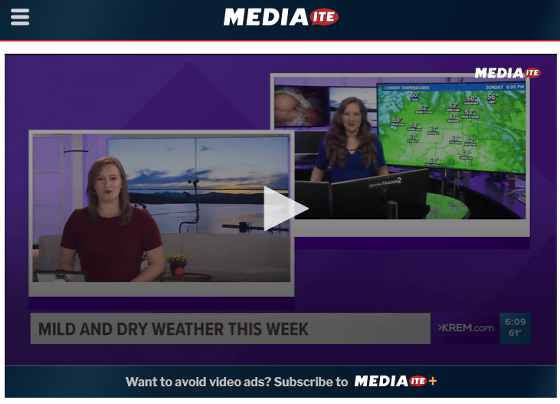 When the announcer called out to Michel Boss
, the weather forecaster, 'This weekend was warm and wonderful with the sun. What will happen to the weather in the future?'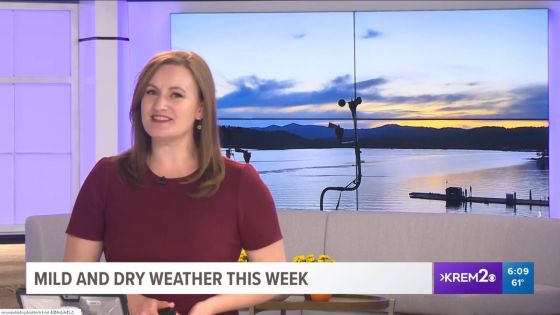 Mr. Boss will appear on the right side of the screen. The monitor on the right side of Mr. Boss shows a map of the state around Washington with the temperature, but the monitor placed on the left side shows a video that seems to be a scene of an adult video.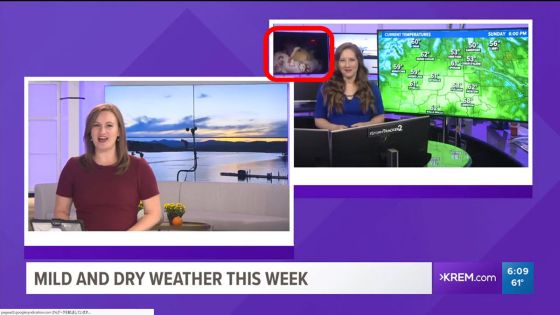 Mr. Boss who advances the weather forecast. Behind the scenes, adult videos continue to play.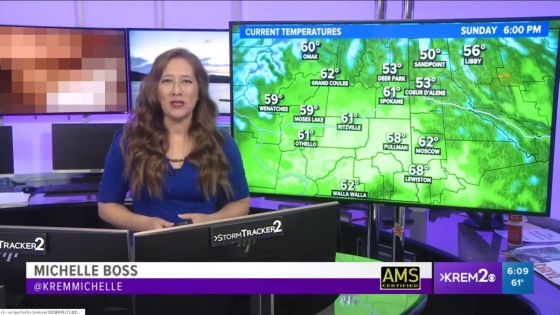 After the video including the adult video was broadcast for more than 10 seconds, the temperature forecast map was displayed in full screen. Mr. Boss continues to explain the weather as if nothing had happened.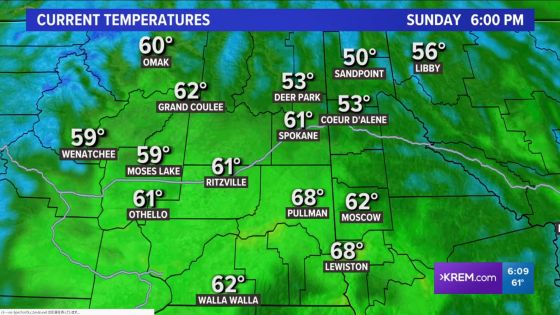 After that, the video was switched to the wide area weather forecast, and the adult video was not broadcast again.

KREM apologized to viewers for 'inappropriate video broadcasts' in its news program that aired from 11:00 pm, and told TV-related news site TVSpy that 'such an accident will never happen again.' We are working diligently. '

Meanwhile, the police station in Spokane , one of the areas where the video in question was broadcast, issued an official statement saying it had received multiple consultation calls from residents regarding the broadcast accident. The police are investigating how the adult video was broadcast, but the cause has not been clarified at the time of the announcement.

Disturbing Image Appears During Weather Forecast --City of Spokane, Washington
https://my.spokanecity.org/police/news/2021/10/18/disturbing-image-appears-during-weather-forecast/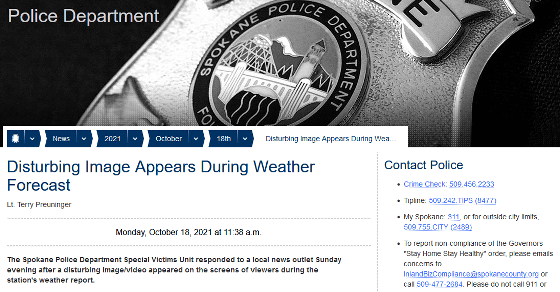 In addition, the Federal Communications Commission, which regulates and supervises the broadcasting and communication business in the United States, has fined $ 325,000 (about 37 million yen) for 'a television station in Virginia that broadcast adult video for 3 seconds' in the past. There is a possibility that heavy punishment will be given for this broadcast accident.

in Note, Posted by log1o_hf