Mobile payment company 'Square' announces revenue for the third quarter of 2021, overall gross profit increases, but Bitcoin-related is on a downward trend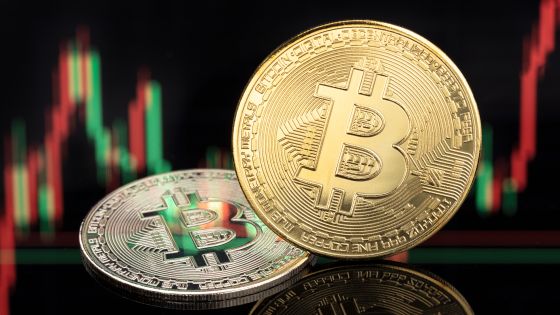 Square, a mobile payment service company founded by Twitter
CEO Jack Dorsey
, reported its financial results for the third quarter of 2021 (July-September). Overall gross profit (gross profit) increased 43% year-on-year to 1.13 billion dollars (about 128.0 billion yen), but due to the impact of price stabilization in the crypto asset market, total gross profit from Bitcoin Profit is declining.
Q3 2021 Shareholder Letter
(PDF file) https://s27.q4cdn.com/311240100/files/doc_financials/2021/q3/SQ-3Q-2021-Shareholder-Letter.pdf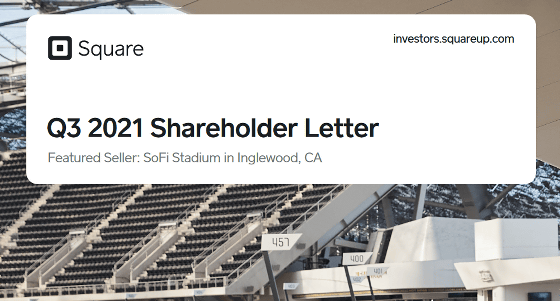 Square Inc. --Investor Relations
https://investors.squareup.com/overview/default.aspx
Square Reports $ 1.81B in Bitcoin Revenue, Reveals Plan to Increase BTC Offerings --Blockworks
https://blockworks.co/square-reports-1-81-b-in-bitcoin-revenue-reveals-plan-to-increase-crypto-offerings/
Square's revenue for the third quarter of 2021 was $ 3.84 billion, with gross profit up 43% year-over-year to $ 1.13 billion.
Square is
focusing on investing in Bitcoin, such as purchasing about 18 billion yen worth of Bitcoin in
February 2021, and in the first quarter of 2021, the
soaring price of Bitcoin more than tripled its profits.
Was there. However, Bitcoin revenue in the third quarter of 2021 was $ 1.81 billion, down from $ 2.72 billion in the previous quarter, and gross profit was $ 5,500 in the previous quarter. It was 42 million dollars (about 4.8 billion yen), which is less than 10,000 dollars (about 6.3 billion yen). In its earnings report, Square explained why Bitcoin's revenue and gross profit declined: 'The price of Bitcoin was stable compared to the previous quarter, which affected trading activity.' increase.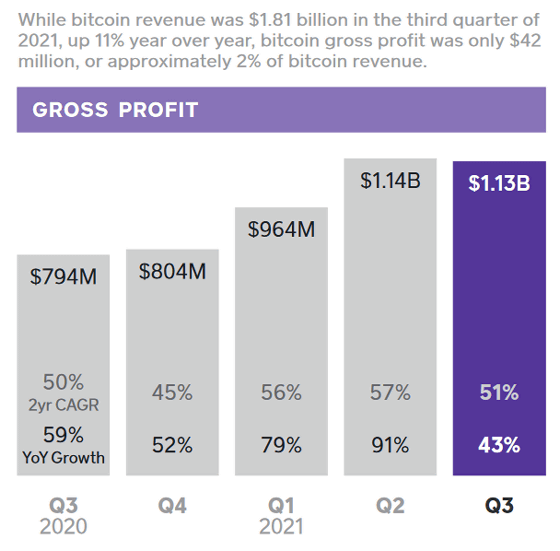 Remittance app '
Cash App
' earned $ 2.39 billion (about 272 billion yen), and gross profit increased 33% year-on-year to $ 512 million (about 58.2 billion yen).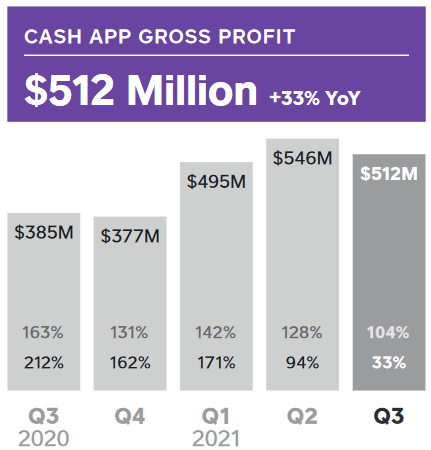 In addition to announcing the development of Bitcoin's hardware wallet in July 2021, Square announced the development of its own mining system in October 2021. Regarding these plans, Dorsey said, 'Both development plans focus on helping Bitcoin reach its customers while at the same time strengthening its network and ecosystem.' , Created a business to build an open developer platform with the goal of creating unmanaged, decentralized financial services focused on Bitcoin, 'said 2021 with a detailed business plan. It was revealed that it will be announced on November 19th.

Twitter founder mobile payment company Square announces development of 'Bitcoin hardware wallet' --GIGAZINE