I tried 'PICKS' from Yuraku Confectionery of Black Thunder, which says that if you make chocolate with three textures of 'fluffy', 'toro' and 'saku', it will be like this.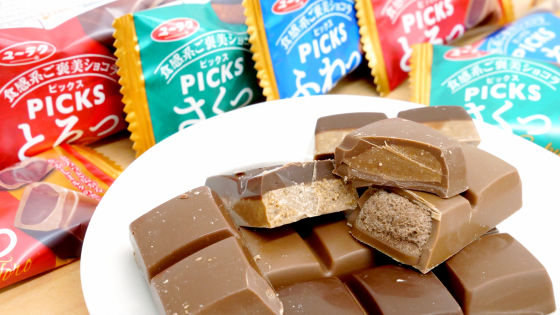 Black Thunder's Yuraku Confectionery will start selling the chocolate 'PICKS ', which is particular about 'texture', at Ministop nationwide from January 11, 2022 (Tuesday). There are three types of PICKS, 'fluffy', 'toro', and 'saku', and the ingredients are carefully selected according to the texture. I was able to get it a little earlier, so I actually tried to see what the chocolate made with the texture was like.


The texture-based reward chocolate 'PICKS' is born! 3 types with different textures 'Fuwa', 'Toro', 'Saku' From January 11, 2022 (Tuesday), 3 items will be sold at Ministop nationwide (*) | News | Yuraku Confectionery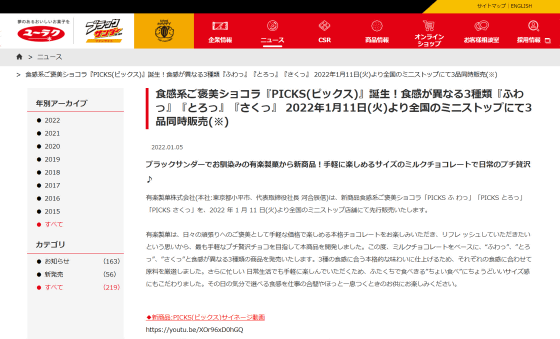 This is the PICKS package. From the left, they are 'PICKS Toro', 'PICKS Saku', and 'PICKS Fluffy'.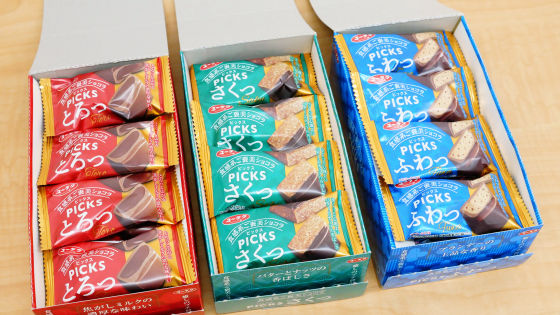 The size of the pouch is about one size smaller than Black Thunder.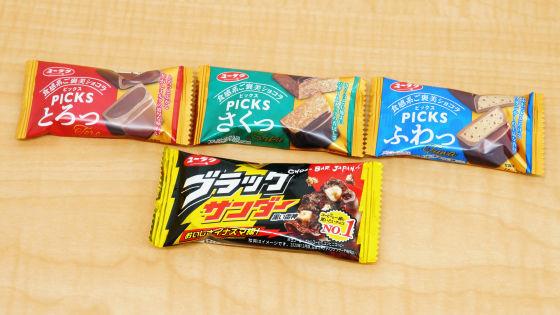 Let's start with 'PICKS Toro'. It is characterized by the rich taste of charred milk.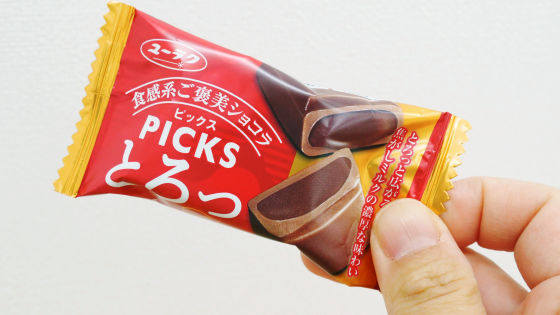 After confirming the raw material names, chocolate, semi-chocolate , vegetable oil, butter oil, etc. Black Thunder's raw material is only 'quasi-chocolate', so it is a big difference that 'chocolate' is used.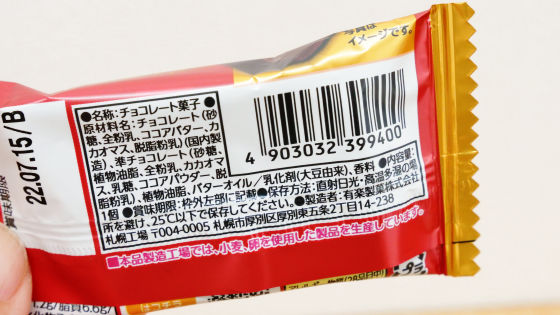 Calories are 95kcal per 16g.



Next, let's take a look at 'PICKS Saku'. It uses 0.4% charred butter oil and 1.2% hazelnut paste, and the point is the aroma of butter and nuts.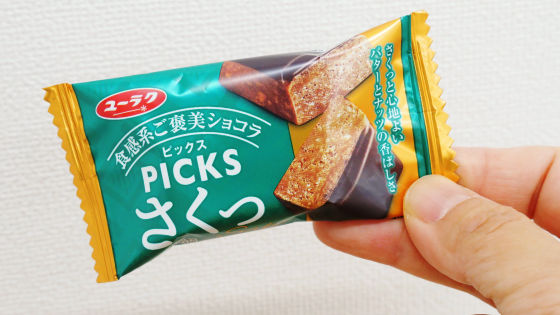 Again, both chocolate and quasi-chocolate are listed in the raw material names. In addition, 'Fiantine', caramel powder, cocoa butter, hazelnut paste, brown sugar, etc., which are made by spreading crepe dough very thinly and baking it.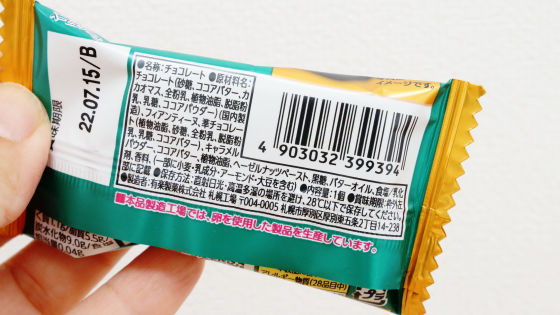 Calories are 90kcal per 16g.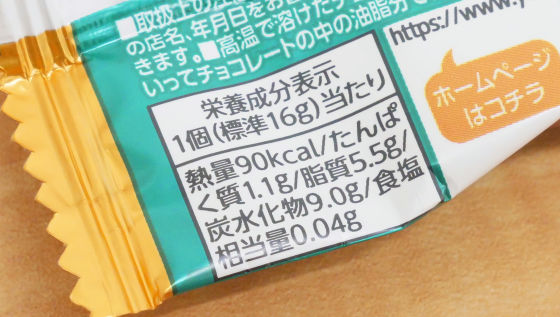 The last is 'PICKS fluffy'.
Cognac VSOP
, a type of brandy, is used to make chocolate for adults with 0.5% alcohol.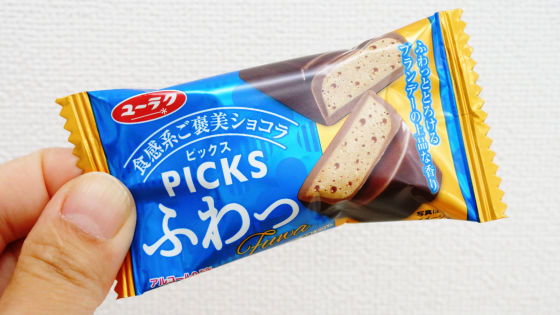 There is no quasi-chocolate in the raw material name, only chocolate. In addition to cocoa butter, you can also check the characters of brandy.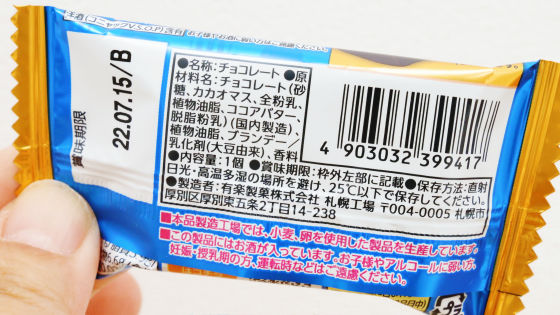 The calorie is 84kcal per 14g.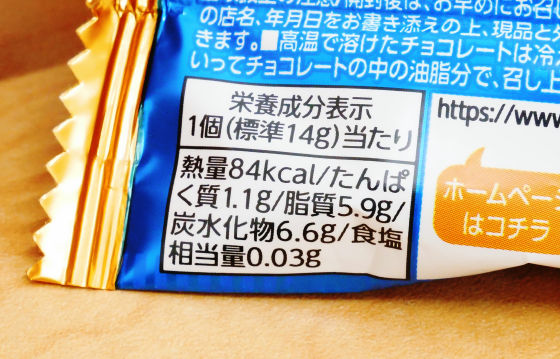 From the left, 'PICKS Toro', 'PICKS Saku', 'PICKS Fluffy', and 'Black Thunder' are lined up like this. PICKS is one size smaller than Black Thunder and has two dice-shaped chocolates attached to it. All have different chocolate colors.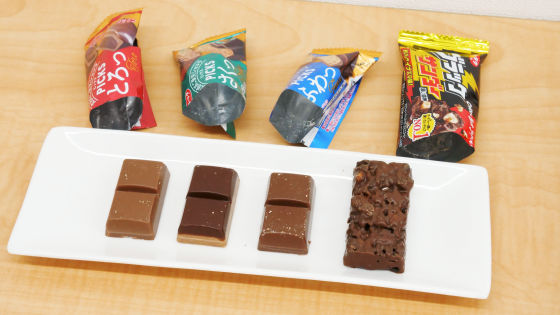 'PICKS Toro' is the lightest color, 'PICKS Saku' has a two-layer structure, and 'PICKS Fluffy' has a color that is relatively close to Black Thunder.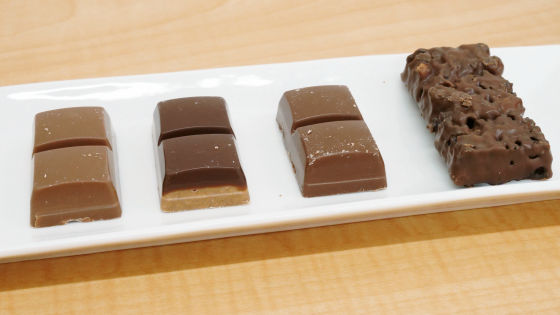 When I cut it, the cross sections were also different.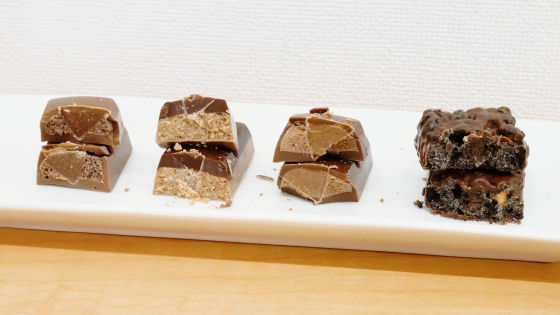 First of all, I will try eating from 'PICKS Toro'. When I cut it with a kitchen knife, a part of the cross section was crushed, but I could see bubbles like air in chocolate in the chocolate inside. From the expression 'toro', I imagined a thick and sticky texture like caramel sauce, but it is characterized by the lightness that disappears in the mouth with 'fluffy' and 'shuwa'. In recent years, chocolate with the flavor of cacao has become popular, but 'PICKS Toro' has the opposite direction, with a mellow, sweet and milky finish.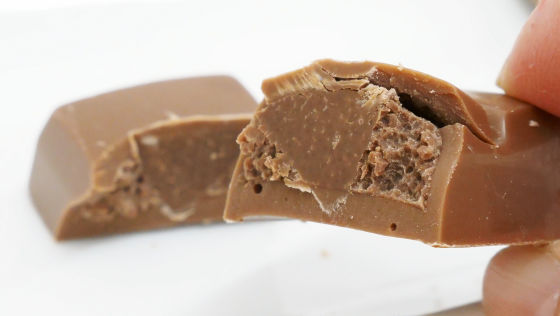 'PICKS Toro' had a blissful finish that melted slowly in the mouth, but 'PICKS Saku' is a 'can eat' type chocolate because the crispy texture of Fiantine is the point. Although the taste of caramel and hazelnut is not strong, it adds aroma to the whole, and it is a high-class chocolate-like taste that you can get at year-end gifts and midyear gifts.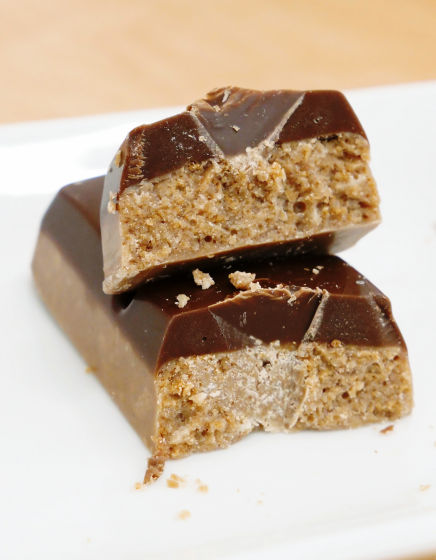 'PICKS Fluffy' spreads the nice scent of brandy the moment you put it in your mouth. The presence of Western liquor is quite strong, so it seems that you can clearly tell whether you like it or not. If you like rum raisin sweets, this is definitely your favorite taste. The texture is similar to 'PICKS Toro', but it melts in the mouth even more lightly.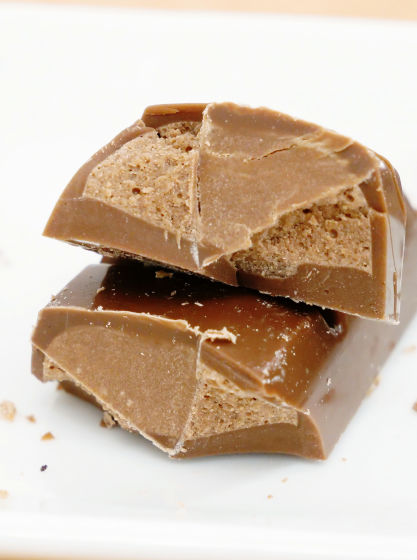 Lastly, I also tried Black Thunder, but while PICKS is 'chocolate-friendly' and 'luxury-like', Black Thunder is clearly 'biscuit-friendly' and 'candy-like'.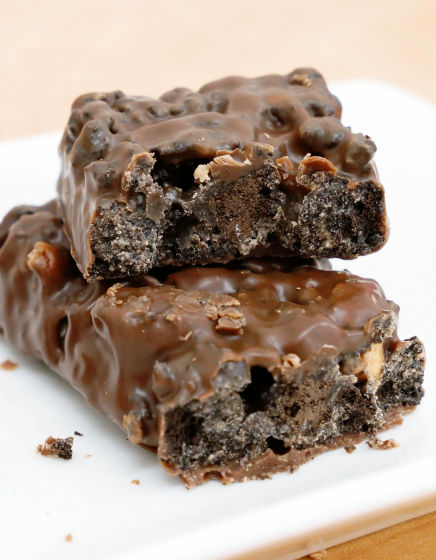 All three types of PICKS are quite distinctive, so it's a good idea to buy all three and enjoy the difference in taste slowly during the afternoon refreshment time. The reference retail price of PICKS is 54 yen including tax.