Some carriers are blocking iCloud private relay on iPhone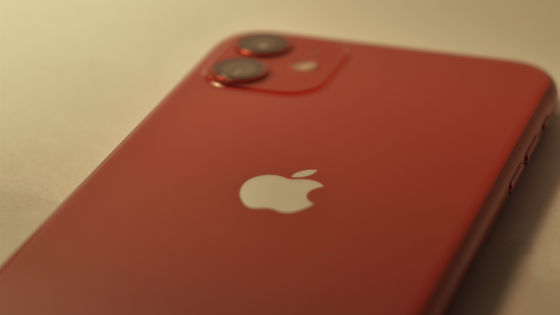 As a feature for iCloud +
, a paid subscription to iCloud, Apple offers an
'iCloud Private Relay
' that encrypts traffic sent from the iPhone and sends it via two different Internet relays to hide the IP address and location information. I have. However, it has been reported that some carriers are blocking this privacy protection feature, iCloud Private Relay.
Apple under fire over iPhone encryption tech
https://www.telegraph.co.uk/business/2022/01/09/apple-fire-iphone-encryption-tech/
T-Mobile Blocking iCloud Private Relay For Some, But It's Not What You Think
https://tmo.report/2022/01/t-mobile-blocking-icloud-private-relay-for-some-but-its-not-what-you-think/
T-Mobile begins blocking iPhone users from enabling iCloud Private Relay in the US ―― 9to5Mac
https://9to5mac.com/2022/01/10/t-mobile-block-icloud-private-relay/
Apple has implemented iCloud Private Relay for iCloud + since
iOS 15
delivered in September 2021. You can use this feature to hide information such as 'which website the user visited', but some carriers are blocking users who have the feature enabled. It became clear.
According to Apple, iCloud Private Relay prevents users' traffic from being sent out via two different Internet relays. The first relay is sent through a server managed by Apple, and the second relay is sent through a server managed by a third-party operator.
Initially, the official version of iCloud Private Relay was planned to be released on iOS 15, but at the time of writing the article, only the public beta version was implemented. Therefore, iOS 15 has the iCloud Private Relay feature disabled by default.
To enable the public beta version of iCloud Private Relay, tap 'Username' → 'iCloud' → 'Private Relay (Beta)' from the iPhone settings app.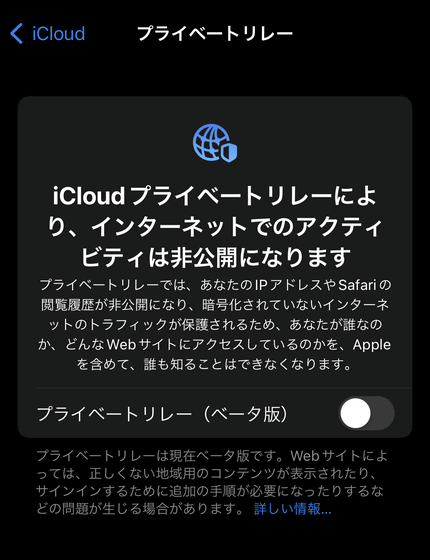 A public letter expressing concern about this iCloud private relay was submitted to Apple by Western carriers, and iCloud private relay blocked access to important network data and metadata on networks and servers. , May affect the ability of operators to manage their communications networks efficiently. '

In addition,
T-Mobile
has been shown to actually block mobile communications for iPhone users who have iCloud Private Relay enabled. In the UK, in addition to T-Mobile,
EE
seems to be blocking mobile communication for iPhone users who have iCloud private relay enabled.
T-Mobile users with iCloud Private Relay enabled will see the following notifications on their iPhones: The notification says, 'Your cellular plan doesn't support iCloud Private Relay. To access the Internet through your provider, you need to turn off iCloud Private Relay. When you turn off iCloud Private Relay, your provider will You will be able to monitor your internet activity and your IP address will not be hidden by known trackers or websites. '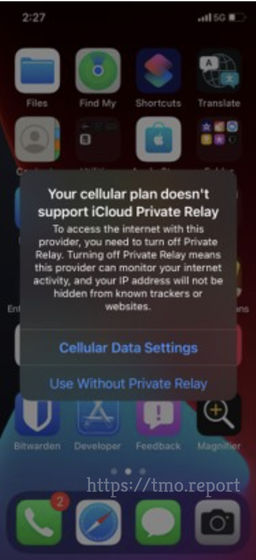 Please note that the block of iCloud Private Relay by T-Mobile seems to be in the process of being rolled out in stages, and some T-Mobile users may be able to use the mobile network while enabling iCloud Private Relay.

According to T-Mobile's own internal document obtained by The T-Mo Report , T-Mobile blocks iCloud Private Relay because of the competition between its own content filtering capabilities and iCloud Private Relay. So, it seems that 'the block of iCloud Private Relay was not intended by T-Mobile, but happened accidentally as a result of making T-Mobile's content filtering function work properly.'

Apple hasn't commented on carriers blocking iCloud private relay yet, but said, 'I'm worried about seeing carriers like T-Mobile interfering with iOS features at the system level.' Apple-related media 9to5Mac points out.

・ Continued
A carrier reportedly 'blocking iCloud private relay on iPhone' argued that 'caused by a bug in iOS' --GIGAZINE