Netflix raises all plans in North America and spreads to Japan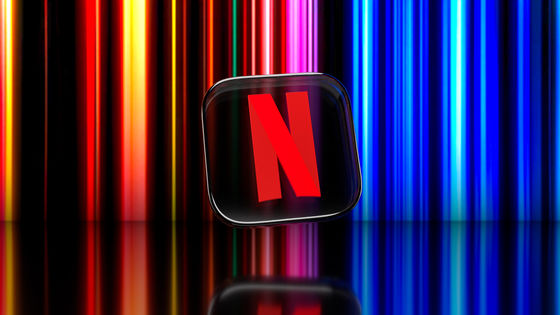 We have increased the prices of all plans offered by Netflix in the US and Canada. As a result, the monthly fee of the standard plan that supports simultaneous viewing on multiple devices and full HD image quality has been raised by $ 1.5 (about 170 yen) to $ 15.49 (about 1770 yen), a premium that also supports playback with 4K image quality. The monthly fee for the plan has been increased by $ 2 (about 230 yen) to $ 19.99 (about 2290 yen).

Netflix raises monthly subscription prices in US, Canada | Reuters

https://www.reuters.com/technology/exclusive-netflix-raises-monthly-subscription-prices-us-canada-2022-01-14/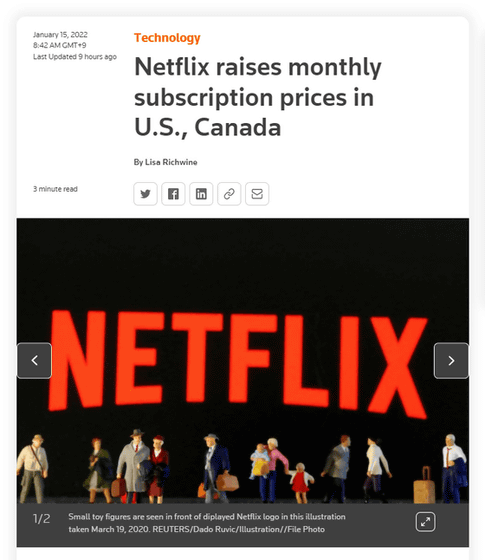 Netflix raises prices on all plans in US --The Verge
https://www.theverge.com/2022/1/14/22884263/netflix-price-increases-2021-us-canada-all-plans-hd-4k
The increase in Netflix's monthly fee will be reflected immediately to new users, but it seems that it will be gradually reflected to existing users. According to Netflix, users will be notified by email 30 days before the price increase is implemented.
Netflix has been gradually increasing the price of its plans in recent years. The monthly fee for the standard plan started at $ 7.99 (about 910 yen) in 2011, $ 8.99 (about 1030 yen) in April 2014, $ 9.99 (about 1140 yen) in October 2015, and October 2017. It was raised to $ 10.99 (about 1260 yen), $ 12.99 (about 1480 yen) in January 2019, $ 13.99 (about 1600 yen) in October 2020, and $ 15.49 in January 2022.
The premium plan did not exist at the beginning of the service in 2011, but started at $ 11.99 (about 1370 yen) in April 2013, $ 13.99 in October 2017, and $ 15.99 (about 1830 yen) in January 2019. , It was raised to $ 17.99 (about 2060 yen) in October 2020 and to $ 19.99 in January 2022.
The cheapest basic plan, which does not allow HD viewing and is limited to one device that can be played at the same time, appeared in April 2014 for $ 7.99, in January 2019 for $ 8.99, and in January 2022. The price has been raised to $ 9.99.
The monthly charges for each Netflix plan in Japan at the time of writing the article are as follows. The basic plan is 990 yen, the standard plan is 1490 yen, and the premium plan is 1980 yen. When the price increase was implemented in some areas such as the United States in October 2020, the price increase was not implemented in Japan, but since the
price increase was reflected
in February 2021, this price increase will soon be in Japan. It may spread.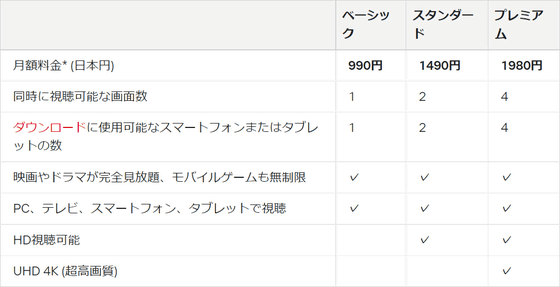 Of all Netflix users, the North American region has the highest number of users, at 74.02 million as of September 2021, which accounts for 35% of the total. For Netflix, raising prices in North America is 'a quick and easy way to earn a lot of money,' said The Verge, an overseas media outlet. Netflix is competing with similar services such as Disney + and HBO Max, and is spending a lot of money on its own content to differentiate it, so it seems that the purpose is to secure that money.

A Netflix spokeswoman told Reuters, 'We're updating prices so we can continue to offer a variety of high-quality entertainment options.' 'As always, members have a price that fits their budget. We offer a variety of plans so you can choose. '