YouTuber and Rapper seized Bitcoin worth 420 billion yen, the highest amount in judicial history, arrested on suspicion of laundering Bitcoin stolen by hacking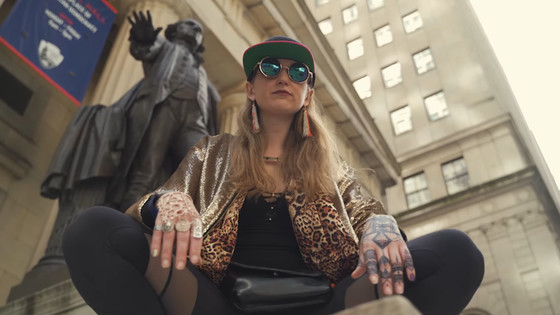 The couple, Ilya Lichtenstein, were allegedly involved in the laundering of Bitcoin stolen by the U.S. Department of Justice hacking the Hong Kong crypto exchange Bitfinex on February 8, 2022. Heather Morgan was arrested and announced that he had seized about 80% of the stolen Bitcoin. Converting the seized Bitcoin into a monetary amount, it is over $ 3.6 billion (about 415 billion yen), which is the highest amount of cryptocurrency-related seizures in the history of American judiciary.

Two Arrested for Alleged Conspiracy to Launder $ 4.5 Billion in Stolen Cryptocurrency | OPA | Department of Justice
https://www.justice.gov/opa/pr/two-arrested-alleged-conspiracy-launder-45-billion-stolen-cryptocurrency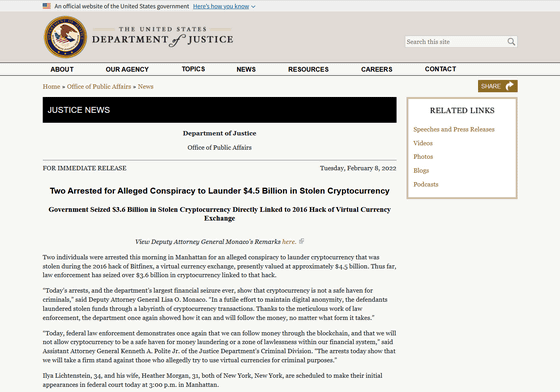 Justice Dept. Seizes $ 3.6 Billion in Bitcoin and Arrests Married Couple --The New York Times
https://www.nytimes.com/2022/02/08/us/politics/ilya-lichtenstein-heather-morgan-bitcoin-laundering.html

Justice Department Says It Seized $ 3.6 Billion Worth of Bitcoin Stolen in 2016 Hack --WSJ
https://www.wsj.com/articles/justice-department-says-it-seized-3-6-billion-in-stolen-cryptocurrency-exchange-hack-11644339381

According to the court, Liechtenstein and Morgan were allegedly attempting to launder 119,754 BTC of Bitcoin stolen from Bitfinex through more than 2,000 unauthorized access and transactions in 2016. increase.

Morgan is active as a rapper and YouTuber under the name 'Razzlekhan,' and was marketed on the official website with the insult that 'The infamous Wall Street crocodile attacks again!' Below is a music video of a song released by Morgan in 2019.

Rap Anthem for Misfits & Weirdos: Versace Bedouin Music Video (2019) --YouTube


Morgan was also a writer for Forbes, an American economic magazine , publishing articles on cybersecurity, business tactics, and how to become a YouTuber. Her husband, Liechtenstein, was active as an investor, according to his LinkedIn profile .

The stolen Bitcoin has been sent to a wallet under the control of Liechtenstein, of which 25,000 BTC has already been laundered and then redeemed for an account managed by Liechtenstein and Morgan. It was entrusted to. The remaining 94,000 BTC was left in the wallet.

After the court warrant was issued, the special agent accessed Liechtenstein's account and seized 94,000 BTC of Bitcoin from his wallet. 'We have unraveled laundering technology, tracked and seized stolen funds,' said Jim Lee, head of the IRS-Criminal Investigation, a cybercrime special investigation team at the Department of Justice. This seizure is the largest crypto-related seizure to date, worth more than $ 3.6 billion. '

FBI Deputy Director Paul M. Abate said, 'Criminals always leave a mark. This case shows that the FBI has the tools to track digital traces thoroughly. Thanks to the tenacious and devoted work of our FBI investigation team and law enforcement partners, we uncover the roots of the most sophisticated crimes and give justice to those who try to abuse the security of their financial infrastructure. You can do it. '

Liechtenstein and Morgan have been charged with money laundering and fraud and are expected to be sentenced to up to 25 years in prison. In addition, Bitfinex hacks will continue to be investigated.