Researchers had previously detected Russia's invasion of Ukraine from traffic jam information on 'Google Maps'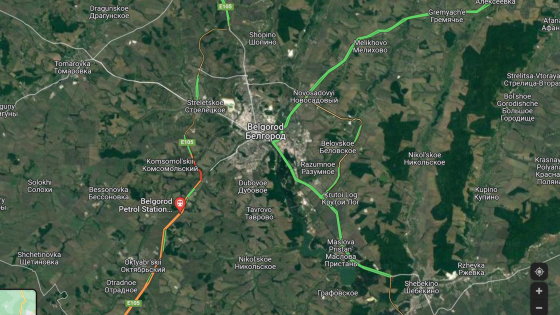 Russia's invasion of Ukraine, which began early in the morning of February 24, 2022 local time, had a great impact on people around the world. However, it is reported that researchers in the state of California, USA, which is more than thousands of kilometers away from Russia and Ukraine, used 'Google Maps' to detect the invasion of Russia hours before the official announcement. increase.


I have spent my entire career doing #OSINT and even I think it's weird that we were able to see the first signs of the invasion using @googlemaps 's traffic layer.

— Dr. Jeffrey Lewis (@ArmsControlWonk) February 24, 2022


How Google Maps is tracking the Russian invasion of Ukraine --The Washington Post
https://www.washingtonpost.com/technology/2022/02/25/google-maps-ukraine-invasion/

Professor Jeffrey Lewis , a member of the Middlebury Institute for International Affairs in California, is an expert in armament management and non-proliferation, working with students on a project to analyze military movements from photographs taken by artificial satellites. going. On February 23, Luis and his colleagues show Russian tanks and other vehicles in a satellite image of Belgorod , Russia, along the border with Ukraine, taken by Capella Space , a company that takes satellite images of the earth. I found it crowded.

This is the photo actually taken by Capella Space. Since the vehicles were lined up in a row and were ready to move, Mr. Lewis and others said that they began to monitor the movement near Belgorod on Google Maps.

The only reason we were looking at the traffic near Belgorod is because yesterday @capellaspace captured a SAR image of a newly arrived Russian unit with tanks and other vehicles. What struck us about this image is that the vehicles were lined up in columns, ready to move. pic.twitter.com/bZii0CZcaN

— Dr. Jeffrey Lewis (@ArmsControlWonk) February 24, 2022


And at around 3:15 local time in Belgorod, it was confirmed on Google Maps that there was a 'traffic jam' near the road from Belgorod to Ukraine. 'Something is moving,' Lewis wrote, as the location of the traffic jam was where the Russian troops were lined up on satellite images.

According @googlemaps , there is a 'traffic jam' at 3:15 in the morning on the road from Belgorod, Russia to the Ukrainian border. It starts * exactly * where we saw a Russian formation of armor and IFV / APCs show up yesterday ..
Someone's on the move. pic.twitter.com/BYyc5YZsWL

— Dr. Jeffrey Lewis (@ArmsControlWonk) February 24, 2022


3:15 midnight was by all means too early for the morning rush hour, and Lewis and his colleagues could speculate that the traffic was caused by the movement of Russian troops. According to Mr. Lewis, the Russian army's train line itself seems to have been moving smoothly, so the traffic jam information displayed on Google Maps is not the smartphone that the Russian soldiers had, but the civilian who was involved in the movement of the Russian army. It is highly possible that it was based on the smartphone of.

To clear up a misconception: The traffic data is most likely NOT from soldiers carrying smartphones. Instead, civilians are probably getting stuck at roadblocks and @googlemaps is recording that.

— Dr. Jeffrey Lewis (@ArmsControlWonk) February 24, 2022


This time, the fact that we were able to detect the march from the information on Google Maps before Russia's invasion of Ukraine became public is that we can use Google Maps to know what is happening in a remote place in real time. It proves that it can be done. The Washington Post said on Google Maps that a few hours after Russia's invasion of Ukraine began, roads were closed near Kharkiv in northeastern Ukraine and traffic congestion occurred near the capital Kiev (Kyiv). It is also reported that it was confirmed.

'We have a lot of data that shows what a normal life pattern looks like, so we can see what's happening on the ground by looking at the data bias,' Lewis told The Washington Post. You can. '' In the old days you would have relied on reporters to find out what was happening in the field. Today we can open Google Maps and see people fleeing Kyiv. '.

Steve Blank , the founder of Stanford University's Gordian Knot Center for National Security Innovation , who studies national security, once said that maps that people carry on their smartphones can be viewed like SNSs that can share high-quality photos and videos. Commented that it made it possible for civilians to grasp the situation on the ground that only the government knew. However, the government still can block access to social media , block the Internet itself, and point out that civilians cannot know what the military will do next.

In addition, it is reported that the movement of the Russian army that advanced to Ukraine was confirmed not only by the traffic information on Google Maps but also by the surveillance camera installed on the road. In the movie below, you can see how the Russian army on the move notices the presence of a surveillance camera and turns the camera so that the convoy is not visible.

Russian soldiers captured on CCTV disabling surveillance cameras --YouTube