Apple has released 'iMovie 3.0' that anyone can easily edit movies, and when you try using the new functions 'Magic Movie' and 'Storyboard', it looks like this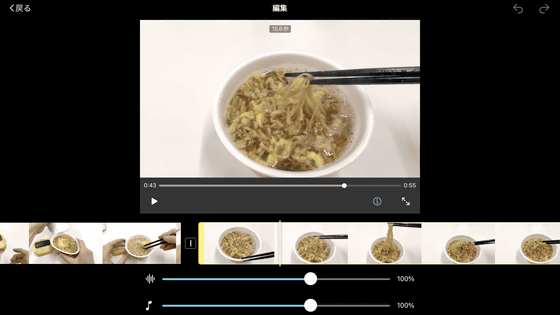 Apple released version 3.0 of the video editing app
iMovie
on April 13, 2022. New features in iMovie 3.0 include 'Magic Movie,' which allows you to easily create movies on your iPhone or iPad, and 'Storyboard,' which allows you to create a single video simply by shooting a video or photo according to a pre-prepared template. Was added, so I tried to see what kind of function it actually is.
Apple announces new version of iMovie including storyboard and magic movie-Apple (Japan)
https://www.apple.com/jp/newsroom/2022/04/apple-introduces-new-version-of-imovie-featuring-storyboards-and-magic-movie/
'IMovie' on the App Store
https://apps.apple.com/jp/app/imovie/id377298193
'IMovie' on the App Store
https://apps.apple.com/jp/app/imovie/id408981434?ls=1&mt=12&v0=www-jp-mac-imovie-app-imovie
This time, iMovie 3.0 is updated and launched on
the 4th generation iPad Air
. Magic movies and storyboards are introduced as new features. Tap 'Continue' at the bottom of the screen.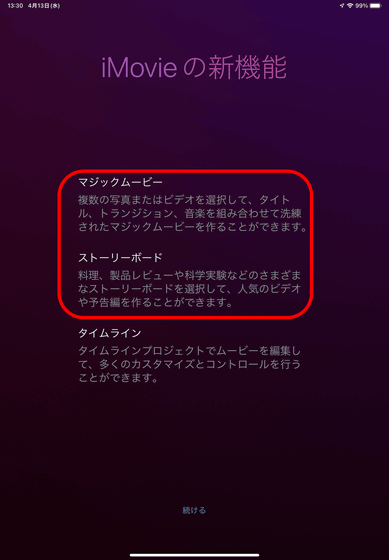 First, let's experience a magic movie. Tap 'Magic Movie' on the new project creation screen.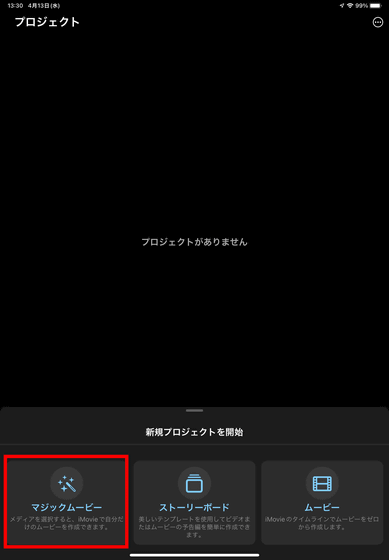 Let's edit the video of the guinea fowl that was taken at the zoo before. Select a video and tap 'Create Magic Movie'.



'Creating a movie' is displayed ...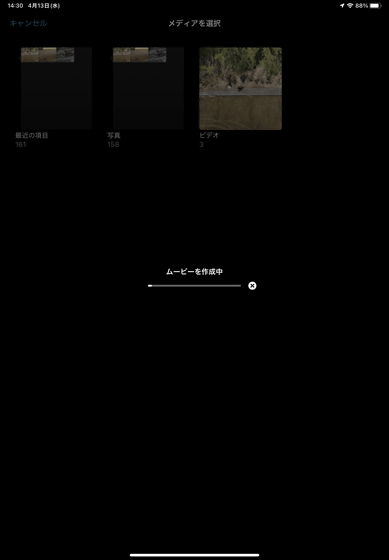 IMovie automatically determines the excitement of the video and cuts it out. Originally it was a 44 second video, but iMovie has cut it out to 4 seconds.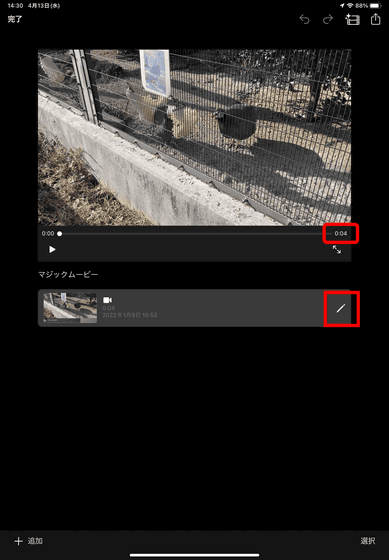 Of course, you can specify the editing contents in more detail by yourself. Tap the pen icon on the far right of the movie, then tap Edit Clip.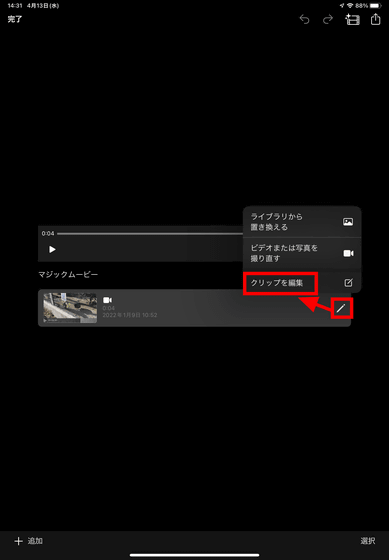 Then, it will transition to a simple timeline screen like this, so you can select an operation from the icon at the bottom of the screen and edit it. For example, if you tap 'Text' ...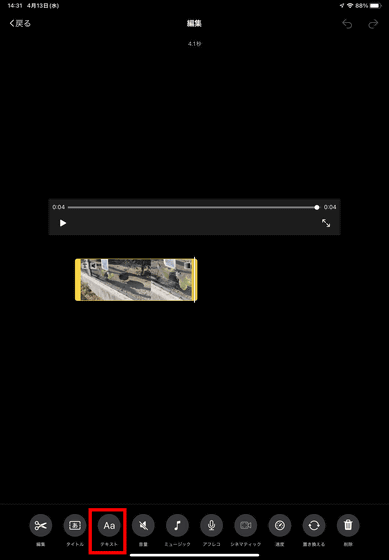 You can display subtitles on the screen.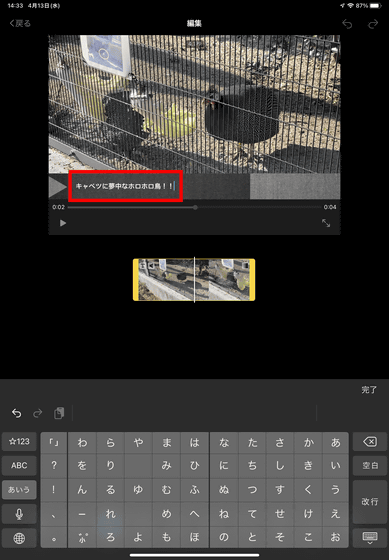 In 'Music', you can select BGM. For 'Soundtrack', you can select BGM from the originally prepared songs. You can also use songs in My Music and songs composed by Garage Band registered in the file as BGM. This time, I decided to select BGM from 'Soundtrack'.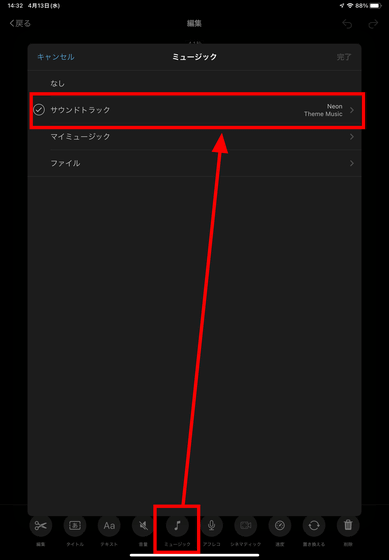 You can listen to a song by tapping it, and you can select that song as BGM by tapping the + icon at the right end.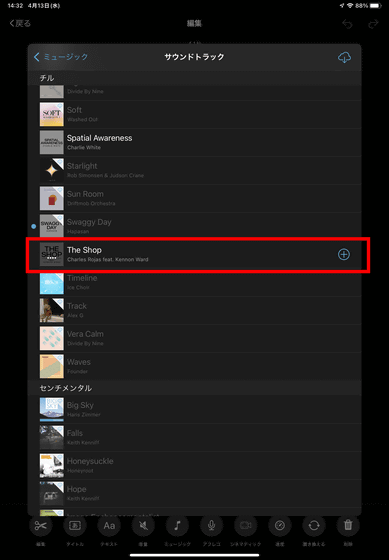 'Speed' allows you to change the playback speed of the clip. The range of speed adjustment is from 1/8 to 2 times.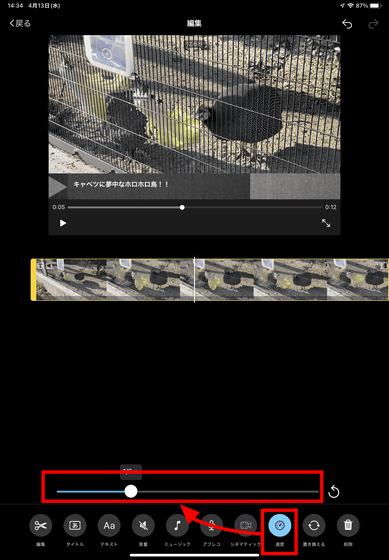 Also, if you tap 'Add' at the bottom left ...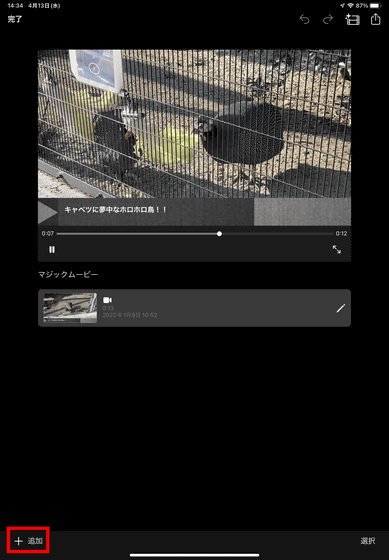 You can add more clips. Magic movie is a function that automatically cuts out only the excitement from one video and creates a short movie, but you can also connect multiple clips by adjusting manually, which makes it difficult to create automatically. You can also create a video of.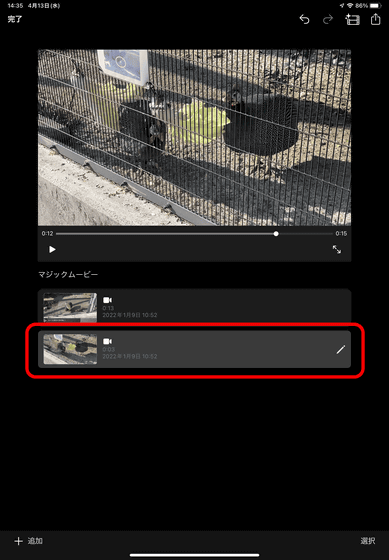 When you're done, tap the share icon in the upper right to save. This time, tap 'Save Video' to export the movie to the Photos app.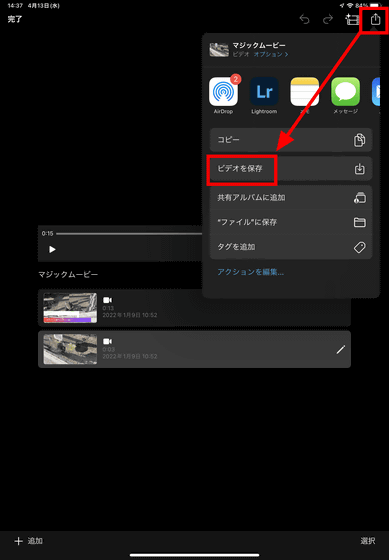 And the completed movie is below. It takes 20 to 30 minutes to edit the movie at hand and finish writing the movie. Magic movies are suitable for creating short movies quickly without spending too much time.


A movie actually made with the new function 'Magic Movie' that allows you to quickly create a short movie of iMovie 3.0-YouTube
Next, let's make a movie with 'Storyboard'.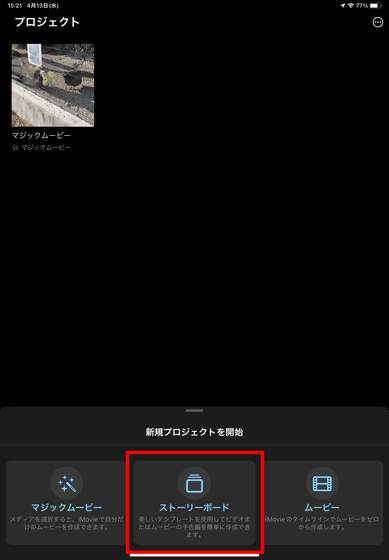 The storyboard is a function that allows you to easily create a single movie by shooting a movie according to the template provided in iMovie. Normally, in order to edit and connect many videos to make one video, you need to think about the content and script in advance before shooting the video, but if it is a storyboard, before that. Almost no preparation is required. This time, select 'Cooking'.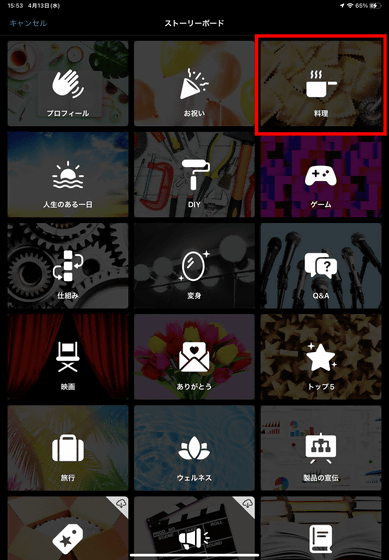 Tap 'Create' in the upper right corner.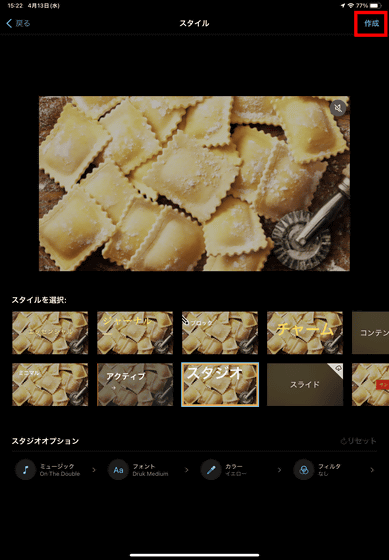 Then, scenes such as 'Intro', 'Summary', and 'Material' are prepared, and cuts such as 'Wide shot', 'Close-up', and 'Medium shot' are prepared in it. You can edit videos that are easy to see and understand just by shooting videos and photos according to each explanation.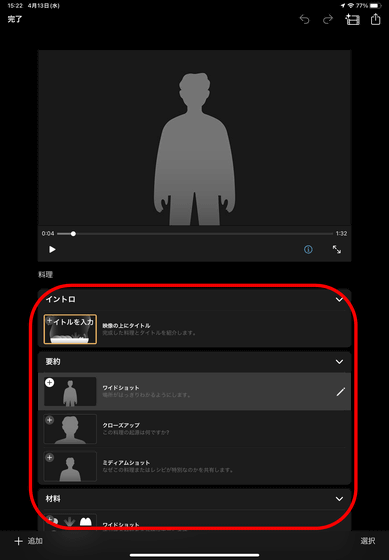 Slide the cut sideways to display a menu for renaming and deleting. If you think, 'The iMovie template looks like this, but you don't need this cut for the video you want to make!', You can just delete the cut.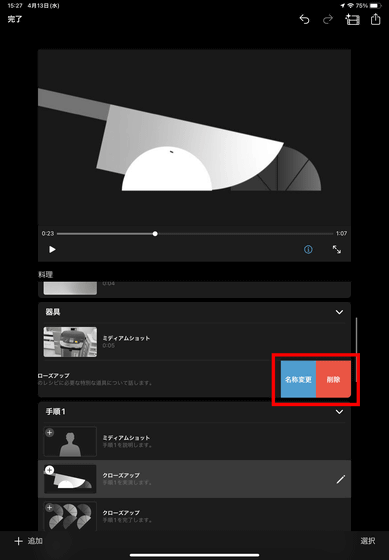 Tap the + icon at the left end of each cut, then tap 'Take video or photo' to move to the camera screen and shoot as it is. Instead of using all the videos you've shot, iMovie will automatically select the part that fits in the cut.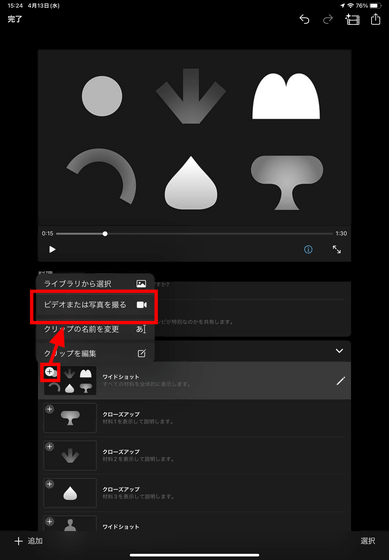 For the shot cut, tap the pen icon on the far right and tap 'Edit Clip'.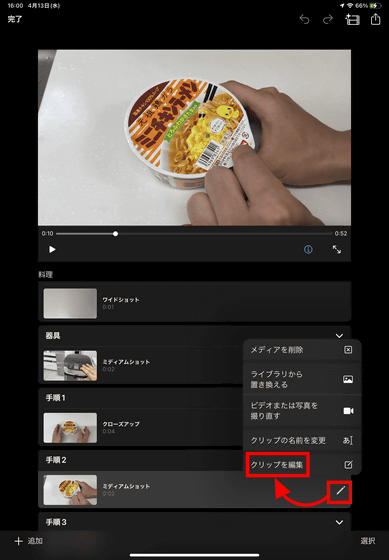 Moves to the timeline edit screen.



The method of editing the timeline is basically the same as the magic movie. The timeline edit screen will be easier to see if you lay your iPad or iPhone sideways.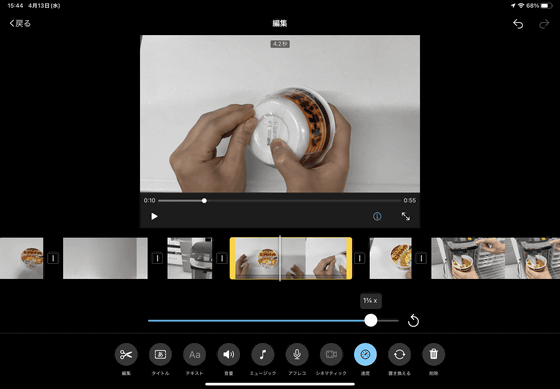 You can adjust the length of the clip by sliding both ends of the clip.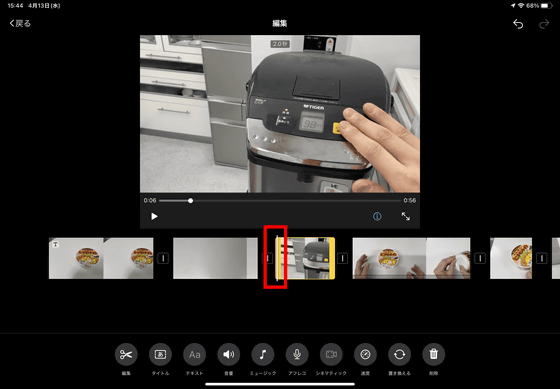 By tapping 'Volume', you can adjust the volume of the audio (top) and BGM (bottom) of the video.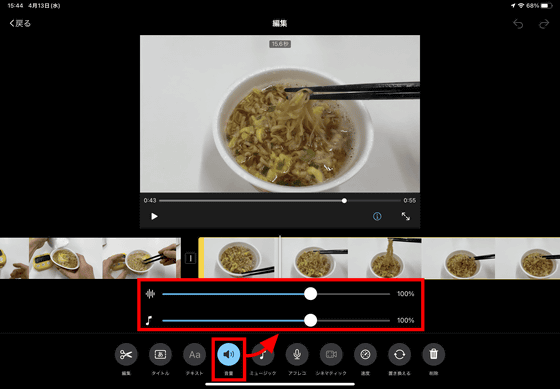 When you're done editing, tap the share icon in the upper right to save.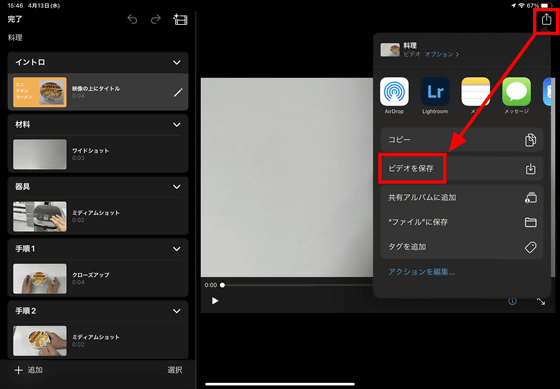 Below is a video I made while shooting a storyboard about just making a mini chicken ramen like that.

Anyone can easily shoot and edit cooking videos using iMovie 3.0's 'Storyboard'-YouTube


As a video editing application, basic video editing functions such as clip cutting and pasting, clip speed adjustment, BGM setting, volume adjustment, simple title effect, subtitle insertion, etc. are prepared, and it takes about 30 minutes including shooting time. I was able to create it with. You can't do advanced things like transitions to adjust clip-to-clip connections or complicated screen processing, but if you shoot according to the storyboard template, anyone can easily create high-quality video, so make your own movie for the event. It is useful when making with.