IKEA announces 'an app that allows you to 3D scan your room and check your design by replacing furniture with IKEA products'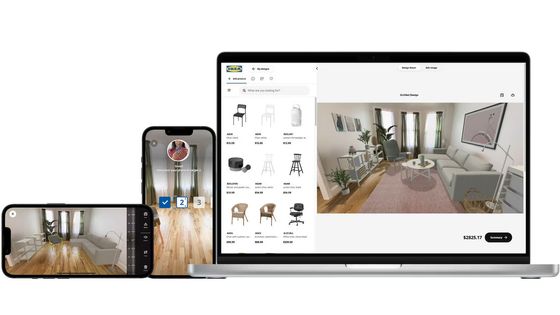 by IKEA

IKEA, a leading Swedish furniture maker, has announced IKEA Kreativ , an app that allows you to accurately 3D scan your room and replace existing furniture with IKEA furniture to check your design. IKEA claims that new AI-developed apps can inspire people, unleash their creativity, and visualize whether furniture fits.

IKEA launches new AI-powered, digital experience --IKEA

https://www.ikea.com/us/en/newsroom/corporate-news/ikea-launches-new-ai-powered-digital-experience-empowering-customers-to-create-lifelike-room-designs-pub58c94890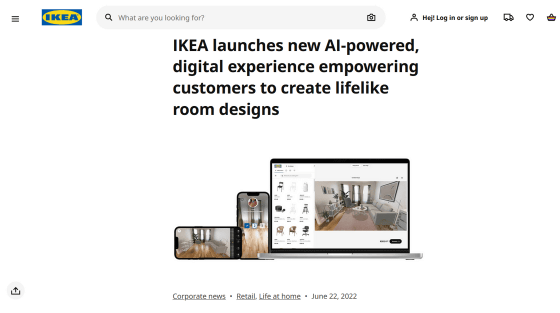 AR, meet ML: IKEA app lets you erase and replace your furniture | Ars Technica
https://arstechnica.com/gadgets/2022/06/ar-meet-ml-ikea-app-lets-you-erase-and-replace-your-furniture/
IKEA rolls out an AI-powered interactive design experience for shoppers | TechCrunch
https://techcrunch.com/2022/06/22/ikea-rolls-out-an-ai-powered-interactive-design-experience-for-shoppers/
Ikea's new virtual design tool deletes your furniture and replaces it with Ikea's --The Verge
https://www.theverge.com/2022/6/22/23178125/ikea-kreativ-room-scanner-ios-app-virtual-furniture-showroom
In recent years, the pandemic of the new coronavirus infection (COVID-19) has led to the worldwide introduction of remote work, etc., and people spend more time at home, increasing interest in home design and furniture. increase. According to an IKEA survey, more than 60% of people needed to significantly change their home functions after a pandemic, and 84% said it was important to manage their living space. More and more users are buying furniture through digital channels, and IKEA says it has sought to improve its digital experience.
Therefore, on June 22, 2022, IKEA's parent company, Inca Group, announced 'IKEA Kreativ,' an app that provides a digital design experience that utilizes AI. IKEA Kreativ is said to have been developed by combining decades of IKEA expertise with the core technology of Geomagical Labs, a Silicon Valley AI company acquired by the Inca Group in April 2020.
At IKEA Kreativ, you can see the 3D showroom with over 50 IKEA products, and move and rotate 3D models of IKEA products to check them out.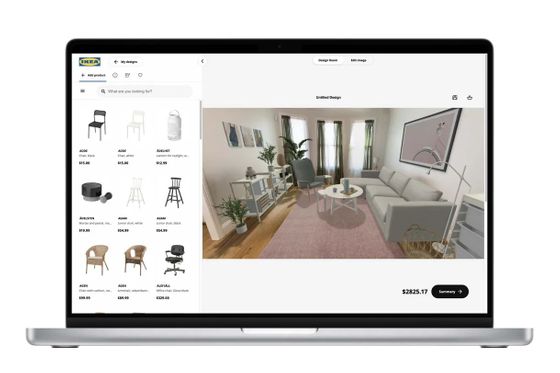 by IKEA

You can also shoot your own room, create accurate 3D data, place your favorite IKEA products in your room, or erase existing furniture and replace it with IKEA furniture. increase. In fact, according to TechCrunch, which used the beta version of IKEA Kreativ, scanning a room with a smartphone requires taking wide-field photos in five different locations and then slowly moving the smartphone into a figure eight. That. 'This was a tedious task, but we got accurate results and it was pretty easy to design the room,' says TechCrunch. The 'ideal design' of IKEA furniture placed using 3D data from the room can be saved in your account so you can check it again later or share it with your family and IKEA interior designers.


by IKEA

'IKEA Kreativ uses state-of-the-art AI and computer vision technology to make customers' home spaces meaningful, just like self-driving cars,' said Parag Parekh, Co-Chief Digital Officer of the Inca Group. And comment. IKEA Kreativ states that it was tested by 1 million customers in April 2021 and received a threatening number of feedbacks.

IKEA Kreativ is being rolled out for iOS and laptop users in the United States, with Android apps coming soon. It will be available in countries other than the United States in 2023.