Distributors who defeated the evil boss in Elden Ring 1000 times with Tyman receive a ``special gift'' from the official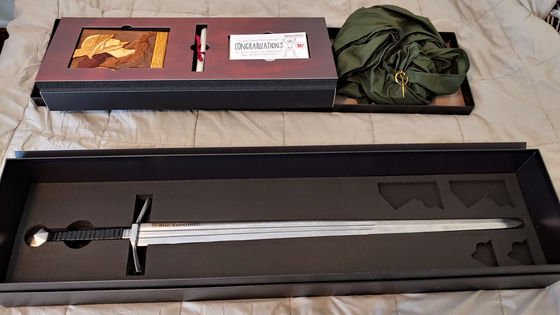 '
ELDEN RING
', which has sold over
13.4 million copies
worldwide, is a game that sells action games that let you enjoy thrilling battles against formidable enemies. A distributor who has defeated `` Malenia, the Goddess of Corruption '', which is known as a particularly strong enemy even in the Elden Ring, received a `` special gift '' from the developer
From Software
and the publisher Bandai Namco. It became clear.
Elden Ring's Let Me Solo Her player receives special, real-life sword - Polygon
https://www.polygon.com/23198342/elden-ring-let-me-solo-her-fromsoftware-bandai-namco-gift-box
'Let me solo her', Klein Tsuboi, is one of the most vicious bosses in Elden Ring, 'Goddess of Corruption, Malenia' alone in the world of other players. He is a person who has become a hot topic in the overseas game community because he will destroy it. Although he looks strange as a half-naked man with two swords wearing acupuncture points, his ability is real, and many Elden Ring players became fans after being helped by Mr. Tsuboi. I was proud.
The evil boss of ELDEN RING (Elden Ring) and the legendary solo player who appears dashingly saying `` Let me do it with a sashimi '' are saved by a series of faded people, and it is too popular to realize fan art and three-dimensionalization as soon as possible-GIGAZINE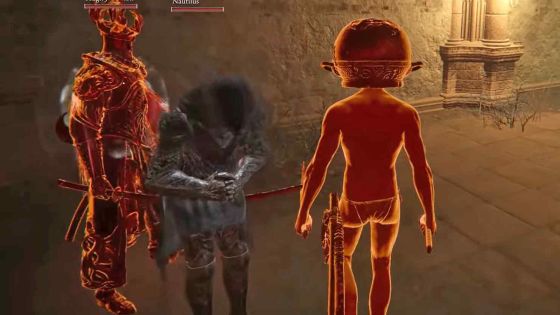 After that, Mr. Tsuboi began to deliver how to defeat Malenia, and finally succeeded in defeating Malenia alone 1000 times. Mr. Tsuboi has delivered how to defeat Malenia 1000 times, and in this, ``I received a message from Bandai Namco the other day that I will give you a special gift. .
A savior who defeats a brutal boss with Tyman in response to the summons of other players in the Elden Ring has achieved 1000 defeats of Malenia, and praise gathers as 'the true King of Elde'-GIGAZINE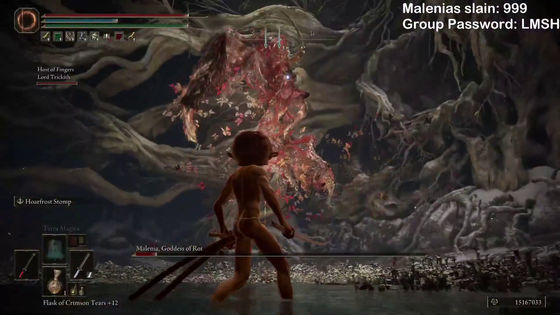 Mr. Tsuboi updated Twitter on July 7, 2022 and reported that he finally received the ``special gift'' that he had talked about in the delivery of 1000 defeats. Tsuboi said, 'Bandai Namco and Elden Ring sent me this gift and congratulated me for being 'Let me solo her'. Thank you very much! I still remember my first experience with the Soul series. , I remember almost quitting the game immediately after the first boss Gunda in Dark Souls 3. However, as I persevered and enjoyed the game, this community became one of the best games I've ever seen. one of the most passionate, dedicated, and proud to be a part of.Many players have shaped who I am today.They made me who I am today and will continue to do so. We want you to know that you can continue to be amazing.
Thank you @BandaiNamcoUS and @ELDENRING for giving me this gift and congratulating me for being #LetMeSoloHer . I can still remember my first experience with the soulsborne series and almost quitting because of Iudex Gundyr in Dark souls 3. I'm glad I persisted and (1/3) pic.twitter.com/w2FF77HRnO

— KleinTsuboi (@TsuboiKlein) July 6, 2022


The 'special gift' received by Mr. Tsuboi is in a box with the Elden Ring logo.



Contents is like this.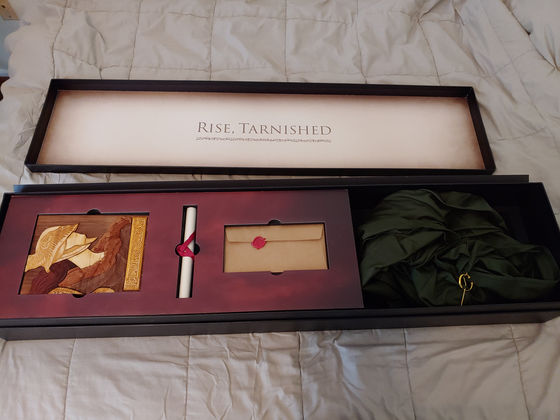 A card congratulating Mr. Tsuboi for defeating Malenia 1000 times as Let me solo her.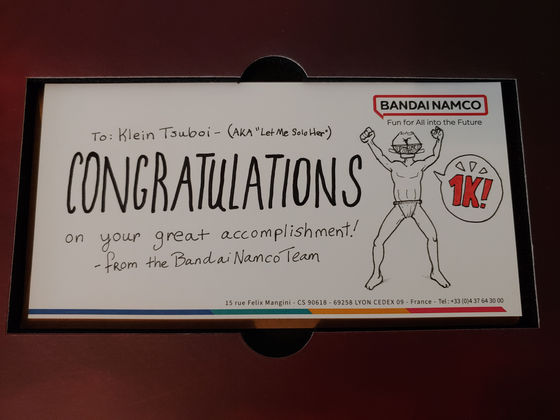 Commemorative sword at the bottom of the box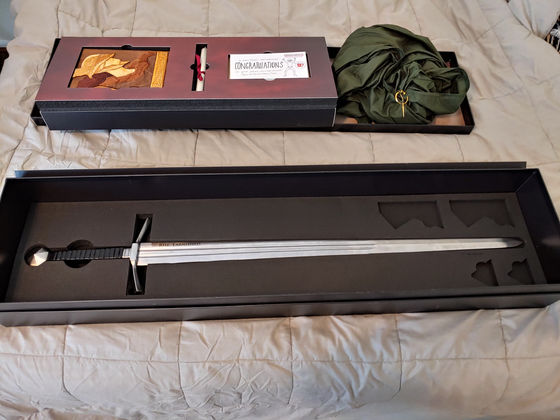 and woodcarving malenia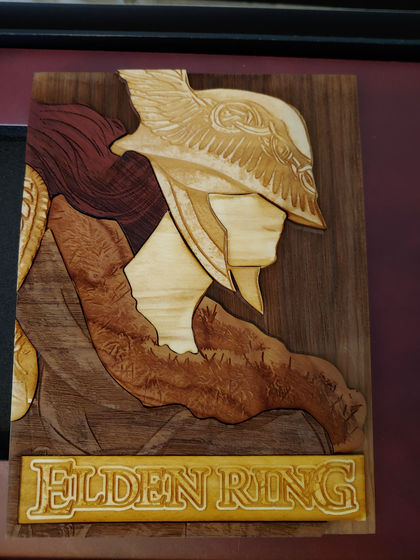 Bandai Namco and From Software logos on the back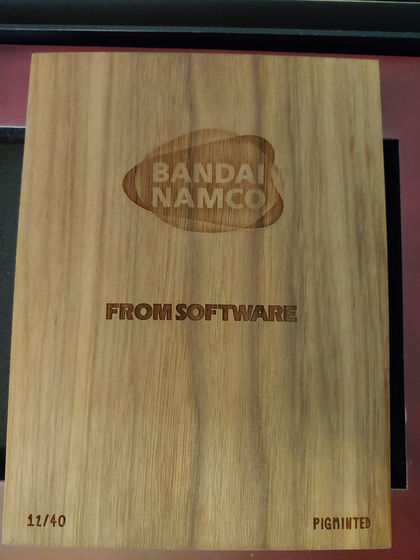 A map is also included.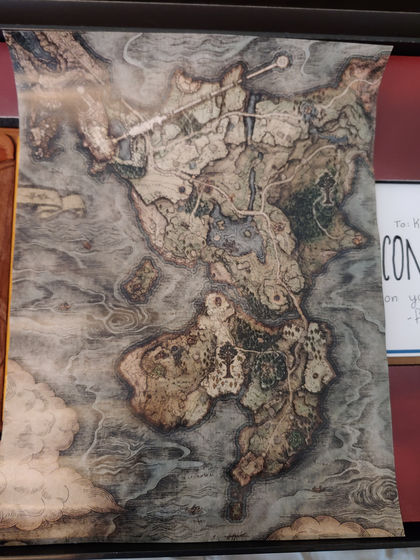 The commemorative sword contained the letters 'RISE, TARNISHED'.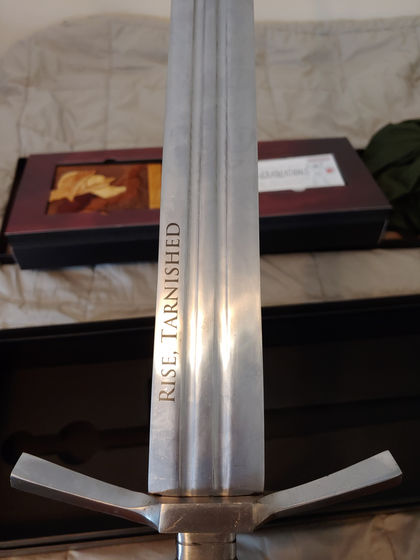 in Game, Posted by logu_ii