It is pointed out that the 256GB model of MacBook Air with M2 is 'slower transfer speed than MacBook Pro with M1'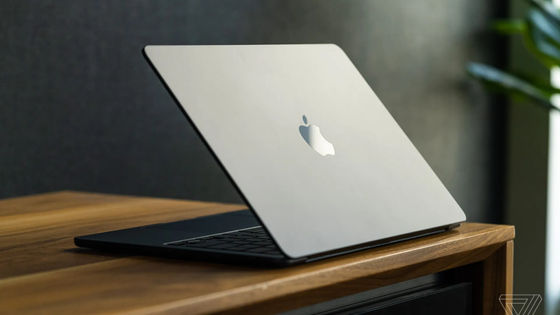 by The Verge

It has been reported that the 256GB model of Apple's new
MacBook Air
released on Friday, July 15, 2022 has significantly inferior SSD read / write speed to the
M1-equipped MacBook Pro
. The MacBook Pro has two NAND flash memories, while the MacBook Air has only one.
Will the M2 MacBook Air be Disappointing? UPDATED Buyer Guide! --YouTube
M2 MacBook Air takes performance hit with slower SSD on base model
https://9to5mac.com/2022/07/14/m2-macbook-air-slower-ssd-base-model/
Apple MacBook Air M2 (2022) review: a whole new Air-a --The Verge
https://www.theverge.com/laptop-review/23207440/apple-macbook-air-m2-2022-review
MacBook Air M2 review (2022): Apple's near-perfect Mac | Engadget
https://www.engadget.com/macbook-air-m2-review-2022-130040098.html
According to verification by YouTube channel Max Tech etc., the reading speed and writing speed of the M2 equipped MacBook Air 256GB model was significantly lower than the M1 equipped MacBook Pro 256GB model.
The reason for this is the difference in the number of SSDs with NAND flash memory, and the M1 equipped MacBook Pro processes with two 128GB chips, while the M2 equipped MacBook Air processes with one 256GB chip. And that. Max Tech states that the former, which processes two sheets in parallel, can achieve faster processing speed. In addition, since the 512GB model has multiple chips, it is said that a decrease in processing speed has not been confirmed.
A similar problem has
been reported with
the M2-equipped MacBook Pro regarding the processing speed reduction. At this time, Max Tech had an M1-equipped MacBook Pro with a read speed of 2900MB / s and a write speed of 2215MB / s, while M2 was installed. The MacBook Pro 256GB model reports a read speed of 1446MB / s and a write speed of 1463MB / s.
An Apple spokeswoman mentioned this issue: 'With the improved performance of the M2, the new MacBook Air and 13-inch MacBook Pro are surprisingly fast compared to Mac laptops with a powerful M1 chip. These new The system uses a new, denser NAND to achieve 256GB of storage on a single chip. The 256GB SSD benchmark may differ from the previous generation, but it's a real thing. Performance is fast. '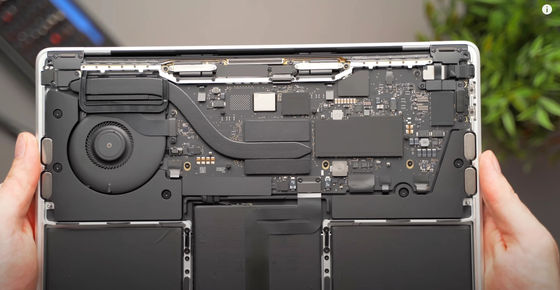 by Max Tech

Another problem with the M2-powered MacBook Air is that The Verge cites the heat treatment problem. The Verge conducted a benchmark test and found that the M2-equipped MacBook Air had about 25% lower performance than the M2-equipped MacBook Pro in terms of sustained workload. The M2-equipped MacBook Pro has a cooling fan to suppress heat generation, but the M2-equipped MacBook Air has a fanless design that processes heat by reducing internal power consumption, so this result is obtained. That's right. 'The fanless design of the M2-powered MacBook Air is great for normal work and provides a quiet computer, but it's a stumbling block to the system for more intense work,' said The Verge.

In addition, it is said that the MacBook Air equipped with M2 realizes faster performance than the device equipped with M1 in almost all viewpoints except the problem of SSD mentioned above. Although the benchmark test results are worse than the M2-equipped MacBook Pro, it does not cause problems such as excessive heat generation in normal work, and it is said that it has sufficient ability for surfing the net, making video calls, watching videos, etc. Verge is evaluating.

If you only occasionally do advanced processing such as editing photos and videos, there is no reason not to choose the M2 MacBook Air, which is thinner and lighter and has an improved screen and webcam. If you need intensive work such as professional video editing or a lot of coding work, the MacBook Pro with M2 may be more suitable.

Engadget also points out that performance must be reduced in advanced processing, but the sound emitted from the quad speaker is good, the MagSafe connector for power supply allows you to freely use one USB Type-C port, benchmark test The fact that the actual usage time of the battery reached 16 hours and 30 minutes was evaluated as a good point.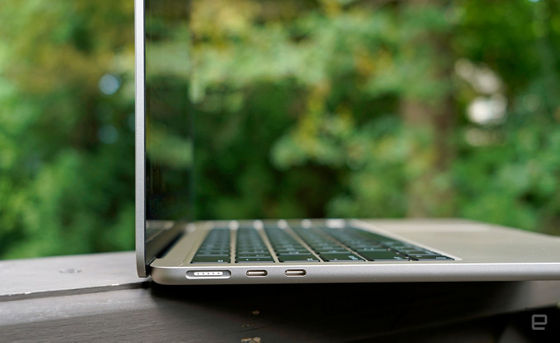 by Devindra Hardawar / Engadget

Gizmodo also said, 'Some people may be concerned about the notch, but the bezel has been thinned to just 5mm, so you can experience an impressive
13.6
inch.' PCMag said, 'The 500 Nito Liquid Retina display is brighter, bolder and more impressive
than
you've ever seen on an Air.'
The price of the M2-equipped MacBook Air is 164,800 yen including tax for the 256GB model and 208,800 yen including tax for the 512GB model.
Buy M2-equipped MacBook Air-Apple (Japan)
https://www.apple.com/jp/shop/buy-mac/macbook-air/m2%E3%83%81%E3%83%83%E3%83%97%E6%90%AD%E8% BC% 89