A naughty boy tried using the concept energetic Japanese font 'Tyrannogochi mini'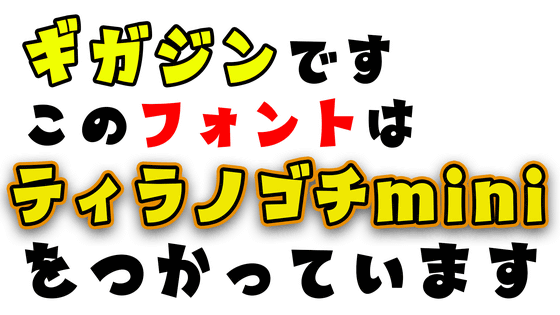 Yamanaka Design Works
has released an energetic Japanese font '
Tyrannogochi
' based on handwritten characters based on the concept of 'Yancha Kozo'. The Tyrannogochi complete version, which contains 3459 characters, including hiragana, katakana, alphanumeric characters, symbols, punctuation, and kanji, is a paid version, but the free version '
Tyrannogochi mini
' is a set of 240 kanji characters learned by the second grade of elementary school, including hiragana, katakana, and kanji. is distributed, so I actually tried using it.
Tyrannogochi | Yamanaka Design Works
http://ymnk-design.com/tyranno-gochi/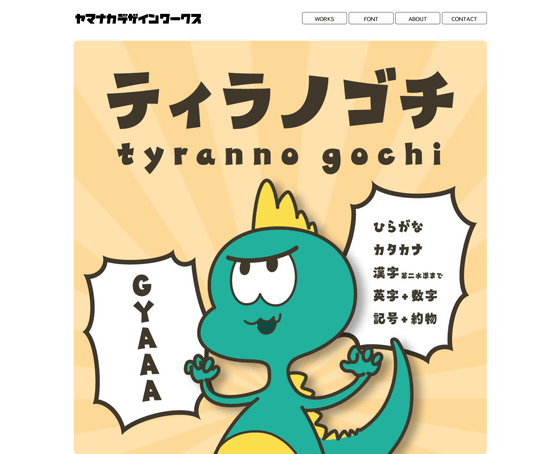 New font 'Tyrannogochi' has been released! ! !
It is a naughty energetic Japanese font!
Kanji is 3459 characters up to the second level! The mini version can be used up to the second small kanji!
Web → https://t.co/uK6mhvwbL4
BOOTH → https://t.co/0lTN2paKUH
STORES → https://t.co/E7iZiiI8uj pic.twitter.com/JNlwRVMxMd

— Rokubui (Character Tsukuruman) (@ymnkdesignworks) August 1, 2022


You can download Tyrannogochi mini in ZIP format by accessing the above official page and clicking 'Download'. The file size is about 126KB.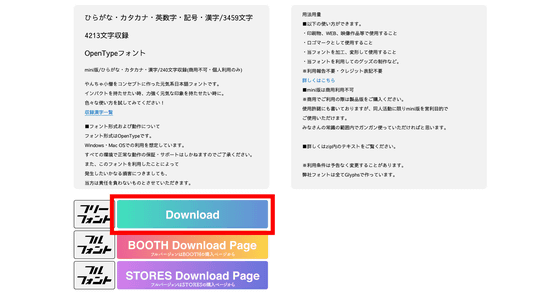 Unzip the downloaded 'tyranno-gochi-mini.zip' using standard Windows functions or free software such as
Explzh
, and double-click 'tyrannogochimini.otf' in the 'tyranno-gochi-mini' folder that appears. increase.


You can install by clicking 'Install' on the upper left.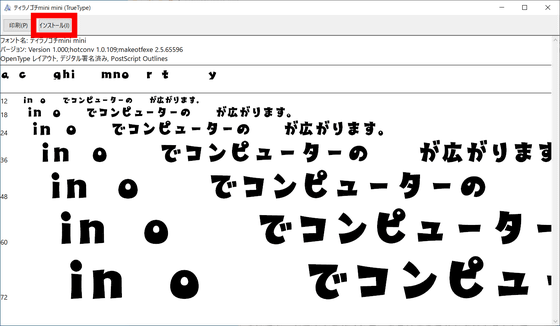 Tyrannogochi mini can input hiragana and katakana. When you actually hit it, it looks like this, and you get a slightly bright and cheerful impression. You can also enter some letters and symbols.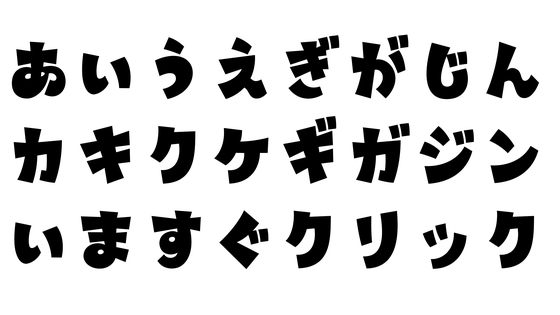 And I tried typing a sentence with kanji mixed in. The part in the red frame is the part that was not displayed because it was an unsupported kanji.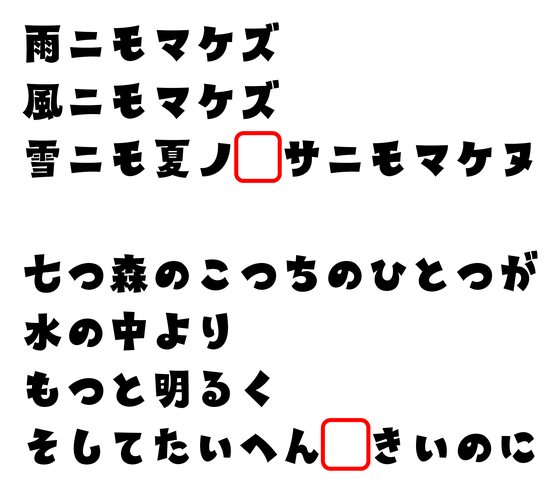 Although Tyrannogochi mini is distributed free of charge, commercial use is out. However, it is OK to use it within the range of common sense only for doujin activities. In addition, the complete version of Tyrannogochi has alphanumeric characters and 3459 kanji characters in hiragana and katakana, and commercial use is also OK. The full version can be purchased for 5000 yen including tax on the following page.

Tyrannogochi - ymnk-design - BOOTH
https://ymnk-design.booth.pm/items/4031550

Tyrannogochi | Yamanaka Design Works FONT STORE
https://ymnkinfo.stores.jp/items/62df4dec4ba8b41637c9020a