Samsung's folding smartphone 'Galaxy Z Fold 4' which achieved thinness and weight reduction Overseas review summary, hinge improved and camera performance improved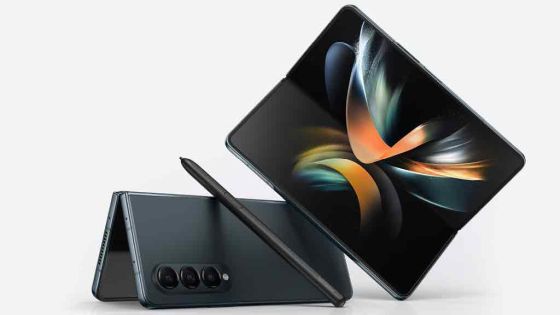 Samsung has announced the Galaxy Z Fold4 , a smartphone that can be folded horizontally. Galaxy Z Fold4 is said to have improved the folding mechanism and changed the screen aspect ratio to the previous '
Galaxy Z Fold
'. Multiple overseas media reported their impressions of actually touching the Galaxy Z Fold4, so I tried to summarize the changes in size and comfort.
Introducing Samsung Galaxy Z Flip4 and Galaxy Z Fold4: The Most Versatile Devices, Changing the Way We Interact With Smartphones – Samsung Global Newsroom
https://news.samsung.com/global/introducing-samsung-galaxy-z-flip4-and-galaxy-z-fold4-the-most-versatile-devices-changing-the-way-we-interact-with- smartphones
Samsung Galaxy Z Fold 4 Hands-On: Thinner, lighter, stronger, faster
https://www.xda-developers.com/samsung-galaxy-z-fold-4-hands-on/
Samsung Galaxy Z Fold 4 & Flip 4 hands-on: A little progress, lots of polish
https://www.androidpolice.com/samsung-galaxy-z-fold-4-and-flip-4-hands-on/
◆ Specs & dimensions
The specs of the Galaxy Z Fold4 are as follows. The processor uses Qualcomm's high-end SoC '
Snapdragon 8 + Gen 1
', and the RAM is as large as 12GB. As a smartphone, it falls into a fairly high-performance category.
OS
Android 12
Screen size
7.6 inch organic EL
main screen resolution
2176×1812 pixels 374ppi
Main screen aspect ratio
21.6:18
cover screen resolution
2316×904 402ppi
cover screen aspect ratio
23.1:9
refresh rate
120Hz
Dimensions (opened)
Height 155.1mm x Width 130.1mm x Thickness 6.3mm
Dimensions (closed)
Height 155.1mm x Width 67.1mm x Thickness 15.8mm
weight
263g
battery capacity
4400mAh
processor
Qualcomm Snapdragon 8+ Gen 1
RAM
12GB
storage
256GB/512GB/1TB
charging port
USB Type-C
rear camera
Main: 50MP
Wide angle: 12MP
Telephoto: 10MP
front camera
Cover screen: 10MP
Main screen: 4MP
Recording performance
8K/24fps
4K/60fps
1080p/240fps
Wireless communication
Wi-Fi 6
Bluetooth 5.2
5G communication
mmWave Sub 6GHz
biometric authentication
Built-in fingerprint sensor on the power button
Waterproof performance
IPX8
wireless charging
Correspondence
touch pen
Compatible with S Pen for Galaxy Z Fold
The dimensions of the Galaxy Z Fold4 when opened are 155.1 mm high x 130.1 mm wide x 6.3 mm thick, which is higher than the 'Galaxy Z Fold3' (158.2 mm high x 128.1 mm wide x 6.4 mm thick). 3.1mm shorter and 0.1mm thinner. Also, Galaxy Z Fold4 weighs 263g, which is 8g lighter than Galaxy Z Fold3 (271g). Technology media's XDA evaluates that slight changes in dimensions and weight reduction have improved the feel when held in the hand.
◆ Improved hinge
Android Central reports that the Galaxy Z Fold4 opens and closes more smoothly than the Galaxy Z Fold3 due to an improved hinge. Also, looking at the comparison image of Galaxy Z Fold3 (top) and Galaxy Z Fold4 (bottom) when fully opened released by Android Central, it can be seen that the curvature in the center part that was confirmed in Galaxy Z Fold3 has been eliminated. increase.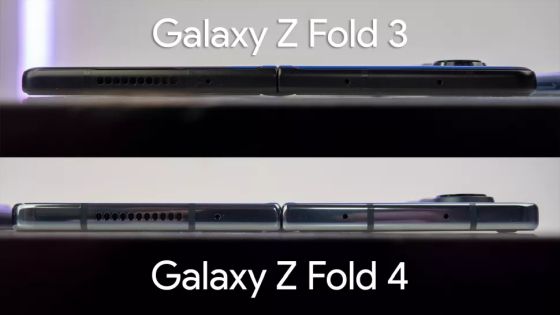 Android Police also evaluated that reflections were reduced by improving the hinge. Checking the following image released by Android Police, you can see that Galaxy Z Fold4 (left) is less distorted than Galaxy Z Fold3 (right).



◆ Camera performance
Galaxy Z Fold4 is equipped with three rear cameras: main, wide-angle, and telephoto. In addition, on the front side, one camera is arranged for each screen, and a total of five cameras are installed. XDA focused on the fact that the number of pixels of the main camera, which was 12MP in the Galaxy Z Fold3, has been enhanced to 50MP in the Galaxy Z Fold4, and that it is equipped with an optical image stabilization function. The 'best camera' has never existed, but the Galaxy Z Fold4 is revolutionizing the camera in Samsung's foldable smartphone line.'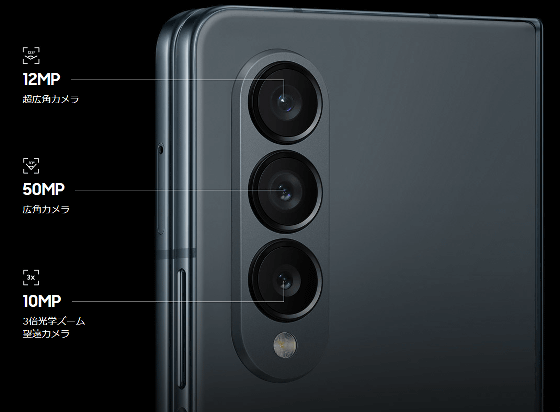 The Galaxy Z Fold4 is scheduled to be released in some countries on August 26, 2022, but the release date in Japan is unknown. Also, the selling price is $ 1799.99 (about 240,000 yen).