'Fans raised Sonic and made it into a movie', interview with producer Toru Nakahara of the movie 'Sonic the Movie / Sonic VS Knuckles'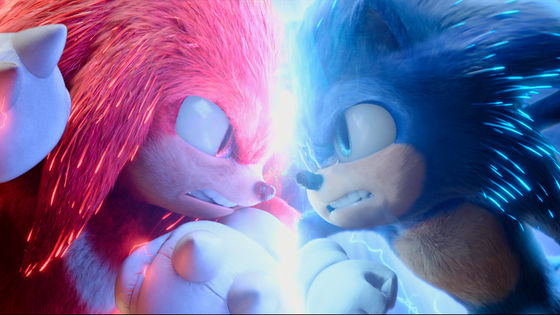 The movie `` Sonic the Movie / Sonic VS Knuckles '' has been acclaimed since August 19, 2022 (Friday). We interviewed producer Toru Nakahara, who was in charge of both business and creative at Sega, about how the movie was created from a game in which the blue hedgehog character 'Sonic the Hedgehog' runs around freely. rice field.

Movie 'Sonic the Movie / Sonic VS Knuckles' Official Site

https://sonic-movie.jp/
Together with producer Toru Nakahara and James Marsden, who plays the role of Tom Wakawski, who answered the interview this time.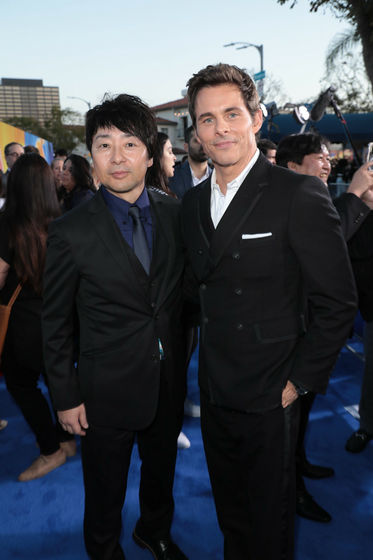 GIGAZINE (hereinafter G):
First of all, I would like to ask how Mr. Nakahara is involved in this work.

Toru Nakahara Producer (hereinafter referred to as Nakahara):
As a producer on the Sega side, I work with the director and the film company (Paramount) in charge of everything from movie contracts, scripts, shooting, advertising, and distribution.

G:
method.

Nakahara:
The term "producer" is divided into business-related matters such as contract negotiations and creative-related matters related to production. Even within the movie company, there is a clear division of roles around that, but I played both roles in 'Sonic the Movie (1st work / previous work)' and 'Sonic VS Knuckles (2nd work / this work)'. It also served as

G:
Oh, I see. If there was a request from Sega to Paramount, would it be communicated via Mr. Nakahara?

Nakahara:
Yes, That's right. If you set up various contact points for Paramount, the information will be complicated. I am still in charge of the first and second Sonic movies.

G:
So you know everything about the 'Sonic the Movie' series? I would like to ask such producer Nakahara, but I got the impression that compared to the previous work, this work has been greatly strengthened here and there and has become flashy. How did this decision come to be?

Nakahara:
There are two reasons for this. The first is a generalization, but fans expect the second game to be on a scale that surpasses the first. Thanks to you, we were able to make a profit from the first game, so naturally, if we were to make a second one, we would have to raise the production and advertising costs to make the fans happy. Another reason is that the first film successfully introduced Sonic to people all over the world, so in the second film we were able to create a movie with a wealth of characters and action that reflects the original Sonic world.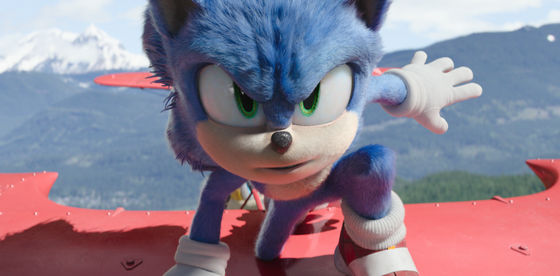 G:
method.

Nakahara:
In the first game, I had to introduce Sonic to people who didn't know him. For example, if we take "Avengers" as an example, I don't think it will go well if we suddenly create a large-scale work with all the characters. 'Iron Man', 'Captain America', 'Hulk', etc., I think that the fans are familiar with each character, so the 'movies in full force' will go well. In that sense, in the first Sonic game, it was necessary to create a humanistic depiction to connect Sonic with the hearts of the audience.

G:
I see, sure.

Nakahara:
I believe that the three pillars of 'action', 'joke' and 'emotion' are important components of many action movies. In the first work, 'emotion' was emphasized as I just said. In the second work, we have a foundation that can emphasize 'action' more.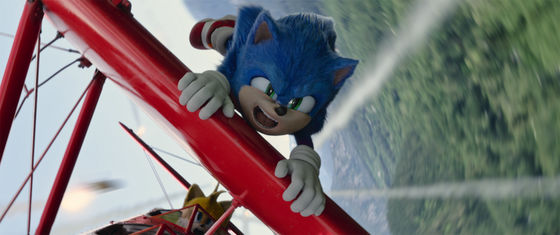 G:
Oh.

Nakahara:
As for the jokes, I was able to put more effort into the second one than the first one. Above all, Dr. Robotnik, played by the genius comedian Jim Carrey, appears in the second film, and his relationship with Agent Stone, his subordinate, is also interesting. Also, I think that the policeman Wade's jokes that appear following the first work can be laughed at.



G:
This work is based on the game, or from the person who worked on Mega Drive's 'Sonic', there was a part that I felt that it was included as it was.

Nakahara:
It's sprinkled with gimmicks that fans of the game's Sonic will notice. At the same time, even if you don't know much about Sonic, we tried to balance it so that you can fully enjoy the movie as a family-friendly action movie from Hollywood.

G:
It certainly was.

Nakahara:
For example, even if you take a single design of a room or wall that appears in the play, I try to make it so that people who know me will smile when they see it. Even in the jokes, I tried to include elements that game fans would find funny, and to be able to laugh honestly even if they didn't know the game.

G:
Is it something that Sega suggested, 'something that would make a fan of the game go crazy'? Or is it included in the script or suggested by the director?

Nakahara:
Before making the first game, Sega said, ``I want you to think about various things and please the fans.'' I have been researching , and there were many proposals from them. After all, in the process of producing and releasing the first work, I think that people in Hollywood understood how passionate Sonic fans were, and that made them study Sonic more. Sonic's fans have a strong love for Sonic and are as passionate as fans of popular sports teams.

G:
(smile)

Nakahara:
Fans have nurtured Sonic so far and brought it to the Hollywood screen. I think everyone learned that you can't make a good movie without listening to the voices of the fans.

G:
Amazing (laughs) That's why the atmosphere of the game is getting stronger.

Nakahara:
The director and other producers proudly make suggestions such as, ``The design of this part, the atmosphere of this scene, it should be similar to the video game ' Sonic Adventure ,''' making it difficult to tell which is the person from Sega. There was even a scene like that (laughs).

G:
What impressed me about this work is that the designs of Knuckles and Tails are really well done.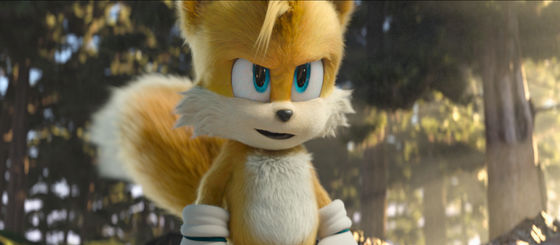 Nakahara:
That's what I really struggled with in the first game. You will be there... I had a hard time with the design of the first Sonic, so I completed the design of ``Movie version Tails'' and ``Movie version Knuckles'' in the form of ``Movie version Sonic'' that was completed after overcoming that difficulty.

G:
That's how it went. Certainly, there were
various things
in the first work, but when I saw this work, I felt that it was really Knuckles, and I was relieved that there was no discomfort at all.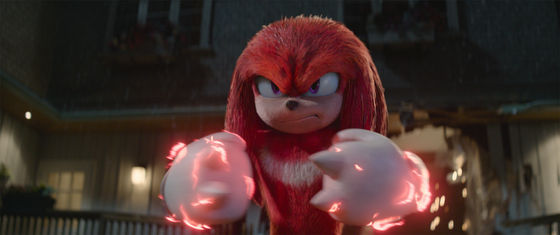 Nakahara:
I am really happy to hear that.

G:
Was the production of the second work also decided at the time of the production of the first work?

Nakahara:
Not decided. But of course, the directors and actors, we at Sega wanted to make a second game.

G:
It feels like there's already a 3rd one...

Nakahara:
The second game was more successful than the first one, so I definitely want to make it. We are currently working hard to bring this to fruition.

G:
The first film made '
the best start ever as a movie based on a game
', but if it surpasses that, I'm looking forward to the sequel.
What aspects of the production of this work were more difficult than you thought, and what were the aspects that went well?
Nakahara:
First of all, the difficult thing was related to the new corona. It was April to May 2020 when the green light (production decision making) turned on and it became 'OK, let's do it'. At that time, America was in the middle of a lockdown, and I was stuck in LA. I had to look at the budget and check the details of the location in Vancouver where we were planning to shoot, but it was hard to exchange this remotely. It was so inefficient that I thought, 'Is it really possible to shoot a movie with this?'
Also, at the shooting site, we usually allow various people to come and go with one pass (passing pass), but this time the pass is divided into three colors to make it closer to the director and actors. I made a handful of people. In other words, some people can only enter up to the second area, and some people can only enter the third area. For example, the person who prepares the catering can be divided up to the 3rd area, so that even if an infected person appears in the 3rd area, the infected area can be separated.
G:
Haha, I see.
Nakahara:
What was even better than I had expected was that the team, including the director, actors, Paramount, and many other staff members, came together as one with a strong relationship of trust. We had enough teamwork to overcome the inconvenience caused by Corona. As for ``What kind of movie are you going to make? What will happen to the action? Let's do it.' Constructive opinions were thrown out, and in that sense (although it was inconvenient due to Corona), it was a fun and wonderful scene.
Director Jeff Fowler in action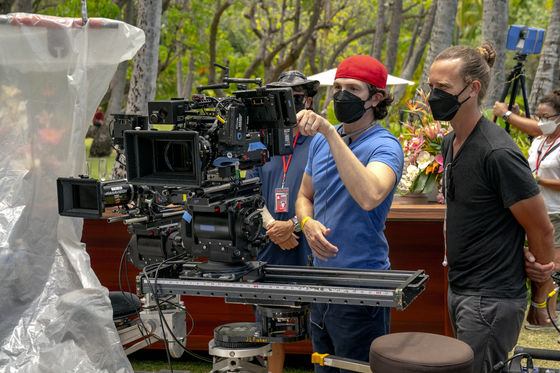 G:
In the first place, did the project for this work start from the script writing?

Nakahara:
that's right. Hollywood takes the script very seriously. For example, 'I want to make this kind of movie starring Robert Downey Jr. and Cameron Diaz,' or 'The director of that blockbuster movie is motivated.' I don't think it will.

G:
The script must also be full, right?

Nakahara:
Even if it is not full, it is usually required to have a level of perfection that movie companies and people who invest in production costs are satisfied with.

G:
I think that there are people who watch from this work without seeing the previous work. Lastly, please give a message from Mr. Nakahara.

Nakahara:
'Sonic the Movie / Sonic VS Knuckles' is a classic Hollywood adventure action movie that makes you feel refreshed and refreshed. There are laughter, tears, and fun to watch as a family.Those who know the game will find something extra to enjoy, and even those who don't know it at all can enjoy it from scratch. It was released all over the world, including the United States, and thanks to you, we were able to exceed 50 billion yen in box office revenue. As the characters born in Japan who played an active part in the United States return home triumphantly, I hope you will enjoy the feeling of Ichiro and Shohei Otani coming back to Japan and participating in the games.

G:
Thank you for today.

The movie 'Sonic the Movie / Sonic VS Knuckles' is showing a big hit.

Movie 'Sonic the Movie / Sonic VS Knuckles' 90 seconds main notice strongest battle! -YouTube

© 2021 Paramount Pictures Corporation. All rights reserved.