CoCo Ichibanya 'SABA and burdock spice curry' tasting review, which is a refreshing spice curry finished with spices and toppings of horohoro mackerel to the bone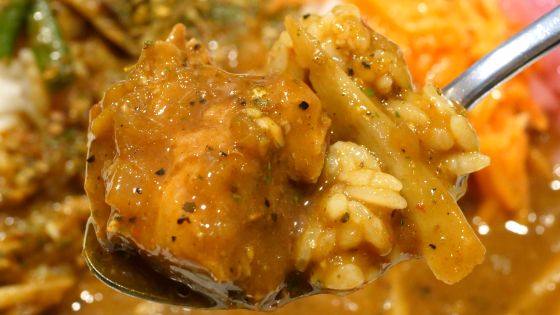 `` SABA and burdock spice curry '', which is a spice curry made from mackerel simmered in miso and a large amount of chopped burdock, has appeared at Curry House CoCo Ichibanya from September 1, 2022. Grain mustard and coriander are used for spices, and it is said that it is finished in a refreshing aftertaste. I was wondering what kind of taste it would be if mackerel stewed in miso and spices were combined, so I actually ate it and checked the taste.

Curry House CoCo Ichibanya SABA and burdock spice curry

https://www.ichibanya.co.jp/cp/kikangentei/202209/
Arrived at Curry House CoCo Ichibanya.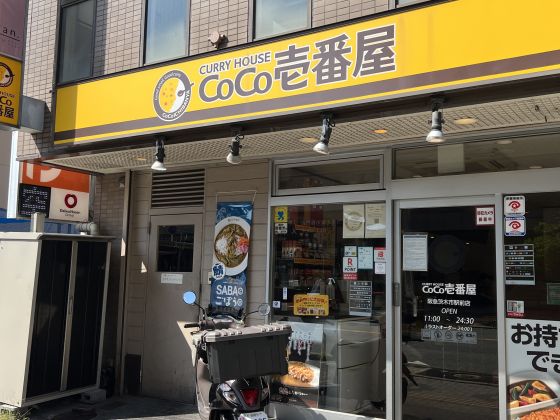 At the entrance of the store, there was a banner that appealed to the target 'SABA and burdock spice curry'.



Even on the tabletop menu, 'SABA and burdock spice curry' is placed in the most conspicuous position. The standard amount of rice is 250g, and the standard spiciness is medium. The spiciness can be adjusted, but sweet is not supported. This time I ordered 250g of rice, medium spicy.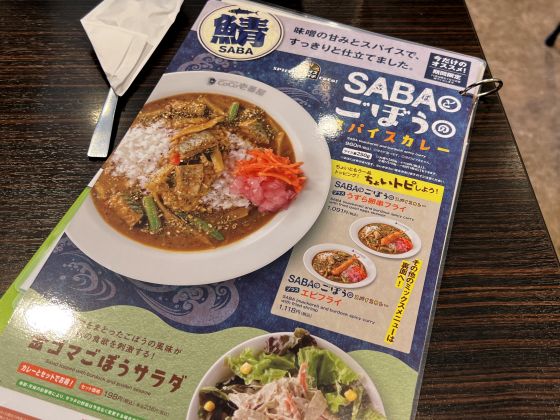 'SABA and burdock spice curry' was provided in about 4 minutes from the order. Curry House CoCo Ichibanya's regular curry is served half and half with rice and curry sauce, but in 'SABA and Burdock Spice Curry' rice is served in the center and curry sauce is served around the rice.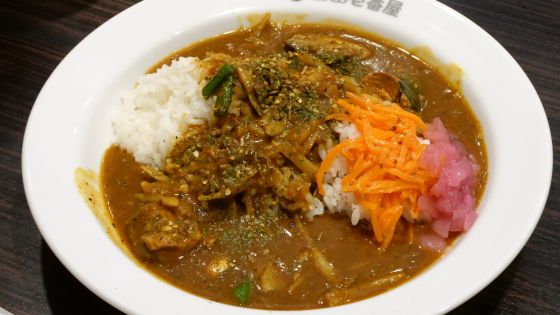 In the curry sauce, large cut mackerel is rumbling.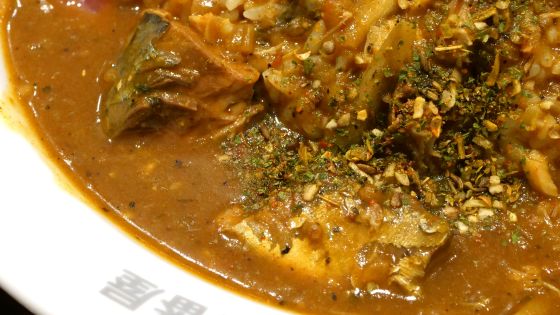 The rice is topped with pickled carrots and onions.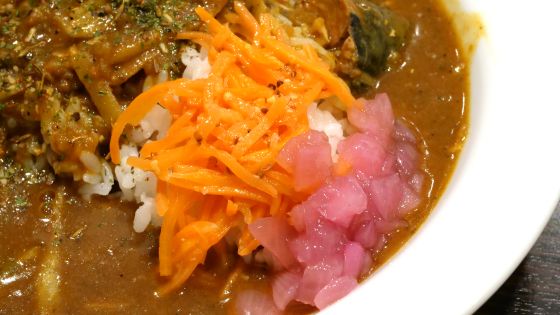 Near the center, coarsely crushed coriander and grain mustard were topped.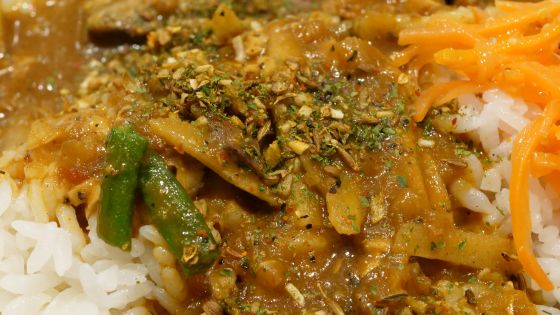 First of all, if you eat only the mackerel part, the mackerel is softly boiled down to the bones, and the moment you put it in your mouth, it will crumble. The green smell peculiar to fish is considerably suppressed, and the umami of mackerel and the spice flavor of curry sauce complement each other. The curry sauce was spicy and spicy, and the spiciness remained in my mouth even after I swallowed it.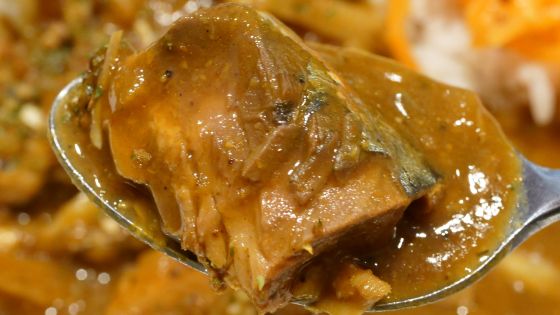 Burdock, which is abundantly contained in the curry sauce, adds crunchy texture to the soft mackerel curry.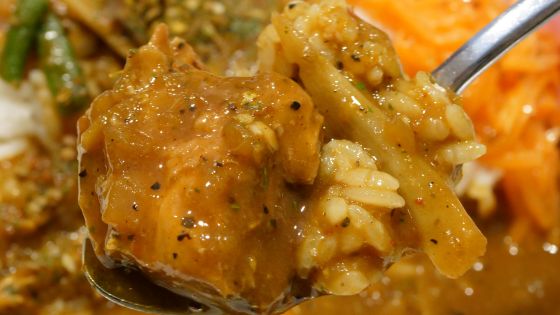 When I ate the part with mustard and coriander, a very refreshing flavor spread in my mouth. The spice alone has a bitter taste, but if you eat it with mackerel, it will make the aftertaste refreshing while highlighting the umami of mackerel, so you can experience the goodness of compatibility.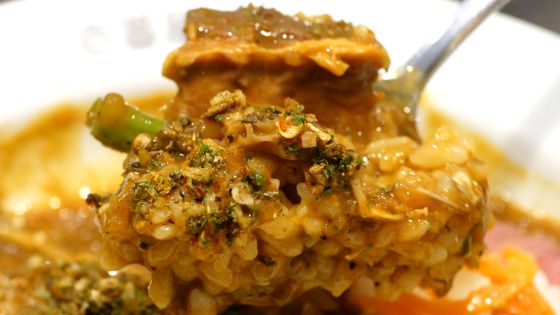 The pickled carrots and onions on top of the rice are sweet and sour and will leave your mouth feeling refreshed. "SABA and burdock spice curry" changes its taste depending on where you eat it, so you can enjoy it until the end without getting bored.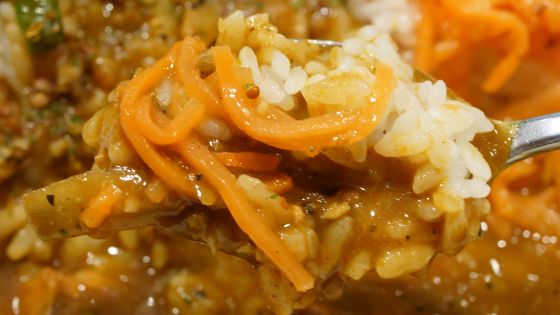 I was wondering what kind of container it would be offered as a takeaway, so I ordered 'SABA and burdock spice curry' for takeout.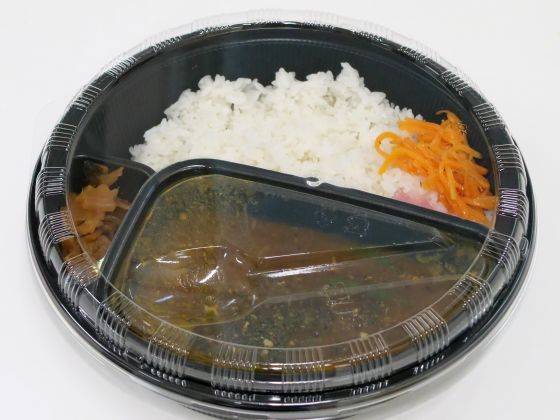 When ordering with 250g of rice, it looks like this. In the case of take-out, it also comes with Fukujinzuke.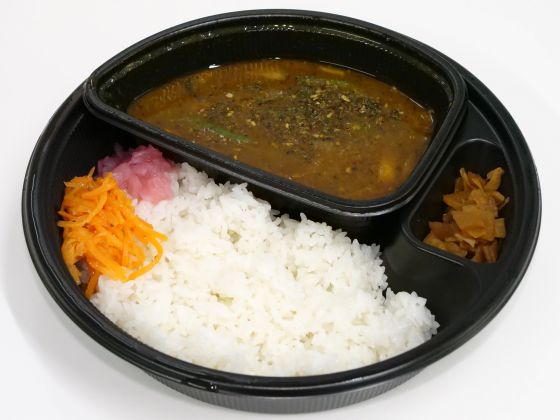 'SABA and burdock spice curry' is 960 yen including tax for in-store dining and 942 yen including tax for takeout. It will be available at Curry House CoCo Ichibanya nationwide from September 1, 2022, excluding some stores, and will end as soon as it is gone after November.