``Alpro Dietary Fiber & Iron Oats & Cacao Luxury Chocolate Taste 250ml'' tasting review that matches the flavor of grain-derived oats milk and chocolate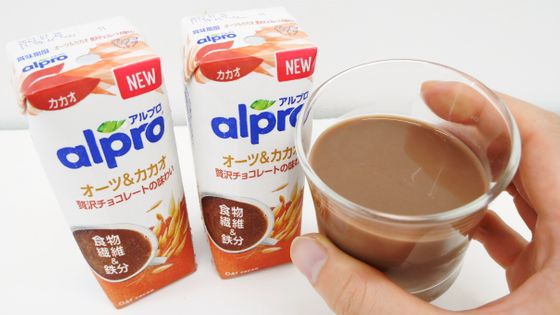 Oat milk ' Alpro Dietary Fiber & Iron Oats & Cacao Luxury Chocolate Flavor 250ml ' using
oats
, which is the raw material of
oatmeal
, is a brand '
Alpro
' under the umbrella of
Danone
, which develops chilled dairy products and plant-derived foods.
)
" will appear from October 3, 2022 (Monday). In addition to the dietary fiber of oat milk, it is said that it is a cacao flavored drink that can be deliciously ingested with iron and polyphenols derived from cacao, so I drank ahead of time to see what kind of taste it was.
New flavor appeared in 'Alpro' oats milk with plenty of dietary fiber 'Alpro Dietary Fiber & Iron Oats & Cacao Luxury Chocolate Taste 250ml' | News | Danone Japan | Danone's Yogurt Site | DANONE JAPAN
https://www.danone.co.jp/news/20220908_2/
The package of 'Alpro Dietary Fiber & Iron Oats & Cacao Luxury Chocolate Taste 250ml' is based on brown that makes you think of oats and cacao, and the corners are slightly rounded.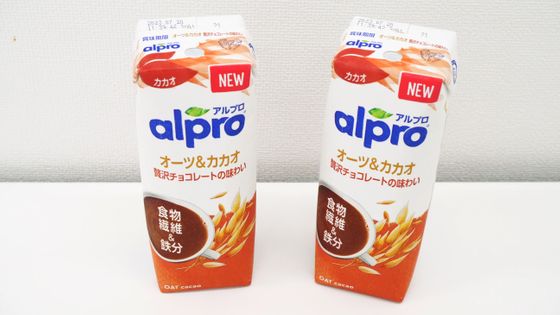 A straw was attached to the corner of the package.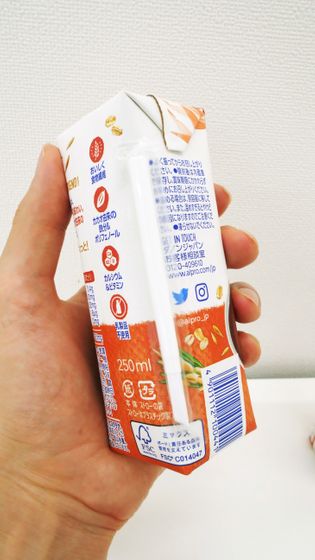 The content per bottle is 250 ml, the calorie is 134 kcal, the protein is 1.3 g, the carbohydrate is 24.8 g, the sugar is 21.8 g, and the dietary fiber is 3.0 g. According to Danone Japan's calculations based on the Ministry of Health, Labor and Welfare's ' (PDF file)
Dietary Reference Intakes for Japanese (2020 Edition)
' and the '
Reiwa First Year National Health and Nutrition Survey Report
,' Japanese men and women aged 30 to 49 The maximum dietary fiber deficit per day is 2.7 g, and one 'Oats & Cacao' can compensate for the lack of dietary fiber. In addition, iron content is 1.0 mg and polyphenol is 150 mg.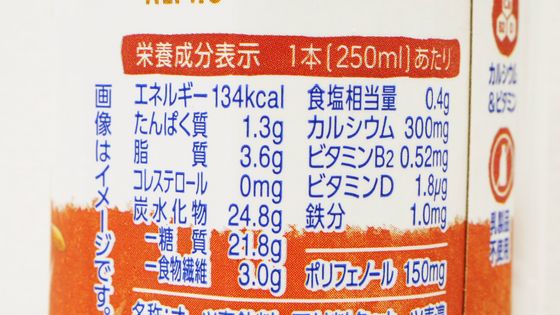 Raw material names include oat concentrate, sugar, dietary fiber, cocoa powder, etc. Although it is not included in the raw materials, it is said that it is made on the same production line as products containing almonds, cashew nuts, pistachios, walnuts, soybeans, and sesame, so people with allergies need to be careful.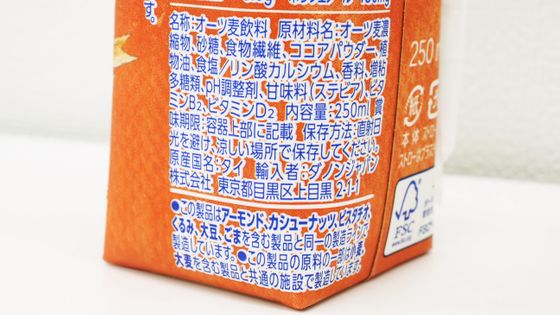 In addition, Alpro's oats milk series can be stored at room temperature, and the expiration date of 'Oats & Cacao' is 365 days unopened. After opening, it is recommended to store it in the refrigerator and consume it as soon as possible regardless of the expiration date.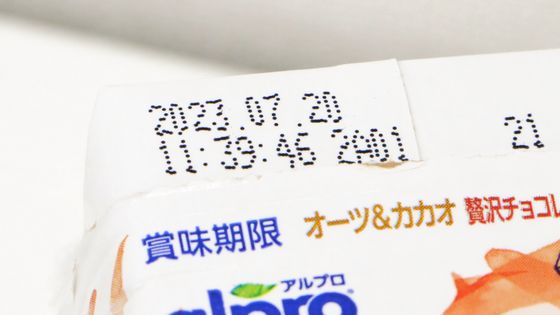 Shake the package well first, saying, 'Please shake well before eating.'



I poured it into a glass this time. It's like a shade of cocoa.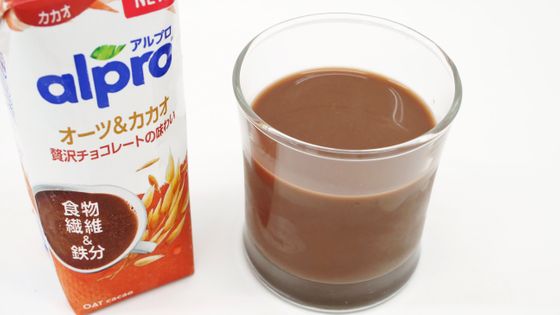 When you drink it, the flavor of chocolate matches the aroma and slight sweetness of oat milk, giving it a slightly thick texture. The overall impression is calm and easy to drink, and I felt that the 250ml drinkable size is suitable for breakfast, snacks, and refreshment.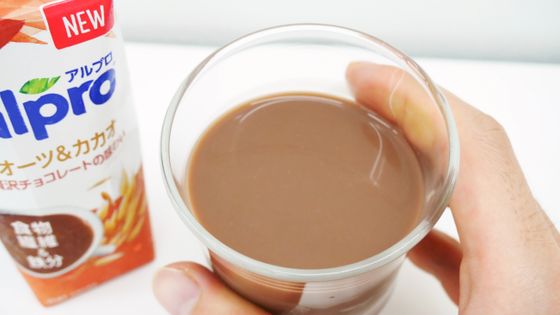 "Alpro Dietary Fiber & Iron Oats & Cacao Luxury Chocolate Flavor 250ml" will be released nationwide and will be shipped from October 3, 2022 (Monday). The suggested retail price is the open price.