Multiple explosions and gas leaks occurred in the 'Nord Stream' pipeline connecting Russia and Germany, and the possibility of sabotage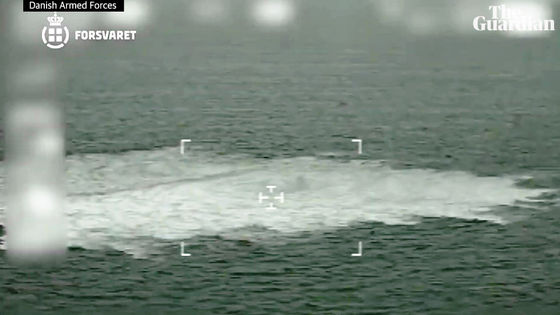 On September 26, 2022, it was found that an explosion occurred in the '
Nord Stream
' pipeline that carries natural gas from Russia to Europe, causing a gas leak. As each country rushes to investigate the situation, multiple officials have shown the view that it is 'sabotage'.
Denmark, Germany and Poland warn of 'sabotage' after Nord Stream leaks | Financial Times
https://www.ft.com/content/85f24052-10a6-48de-8eb1-7a6f8be95759
Blasts precede Baltic pipeline leaks, sabotage likely seen | AP News
https://apnews.com/article/russia-ukraine-germany-berlin-00232df3f4b4bc89afd47d4707724e33
Nord Stream pipeline leaks spark sabotage fears
https://www.axios.com/2022/09/27/nord-stream-gas-pipeline-leak-sabotage
Nord Stream AG, which operates Nord Stream,
announced
on the evening of September 26 local time that pressure in its gas pipeline had dropped. In a follow-up
report
on the 27th, it was reported that the pressure drop was due to physical damage to the pipeline.
Damage occurred on both 'Nord Stream 1' and 'Nord Stream 2', and the damage occurred in two places east of Bornholm Island in the Baltic Sea, Sweden and Denmark's Exclusive Economic Zone (EEZ) respectively. identified as within.


You can see the pattern of natural gas leaking from the sea surface due to the explosion of the pipeline from the following movie.


Aerial footage of leak in Danish waters from Nord Stream 1 pipeline - YouTube
Maritime authorities are calling for sufficient vigilance, as natural gas leaking from pipelines may cause ships to lose buoyancy, and natural gas may explode in the sea or in the air. Upon notification by Nord Stream AG, the coast guards of both countries set up a safety zone within a range of 5 nautical miles (about 9.26 km) around the place where the damage occurred.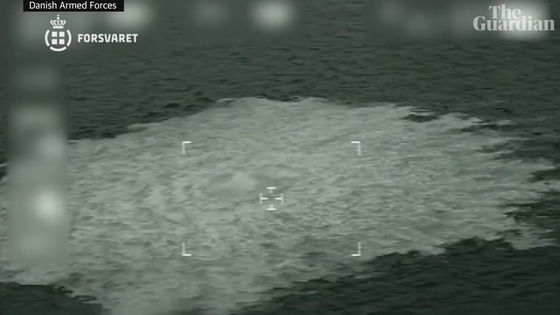 With the arrival of winter approaching and the energy security problem becoming more serious against the backdrop of Russia's invasion of Ukraine, countries reacted sensitively to the explosion of the Nord Stream, which is the key to transporting natural gas from Russia to Europe. doing.

Björn Lund, a seismologist at the Swedish National Seismological Center, testified to the country's public broadcaster Sveriges Television (SVT) that ``there is no doubt that an explosion has occurred.''

In addition, Danish Prime Minister Mette Frederiksen said, ``It is the clear assessment of the authorities that this was the result of a deliberate action and not an accident,'' indicating that it was sabotage. rice field. According to previous investigations by Danish authorities, explosions occurred in a total of three locations. Chancellor Frederiksen said it was not clear who exactly carried out the sabotage.

Officials in Germany, Nord Stream's European gateway, said they were 'concerned that the sudden loss of pressure in both pipelines could be the result of a 'targeted attack'.' conveyed the government's view of German officials say Russia's involvement 'cannot be ruled out'.

Russia and Ukraine, parties to the Ukraine war, also issued statements saying they were aware of the issue. Dmitry Peskov, a spokesman for the Russian Presidential Office, told reporters on the 27th that ``leakage is a matter of concern,'' admitting the possibility of sabotage. Peskov stressed that it was unclear who was involved, saying that 'no option can be ruled out immediately'.

Mikhail Podlyak, an adviser to Ukrainian President Volodymyr Zelensky, also tweeted: "The gas leak is a planned terrorist attack and nothing more than an act of aggression against the EU. They want to stabilize and cause panic on the eve of winter,' he said, blaming Russia.

'Gas leak' from NS-1 is nothing more that a terrorist attack planned by Russia and an act of aggression towards EU. ?????????? wants to destabilize economic situation in Europe and cause pre-winter panic. response and security investment — tanks for ????????. Especially German ones…

— Михайло Подоляк (@Podolyak_M) September 27, 2022


Nord Stream was reportedly shut down even before the explosion, due to Russia's desire to put pressure on Europe. Regarding the explosion suspected of sabotage at this time, the Financial Times said, ``This gas leak is reducing the supply of Russian gas to Europe in order for President Vladimir Putin to deter aid to Ukraine. There was no direct effect on the flow of gas from Russia, as the pipeline was not operational, but the ' Baltic Pipe ', which supplied Norwegian gas to Poland via Denmark, was It happened just after the opening of the road,' he said.

in Note, Posted by log1l_ks