Is it really an ant to replace Meta Quest 2 with 'Meta Quest Pro', which has greatly evolved in performance and price?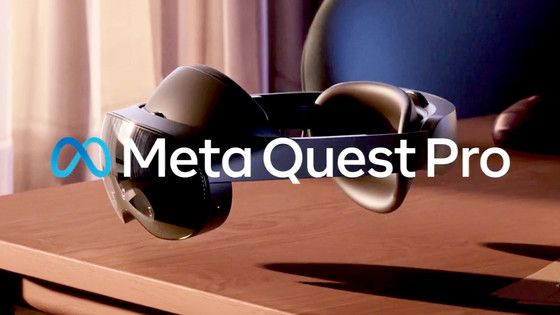 At Meta's online presentation ' Meta Connect 2022 ' held on October 12, 2022, it was announced that the standalone MR (mixed reality) device ' Meta Quest Pro ' will be released on October 26, 2022. . Equipped with the latest VR device chip 'Qualcomm Snapdragon XR2 + Gen1', inside-out camera capable of full color pass-through and facial expression tracking, Snapdragon 662 and self-tracking controller with built-in camera, Meta Quest Pro is from Meta Quest 2 The performance has improved greatly, and at the same time the price has jumped about 3 times. Various media are comparing and considering whether such Meta Quest Pro should be replaced from Meta Quest 2.

Meta Quest Pro vs. Meta Quest 2: here's how they stack up | Digital Trends
https://www.digitaltrends.com/computing/meta-quest-pro-vs-quest-2/

Meta Quest Pro Vs Meta Quest 2: Meta's No Longer Being 'Meta'
https://fossbytes.com/meta-quest-pro-vs-quest-2/

Meta Quest Pro vs. Meta Quest 2: Should you upgrade? | Android Central
https://www.androidcentral.com/gaming/virtual-reality/meta-quest-pro-vs-quest-2

The detailed specifications of Meta Quest Pro are summarized in the following article.

Meta's high-end VR device `` Meta Quest Pro '' will be released on October 26, 2022, the price is 226,800 yen-GIGAZINE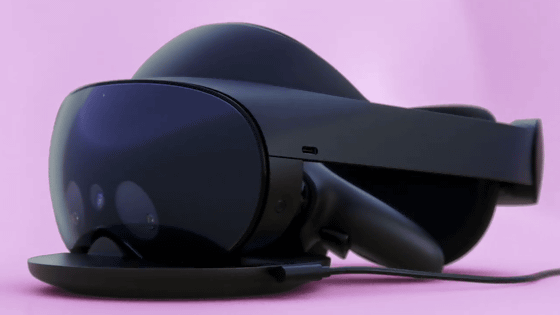 Below is a table comparing the specifications of Meta Quest Pro and Meta Quest 2.

Meta Quest Pro
MetaQuest 2
storage
256GB
128GB/256GB
memory (RAM)
12GB
6GB
chipset
Qualcomm Snapdragon XR2+ Gen1
Qualcomm Snapdragon XR2
weight
722g
503g
camera
5 on room scale (external)
3 units for facial expression tracking (internal)
2 for gaze tracking (internal)
4 in room scale
sensor
Proximity sensor Gyroscope Accelerometer Ambient light sensor Magnetometer Barometer
proximity sensor gyroscope accelerometer
display
Quantum dot liquid crystal (QD-LCD)
1800 x 1920 pixels per eye Refresh rate up to 90Hz
Viewing angle

106

°×96°

Liquid crystal (LCD)
1720 x 1890 pixels per eye Refresh rate up to 120Hz
Viewing angle up to

96°

lens
pancake lens
fresnel lens
interpupillary distance
55mm to 75mm
58mm・63mm・68mm
Backlight
Over 500 LEDs
2 LEDs
communication
Wi-Fi 6E, Bluetooth 5.2
Wi-Fi 6,

Bluetooth 5.1

controller
Built-in Quest Touch Pro controller rechargeable battery
Quest Touch Controller Uses AA batteries
others
Gaze tracking Real-time facial expression tracking Equipped with 3 microphones Built-in battery in the headband Comes with a dedicated charging stand
Two microphones Battery is built into the visor part
battery life
1.5 to 2 hours
2 to 3 hours
price
226,800 yen including tax
128GB model: 59,400 yen including tax
256GB model: 74,400 yen including tax
release date
Wednesday, October 26, 2022
Now on sale
The major changes in Meta Quest Pro are ``Improved performance of installed chipset'', ``Increased amount of installed RAM'', ``Storage only 256GB'', ``Improved performance of display part including lens'', ``Equipped with camera sensor inside Almost everything has evolved greatly with support for facial expression and gaze tracking, addition of various sensors, high resolution full color pass-through support, battery position and capacity, and improved performance of compatible controllers. It is no exaggeration to say that Meta Quest Pro is fully upward compatible with Meta Quest 2.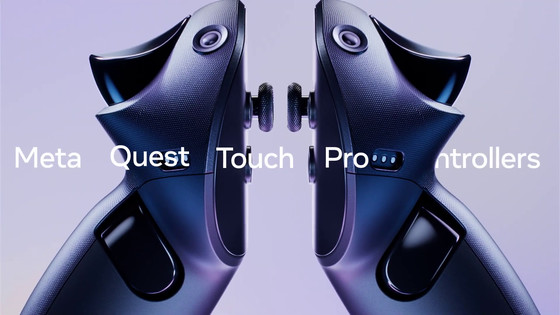 Of course, as the specs have improved greatly, the price has also jumped significantly. The 256GB model of Meta Quest 2 is 74,400 yen including tax, while the Meta Quest Pro is 226,800 yen including tax, which is almost triple the price. Also, the weight has increased from about 500g to 722g, but the center of gravity is more stable than the Meta Quest 2 by moving the battery to the back of the head instead of the visor.

Digital Trends, an IT news site, said, ``If you play an action game that uses simple graphics like Beat Saber, Meta Quest Pro's advanced graphic features may not be so important.'' . However, 'Many of Meta Quest's popular games may change their appearance and operability significantly when played on Meta Quest Pro. Dark and moody games make the most of their dynamic range, and colorful games has a 30% wider color gamut, so it will be more vivid.'

Also, Digital Trends analyzes that improving the followability of the controller may improve the VR experience in some games, but that in other titles the appearance and performance will not change. As a result, ``If you are only interested in VR games, Meta Quest Pro may not add enough value to Meta Quest 2,'' he said.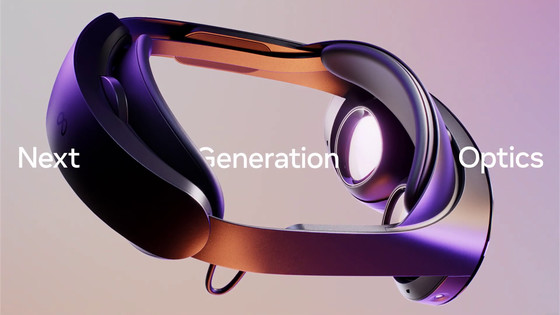 In addition, FOSSBYTES, an IT news site, said that while Meta Quest Pro is a standalone VR headset that does not require a PC connection, it is priced at around 200,000 yen like Valve Index , HTC Vive Pro 2 , Pimax 12K , etc. Pointed out that it is a high-end model. "However , given that there are rumors that Meta Quest 3, a new VR headset in the same price range as Meta Quest 2, will be released in 2023, Meta Quest 3 is expected to be used as an enterprise device as the name suggests. Rather than Quest Pro, I recommend waiting for the full consumer Meta Quest 3 or getting the Pico 4 , which has roughly the same price and specs as the Meta Quest 2.'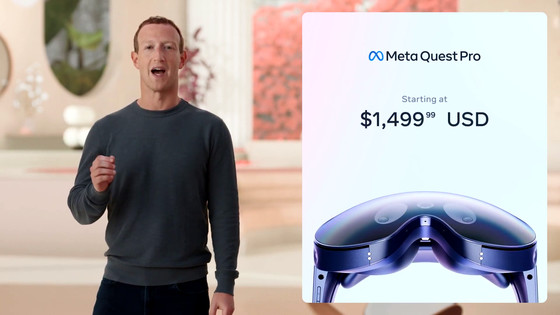 Android Central, which deals with Android-related news, commented, ``Meta Quest Pro is developed with professionals in mind, not gamers.'' Furthermore, ``(At the time of writing) the main use of VR is gaming, and Meta Quest 2 is one of the best gaming devices available. It is an MR device that shows Meta's ambition to expand the game, "he said, saying that Meta Quest 2 is enough if you just want to play the game.

Android Central wrote, 'If you're looking for more than a VR gaming headset, no problem, the Meta Quest Pro is an impressive piece of hardware and software. But if not, Meta Quest 2. Or PlayStation VR 2 can be said to be more specialized in games at a lower price.'