'Meta Quest 3' to appear in 2023, revealed in the third quarter 2022 earnings report


Meta, which released the standalone MR (mixed reality) device `` Meta
Quest
Pro
'' on October 26, 2022, announced the financial results for the period from July to September 2022 on the same day. He revealed plans to bring a successor to the market.
Meta - Meta Reports Third Quarter 2022 Results
https://investor.fb.com/investor-news/press-release-details/2022/Meta-Reports-Third-Quarter-2022-Results/default.aspx
Meta Quest 3 Launches 'Later Next Year'
https://uploadvr.com/quest-3-release-date-late-2023/
Meta confirms next-generation Quest headset is coming in 2023 | Engadget
https://www.engadget.com/meta-quest-3-2023-233025187.html
Mobileye IPO up 40% on first trading day - Protocol
https://www.protocol.com/bulletins/mobileye-ipo-trading-day
David Wehner, Meta's CFO (Chief Financial Officer), explained at the financial results briefing for the third quarter of 2022 that Metaverse development costs have ballooned, saying, 'Cost of sales will be Growth is expected to accelerate due to hardware costs at Reality Labs due to the announcement of the next-generation Quest consumer headset scheduled for 2023.' I said yes. Reality Labs is the department responsible for the development of Meta's VR-related technology.
At the time of writing the article, we do not know the details, including whether the official name of the successor to Quest 2 will be 'Quest 3', but since it is mentioned as 'for consumers', it costs 226,800 yen. The price may be lower than 'Quest Pro'. Also, Meta CEO Zuckerberg previously said, ``Face and eye tracking will be a big focus in future Quests,'' so the Quest 3 will have a ``pancake lens'' similar to the Quest Pro. There is also a view that it is not.
The structure and functions of Quest Pro, including the pancake lens, are summarized in the following articles.
Meta's high-end VR device `` Quest Pro '' will be released on October 26, 2022, the price is 226,800 yen-GIGAZINE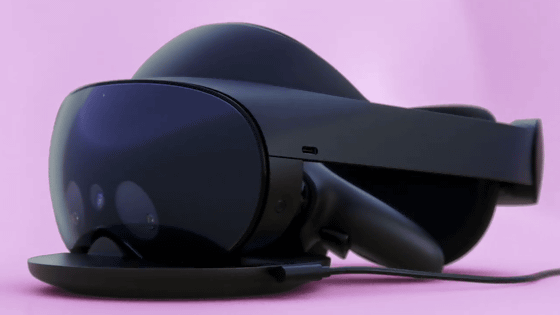 In addition, according to UploadVR, a VR industry magazine that covered this announcement, YouTuber
Brad Lynch
, who leaked a circuit diagram that seems to be from the Quest 3, said, ``The Quest 3 uses the unannounced Snapdragon XR2 Gen 2. It will be done.' Meta and Qualcomm have
announced
that they will partner on a chip for Quest in September 2022, and as a result, the next-generation Quest that will appear in 2023 may be equipped with a chip that has evolved from Quest Pro's Snapdragon XR2 + Gen1. has been pointed out.
UploadVR said, ``XR2 Gen 2 is said to be based on the Snapdragon 8 Gen 2, which will be announced at the Snapdragon Summit in November. If there's even a slight performance improvement, the Quest 3's GPU would be at least twice as powerful as the Quest 2, which would allow higher-resolution displays to render more faithfully. And maybe you'll be able to play completely new games that weren't possible with Quest 2.'
In addition, as CFO Wehner is forced to explain, Meta's revenue for this fiscal year decreased by 4% from the same period last year to $ 27.7 billion (about 4.5 trillion yen), and net income decreased by 52% to $ 4.4 billion. (approximately 640 billion yen).



In the background, there are
declines in advertising revenue due to Apple's enhanced privacy
and increased losses at Reality Labs. In response, investors gave harsh evaluations, such as Meta's stock price
dropping about 20%
in after-hours trading.



Meta said in a briefing material, ``Reality Labs' operating loss in 2023 is expected to expand significantly compared to the previous year, but after 2023, we have achieved the goal of increasing the operating profit of the entire company over the long term. We plan to increase the pace of investment in Reality Labs so that we can,' he said, setting a goal to recover.