An art exhibition of paintings and sculptures created using AI will be held at a gallery in New York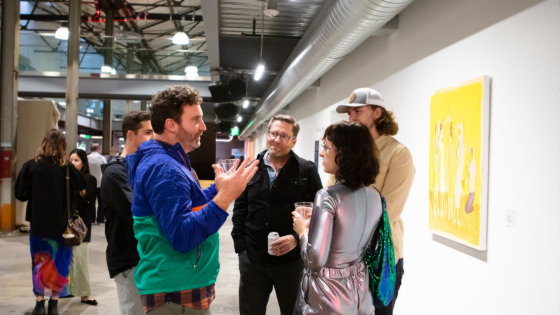 In recent years,
due
to the development of high-precision image generation AI, a picture drawn by AI has won first place in an art
competition
, causing controversy.
I'm here. In the meantime,
Bitforms gallery
in New York City, USA will hold an art exhibition called '
Artificial Imagination
', a collection of paintings and sculptures created using AI, from October 26th to December 29th, 2022. doing.
Artificial Imagination |
https://partiful.com/e/HOK66cUbUadi74ocStVF
Exhibit aims to present AI images as real art
https://www.axios.com/2022/10/31/exhibit-ai-images-art-dall-e-2-gpt-3
We're still on a high from the first ever DALL E art exhibition, 'Artificial Imagination,' we hosted last week with @OpenAI at @bitforms . So grateful for 400+ founders, investors, artists & reporters who joined us for conversations around generative AI and AI art ✨pic.twitter.com/ JlRIN5HolH

— Day One (@DayOneVC) October 31, 2022


Aerial Imagination is the brainchild of investment firm Day One Ventures , with artificial intelligence developer OpenAI as a partner. The exhibited works can be seen on the official website of Bitforms gallery, and can also be confirmed from the tweets of AI artist Alexander Reben .

'Artificial Imagination', AI art group show open now @bitforms Minnesota Street Projects SF with @refikanadol @guskamp @Suhail @elliepritts featuring @OpenAI DALL-E and GPT-3 #AIart #aiartcommunity pic.twitter.com/JbLRnJbtjP

—Alexander Reben (@artBoffin) October 27, 2022


The work 'new experimental version, state of the art' submitted by AI artist August Kamp looks like an old color photograph of something that looks like a device, and has a realistic texture that makes it look like a real photograph.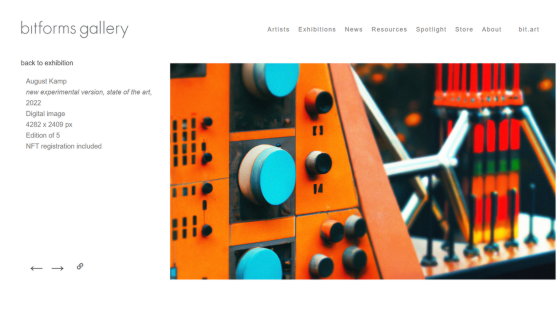 Meanwhile, artist
Marina Zurkow
's 'A Questionable Tale' paintings of various fairy tales and children's tales have a touch reminiscent of mid-20th century mass advertising.


Many of the works are paintings drawn using the AI ` ` DALL E 2 '' that generates images from text, but some works using the sentence generation AI `` GPT-3 '' are also exhibited. For example, Raben uses GPT-3 to generate 'captions of works' and incorporates AI into art by creating three-dimensional works that match it.

The work 'zippers' that Mr. Raben actually exhibited is a work in which a red zipper is glued to a cloth canvas. According to the AI-generated caption, the piece was created in 1964 by Isabellaide Ufferbrecht, who was born in the Netherlands in 1942, and said, 'The casual sewing is an inconsistent concept of love. 'The closed zipper expresses that the artist is hidden and trapped behind the canvas.' It is said that there is a concept such as 'I can not see love for others'.

'I', A sculpture described by AI and made in real life by a human, on view now in the Artificial Imagination show at the @bitforms gallery at the Minnesota Street Projects SF @OpenAI #GPT3 #AIart #aiartcommunity pic.twitter.com /GdTecBim5Y

— Alexander Reben (@artBoffin) October 31, 2022


Some argue that the appearance of AI is a threat to take away the work of artists, but many artists who participated in the exhibition think that AI is like ``the appearance of a camera''. When the camera first appeared, there was a concern that a camera that accurately records a certain moment would kill the art of painting. A new field of art has opened up. In the same way, AI has the potential to open up new fields while coexisting with existing art.

Artist Ellie Pritts , who participated in the exhibition, said, 'I think it's really important to appeal that AI is a new medium. (AI art production) is a legitimate job with some artists taking it seriously. It is.'