Will Twitter's paid 'verified badge' feature be postponed until after the US midterm elections?


Elon Musk, who bought Twitter, is working on several reforms to improve the company's bottom line. One of them is
charging for verified badges
. Mr. Musk planned to offer the authenticated badge as part of the paid subscription service `` Twitter Blue '', and it was rumored that the service would be released soon, but The New York Times said `` The badge specification change will be postponed until after the midterm elections.'
Twitter Said to Delay Changes to Check Mark Badges Until After Midterms - The New York Times
https://www.nytimes.com/2022/11/06/technology/twitter-verification-check-marks.html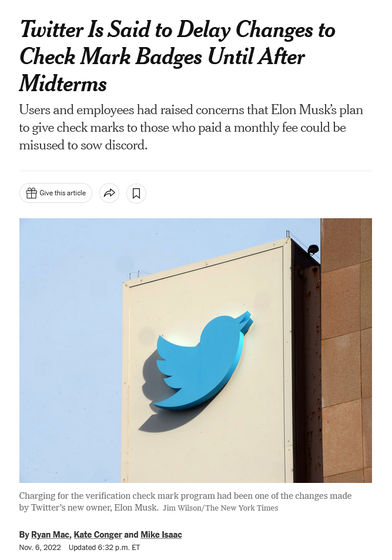 Twitter's delaying the launch of Blue with verification until after the elections - The Verge
https://www.theverge.com/2022/11/6/23443520/twitter-delaying-launch-blue-with-verification-after-midterm-elections-elon-musk
According to The New York Times report, Twitter has a new subscription plan for $ 7.99 per month (about 1200 yen), and plans to distribute a 'verified badge' only to subscribers of this plan. . This new plan was one measure for Twitter to make money immediately, but the announcement is likely to be postponed until after the midterm elections on Tuesday, November 8, 2022.
With a paid plan that distributes authenticated badges, even general users can get a blue checkmark (authenticated badge) next to their account name like celebrities and influencers.
However, many Twitter users and employees feared that the new plan, which makes it easier for users to obtain verified badges, could disrupt elections. For example, it is possible to pretend to be President Joe Biden, legislators and media outlets and disseminate fake voting results. As a result, even on the Slack channel used by Twitter employees, employees said, 'Why would social media make such a dangerous change that could cause election interference before the election?' It seems that it was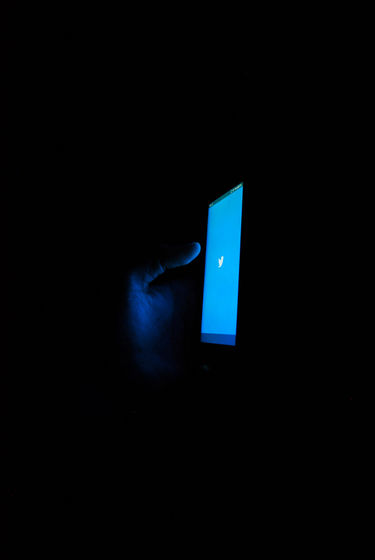 As a result, managers working on the Verified Badges project have decided to delay the announcement of the new plan until November 9th. Twitter, which has fired nearly all members of its communications team, has not responded to a request for a response from The New York Times.

Regarding the `` impersonation account '' that will be a problem due to the paid for authenticated badges, Mr. Mask said, ``In the future, Twitter impersonation accounts created without clearly stating that it is a 'parody' will be banned forever. I will,' he tweeted.

Going forward, any Twitter handles engaging in impersonation without clearly specifying "parody" will be permanently suspended

— Elon Musk (@elonmusk) November 6, 2022


In addition, app developer Nima Owji, who is known for leaking various unpublished functions of Twitter, said that apart from the authenticated badge, ``A new badge to indicate that the account operated by a celebrity is genuine. 'I am tweeting that it is under development.

#Twitter is working on another badge for the notable people.pic.twitter.com/VBVnEf5NuJ

—Nima Owji (@nima_owji) November 3, 2022


In addition, the new plan of $ 7.99 prepared by Twitter has already been added to Twitter Blue of the iOS version of the Twitter application, and it has become clear that it is the same as the existing Twitter Blue except `` You can get an authenticated badge ''. I'm here.