Report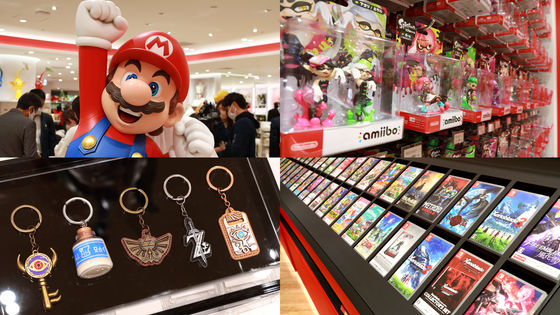 On November 11, 2022 (Friday), Nintendo OSAKA , the second Nintendo-operated official store in Japan, will open on the 13th floor of the Daimaru Umeda store in Umeda, Osaka. I got the opportunity to cover the inside of the Nintendo OSAKA store ahead of time, so I took a lot of pictures of the inside of the unknown Nintendo OSAKA store.

Nintendo TOKYO/OSAKA | Nintendo

https://www.nintendo.co.jp/officialstore/
◆Entrance
At the entrance of Nintendo OSAKA, the Nintendo logo shines white against a bright red background.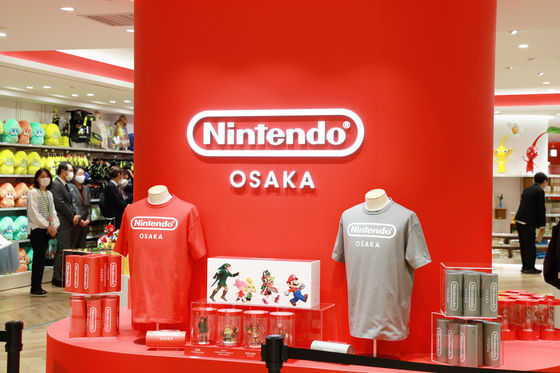 Placed in the middle are decorated with links, Shizue & Mamekichi & Tsubakichi, Inkling (Girl), and Mario figures from the left.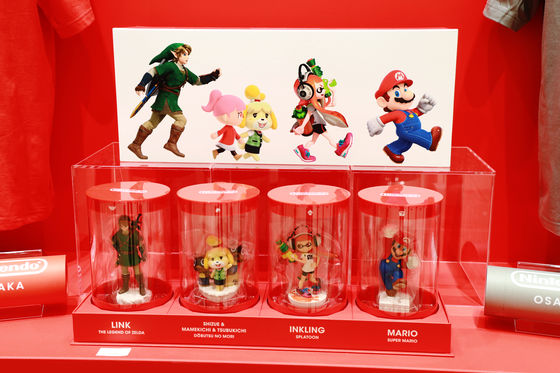 Link is a version dressed in familiar green clothes in the Legend of Zelda series.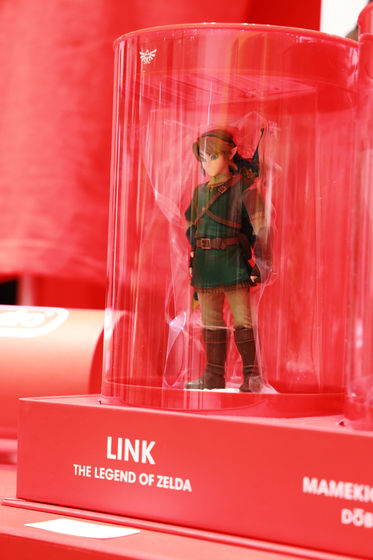 From the Animal Crossing series, Shizue & Mamekichi & Tsubukichi are three-dimensional.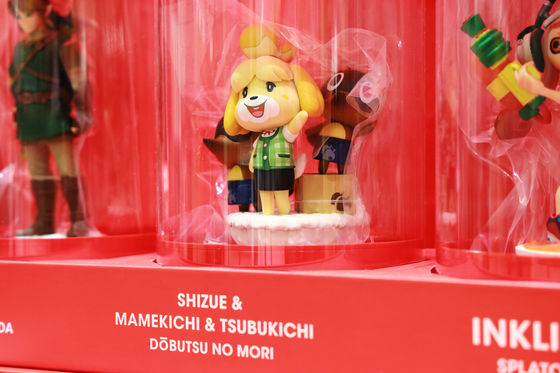 And Mario, the heavyweight of the Nintendo character.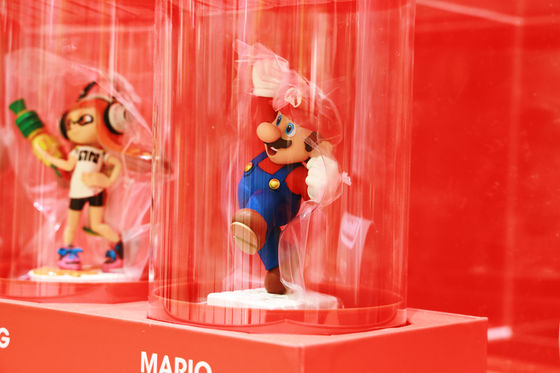 The figurines are placed not only at the entrance, but also at multiple locations throughout the store, so you can actually pick up a case and observe the figurines carefully.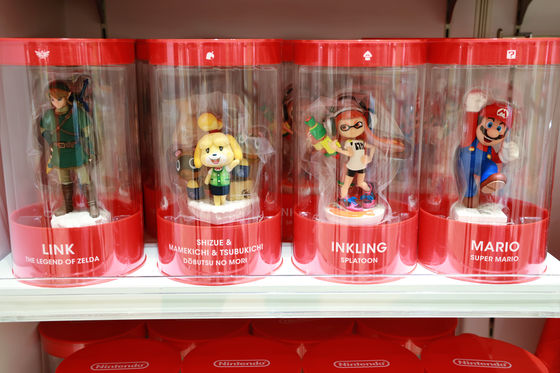 A translucent shopper handed to you when you enter the store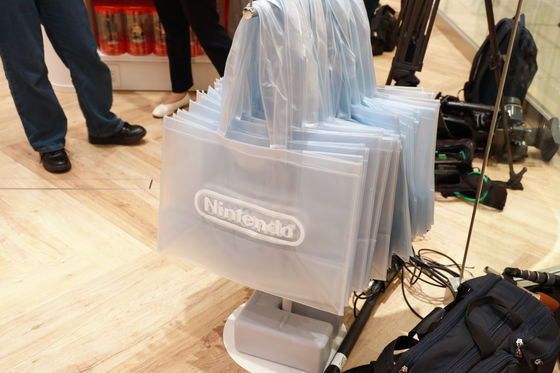 Near the entrance there is a bright red check-in terminal like the one below.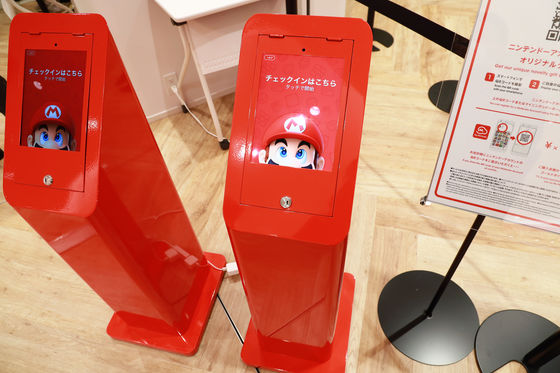 If you check in your Nintendo account on this device, you will receive original goods as a gift.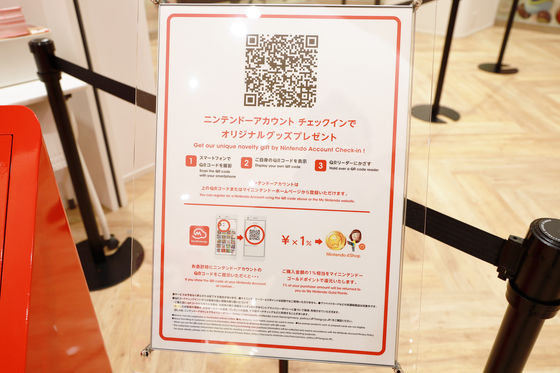 In the space at the entrance, various goods using Nintendo OSAKA's main visual were displayed.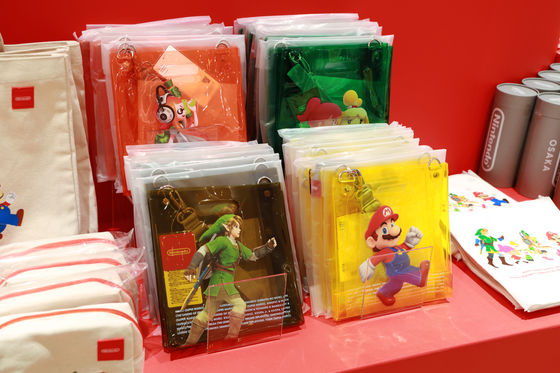 ◆Mario
The space closest to the entrance is a space where Mario-related goods with a giant Mario are displayed.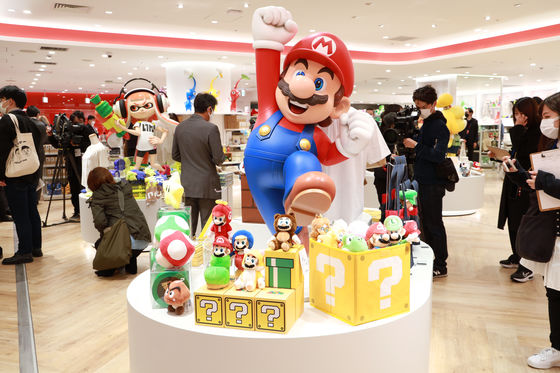 Mario is expressed to the fine pattern of the beard.



Mario's mouth has a solid depth, and a lively expression is reproduced.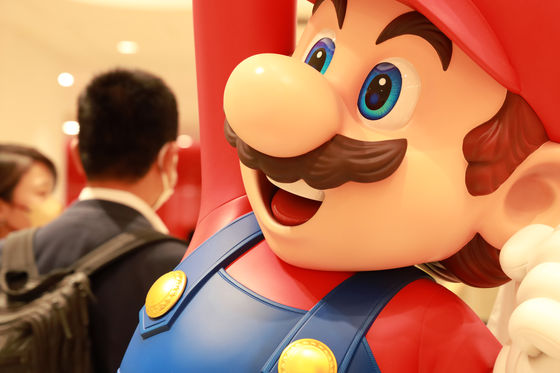 Mario's stuffed animals with various appearances at Mario's feet.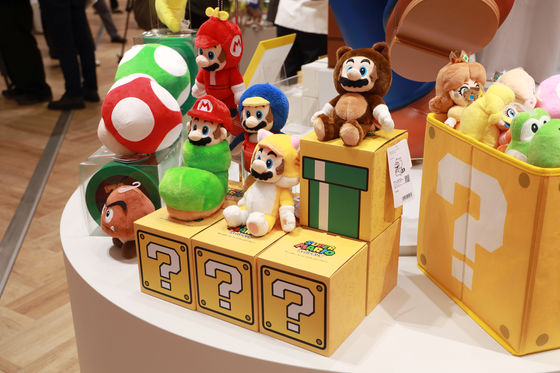 Not only are they displayed, but there are also cases where multiple goods are displayed in combination, and you can see that even the display method is full of playfulness.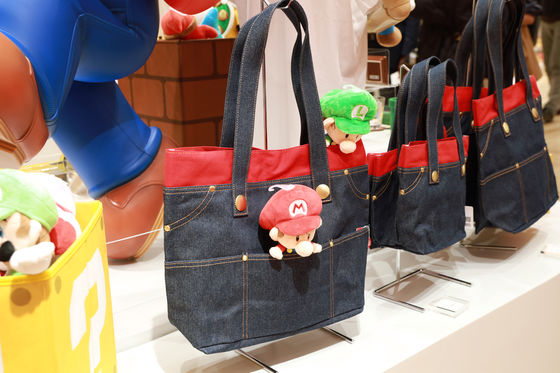 Various goods are lined up with Mario.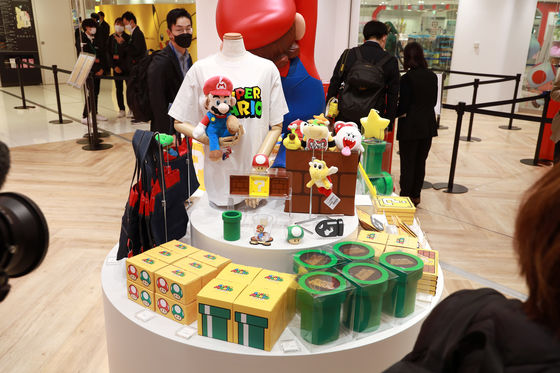 However, there are a lot of Mario-related goods in other places in the store. In particular, there are many Mario-related characters, so there were so many Yoshi-related goods that one shelf wasn't enough.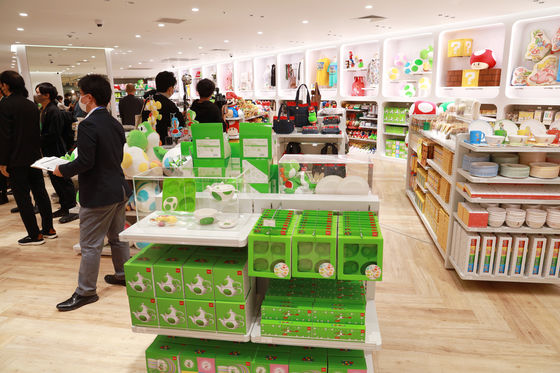 blankets and hand towels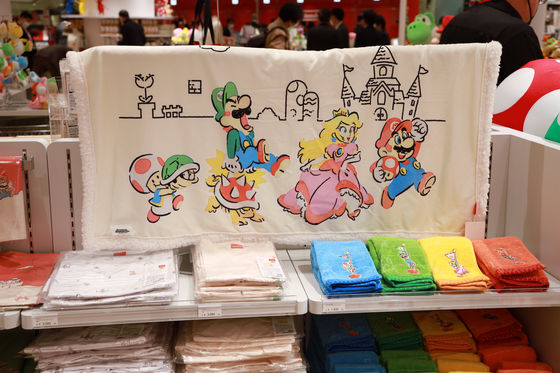 This amount is just for the stuffed animals of enemy characters.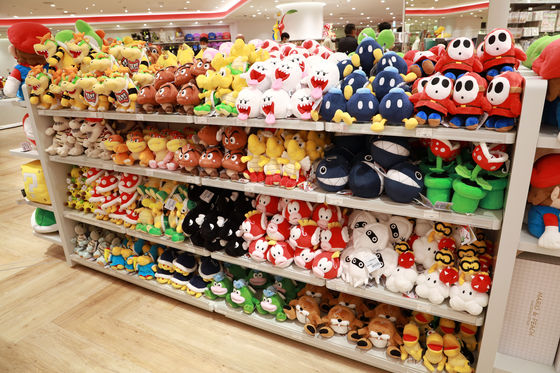 Some things are hard to imagine the contents if they are stored in the box.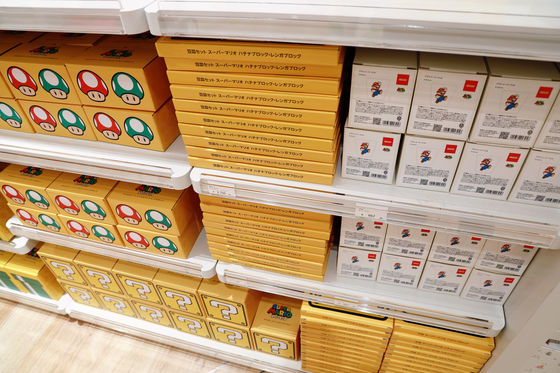 Such products were exhibited in a state where they were taken out of the box nearby.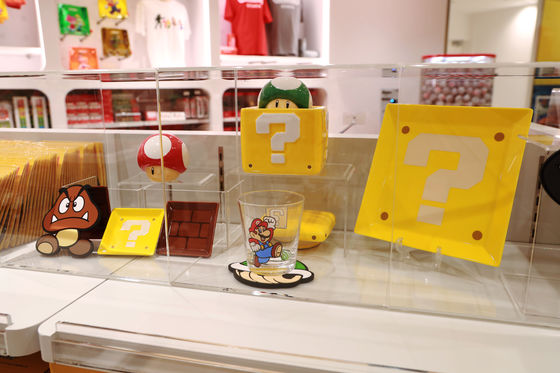 Mario in a bag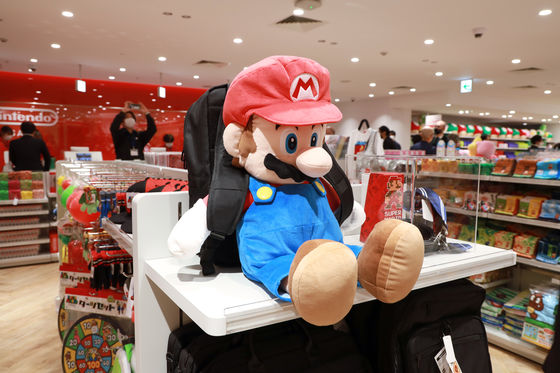 There was also a huge Mario figure of 20 inches (about 50.8 cm).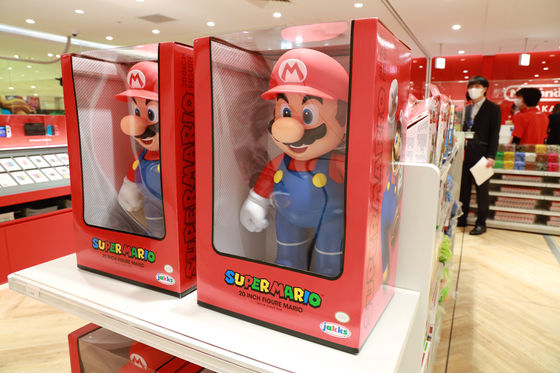 Cappy's stuffed toy cap, Mario's partner and favorite hat that appeared in
Super Mario Odyssey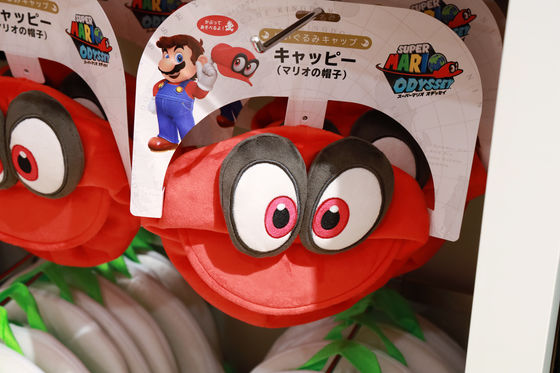 There was also '
Lego Super Mario
' that allows you to move Mario on the Lego block and play.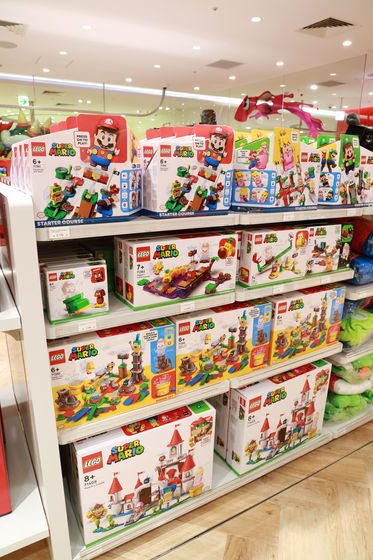 ◆ Splatoon
Immediately after the pre-opening, Splatoon's space was particularly popular and many people gathered.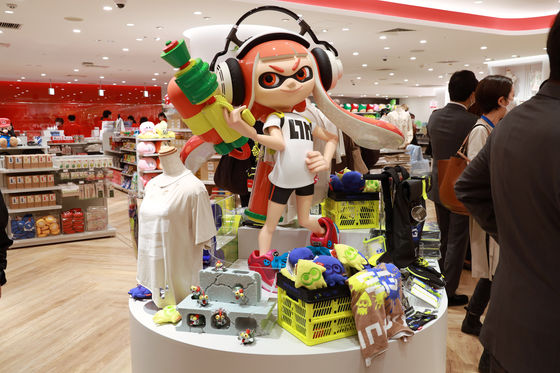 At the feet of Inkling, Kojake and others crawl out as if breaking through concrete blocks.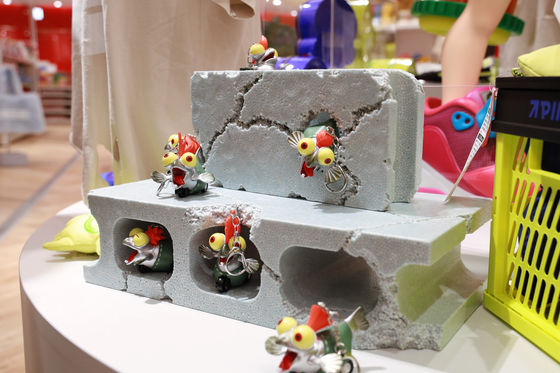 In addition, various goods such as various stuffed animals and towels were exhibited.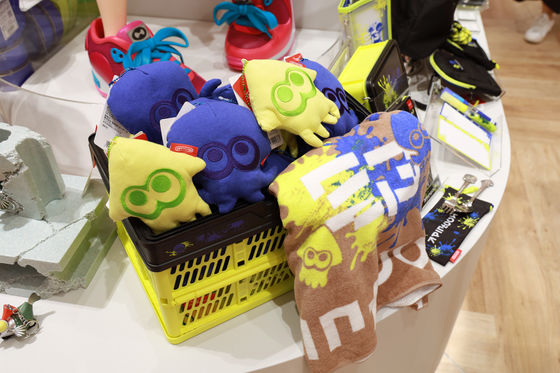 Looking at the ink ring from behind like this.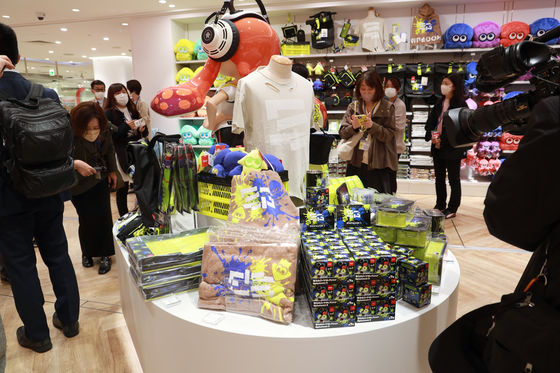 A lot of squid & octopus cushions on the wall right next to it. This cushion was also quite popular and was packed into many customer shoppers.



Something that stretches across the wall.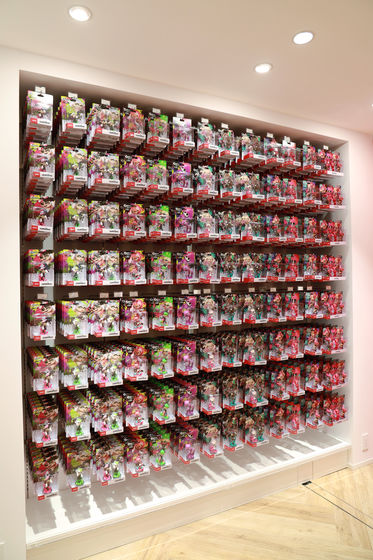 This was an amiibo from the old and new Splatoon series.



The goods are displayed conspicuously in the center of Nintendo OSAKA, but they are also placed at the end of the store.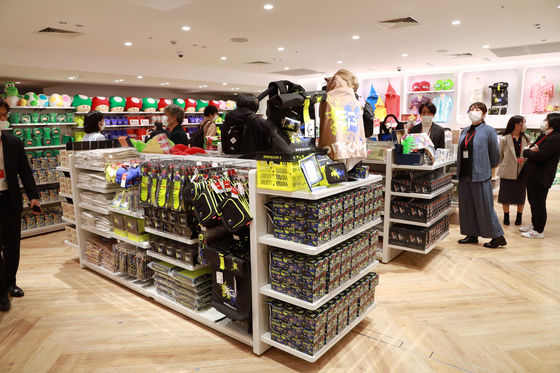 Skateboards & finger skateboards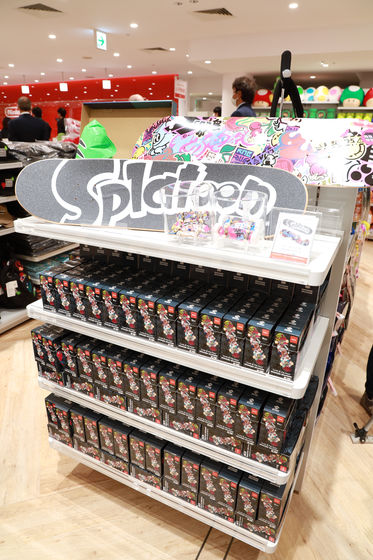 The skateboard has Splatoon graphics on the back side.



A finger skateboard looks like this.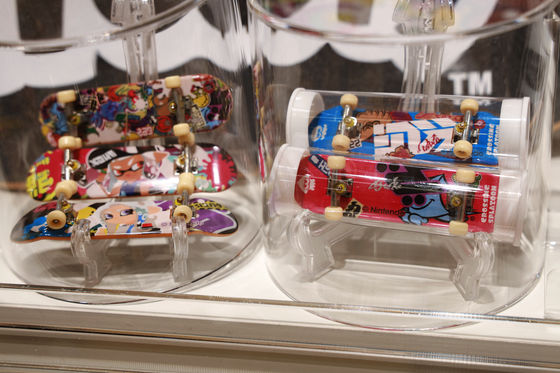 The Legend of Zelda
Legend of Zelda space where the link dressed in green clothes stands out.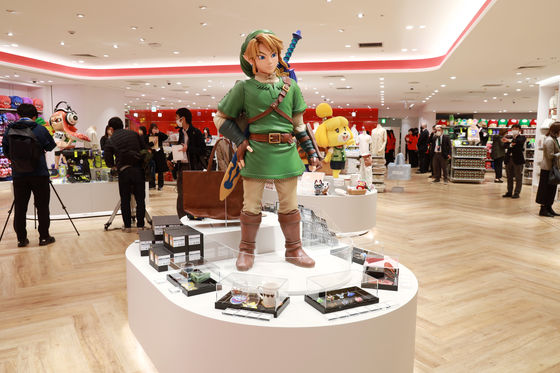 The back of the link looks like this.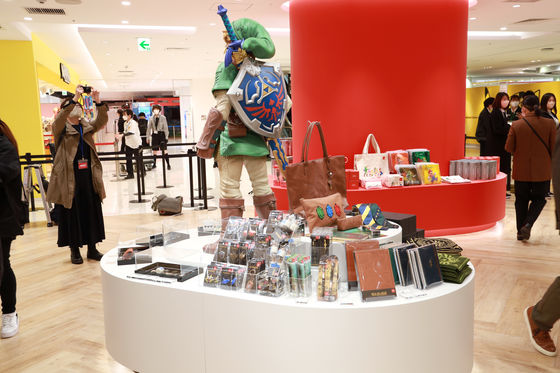 The image of this rink was reproduced with great detail, and it was a spot where many people took pictures.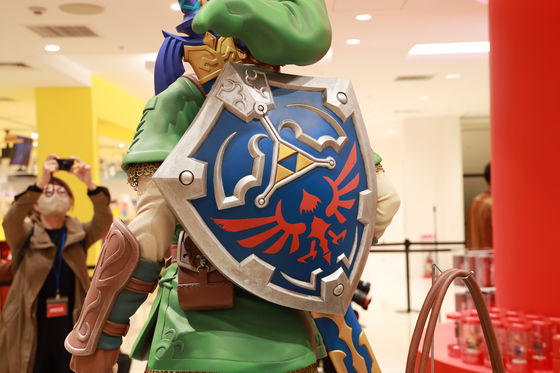 Link is particular about wearing chain mail under his green clothes.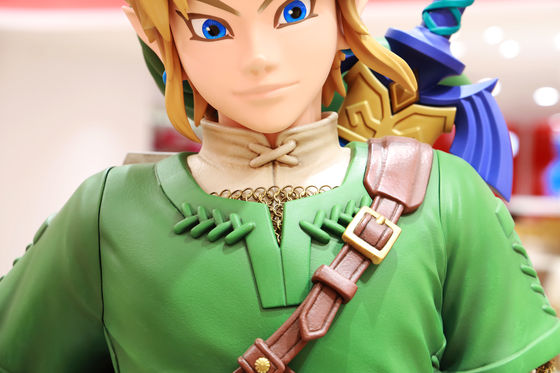 Various pins using familiar motifs from the Legend of Zelda series. The items prepared are Korok's Mask, Majora's Mask, Navi, Ocarina of Time, Hyrule Royal Crest, Hylian Shield, and Heart Vessel.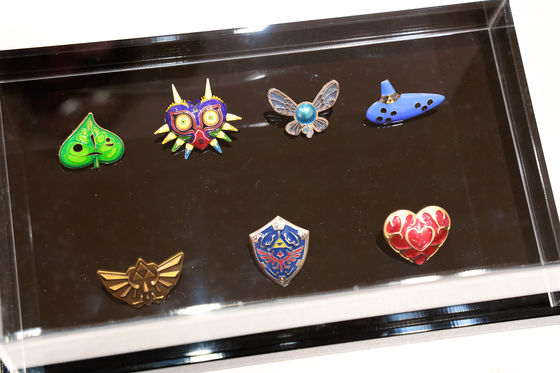 Keychains include the boss room key, Lon Lon milk, Hyrule royal crest, Legend of Zelda logo, and Seeker stone.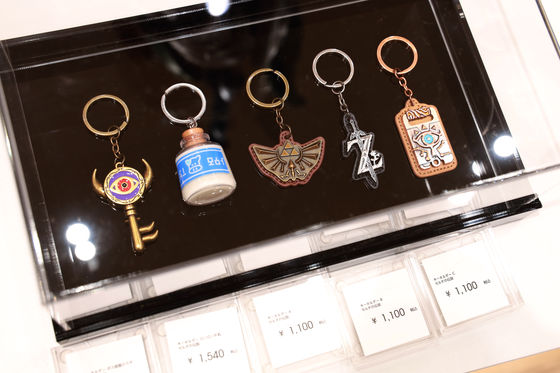 Price tag next to it.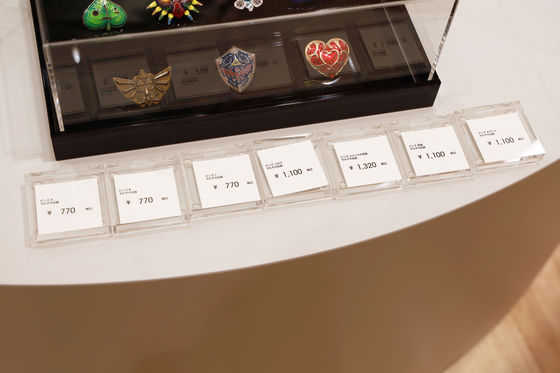 And there are also things in the package for purchase.



There are also ties and bags that use motifs from the Legend of Zelda series.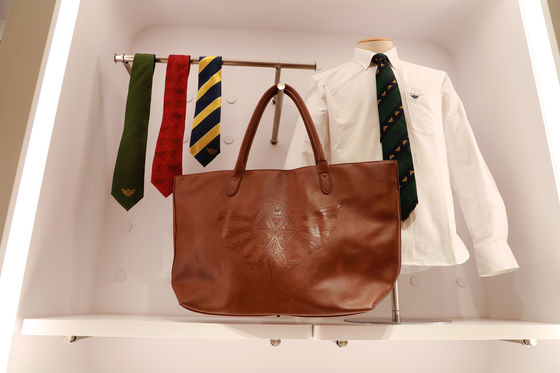 There are various goods such as clothes, hand towels, key holders, etc.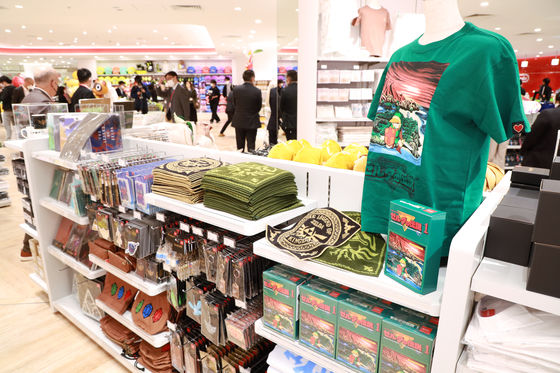 A T-shirt with the main visual of The Legend of
Zelda
on the chest.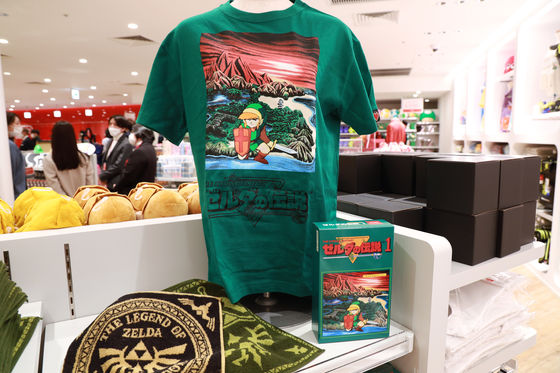 This is stored in a box that imaged the software package at that time.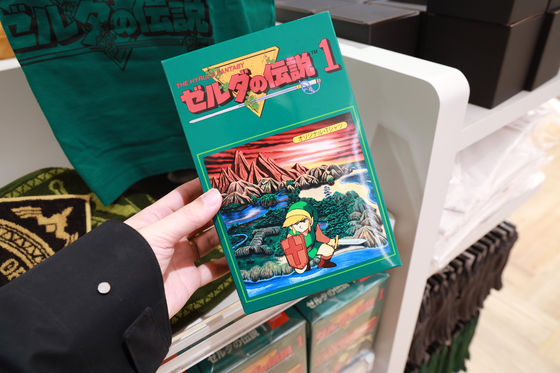 In addition to the Legend of Zelda related goods, there were multiple product packages using game packages.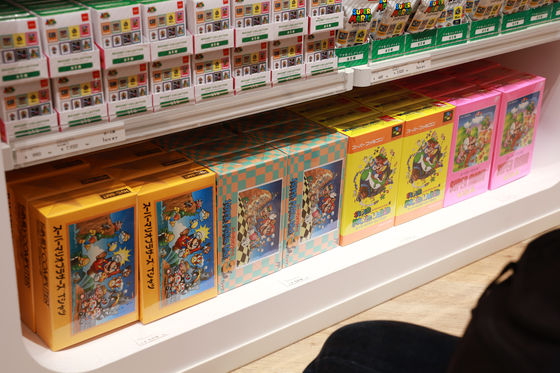 Legend of Zelda Breath of the Wild
related stuffed animals, Triforce and Hylian shield-shaped cushions.


◆ Animal Crossing
Shizue welcomes you in the Animal Crossing space.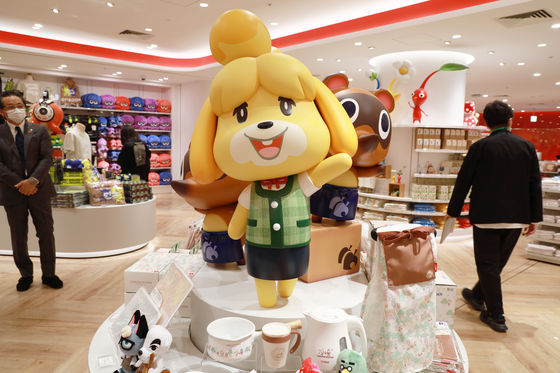 Mamekichi and Tsubukichi suddenly appear from Shizue's side.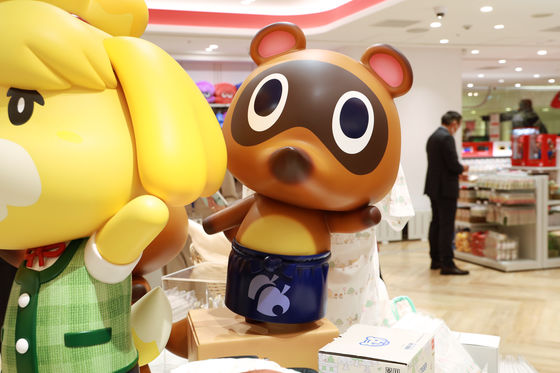 In the animal crossing space, many kitchen related goods were prepared.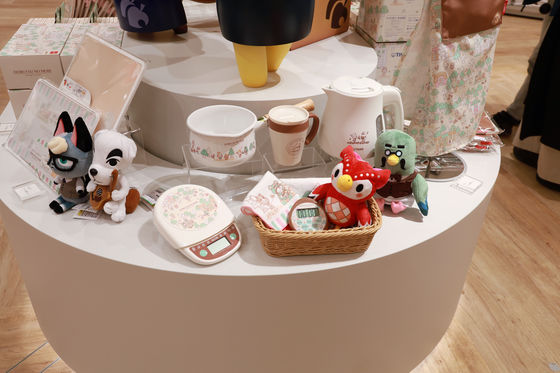 Standing rubber strap collection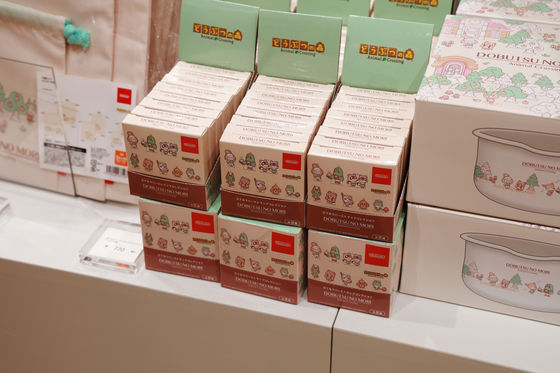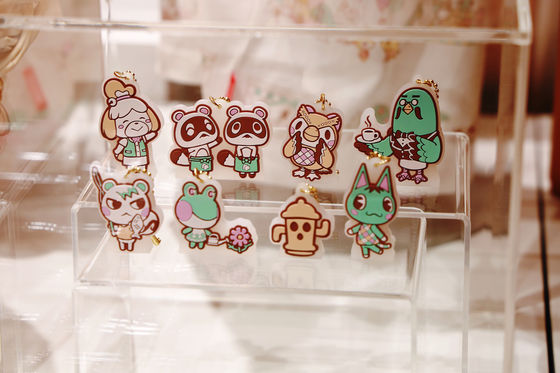 There are many goods based on white, such as T-shirts and hand towels.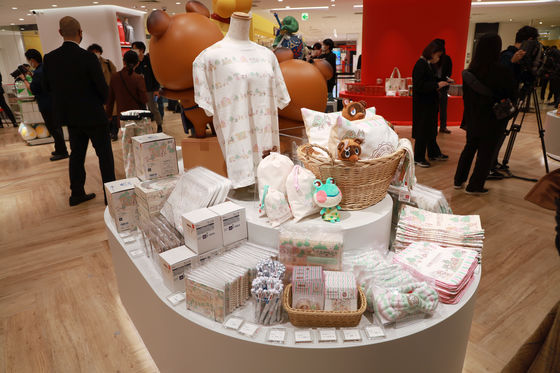 ◆ Pikmin
A Pikmin space where Red Pikmin, Blue Pikmin, and Yellow Pikmin are posing energetically.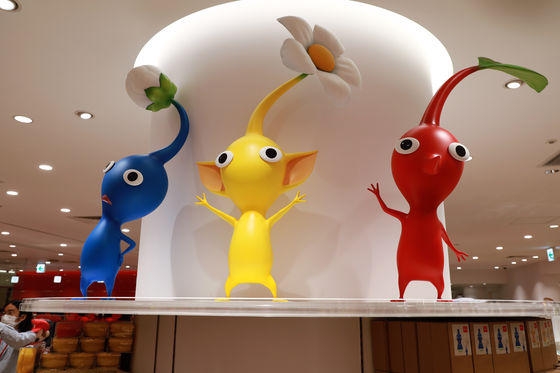 A vase that can hold flowers on Pikmin's heads. Perfect fit.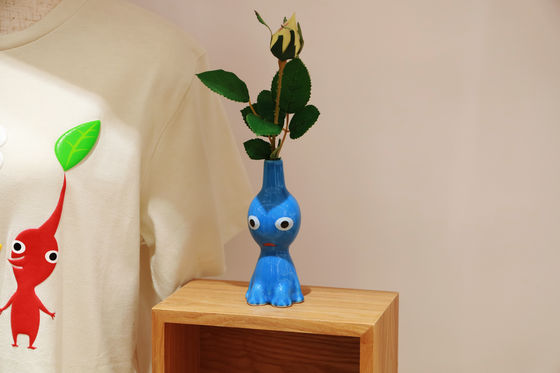 T-shirts and shirts with Pikmin popping out of your pocket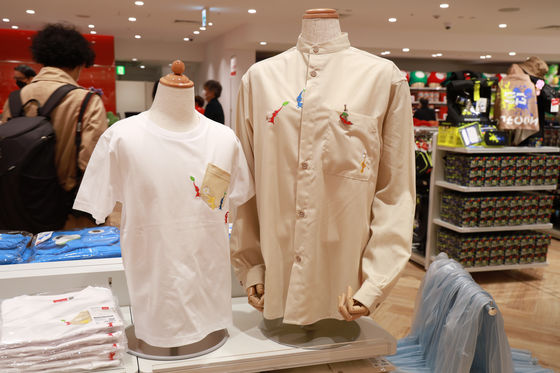 Various other goods such as tote bags and stuffed animals were also prepared.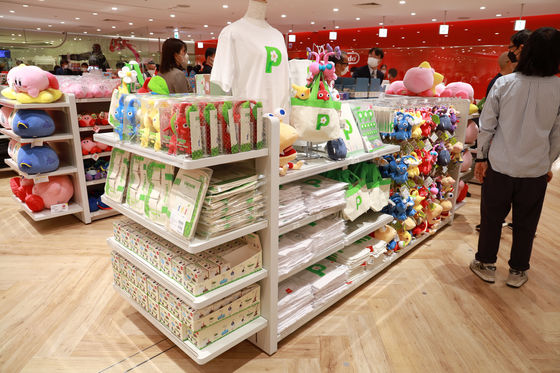 ◆Others
Giant capsule toys available at two locations in Nintendo OSAKA.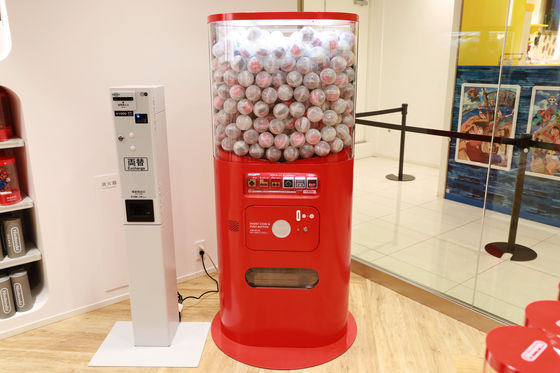 What you can get is an item as if you divided the controller of the family computer. It was 500 yen per time, and although 6 normal types were on display, only one secret was not on display.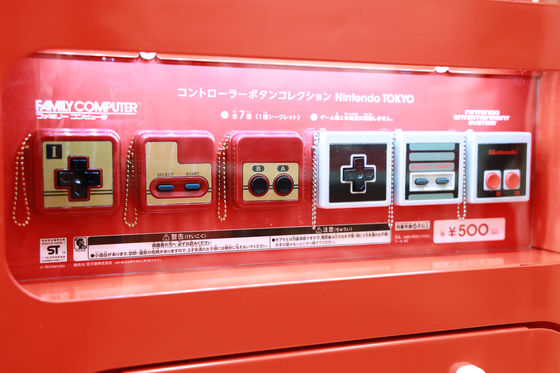 Various Nintendo goods line the walls.



There is also an exhibition space for Nintendo Switch in the back of the store.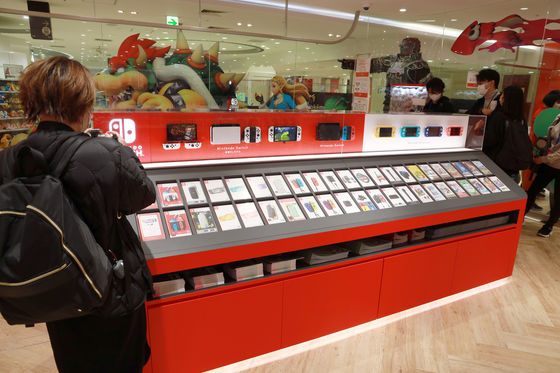 On the other side, Joy-Con of various colors and packages of various titles are exhibited.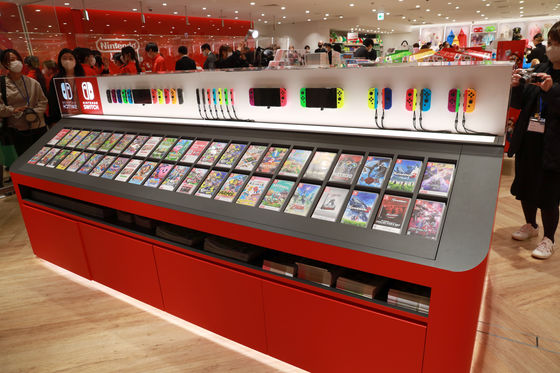 It was a splendid display method that made me think, 'If only I could decorate my house like this...'.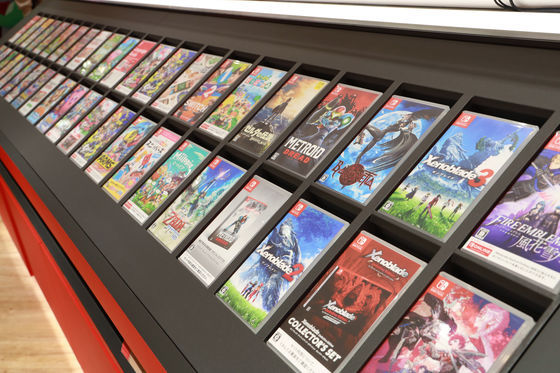 In addition, the pre-opening of Nintendo OSAKA, which was limited to 1,000 groups and 2,000 people, is summarized in the following article, so please check it out if you are interested.

I went to the pre-opening of Nintendo's directly managed official store 'Nintendo OSAKA' in Osaka - GIGAZINE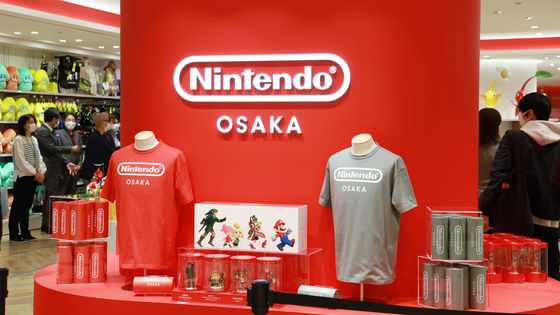 There are so many goods on display that you can't take pictures of them all, so we published an article where you can check out the inside of the store with a video.

I took a close look at the video of Nintendo OSAKA, the second Nintendo store in Japan - GIGAZINE