The fact that the Twitter account that the author of Chainsaw Man used to call himself a small 3 girl was banned was a topic among overseas fans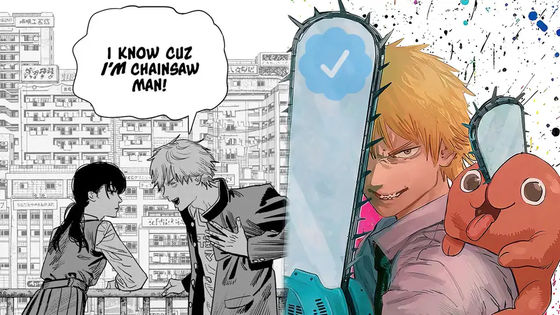 Mr. Tatsuki Fujimoto, the author of the popular manga `` Chainsaw Man '', which is also being broadcast on TV, has been operating Twitter under the name `` Nagayama Koharu '', a self-proclaimed 3rd grader. However, because he called himself a 'third grader's Twitter account', his account was frozen due to his age. This series of turmoil has become a hot topic not only among Japanese Twitter users, but also among overseas users, and has been picked up by the media.

Chainsaw Man Editor Confirms Manga Creator's New Twitter Account - Interest - Anime News Network
https://www.animenewsnetwork.com/interest/2022-11-14/chainsaw-man-editor-confirms-manga-creator-new-twitter-account/.191856

Chainsaw Man Creator Accidentally Banned From Twitter
https://kotaku.com/chainsaw-man-mangaka-tatsuki-fujimoto-twitter-account-1849793349

Mr. Fujimoto operates a Twitter account called 'Nagayama Koharu (@nagayama_koharu)' and has 617,000 followers at the time of writing the article. The profile of this account says, 'I'm Koharu Nagayama, a 3rd grader. , For some reason, the account is operated by 'Tei' in the third grade of elementary school.

Twitter quietly froze @nagayama_koharu's account as Twitter made it possible for anyone to purchase a verified badge, resulting in a large number of impersonation accounts that acquired a verified badge.

According to Mr. Shihei Hayashi, who is also the editor in charge of Chainsaw Man, the account has been frozen due to age.

We have been informed that Tatsuki Fujimoto's sister's account, Koharu-chan ( @nagayama_koharu ), has been locked due to her age.
My brother is currently in contact with Twitter.
Ladies and gentlemen, I would appreciate it if you could wait for my sister to tweet again.

> Twitter company Thank you very much ❗️

— Shihei Hayashi (@SHIHEILIN) November 10, 2022


Since his Twitter account was frozen, Mr. Fujimoto created an account called @ashitaka_eva using his real name. However, I couldn't get people to believe that it was my account, so I had to post the setting materials for Chainsaw Man and complain that I was the person!

Tatsuki Fujimoto, author of ' #Chainsaw Man ' opens a new Twitter account

Mr. Fujimoto revealed that the Twitter of 'Nagayama Koharu', who is active as his younger sister (3rd grade elementary school student), has been frozen. On the new account, I also posted a rejected illustration of 'Chainsaw Man' as proof of authenticity

https://t.co/Ibc7KY0xMu pic.twitter.com/jXLl5PtS27

— Famitsu.com (@famitsu) November 12, 2022


It became a hot topic in the second part of Chainsaw Man, saying that it was like Denji who trumpeted that he was a Chainsaw Man.

Such a cute www pic.twitter.com/OY1xBmxiFn

— Yu (@popochi20) November 12, 2022


This series of events became a hot topic among overseas fans. At the time of writing, the tweet translated from Mr. Fujimoto saying 'I'm the person himself!' has been retweeted more than 12,000 times and has collected more than 107,000 likes.

sorry but Tatsuki Fujimoto having to post old chainsaw man concept art just to prove that it's really him on his new twitter account is hysterical to me pic.twitter.com/bg4KBUYJzP

— veri ???? (@sabokisser) November 12, 2022


After that, Mr. Shihei Hayashi mentioned that @ashitaka_eva is an account by Mr. Fujimoto himself. As a result, it has finally become known that @ashitaka_eva is Mr. Fujimoto's account.

Tatsuki Fujimoto's new Twitter account is here❗️
⬇️ @ashitaka_eva

As proof of his account, he posted a 'bottom picture' of Chainsaw Man.

It seems that next week's anime 'Chainsaw Man' will be live from this account if possible...!! ️

— Shihei Hayashi (@SHIHEILIN) November 12, 2022


After that, Mr. Fujimoto's first account 'Nagayama Koharu' was unfrozen, so @ashitaka_eva was deleted.

Tatsuki Fujimoto's younger sister, Koharu Nagayama ( @nagayama_koharu )'s account has been revived.
Thank you for your response to Twitter.

From now on, information will be sent on my sister's account, so if you don't mind, please follow me.

— Shihei Hayashi (@SHIHEILIN) November 16, 2022


In addition, overseas media Kotaku said, ``Mr. Fujimoto is a manga artist who uploads videos of himself trying to fly and operates a Pixiv account called Koharu Nagayama, a self-proclaimed Filipino . The inside is shrouded in mystery.'

in Manga, Posted by logu_ii