The fact that the corruption of Biden's son was hidden by preferentially accepting the deletion request of the Democrat inside Twitter with the internal document 'Twitter file' endorsed by Earon Mask, 'Shadow Ban' will also be exposed in the future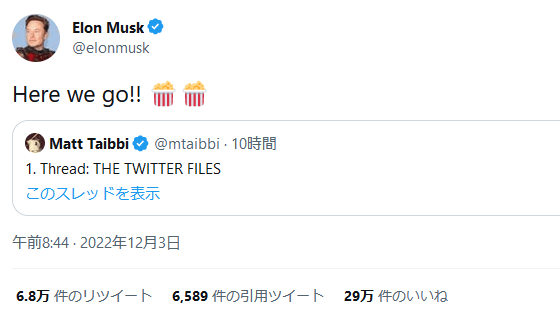 Since Elon Musk acquired Twitter and became CEO, he has been unfreezing
many
accounts, including former President Donald Trump's account
, under the slogan of 'freedom of speech'. Meanwhile, in 2020, an internal document was released showing that Twitter was preferentially accepting deletion requests by Democrats when `` allegations of corruption by President Joe Biden's son '' were reported.
Note to Readers - TK News by Matt Taibbi
https://taibbi.substack.com/p/note-to-readers-8d4
1. Thread: THE TWITTER FILES

— Matt Taibbi (@mtaibbi) December 2, 2022


Journalist Matt Taibi released Twitter's internal documents. Mr. Taibi posted a long thread on Twitter named 'THE TWITTER FILES' on December 2, 2022, claiming that he had obtained thousands of Twitter internal documents. This thread has been quoted and retweeted by Mr. Mask, and it can be said that Mr. Mask's endorsement information.

Here we go!!???????? https://t.co/eILK9f3bAm

— Elon Musk (@elonmusk) December 2, 2022


The information released by Mr. Taibi is related to ``Alleged corruption of Mr. Hunter Biden, the son of President Joe Biden'' reported in October 2020. At the time of the allegations of corruption, Twitter flagged news stories as 'potentially harmful' and prevented them from being shared. On the other hand, Jack Dorsey, who was the CEO of Twitter at the time, said , ``It is unacceptable to block the sharing of the URL of the news article,'' and the idea of content moderation within Twitter is inconsistent. was highlighted.

Facebook and Twitter are blocking the spread of articles reporting suspicions of presidential candidate Biden-GIGAZINE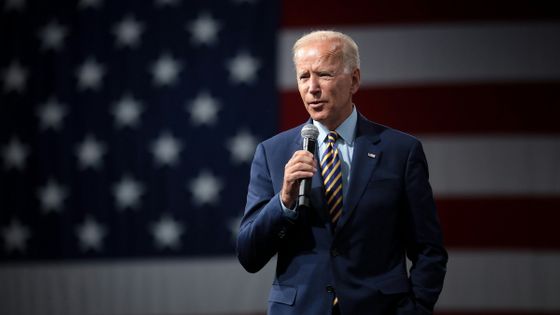 by Gage Skidmore

According to Taibi, when Twitter started its service, it fulfilled its mission of ``giving people the power to share information and ideas without barriers,'' but with the increase in posts related to spam and fraud, the system controls speech was forced to build At first, the speech control system was used to curb spam and fraud, but the scope of application gradually expanded, and around 2020, it seems that requests to delete tweets from political party officials will be sent on a daily basis. became.

Below is an example of a tweet deletion record using a speech control system. An email reports that the 'Biden team' has targeted five tweets for deletion.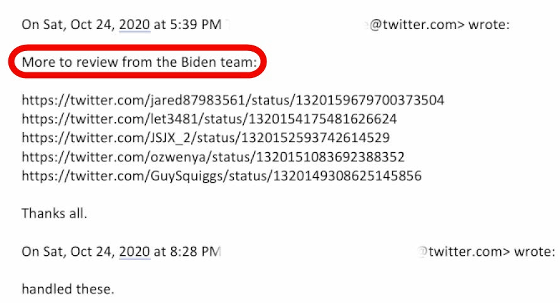 Not only Democrats but also Republicans have requested Twitter to delete the tweets. However, inside Twitter, the power of the Democratic Party supporters was overwhelmingly strong, and the Democratic Party's deletion request was processed preferentially. The strength of the Democrats within Twitter is reflected in the difference in spending Twitter spends on lobbying. Twitter spent $968,749 (about 130 million yen) on the Democratic Party in 2020, but only $14,137 (about 1.9 million yen) on the Republican Party.

11. This system wasn't balanced. It was based on contacts. Because Twitter was and is overwhelmingly staffed by people of one political orientation, there were more channels, more ways to complain, open to the left (well, Democrats) than the right. https://t.co/sa1uVRNhuH pic.twitter.com/K1xmqQ0TrD

— Matt Taibbi (@mtaibbi) December 3, 2022


As mentioned above, Hunter Biden's corruption allegations occurred as the power of the Democratic Party supporters increased within Twitter. Immediately after the news article spread, Twitter set the URL of the article as 'potentially harmful' and unshareable. Mr. Kayleigh McEnany, who was the White House press secretary at the time, posted a negative tweet on Twitter's response, resulting in McEnany's account being frozen.

After that, Mr. Mike Hahn, a staff member of the Trump campaign, asked Twitter to unfreeze Mr. McEnany's account. In response to the request, Caroline Strom, Twitter's public policy officer, contacted the moderation team, and the moderation team said, ``The article reporting the alleged corruption of Mr. Hunter Biden is information obtained by hacking. It was disabled because it violated the policy prohibiting the sharing of .
21. Strom's note returned the answer that the laptop story had been removed for violation of the company's "hacked materials" policy: https://t.co/EdTa2xbXn1 pic.twitter.com/KQFRiKYKkb

— Matt Taibbi (@mtaibbi) December 3, 2022


In order to apply the ``policy prohibiting sharing of information obtained by hacking'' to disable sharing of information, it is necessary for the information to be certified as information obtained by hacking by law enforcement agencies. Among the internal documents he obtained, he said that he could not find information indicating ``the basis for Twitter treating the article as information obtained by hacking''. For this reason, it is believed that Twitter's actions that made Hunter Biden's alleged corruption coverage unshareable were not taken in accordance with policy, but at the discretion of the moderation team and other Twitter stakeholders.

The problem with the 'hacked materials' ruling, several sources said, was that this normally required an official/law enforcement finding of a hack. But such a finding never appears throughout what one executive describes as a 'whirlwind' 24-hour, company -wide mess. pic.twitter.com/aONKCROEOd

— Matt Taibbi (@mtaibbi) December 3, 2022


According to Mr. Taibi, the Twitter file released this time is only a part of the information Mr. Taibi obtained. Mr. Taibi plans to release information on the actual situation of 'Shadow Ban' where accounts are quietly excluded from search in the future.

It's been a whirlwind 96 hours for me, too. There is much more to come, including answers to questions about issues like shadow-banning, boosting, follower counts, the fate of various individual accounts, and more. the political right.

— Matt Taibbi (@mtaibbi) December 3, 2022