It is reported that Apple Car will be released in 2026 with a price of less than 14 million yen, a custom chip installed, and no fully automatic driving function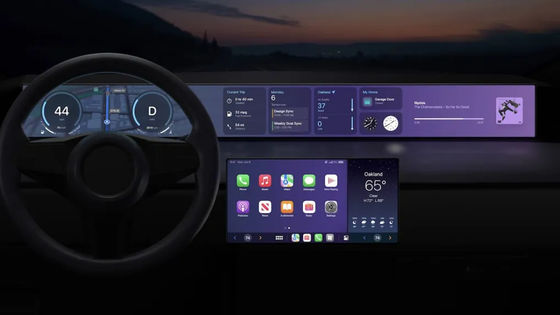 Regarding the self-driving car that has been rumored to be developed by Apple for a long time, Bloomberg reports that 'Apple plans to release its own self-driving car in 2026.'

Apple (AAPL) Scales Back Self-Driving Car and Delays Launch Until 2026 - Bloomberg
https://www.bloomberg.com/news/articles/2022-12-06/apple-scales-back-self-driving-car-and-delays-launch-until-2026

Apple Car on track for 2026 release, under $100K price, custom chip, and no full self-driving at launch - 9to5Mac
https://9to5mac.com/2022/12/06/apple-car-2026-release/

Apple still can't figure out what kind of car it wants to make - The Verge
https://www.theverge.com/2022/12/6/23496789/apple-car-cost-self-driving-project-titan

There are various things about automatic driving cars that have been rumored to be developed independently by Apple, commonly known as 'Apple Car'. However, since it is known that Apple has hired veteran engineers in the automobile industry and acquired automobile-related patents, it is believed that it is clear that it is working on the development of self-driving cars. increase.

In 2017, it was reported that Apple would give up manufacturing physical vehicles and focus on software development for self-driving cars, but at the end of 2020, it reportedly changed its policy to produce its own vehicles again. It was reported that production would start from around this time to 2024 . The release date of the Apple Car varies, with some predicting 2024, '2025 at the earliest' and 'it wouldn't be surprising if it was postponed until 2028'.

A famous analyst claims that Apple's automatic driving car will appear in 2025 at the earliest - GIGAZINE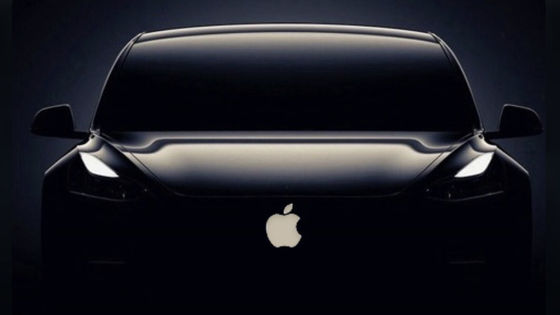 In 2021, it was reported that automakers Hyundai and Kia Motors will jointly manufacture Apple Cars with Apple, making the appearance of Apple Cars a reality. However, Hyundai and Kia Motors have announced that they are not discussing cars with Apple, denying rumors.

Hyundai and Kia announced that ``we are not discussing cars with Apple,'' and the stock prices of both companies dropped significantly-GIGAZINE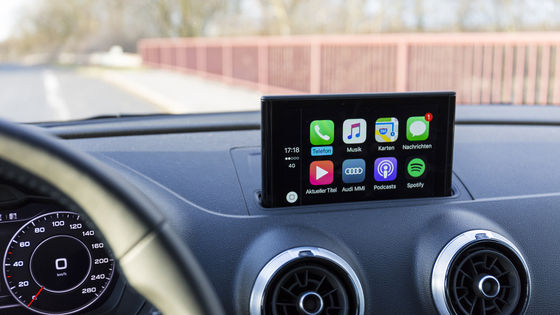 According to Bloomberg's latest report, in the automobile development project 'Titan', Apple gave up on installing a fully automatic driving function in the vehicle at the time of release in order to prioritize the introduction of the vehicle to the market. Previous reports have reported that Apple is aiming to release a `` fully automatic driving car without steering wheels or pedals ''.

'Apple is currently planning to design a 'non-ambitious vehicle' that will support full self-driving features available only on highways, including the steering wheel and pedals,' Bloomberg said. is talking to

In addition, it is reported that Apple plans to allow drivers to watch movies and play games while using fully automated driving functions on highways. However, in situations where manual operation by the driver is required instead of fully automatic operation, such as encountering bad weather, the system is designed to warn the user. According to sources, Apple plans to release Apple Car's fully automated driving function first in the North American region, and then plan to improve and expand the function over time.

According to sources close to the development of Apple Car, Apple has postponed the release of its own developed car from 2025 to 2026, and will develop it so that the selling price will be less than $ 100,000 (about 14 million yen). It is said to be in progress. Also, Apple Car aims to be equipped with Apple's proprietary Apple Silicon , and the chip for Apple Car is 'a combination of four top-end Apple Silicon models that Apple has prepared for Mac. It is expected that the specifications will be the same. The chip for the Apple Car is said to be ready for production already, but it's also reported that Apple may shrink the size of the chip to lower manufacturing costs.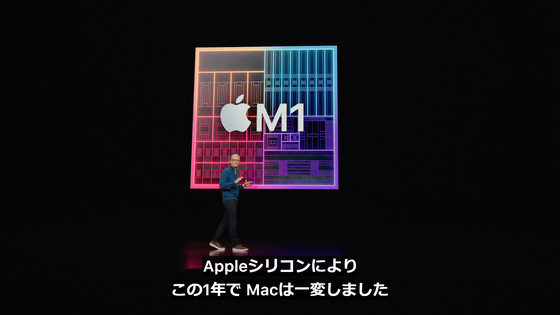 In addition, Bloomberg reported that ``Apple has not yet worked on the exterior design of the Apple Car,'' and the design team is still ``in the pre-prototyping stage.'' According to Bloomberg, Apple's Apple Car development roadmap is as follows:

2023: Decide on the design
2024: Software part decided by the end of the year
2025: Massive testing
2026: Launch

Bloomberg also said, ``The design side of Apple Car is led by Ulrich Kranz , former CEO of electric vehicle startup Canoo, and managers who have worked at Tesla, Lamborghini, Porsche, etc. The software side is Tesla. The safety engineering, testing and regulatory aspects are led by former Ford executive Desi Uzikasevich.

In addition, Apple has changed its policy from developing a fully autonomous vehicle without a steering wheel to developing a vehicle with a conventional steering wheel, so instead of developing its own platform, it will acquire an existing electric vehicle platform. It is also reported that he is planning to do so.

The person leading the Apple Car development team has changed many times so far, but Kevin Lynch, who was the development chief of the Apple Watch and health app, became the leader of the Apple Car development team in July 2021. It is said that there has been no change in the project leader since it was reported that he was appointed to .

Technical vice president involved in the development of Apple Watch joins Apple's automatic driving car project - GIGAZINE

in Ride, Posted by logu_ii