Anker's home appliance brand 'Eufy' secretly deleted the privacy promise from the web page, immediately after the problem was discovered that the surveillance camera video was uploaded without permission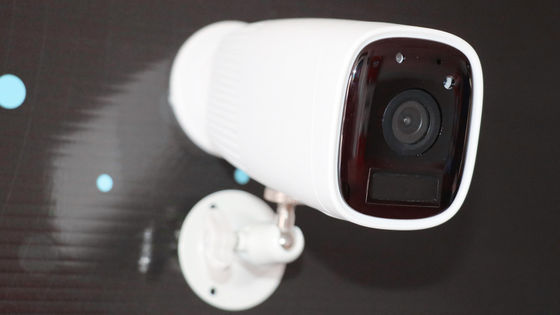 In November 2022, it was
discovered
that Anker's smart home brand `` Eufy '' camera intercom had uploaded the captured video in an unencrypted state without the user's permission. Additionally, it turns out that the privacy language was removed from Eufy's page after the issue came to light.
Anker's Eufy deleted these 10 privacy promises instead of answering our questions - The Verge
https://www.theverge.com/2022/12/16/23512952/anker-eufy-delete-promises-camera-privacy-encryption-authentication
Eufy has removed privacy-focused language from its website amid ongoing security camera fiasco
https://www.androidpolice.com/eufy-removes-privacy-language/
A series of problems with Eufy's smart camera surfaced when security consultant Paul Moore was using Eufy's intercom with a camera, and thumbnails of images taken by the camera and user information were uploaded to the cloud. I just realized that. Eufy promised that ``data will be stored locally'' on the official website, so Mr. Moore said, ``The notation on the site is completely false,'' and the notation on the Eufy page is different from the actual situation. was criticizing.
The whole story of this problem is summarized in the following article in detail.
It turned out that Anker Eufy brand security device was uploading content to the cloud without user consent - GIGAZINE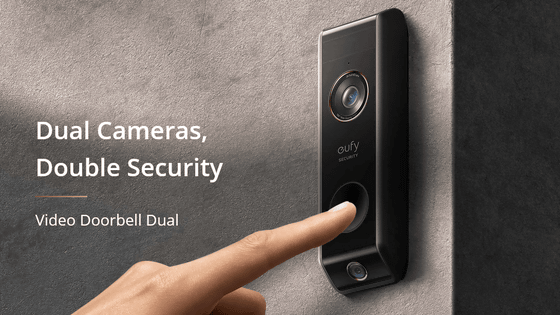 IT news site The Verge said that Eufy's
privacy
had not improved even two weeks after it was discovered that Eufy's camera was uploading images without permission from users.
I checked the page about the efforts to
As a result, it turned out that the wording referring to privacy was deleted from the page without any explanation.
The following 10 descriptions have been deleted from the relevant
page
as of December 8, 2022, stored in the Internet Archive's Wayback Machine.
'First of all, we take all possible steps to ensure that your data is private.' 'Our recorded footage is private and stored locally. It will be encrypted to military grade and only you will be able to send it."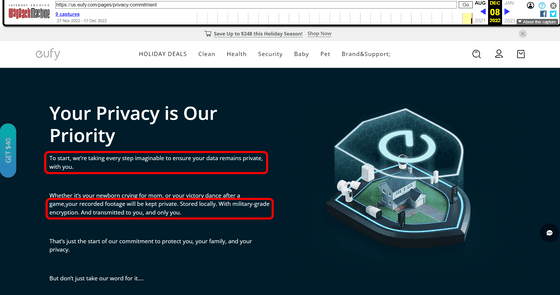 "Eufy values actions as well as words."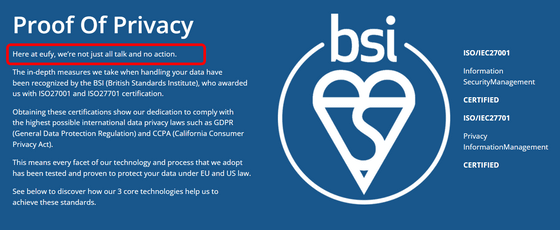 'I will show it only to you' 'With secure local storage, your personal information will never leave the safe place of your home and only you can access it' 'No prying eyes' 'All recorded video is on the terminal It is encrypted on the top and sent to your mobile phone as it is, and only you can decrypt it and view the video.The data in transit is also encrypted.' 'Everything is in the house.'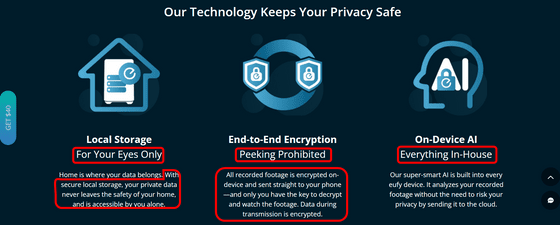 'No online links are provided for any of the footage.' 'You need to decrypt the clip using Eufy software and an account to watch it. No one else can access or read this data.' I can not do it'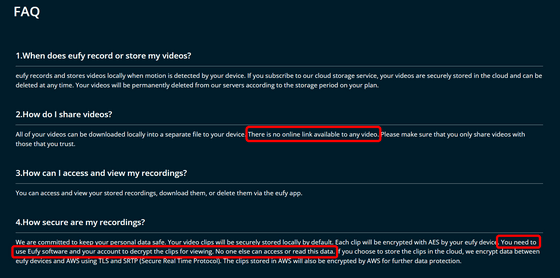 Apart from these, the question 'Do you want to share the video with law enforcement agencies?' In addition to being reduced to , the 11th question 'Does Eufy sell customer information to third parties?'




This change does not remove all privacy statements. For example, there are additional parts, such as specifying that there is an additional option to save the video not only to local storage but also to cloud storage.

Eufy also added a disclaimer to the app to clarify that 'if you choose to attach thumbnails to camera event notifications, the thumbnails will be saved online.' This is seen as one of the responses to Mr. Moore's point.

Regarding these changes, the news site Android Police said, ``The deletion of these words does not clearly acknowledge that all of the deleted words were false, but may be in preparation for future problems. However, after denying Moore's allegations as much as he could, he decided to keep quiet and silently removed many of the privacy statements from his website before the privacy scandal cooled down. Doing so would not be for Eufy's sake.'

・Continued
Anker's ``Eufy'' announces an apology statement due to privacy issues, but it is criticized as ``a template answer that does not have an issue''-GIGAZINE