California effectively bans Tesla from advertising as 'fully automated driving'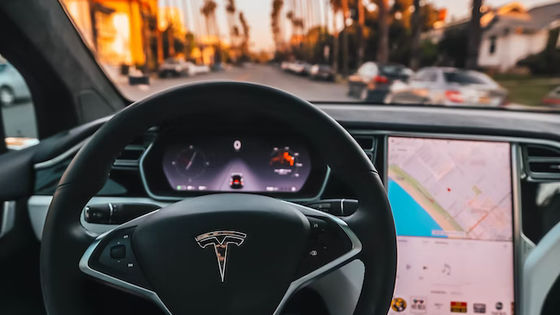 Tesla has been developing a beta version of ``Full Self-Driving (FSD)'' since 2020, and in November 2022, it will also be available in North America. However, it is pointed out that it is
close to 'Level 2', which requires constant monitoring by the driver
, even though it claims to be fully automated driving. In order to prevent this discrepancy, a law will be enforced in California from 2023 to prevent vehicles that cannot be fully automated from being sold as if they were fully automated or with a confusing name. .
Bill Text - SB-1398 Vehicles: consumer notices.
https://leginfo.legislature.ca.gov/faces/billTextClient.xhtml?bill_id=202120220SB1398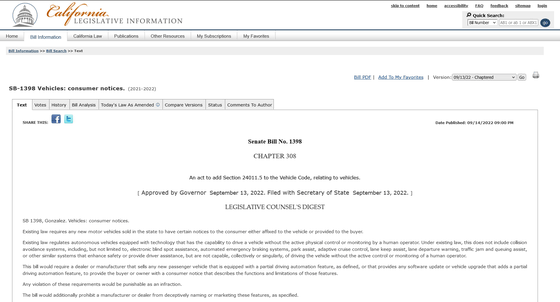 New California law effectively bans Tesla from advertising its cars as Full Self-Driving
https://www.sfchronicle.com/tech/article/New-California-law-effectively-bans-Tesla-from-17672908.php

Current California law restricts the sale of vehicles with self-driving features that the driver does not have to actively control and monitor. Collision avoidance systems such as automatic emergency braking systems, adaptive cruise control, lane keeping assist, and lane departure warning are excluded from the scope of functions that can be called 'autonomous driving functions'.

Democratic Sen. Lena Gonzalez said that when selling vehicles with 'partially automated driving' features that require a human driver to monitor the driving system, they should notify manufacturers and dealers of the features and limitations. called for a ban on mislabeling or marketing these 'partially autonomous' features as 'self-driving cars.'

Senator Gonzalez's Senate Bill 1398 will pass Congress on August 23, 2022. It was also signed by Governor Gavin Newsom on September 13th, and it has been decided that it will come into force from 2023.

According to Gonzales, although it was possible to crack down on false advertising even under the current law, there was a lack of enforcement by the Vehicle Management Bureau, so he promoted a bill specifying the rules with a state legislator.

In addition, Tesla opposed this bill, saying that purchasers were informed of the restrictions on fully automatic driving software.


in Ride, Posted by logc_nt