Qualcomm announces 'Snapdragon Satellite' that enables satellite communication with smartphones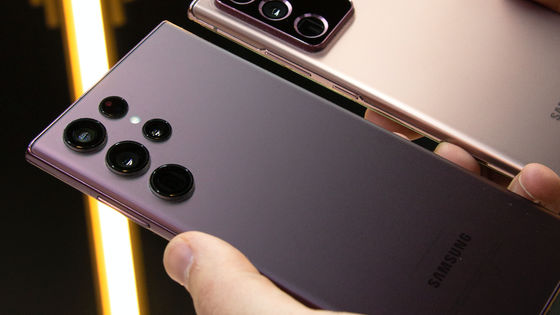 Satellite communication services are becoming a trend
in the mobile industry, such as
the emergency SOS via satellite
that appeared in the iPhone 14 series and the satellite Internet communication service '
Starlink
'. Qualcomm has announced a solution '
Snapdragon Satellite
' that supports such satellite communication.
Qualcomm Introduces Snapdragon Satellite, The World's First Satellite-Based Solution Capable of Supporting Two-Way Messaging for Premium Smartphones and Beyond | Qualcomm
https://www.qualcomm.com/news/releases/2023/01/qualcomm-introduces-snapdragon-satellite--the-world-s-first-sate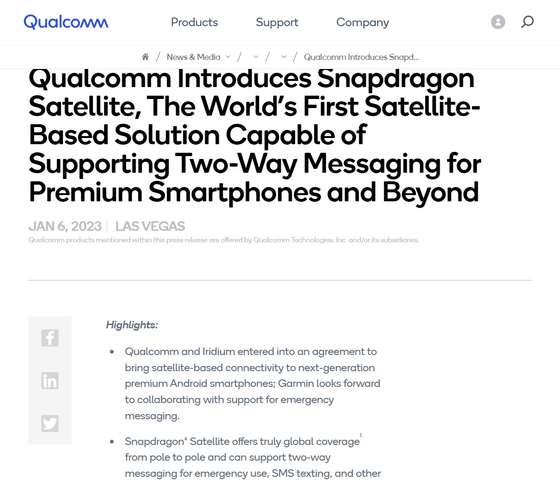 Qualcomm's going toe-to-toe with Apple's satellite messaging feature - The Verge
https://www.theverge.com/2023/1/5/23538207/qualcomm-satellite-messaging-snapdragon-android
Qualcomm's Snapdragon Satellite will let Android phones text off the grid | Engadget
https://www.engadget.com/qualcomm-snapdragon-satellite-messaging-android-211037007.html
Qualcomm announces Snapdragon Satellite for premium Android phones
https://www.androidauthority.com/qualcomm-snapdragon-satellite-3262887/
At CES 2023, one of the world's largest consumer electronics trade fairs, Qualcomm announced ' Snapdragon Satellite ', a solution for satellite communication. Satellite communication services can provide communication services to remote areas where radio waves cannot reach with existing mobile network services. Snapdragon Satellite will initially be offered as an emergency messaging service, but will later support SMS text message service and messaging app communication.
Snapdragon Satellite's satellite communications service will initially be limited to emergency use. Qualcomm Vice President Francesco Grilli said, 'Snapdragon Satellite leverages
Garmin Response
,' and when you send an SOS using the service, Garmin Response's response coordinator uses proprietary mapping and response coordination software. It checks the customer's longitude and latitude and decides which emergency service to contact.
In line with this, Qualcomm has struck a deal with satellite communications service provider
Iridium
to bring next-generation satellite communications to next-generation premium Android smartphones. Therefore, the Snapdragon Satellite will use Iridium's weather-resistant
L-band
.
Snapdragon Satellite will be available on devices with Qualcomm's flagship
Snapdragon 8 Gen 2
and 5G modem
Snapdragon X70
. According to Qualcomm, Snapdragon Satellite is 'scheduled to be released in some regions from the second half of 2023,' and several manufacturers are already working on developing compatible terminals.


Snapdragon Satellite will be available not only for smartphones but also for notebook PCs, tablets, cars, IoT, etc. Qualcomm claims that as the Snapdragon Satellite ecosystem grows, OEMs and app developers will be able to differentiate their own brand services by using satellite communication services. In addition, Snapdragon Satellite will support 5G non-terrestrial networks (NTN), and NTN satellite infrastructure and constellations will also be available.

According to VP Grilli, companies that want to use Snapdragon Satellite need to work directly with Qualcomm to determine software and hardware, but do not need to build a new relationship with Iridium. Regarding the fee for satellite communication services, Mr. Grilli said, ``The cost of satellite-based messaging services and the services that depend on them will vary depending on the OEM, the service provider, and how the service is delivered.'' It is explained that Qualcomm says that Snapdragon Satellite's emergency service will be free or very cheap.

"Our network is aligned with the Snapdragon Satellite," said Matt Desch , CEO of Iridium. provides ideal low-power, low-latency connectivity, with millions of people relying on our communications services every day and millions more joining the network via Snapdragon Satellite-equipped smartphones. We look forward to being able to connect.'