In India aiming for de-Google, the original OS 'BharOS' was born, will it replace Android with Linux-based mobile OS?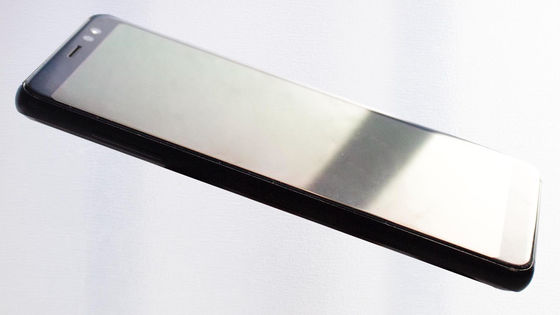 JandKops, a startup born as an incubation at the Indian Institute of Technology (IIT) Madras, has announced its own mobile OS ' BharOS ' from India.

Jand Kops: bharos

https://jandkops.in/
IIT Madras-incubated Firm develops Indigenous Atmanirbhar Mobile Operating System | Indian Institute of Technology Madras
https://www.iitm.ac.in/happenings/press-releases-and-coverages/iit-madras-incubated-firm-develops-indigenous-atmanirbhar
India demos monopoly-busting national mobile OS • The Register
https://www.theregister.com/2023/01/25/bharos_india_demo/
IIT Madras Pravartak Technologies Foundation, a non-profit foundation established by IIT Madras, is funded under the National Mission on Interdisciplinary Cyber Physical Systems of the Department of Science and Technology (DST), Government of India. JandKops was established by this IIT Madras Pravartak Technologies Foundation.
At a press conference held on January 19, 2023, JandKops announced the mobile OS `` BharOS '' from India. In the press conference, a video call demonstration using a smartphone equipped with BharOS was performed, revealing that it was a
Linux kernel
-based OS, but other details were unknown at the time of writing the article.
Although the details of BharOS are unknown, the home screen and setting screen are open to the public.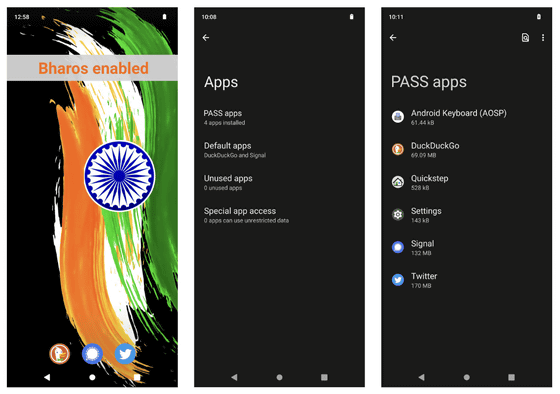 Professor V. Kamakoti, Director of IIT Madras said, 'BharOS gives users more freedom, control and flexibility by allowing them to choose and use only the apps that meet their needs. This revolutionary system promises to revolutionize the way users think about security and privacy on mobile devices.'

In 2022, India's antitrust authority, the Indian Competition Commission, gave Google 13.38 billion rupees (about 21 billion yen) for engaging in anti-competitive practices using the policy of Android, a mobile OS made by Google. ) was fined. In addition to fines, the Indian Competition Commission will not require pre-installation of Google apps such as Chrome and YouTube, will be able to uninstall Google apps from smartphones, and will be able to change search engine providers. I was looking for that. In response to this fine, Google asked the Supreme Court of India to invalidate the order, but the Supreme Court has dismissed the company's appeal .

Google will be fined about 24 billion yen, ``Android practices are anti-competitive,'' Indian authorities-GIGAZINE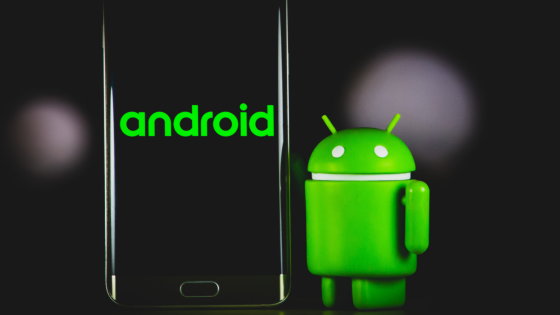 Google is forced to change the policy in the Android business in India due to penalties imposed by the Indian Competition Commission, but BharOS is expected to replace such Android. BharOS is No Default Apps (NDA: no default apps), that is, there are no apps pre-installed (installed from the beginning) in the OS, so users are forced to use unfamiliar apps or untrusted apps , giving users more control over the permissions that apps have on their devices.

Karthik Ayyar of JandKops said, 'The device is secure. Native Over The Air updates (N OTA ) will install software updates automatically. There is no need for the user to manually initiate the process. This ensures that the device is always It guarantees that you are running the latest version of the OS.In addition, with NDA and Private App Store Services (PASS), BharOS ensures that Indian mobile phones are reliable. doing.

PASS is a feature that provides access to a curated list of apps that have been thoroughly vetted and meet an organization's specific security and privacy standards. In other words, IIT Madras claims, users can be confident that installed apps are safe to use and have been checked for potential security vulnerabilities and privacy issues.

In 2020, Indian Prime Minister Narendra Modi put forward the Atmanirbhar Bharat (Self-reliant India) plan to make India independent and self-reliant in every sense of the word. IIT Madras claims that BharOS is a 'great contribution to Atmanirbhar Bharat'. Professor Kamakoti added, 'IIT Madras looks forward to working closely with more private industries, government agencies, strategic agencies and telecommunications service providers to increase the use and adoption of BharOS in our country.' I'm also talking.

The official website of JandKops states that ``BharOS is currently provided to organizations with strict security and privacy requirements,'' suggesting that BharOS is already in use.