Intel's sales in the fourth quarter of 2022 decreased by 32% compared to the same period last year, the data center and AI fields dropped significantly and the stock price fell by more than 9%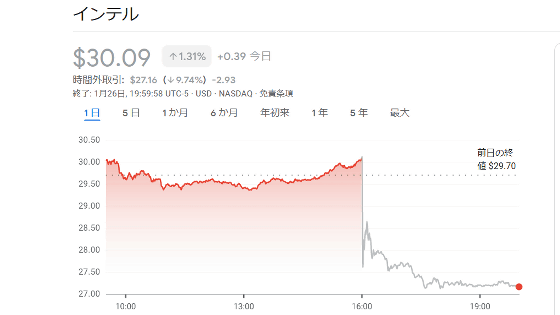 Intel, a major semiconductor manufacturer, announced its financial results for the fourth quarter (October to December) of fiscal 2022 on January 26, 2023 local time, and sales and profits declined significantly both quarterly and for the full year. I made it clear. Furthermore, it is forecasted that the first quarter of 2023 (January to March) will also be in the red, and
Intel's stock price
has fallen by more than 9% in after-hours trading.
Q4 22_EarningsRelease - Q4 22_EarningsRelease.pdf
(PDF file) https://d1io3yog0oux5.cloudfront.net/_8020e84ca449012613cb7a51a8b3788c/intel/db/887/8894/earnings_release/Q4+22_EarningsRelease.pdf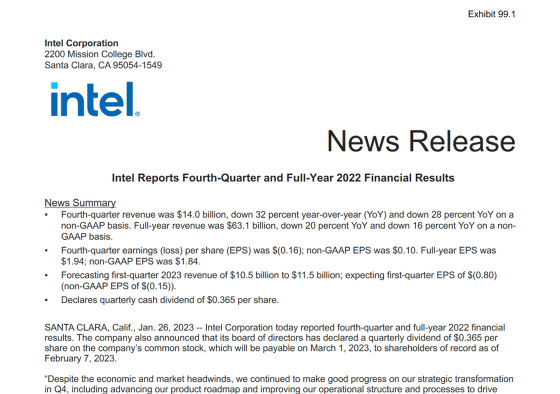 Intel 'stumbled,' CEO says; shares drop 9.5% as loss forecast | Reuters
https://www.reuters.com/technology/intel-forecasts-first-quarter-revenue-below-expectations-2023-01-26/
Intel sees $664M loss in Q4, forecasts further declines - Silicon Valley Business Journal
https://www.bizjournals.com/sanjose/news/2023/01/26/intel-reports-4th-quarter-earnings.html?page=all
Intel's horrible quarter: Inventory glut and underused factories
https://www.cnbc.com/2023/01/26/intels-horrible-quarter-inventory-glut-and-underused-factories.html
Intel misses analyst targets as it struggles with a slowdown | VentureBeat
https://venturebeat.com/games/intel-misses-analyst-targets-as-it-struggles-with-slowdown/
Intel's sales in the fourth quarter of 2022 were $ 14 billion (about 1.815 trillion yen), down 32% from the same period last year, and the average analyst forecast was $ 14.46 billion ( 1.875 trillion yen). Net income was a deficit of $ 661 million (about 86 billion yen), a drop of 114% from the same period last year, which was a surplus of $ 4.6 billion (about 596 billion yen). In addition, Intel's profit margin recorded 58.4% in the fourth quarter of 2020, but has fallen to 39% in the fourth quarter of 2022.
Annual sales in fiscal 2022 will be $ 63.1 billion (about 8.18 trillion yen), down 20% from the previous year, reaching $ 76.0 billion (about 9.855 trillion yen) that Intel expected in February 2022. I can't do it, and it tells how painful Intel was in 2022.
Intel's client computing division, which includes the PC business, had sales of $6.6 billion, down 36% year-on-year, and operating profit of $700 million, down 82%. .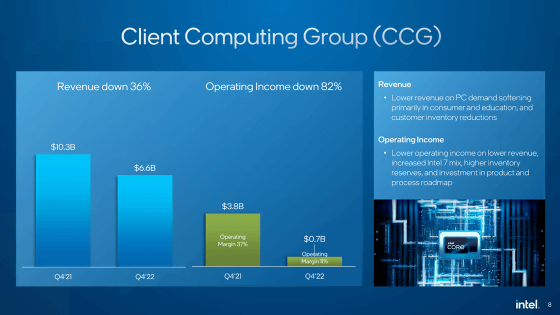 In addition, sales in the data center division were 4.3 billion dollars (447.5 billion yen), down 33% from the same period last year, and operating income was 370 million dollars (about 48 billion yen), down 84%.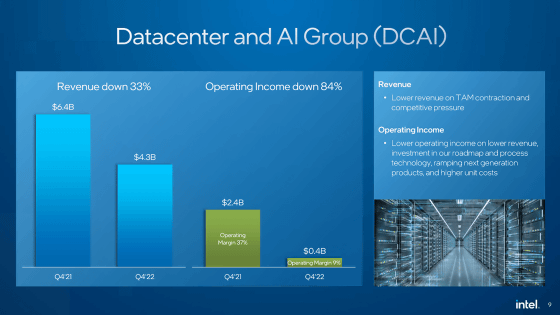 Intel expects the difficult situation to continue in the first quarter of 2023, with sales expected to be $ 11 billion (about 1,427 billion yen), a 40% decrease from the same period last year, and a profit margin of 34.1%. showed the outlook. Intel's stock fell 9.7% in after-hours trading as concerns spread among investors following the grim earnings release.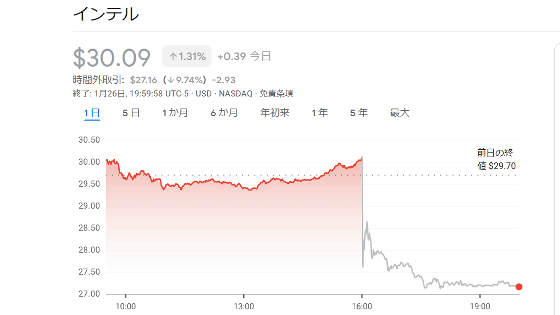 Since 2020, the demand for PCs has increased worldwide due to the pandemic of the new coronavirus infection (COVID-19), and semiconductor manufacturers have increased sales due to logistics problems. However, in 2022, not only will the shortage of semiconductors be resolved, but semiconductor manufacturers will be forced into a difficult situation due to sluggish sales of PCs and smartphones due to the recession.

Global PC shipments decreased by 15% from the previous year to 74.3 million units, Apple only increased by 40% - GIGAZINE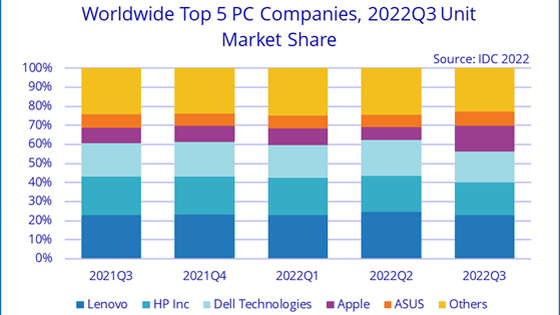 Intel CEO Pat Gelsinger has admitted to lagging rival AMD in the data center market, saying, 'We stumbled and lost share and momentum. We think it will stabilize this year. " commented. Gelsinger told Reuters that customers are trying to avoid holding semiconductor inventories during the recession. 'We expect the largest inventory destocking the industry has seen to date, literally impacting our first quarter results,' he said.

Market research firm CCS Insight analyst Wayne Lam said, ``Everything depends on the recovery of the PC market.AMD has no immunity to this situation,'' said Intel alone in the PC market. It suggests that it will also have a negative impact on rival company AMD. Furthermore, 'Don't think that Intel's performance has bottomed out. Intel does not operate a sustainable business model,' claiming that Intel may be forced into a difficult situation in the future. Did.

On the other hand, CNBC, an overseas media, pointed out that Intel has not yet reduced the stock dividend, which is a bright factor. "The board and management have taken a very disciplined approach to our capital allocation strategy and will continue to prudently allocate capital to our shareholders while maintaining a competitive dividend," said Gelsinger. I will do my best to do it,' he commented.

CNBC also said that one of the bright spots for Intel is that the 2022 earnings report of Mobileye , an autonomous vehicle development company that is a subsidiary of Intel, was strong.


in Note, Posted by log1h_ik