Microsoft strategically partners with solar panel maker, secures electricity equivalent to 400,000 households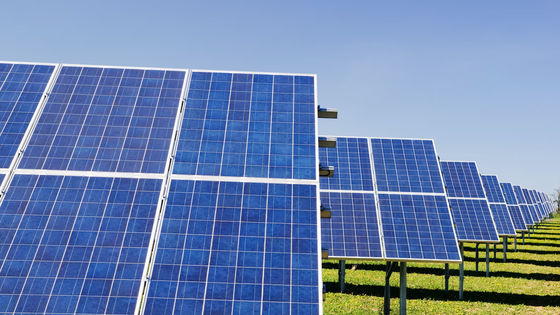 Microsoft has announced a strategic alliance with leading solar panel maker
Q CELLS
. This will provide developers working with Microsoft with at least 2.5 gigawatts of power, enough power to power 400,000 homes.
Microsoft and Qcells announce strategic alliance to curb carbon emissions and power the clean energy economy - Stories
https://news.microsoft.com/2023/01/25/microsoft-and-qcells-announce-strategic-alliance-to-curb-carbon-emissions-and-power-the-clean-energy-economy/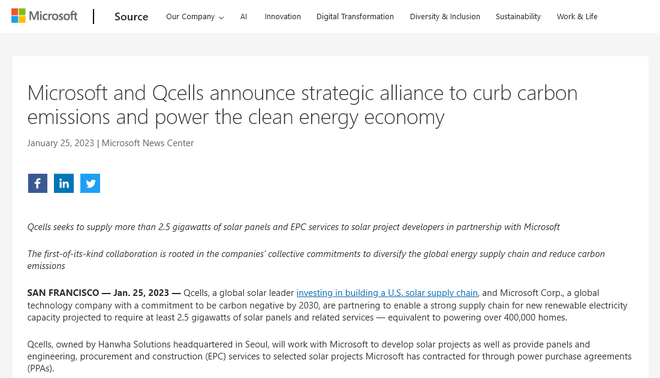 Microsoft strikes 'strategic alliance' with solar manufacturer - The Verge
https://www.theverge.com/2023/1/26/23572495/microsoft-qcells-strategic-alliance-renewable-energy-solar-panels

Microsoft is promoting the introduction of renewable energy with the aim of covering 100% of power consumption with renewable energy by 2025.

This strategic alliance is part of that movement, and it is the first example of an energy procurement company working directly with a solar supplier to incorporate large-scale renewable energy.

'Building a resilient solar energy supply chain is critical to advancing the global green energy economy,' said Brad Smith, vice chairman and president of Microsoft. This Microsoft effort will help bring more solar energy to the grid quickly.'

Q CELLS CEO Justin Lee said: "We are committed to building and delivering turnkey clean energy solutions and partnering with Microsoft will help us achieve this vision. We are proud to be working with this first step not only to support Microsoft and Q CELLS, but just the beginning of a great partnership to bring a clean energy future to consumers and communities. .'

According to the news site The Verge, about 80% of the world's solar panels are manufactured in China, and supply chain problems and allegations of labor abuse in Uyghur have made it difficult to deploy solar energy throughout the United States. point out that He said that it is an attempt to eliminate the bottleneck by partnering with South Korea-based Q CELLS.


in Note, Posted by logc_nt