The World Surf League adopts 'Apple Watch' as an official wearable terminal, and it is the first time that Apple Watch has been adopted as official equipment for professional sports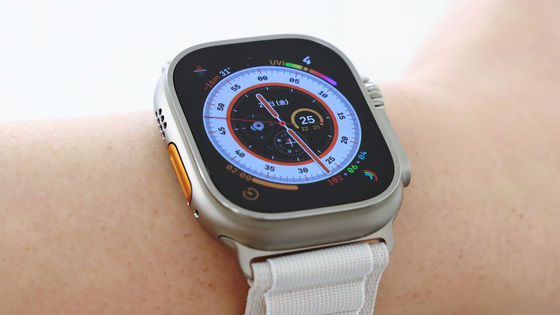 The
World Surf League
(WSL), which operates the professional surfing tour, has announced that Apple Watch has been adopted as the league's official wearable device.
World Surf League to Add Apple Watch as Official Wearable Equipment | World Surf League
https://www.worldsurfleague.com/posts/510890/world-surf-league-to-add-apple-watch-as-official-wearable-equipment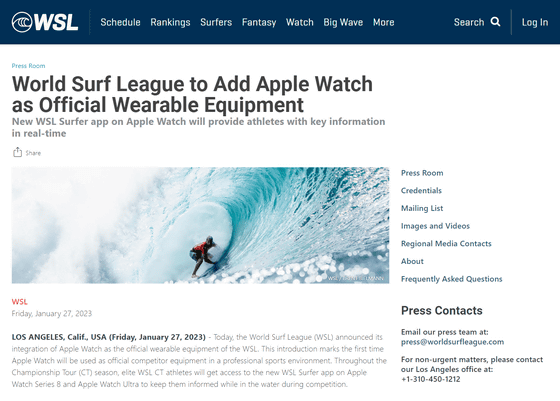 World Surf League declares Apple Watch as official sports equipment | AppleInsider
https://appleinsider.com/articles/23/01/27/world-surf-league-declares-apple-watch-as-official-sports-equipment
On Friday, January 27, 2023, WSL announced that Apple Watch will be adopted as WSL's official wearable device. This is the first time Apple Watch has been adopted as an official device for athletes in professional sports. The Championship Tour (CT), which is run by the WSL and includes Japan's
Kanoa Igarashi
, will allow players to stay in the water while competing through the new WSL Surfer app available for Apple Watch Series 8 and
Apple Watch Ultra
throughout the season. will be able to provide information on
Developed specifically for the Apple Watch, the WSL Surfer app syncs in real-time with the WSL scoring system, allowing athletes to keep track of the information they need, including scores, wave priorities, heat times, and more, right from their Apple Watch during competition. You can check it directly. ``The Apple Watch is particularly well suited for this task due to its large bright screen, durable design, and cellular connectivity,'' WSL wrote.
"The unique features, ease of use and incredible water resistance make the Apple Watch the ideal solution to support surfers competing in the extreme conditions of the World Tour," said WSL CEO Eric Logan. The WSL Surfer app we developed for the Apple Watch provides real-time data to assist in the communication flow from the WSL scoring system to the underwater competitors.We are very pleased to be able to release this app. We are excited and this will allow our competitors on the Championship Tour to focus on their performance and improve their competitiveness throughout the 2023 season.'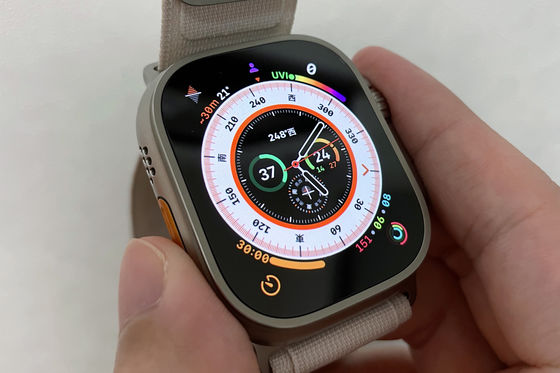 All competitors will receive an Apple Watch pre-loaded with the WSL Surfer app prior to each heat. Competitors already participating in the CT have repeatedly tested using the WSL Surfer app on Apple Watch over the past two seasons, so it seems that it has been confirmed that the app can meet the needs of the competitors. CT players will also be trained on the WSL Surfer app before the start of the season.

'This revolutionary solution combines a bright high-resolution display, durability, water resistance, cellular connectivity, and a powerful platform for organizations to build custom apps,' said Eric Jouet, director of Apple Watch product marketing at Apple. Leveraging many of the advanced features of the Apple Watch, such as, the new WSL Surfer app provides the highest level of information you need underwater.'

Italo Ferreira, who became the first gold medalist in `` surfing '', a new sport at the Tokyo Olympics 2020, said, ``The sound of the wind and waves can make it difficult to hear the announcer during the competition. It means you miss the beach.In difficult conditions it becomes difficult to see the beach and you can lose heats with priority penalties.Scoring and priority are very important when it comes to the game.Apple Watch If you have it, you won't have to see the beach or hear the announcer's voice in such situations, so you will be able to change the flow of the game, "he said, welcoming the adoption of official Apple Watch equipment. .

Isabella Nichols added, 'Last season we were able to test the Apple Watch. Having real-time access to everyone's scores and watches during heats made a huge difference. We planned our heat strategy and competed. It helps clear up any confusion that may arise during the process.'