It is pointed out that ``scams selling fake SSDs leaving only reviews on highly rated product pages'' are rampant on Amazon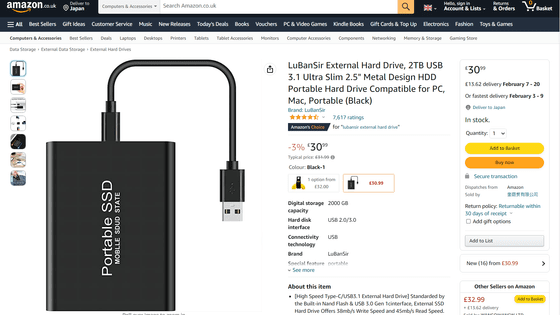 A user of the social news site Hacker News complained in a thread that 'the portable SSD sold by Amazon in the UK is a scam.'

10TB portable SSDs on Amazon UK are scams | Hacker News

https://news.ycombinator.com/item?id=34587293
Below is a fake portable SSD that Hacker News user
Alex Muir
found on Amazon.co.uk. It is a USB 3.1 Type-C standard SSD sold by the brand LuBanSir, with a capacity of 2 TB and a price of 30.99 pounds (about 5000 yen) at the time of article creation.
LuBanSir External Hard Drive, 2TB USB 3.1 Ultra Slim 2.5' Metal Design HDD Portable Hard Drive Compatible for PC, Mac, Portable (Black) : Amazon.co.uk: Computers & Accessories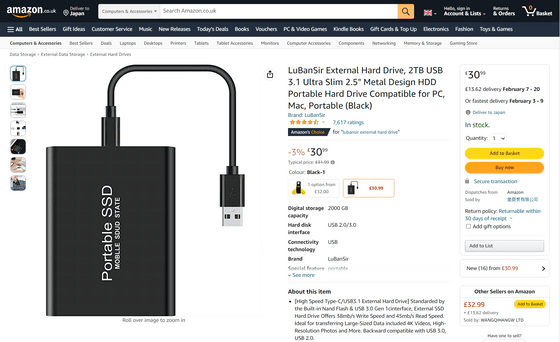 The SSD has 7617 reviews, and the rating is 4.5 out of 5, but Muir said, ``When I searched for an SSD before, the SD card in the box was sold openly. Various products are mentioned, such as mobile phone chargers, arm slings for broken bones, extension cord holders, etc. It's all
messed
up.'
Certainly, there are some reviews in the review column that do not seem to be for portable SSDs. For example, one Canadian reviewer said, 'This extension cord holder is great. I am a contractor who always handles extension cords and air hoses on site, but this cord holder is unnecessary when transporting or storing cords and hoses. It helps to keep it from getting tangled at times,' he posted a review that was not for a portable SSD.



An American reviewer has attached a photo of her actually using the cord holder.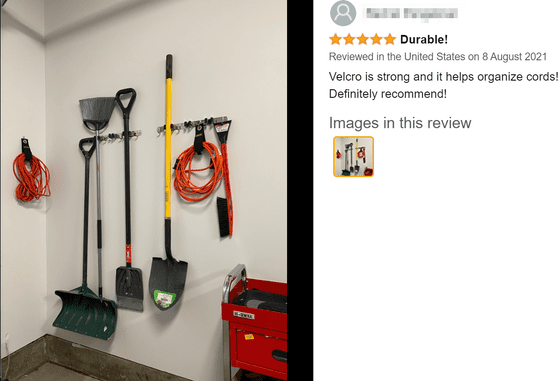 That should be it, if you look closely at the product page, there is a thumbnail of the cord holder next to the SSD, and when you click it, the brand name is the same 'LuBanSir', but the details of the cord holder unrelated to the SSD came out. However, as it is displayed as 'Currently unavailable. (Currently not available)', this code holder is no longer sold.



One Hacker News user said, 'This is a trick that has been around for years. As far as I know, sellers on Amazon sell their products as alternative versions of other products that they no longer sell. Then, the product will inherit all the reviews of the previous product, and it will not be possible to know that there were other variations because it is no longer available." He indicated that the product page of the cord holder, which was good, was diverted to the portable SSD.

In fact, if you look at the recent reviews by sorting the reviews in the order they were posted, you'll find that apart from the occasional 5-star review, it's a parade of 1-star reviews. There was a series of complaints such as the transfer stopped in the middle and the transfer speed was slow.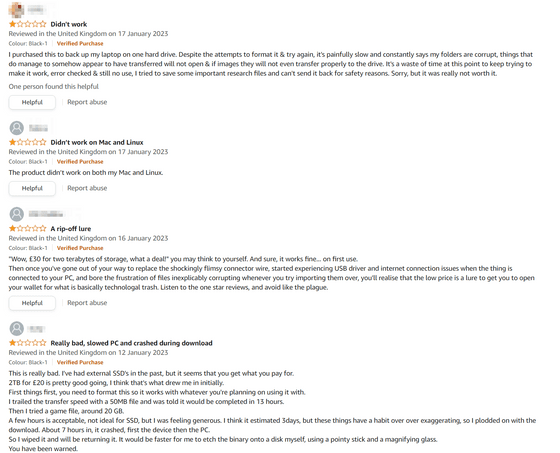 Also, if you look closely, the portable SSD has two misspelled product names, 'MOBLLE SDUD STATE' instead of 'MOBILE SSD STATE', and some people point out that it is blatantly suspicious.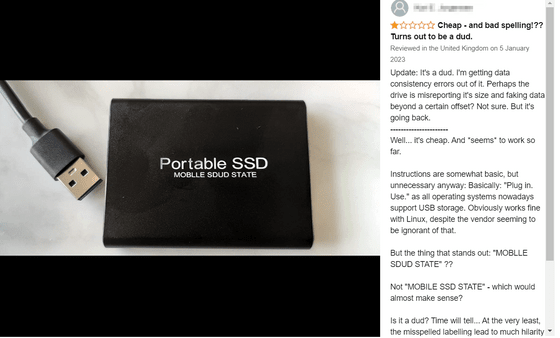 No one seems to have actually disassembled this portable SSD to see if the contents were an SD card, but in January 2023, a problem was reported that the contents of a cheap 16TB SSD was just an SD card. It can be seen that there is a similar reality because there is a similar situation.

The contents of '16 TB cheap SSD' sold by Amazon was just a 64 GB microSD card - GIGAZINE