A project 'AirGradient' that enables DIY air quality sensors that monitor temperature, humidity, carbon dioxide concentration, PM 2.5 cheaply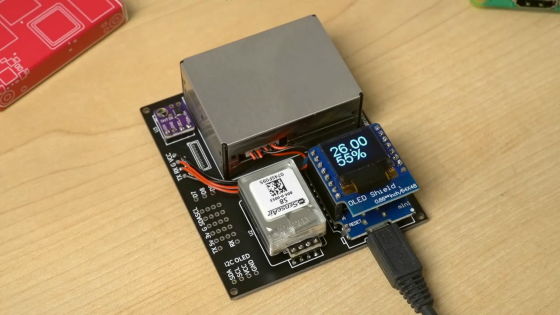 The World Health Organization (WHO) has
warned
that ``almost all of the world's population lives by breathing polluted air at levels exceeding the WHO standard,'' and ``air pollution is the most serious health risk to humans. Air pollution is an important issue in modern society, such as the announcement of a
report
saying that there is. However, air quality sensors that measure the concentration of carbon dioxide and PM2.5 are expensive and not readily available to many people around the world. Therefore, the project '
AirGradient
' from Thailand provides support and kits for cheap DIY air quality sensors.
AirGradient
https://www.airgradient.com/
The AirGradient DIY Air Quality Sensor
https://www.airgradient.com/open-airgradient/instructions/diy/
In Thailand,
smoke pollution caused by slash-and-burn agriculture
has become a serious social problem, but many people cannot afford to purchase an air quality sensor that costs more than tens of thousands of yen in Japanese yen. AirGradient was launched as a volunteer project to help schools in northern Thailand measure air quality in classrooms.
"It is paradoxical that countries with severe air pollution often cannot afford high-density air quality monitoring," said Achim Haug, founder of AirGradient. We are working hard to provide open, accurate and affordable monitors so you can protect yourself from contamination.'
AirGradient's official website explains how to make an air quality sensor that measures temperature, humidity, carbon dioxide concentration, and PM2.5 using inexpensive parts that are easy to purchase, and also provides a link to the firmware to be installed. I'm here. The components that need to be procured to DIY the AirGradient air quality sensor are the Wi-Fi compatible microcomputer '
WeMos D1 mini
' (about 300 yen), '
Wemos OLED display
' (about 300 yen), and PM2.5. '
Plantower PMS5003 PM sensor
' (about 2000 yen) to detect, '
Senseair S8 CO2 sensor
' (about 3000 to 4000 yen) to measure carbon dioxide concentration, '
SHT30 or SHT31 temperature and humidity sensor module
' to measure humidity and temperature (about 500 yen), printed circuit board, and case. All prices are when purchased on AliExpress, but they are not necessarily shipped to all countries and regions, so it is necessary to find sites and shops available in your country as appropriate.
Soldering the components looks like this. Although it is not included in the procured components, it is necessary to prepare a USB cable and a PC for installing the firmware on the WeMos D1mini.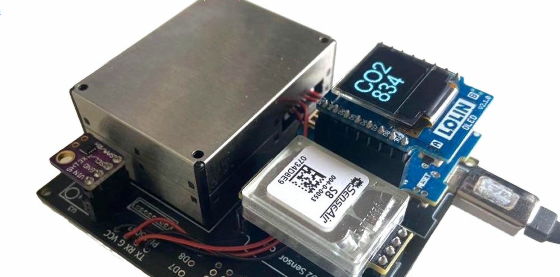 The PCB board can be ordered by downloading the
Gerber format
file published by AirGradient, and the case has an
STL
file for 3D printing.
In addition, AirGradient itself sells kits necessary for DIY air quality sensors at its
online shop
, and ships to countries and regions around the world. In addition, basic soldering tools and skills are required for assembly, but AirGradient also sells pre-
soldered
kits. About.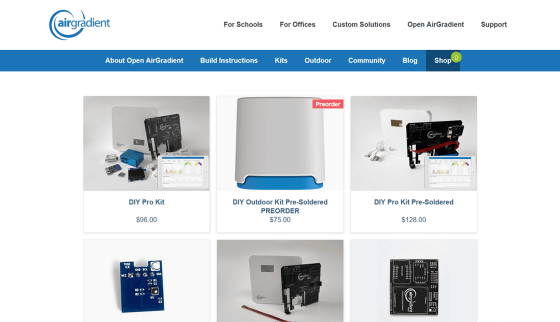 AirGradient also explains how to create a 'pro version' with extended functions such as barometric pressure sensors, battery chargers, and LED displays.

The AirGradient DIY Air Quality Sensor (Pro Version PCB Version 3.7+)
https://www.airgradient.com/open-airgradient/instructions/diy-pro-v37/

Electronics YouTuber Jeff Geerling posted a video showing how to actually build an AirGradient air quality sensor DIY.

Your home's air could be making you sick. Fight back! - YouTube