Amazon recorded a deficit since 2014, affected by the global economic stagnation and the decline in stock prices of invested electric car makers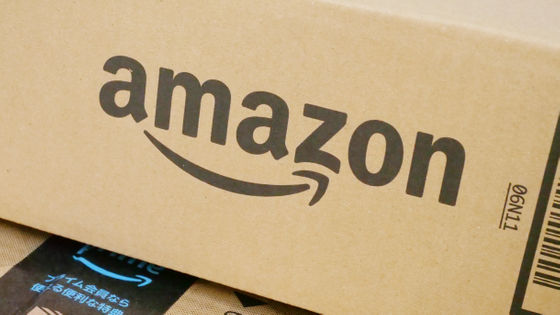 Amazon, which develops major EC sites and cloud services, reported its financial results for the fourth quarter (October to December) of 2022 and the full year of 2022 on February 2, 2023, local time. Sales in the fourth quarter increased by 9% year-on-year, but due to the global economic slowdown and the decline in the stock price of
Rivian
, an electric vehicle manufacturer in which Amazon has invested, the full year of 2022 will be in the red for the first time since 2014. Recorded.
Amazon.com-Announces-Fourth-Quarter-Results
https://press.aboutamazon.com/2023/2/amazon-com-announces-fourth-quarter-results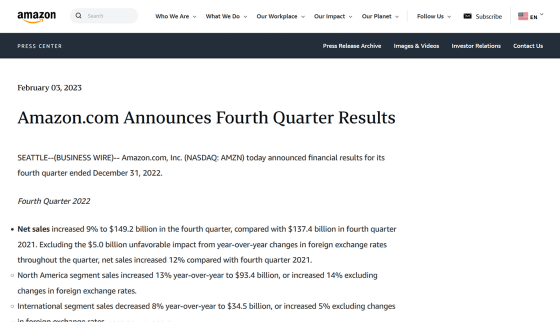 Amazon (AMZN) Earnings Q4 2022
https://www.cnbc.com/2023/02/02/amazon-amzn-earnings-q4-2022.html
Amazon reports its first unprofitable year since 2014 : NPR
https://www.npr.org/2023/02/02/1153562994/amazon-reports-its-first-unprofitable-year-since-2014
Amazon's sales in the fourth quarter of fiscal 2022 increased by 9% year-on-year to $ 149.2 billion (about 19.2 trillion yen), of which sales in the North American segment increased by 13% year-on-year to $ 93.4 billion (about 12 trillion yen), and sales in the international segment decreased by 8% to 34.5 billion dollars (about 4.44 trillion yen).
Sales of the Amazon Web Services (AWS) division increased 20% year-on-year to 21.4 billion dollars (about 2.75 trillion yen), but this is 21.87 billion dollars (about 2 billion dollars) predicted by experts. 810 billion yen). In addition, sales in the advertising department recorded 11.557 billion dollars (about 1.49 trillion yen), an increase of 19% from the same period last year.
On the other hand, sales for the full year of fiscal 2022 were 514 billion dollars (approximately 66.123 trillion yen), an increase of 9% from the previous year, but operating profit was 12.2 billion dollars (approximately 1.57 trillion yen). billion dollars (about 3.2 trillion yen). In addition, the net loss, including extraordinary losses, was 2.7 billion dollars (about 347 billion yen), which is the first deficit since 2014.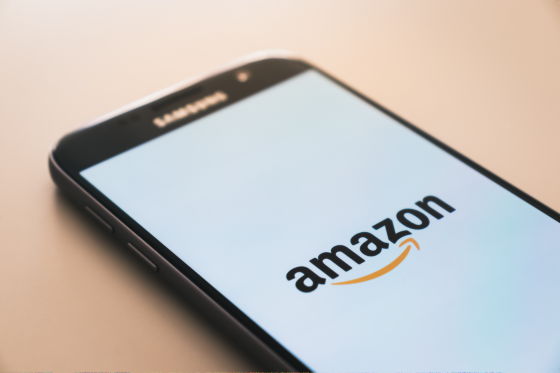 Reasons for the year-round deficit in 2022 include the global economic stagnation and the sharp drop in the stock price of Rivian, which Amazon owns 20% of the stock. Rivian fell short of its growth target, partly due to pricing mistakes , and its stock price is down 82% in 2022.

Amazon CEO Andy Jassy made a surprise appearance on the company's earnings call, saying, 'We're working hard to streamline our costs, but at the same time we're making the broader customer experience meaningful and sustainable in the long run.' We are not giving up on long-term strategic investments that we believe will transform Amazon.'

In addition, Amazon expects sales in the first quarter of 2023 (January to March) to be $ 121 billion to $ 126 billion (about 15.57 trillion yen to 16.21 trillion yen). In addition, analysts expected sales for the same period to be $ 125.1 billion (about 16.1 trillion yen).


in Note, Posted by log1h_ik