Headline news for February 3, 2023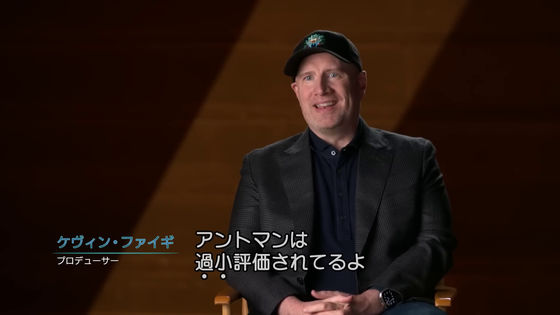 A special video has been released about the movie `` Ant-Man & Wasp: Quantomania '', which will be released in theaters from February 17, 2023, by Mr. Paul Rudd and Mr. Kevin Feige, president of Marvel Studios. Mr. Feige highly appreciates that Antman is suitable for cutting the vanguard of Phase 5 of the Marvel Cinematic Universe.

``Antman & Wasp: Quantomania'' interview [``Start a new story with this work'' Kevin Feige]-YouTube


By the way, I posted an article like this on the same day of the same month in the past.

When the number of viewers suddenly increases in live distribution on YouTube, viewing may be restricted because it is ``too popular''-GIGAZINE

All corals will suffer severe bleaching with 1.5 degrees of global warming - GIGAZINE

Jeff Bezos' yacht is too huge to pass, so to rebuild the historic Rotterdam bridge - GIGAZINE

Is the answer to the ultimate question of life, the universe, and everything, 42, true? -GIGAZINE

How to write the oldest character of mankind 'Cuneiform' - GIGAZINE

Six people who tried to change the Hollywood sign to ``HOLLYBOOB'' were arrested-GIGAZINE

``Penisman'' who appears in the street corner is arrested by the police who seriously gave out - GIGAZINE

Is it true that only children are selfish and selfish? -GIGAZINE

How should I teach how to use the version control system 'Git'? -GIGAZINE

``What is a winter fireworks company doing?'' I interviewed a pyrotechnician who makes videos that show what I want to know about fireworks, and also visited the fireworks factory-GIGAZINE

What happens when strangers hug each other naked? Experimental movie - GIGAZINE

'What is necessary is common sense' Interview with announcer Hirohide Ito, a large veteran of over 30 years of service at NHK - GIGAZINE

Square Enix's animation business that 'animation is a business, hit it exactly'-GIGAZINE

◆ Topics (memos, etc.)

My wife asked me yesterday, 'What's so interesting about licking soy sauce at a conveyor belt sushi restaurant?' He explained that he is a creature that creates a 'legend' among his friends by finding and implementing a chicken race in everything and boasting about it.

— Shigeru (@gerusea) February 2, 2023
When I made a shopping memo for a follower I thought was dead, I was surprised to receive a reply pic.twitter.com/Wis0kzZR7m

— Kanata (@eapaso) February 3, 2023
Human ``Can you borrow a chair ...'' pic.twitter.com/BUagHUbOK3

— Cat University (@pari2mofu2) February 2, 2023
Before Setsubun, the Sendai Umi-no-Mori Aquarium displays a mysterious "ehomaki" that makes use of the habits of conger eels. This is the 4th project this year, and it seems that the tube that imitates the ehomaki is handmade by the keepers. On the 31st, Miyagino Ward, Sendai City. #Sendai Umino -Mori Aquarium #Ehomaki #Conger Eelpic.twitter.com/rx98C9FPTo

— Jiji Press Video News (@jiji_images) January 31, 2023
When I was watching a documentary about a bakery, I cried when he said things like, 'If you remove the gas from the dough and let it rest and let it rest, everyone will be more chewy.' If I could get it, everyone should be able to be mochi mochi

— ْ (@asai_music) February 2, 2023
A Twitter account freeze festival invented by AI. pic.twitter.com/4HcGlhOu4V

— Hundreds of Flowers (@ryouran2525) February 3, 2023
not bad! ? pic.twitter.com/5jCaLAOyuz

— Gacha (@gachaps) February 2, 2023
Fuji soba suddenly comes like this so I can't let my guard down pic.twitter.com/vTxH2Wso0U

— Azuma (@sngazm) February 2, 2023
When I was looking at the moral print that my son (3rd grade) brought home, I was asked, 'Have you ever been strongly moved or felt beautiful?' I wrote only the name of the teacher and submitted it, and the teacher also signed OK and returned it

— Yamamoto Yamamoto (@debusume) February 1, 2023
Usually, you have a grace period of half a year or a year, such as a notice when API charges are made. What is next week, next week?
Just before going to bed, my child says, 'Tomorrow, I'm going to need work gloves from school.'

— mattn (@mattn_jp) February 2, 2023
i finally got it...
12 animals of the Chinese zodiac... A stuffed toy that combines all the zodiac signs...! ! ! pic.twitter.com/Iyu4AdFAic

— Naomi Ozora (@ osorasan703) February 2, 2023


◆ Science (Science, Academics, Technology)
Elucidation of the degradation reaction mechanism of high-energy-density lithium-air batteries ~Success in greatly improving cycle life by using lightweight protective film~ | Company/IR | SoftBank

'Data science' department, 17 universities newly established this spring: Nihon Keizai Shimbun

◆ Society, politics, economy (incidents, world news, business)
Disciplinary action against court clerk ``I will return the favor'' to the suspect | NHK

Same-sex marriage `` Society will change '' Prime Minister's remarks `` Same as discrimination affirmation '': Asahi Shimbun Digital

Russia unveils bust of Stalin ahead of 80th anniversary of victory over Germany 6 photos International News: AFPBB News

``I'm already a pass'' Mr. Suga denies the prime minister's re-appearance Intention to train backwards | Mainichi Shimbun

Russia's 'dictatorship' tendency after invasion revealed in 'democracy index' 2 photos International News: AFPBB News

Ishikawa Middle 1 Suicide, Bullying Until Just Before Third Party Investigation Committee Decides to Solve School | Kyodo News

Russia plans major attack on 24 February, Ukrainian defense minister warns - BBC News

Consider not recommending wearing masks at graduation and entrance ceremonies Government | NHK | New Coronavirus

Prime Minister Kishida, can you tell me? ``Why are you raising defense costs?'' Setagaya 6th graders asked questions: Tokyo Shimbun TOKYO Web

Putin Emphasizes Continued Invasion ``Threatened by Germany Again'' | NHK | Russia


In the Asahi Shimbun Hanshin branch office attack incident (Sekihotai Incident), it became clear that the Hyogo Prefectural Police were investigating the Victory Union.
(2023.2.2 House of Representatives Budget Committee / Representative Takeshi Miyamoto) # Diet broadcast # Unification Association https://t.co/Ck7OaLtJM0 pic.twitter.com/Fsmu4jdluQ

— ?????????????????? (@emil418) February 2, 2023
House of Representatives Budget Committee today. Communist Party lawmaker Takeshi Miyamoto asked about the Hyogo Prefectural Police Investigation Division 1 document, saying that there were about 10 members of the LDP Headquarters.
Present Takarajima Shinsho's 'Despair of the Liberal Democratic Party' in which my name and the facts are described

(12:46-) https://t.co/THhAbIJicV # Liberal Democratic Party Headquarters # Unification Church

— Eight Suzuki Journalist/Writer "3000 Days of Tracking Contamination of the Unification Church of the Liberal Democratic Party" (Shogakukan) (@cult_and_fraud) February 2, 2023

To support more than 200 billion yen a year in the Philippines Prime Minister, US and three countries security cooperation: Tokyo Shimbun TOKYO Web

``Price honor student'' The inconvenient truth of bananas The plight of producers is questioned | Mainichi Shimbun

Outdated? Can the ``Prefectural Citizen Notebook'' survive?

[From a corner of Otemachi] Why is the Communist Party so excited Masato Inui to the Diet question on the collaboration issue-Sankei News

Are 13-year-old junior high school girls working at a girls bar? Managers arrested | NHK | Incident

Corona deaths surge in Japan due to low immunity and tight medical care - BBC News

Iranian security forces target young people in anti-government protests - BBC News

Preparation for invasion of Taiwan by 2027 Mr. Xi gives military instructions and US CIA director | Kyodo News

Russia abducts Ukrainian child for sex trafficking

Divorce, debt ... Single mother attacked watch store Is it 'Luffy' who is the instructor | Mainichi Shimbun

Former Unification Church and Liberal Democratic Party conservatives connected through 'family' policy | | Saito Masami | Mainichi Shimbun 'Political Premiere'

Suntory canned coffee, etc. price hike from May for the first time in about 25 years | NHK | Prices soar

Chiba elementary school teacher arrested on suspicion of sexually assaulting teenage woman | NHK | Case

[Spray flame radiation with `` Yattare!

Chicken McNuggets will use only chicken breast and chicken skin from February, without chicken thighs-BCN+R

Radish, cucumber, eggplant, pepper High prices in the first half of February Impact of cold weather | NHK | Weather

◆ Lifestyle (life, lifestyle, health)

The demon mask I bought on Mercari was more splendid than I thought. One looks just like his father. https://t.co/RWkQ4JeNvb

— KEISUI ART STUDIO (@keisuiart) February 2, 2023
Crystal #creationpic.twitter.com /emDCLov2m5

— KEISUI ART STUDIO (@keisuiart) February 2, 2023


Going to college from children's homes Standing cost barriers | NHK | Education


CRUSHMETRIC, famous for SwitchPen, visited us and let us experience the new Auto Hedron Chair.
The students in our laboratory are reflected in the video.

It's a pleasant surprise to see the crease pattern appear on the surface along with the clattering sound. pic.twitter.com/HZavN9SJPB

— Jun Mitani Jun MITANI (@jmitani) February 2, 2023
At Tokyo University of the Arts, tuition went up and some of the pianos in the practice room were removed, so for some reason Yasushi Akimoto and Masashi Sada were hired as visiting professors, and a fancy cafeteria was built (which was expensive for Bimyo). The recent situation is that libraries are reducing purchasing costs.

— Rhythm Empty Life of Boy (@6_chord) February 2, 2023
In today's class, when I explained the difference between 'iru' and 'aru' using the example of 'there are fish in the aquarium' and 'there are fish in the refrigerator', some students were mesmerized. Certainly, using different verbs for the presence or absence of a soul is quite fashionable.

— Umineko1848???????? (@ Umineko1848) February 1, 2023


[Sad news] The most desperate image in the Great East Japan Earthquake, unanimously decided on this...: Philosophy News nwk

Tokyo 23 wards apartment soaring salaried workers use ``100 million'' pair loans | NHK

Noah Smith 'Actually, Japan is changing' (January 23, 2023) – Economics 101


Left: Chinese spy balloon in Montana, USA in 2023 Right: Mysterious balloon in Miyagi, Japan in 2020 pic.twitter.com/YI4nKYwQxo

—JSF (@rockfish31) February 2, 2023
I was contacted for the 'Special Award' of the '2022 Media Ambitious Awards'. Thank you very much for giving me such an evaluation .

— Eight Suzuki Journalist/Author "3000 Days of Tracking Contamination of the Unification Church of the Liberal Democratic Party" (Shogakukan) (@cult_and_fraud) February 3, 2023
``People with developmental disabilities have a lot of fun,'' including the reason why it hits too much and hurts my ears...... pic.twitter.com/tfu1NiCagA

— ???? (@mumichannel) January 14, 2023


What is the "N-to-N-square method" to counter the declining birthrate? Will the amount of tax change when it is introduced? | NHK | Tax Reform


The Shibaki Corps acted like the Colabo vigilante group and went on a rampage, and Nito was cut off. That's business as usual.

He should have known that was 'the biggest risk of teaming up with the Shibaki gang.' Did you use a lawyer for some reason w

— Sadao Arai (freelance writer who wants to be a househusband) (@oharan) February 2, 2023


Mr. Hiroaki Iima, editor of the Japanese dictionary, fears that becoming too nervous with ``feeling uncomfortable'' as a key word will narrow the range of expression-Togetter


I, who used to be an izakaya part-timer, talk about customer tendencies with prejudice

1. College student

No matter how you drink it, it's cute. I can even vomit. I'm doing it properly. Polite wording. The average price per customer is about 3,000 yen. If you drink a lot, you will be enthusiastic and finish with 3 beers.
Basically anyone is welcome, but minors who try to cheat their age and try to drink are not cute. Don't underestimate me, kid.

— Nu (@orangenu11) February 2, 2023


A child who licks soy sauce doesn't have the guts or guts to become a delinquent of Magimon. -Togetter


Once upon a time, there was a young boy who hated double-checking at a factory.
'Can't you trust my work?' After that, he came to say, 'I've done it! Please check it out.'

—tmnb (@tmnb45385332) February 2, 2023
At first, it was just sunscreen and powder. I was surprised at how decent it was, I was just really used to it

— Pink Tanuki (@momoilotanuki) February 2, 2023
Decorating your nails is too important. It's the best that such strange people stop coming by https://t.co/0MUh5hZ4lA

— ???? (@ ygol34_nsc) February 2, 2023
Lawmaker arrested on suspicion of forcibly molesting four girls
'For children'
So you were doing anti-vaccine activities.

It's the worst.
Seriously the worst ... pic.twitter.com/G9TkHwpjCE

— Miki Chinen Novelist / Doctor (@MIKITO_777) February 3, 2023
Tokyo University of the Arts, ``the cheapest national university in Japan,'' has raised tuition fees, increased the price of cafeterias, stopped accepting new books in the library, stopped air conditioning in the entire building, and finally started selling pianos in practice rooms. Is conscription next?

— Shotaro Sanada (@tarobee1212) February 2, 2023
I don't mind if the school teaches that you shouldn't slurp soy sauce on conveyor belt sushi, but I don't listen as much as I want children who never do such things to listen seriously and listen carefully. That's how it is

— I'm free ☺︎ (@TeacherhaGreat) February 2, 2023
Do you want to look so good abroad while asking the people to raise taxes? In the first place, this amount is about three digits wrong. Japan needs help. Are you okay?

Prime Minister announces annual support of more than 200 billion yen to the Philippines https://t.co/18uk65bdPO

— Kiyoshi Shimizu (@NOSUKE0607) February 2, 2023
Personal bankruptcy has become a hot topic in the case of Sushiro, but I can't escape because I'm not exempt from liability for damages caused by malicious intent. If the person himself/herself does not have the ability to pay, his/her family members will be obliged to pay, and he/she will have to continue paying for it for the rest of his or her life.

(He thinks it lightly) He's a prank and gets lost in the real world... It's really scary...????????????

— DIO ???? general practitioner ????????? (@generection1) February 2, 2023
'Which is more important, the future of 10 perpetrators or the future of 1 victim? 10 people, right? Is it okay to destroy the future of 10 people for the sake of 1 person? Think again calmly. There is an educator who says to the victim family, Never cry yourself to sleep. I would like you to file a police report. No school permission is required.

— Nobu (@talk_Nobu) February 2, 2023
The combination of perfectionism and laziness is the worst

Even if there are 'things I have to do' or 'I want to start something new'

As a result of the thinking circuit that 'If you do it, you have to make it perfect ... but it will take a lot of time to make it perfect ...'

``People who don't do anything and get depressed on their own'' will explode

— Sleeping Baku (@bakunojob) February 1, 2023
New Zealand's 2013 bill to allow same-sex marriage has a sequel

2021, eight years after its establishment. Rep. Nick, who voted against it at the time, apologizes to the LGBTQ community

When his son confessed to being gay, Rep. Nick realized everything and promised his son that he would make an official apology before retiring from politics.The day has come https://t.co/ UtHivNSFJ7 pic.twitter.com/KvH1Oq65Oh

—Rice (@Rice_nz) February 2, 2023
The other day, an old acquaintance of mine started talking about when I was young, so I thought, "Wow! It was great, but now my child earns his own money, does housework and takes care of his children, it's really amazing...' I wanted to do this kind of age.

— Pocomi (@pocomi_chi) February 2, 2023


◆ IT/gadgets (net/software/hardware/mobile)

We have received news about Twitter API charging and have received inquiries about Twilog and favolog.

We would like to keep the service as long as possible, but depending on the situation, it may be difficult to provide it for free.

— Lopros (@ropross) February 2, 2023
Thank you for your concern about Togetter regarding Twitter API charging.
We plan to support it as much as possible even after the API charge is introduced. We also use paid APIs provided by NTT DATA, so we do not regard the use of paid APIs as a drastic change.

We do not know the details at this time, so we will wait for the follow-up report to make a decision.

— Togetter (@togetter_jp) February 2, 2023




Free provision of Twitter API ends on 2/9, summary of services and tools that are likely to be affected-Togetter

I made a mini mini 4WD course-Nico Nico Douga

People who do conveyor belt sushi and part-time job terrorism have smartphones for the first time, so they 'invent new ways to make friends laugh in front of them.' Can't you imagine what will happen?'

— Wolf Shobo Official / Graphic Wolf (@gekigavvolf) January 31, 2023
I heard that the marshmallow official is also frozen and I went to see it, it's really exciting ... pic.twitter.com/duBBCdLE26

— Hikaru Yoino (@Julius_Li) February 2, 2023
From the TL log of OpenTween, which had been running all the time since last month, the result of extracting the automatic tweet 'Anonymous message wanted!'
(Log between 1/15 and 1/22) pic.twitter.com/YvKfZXpVMo

— Jugem-T ???? Taking a break from drawing (@Jugem_T) February 2, 2023


Let's create a full-fledged application using Slim Framework and Docker|Technical blog|VR, game, and system development in Sapporo, Hokkaido and Sendai, Miyagi Prefecture Infinite Loop

I got caught up in Twitter's 'Frozen Festival'... With this sadness in your heart, make a thorough resistance with 'objection' - Yajiuma no Mori - Window Forest

The story of a woman named ``Vladivostok consul Watanabeeri'' tweeted by Mr. Jiro Aruma is quite hoax-Cyber dust

Earnings plummeting for popular YouTubers? Advancing ``polarization'' Clients emphasize video quality and compliance-Sankei News

Rakuten Mobile mobile base station maintenance contractor Hidden income of over 7 billion yen | NHK | IT / Internet

ƣ��μ����Ρ�������� livedoor Blog


When I saw the trend, there was a frozen festival, there was a frozen target.

— Ryu-chan (@TmhbnYqr0wM74GJ) February 2, 2023


Four stages of generative model development used for creation, and the present and future seen in ChatGPT|piqcy|note

Apple to abolish design chief position three years after Ive left - Bloomberg


As a commentary on Discord, I think 'That's like a club room...' hits a pretty good point (Discord's mackerel is probably like that...

— Oda (@oda8888) February 3, 2023
I was frozen about twice in the past at the Twitter Frozen Festival → I was resurrected, 'What should I do! At that time, I sent a lawyer to Twitter's headquarters in the United States to have a direct discussion, and I used a brain muscle technique that was like hitting the enemy's body with full power, so I received particularly useful advice. sad i can't

— Yashiro Azuki (@ yashi09) February 3, 2023
And 'Since it was frozen, I will immediately make a sub-dirt'
This is dangerous and increases your chances of being marked as spam and permanently suspended. Keep calm and file an appeal. I will have a cup of tea and lodge an objection.

— Yashiro Azuki (@ yashi09) February 3, 2023
Those who go to Discord Village
Those who go to Mastodon village Those who go to Kuruppu village
Those who settle down in pixiv village Those who hide in mokuri village
People returning to mixi Village People returning to Site Village
Who decides to sink into the dam with Twitter

— ???? deer beast ???? (@okdeeer) February 3, 2023
Even if you ask me why I'm using Twitter, all the other SNSs have nothing but positive waves. It's the only place where you can feel the shadow. It's an arrogant question equivalent to 'Why do you live in the sewers?'

— Yu Eninomiya ♟️ Nogenora new issue released 2/25 (@ yuukamiya68) February 3, 2023
earthquake_jp About the future

I would like to continue, but I think it will be difficult with the current policy.
Please check the tweet below for details. https://t.co/FtOC3Fa9QC

— Earthquake Early Warning (@earthquake_jp) February 3, 2023
In the first place, it is easy to understand that Twitter's freezing policy is quite sloppy when I am not frozen because I repeat abnormal remarks

— *** *****! (@ OKB1917) February 3, 2023
To summarize only the unfreezing procedure briefly

① Make an objection at https://t.co/VyoY9ZrCZK , saying, 'This account does not violate the Twitter terms. Please unfreeze it.'

(2) Since the second automatic reply comes, reply with 'This e-mail address is available.'

③ Unfreeze in about 1 to 2 days (fourth piece) pic.twitter.com/FxUJKhICgV

— Hirasawa (@OBFUB) February 3, 2023
Twitter 'Mumu, you're linking a suspicious application! Freeze! Freeze!'

Otaku 'm'

Twitter: 'Stop you there! Who are you!'

Spam bot `` Female president who started a business without a salary! Remote side job annual income 100 million!

Twitter: "What is this woman president who succeeded from the bottom of her heart?

— Luo Le (@Basil_VRetC) February 2, 2023
Twitter doesn't seem to be able to get the jokes right now, so if I mutter something like 'I have to buy again because my followers have decreased ☺️', I'm going to freeze

— Ruriko Aoki (@coloruri) February 3, 2023
What do you like about Twitter?
From geeks to experts, you can easily get information, and you can receive survival reports and information transmission and reception in the event of a disaster, and you can get breaking news because it comes unexpectedly, and sports are also realistic.
Other social networks are so specialized that they are inflexible.
If possible, it's good here...

— Dummy Inaba (@i_n_b1) February 3, 2023
Regarding the changes to Twitter's API specifications announced yesterday, we are currently waiting for detailed information from Twitter.
There are no plans to abolish or charge a fee for logging in to TwitCasting from your Twitter account.
We will keep you informed if there is any impact on the use of TwitCasting.

— TwitCasting Official (@twitcasting_jp) February 3, 2023
My heart was too filthy to go to Instagram, and my heart was too sensitive to go back to anonymous bulletin boards

— Donpuku (@donpuku) February 3, 2023
It's called the Sanzu River because pawoo's timeline is overflowing with Twitter-frozen people

— Rokunoki (@6_noki) February 3, 2023
I like Twitter because it's fun to see geniuses who are funny and playful, such as the ice age, the spring ban festival, etc.

— CO2 (@co20803) February 3, 2023
It continues to be very heavy.
Errors such as unauthorized access, communication errors, etc. are returned, and errors such as the inability to change the ID occur frequently.
This is due to the rapid increase in the number of accesses. Even more congestion is expected during the night.
I'm very sorry, but it would be great if you could avoid congestion https://t.co/YoAxA1vL8O

— [Official] Kuruppu | CREPU Management (@crepu_kuma) February 3, 2023
Every time something happens on Twitter, people whisper to move to other SNS, but there is nothing else that can replace Twitter's characteristic that 'you don't have to belong to a specific community', so live here... die here...

— Youranori (@hisanori_natano) February 2, 2023
Regarding Twitter API charging,
We will explain our future response policy with a detailed announcement from Twitter next week.

If you have created an account with Twitter linkage,
You can continue to log in by registering your email address, so please see Help for details. https://t.co/G8Yb0U1o6i

— mocri | Work call app that gathers together (@mocri_jp) February 3, 2023
I've been on Twitter for 12 years, and even if I'm told, 'Twitter is no good, so move elsewhere,' he says, 'I can't live away from this village where I was born and raised.' I feel like.

— Tetsu @ Railway Clothing Research Group (@tetsu_fr) February 2, 2023
To be frank, there are ways to keep in touch with people you talk to on a regular basis at discos or other sites, but it's not like they're friends, but I want to see their tweets. No matter how you look at it, people can only be observed through Twitter...

— Hitori Torii (@hitorin_alone) February 2, 2023
It seems that the people inside Krupp are paying for the server by mortgaging their house, so people who plan to go to Krupp should pay the money...

— Poco (@numlockkeysgos) February 3, 2023
We geeks don't want to pay the cost of communication as much as possible, so it's impossible if we don't 'mumble to ourselves' and 'someone happens to react to it'.

— Tachibana Cotton (@KocyoCottonsub) February 3, 2023
[Twitter Frozen Festival Evacuation Area] We have prepared a warm place https://t.co/EaaiockRTs # Many accounts are frozen on Twitter "Frozen Festival", "Twitter Ice Age" and "Spring BAN Festival" are trending .
Feel free to comment what you think now. # Frozen festival # firewood burning https://t.co/wCLUs8wzkx

— Nico Nico News (@nico_nico_news) February 3, 2023
Twitter Frozen Festival, I heard that it's faster to apply for cancellation in English, so I'll put it on...

My Twitter account has been frozen.
I adhere to Twitter rules and do not cheat or spam.
I'm very confused about this Twitter account freeze.
I haven't done anything wrong, so please unfreeze my account.

— Urushimushi ????????? FF outside notification OFF (@urushi64) February 3, 2023
'Contact' can be done on a personal site or Discord, but what I need is a space where I can say things like 'It's too cold and I've become Sam!! Hahaha!'

— Reno Suzuya (@renoin_sion) February 3, 2023
People of Twitter, no matter how much Twitter seems to sink, they're the type of people who start playing on a sinking ship.

— Swamp catfish (@eenamazu) February 3, 2023
For those of you who have been on Twitter for over 10 years and have registered with your email address before pixiv, Nico Nico, and DMM were linked to Twitter.

— Misutatei (@mrt_misutatei) February 2, 2023
It seems that there are many people whose accounts have been frozen, but according to my rule of thumb, the freeze will not be lifted just by applying from the help center below.
After applying for the cancellation of the freeze, you will receive the first e-mail by automatic reply, so please reply to this (second e-mail).
It will not be unfrozen unless you do this https://t.co/VyoY9ZrCZK pic.twitter.com/H7n7gjER29

— Hirasawa (@OBFUB) February 3, 2023
For those who have been frozen, I was also frozen before and filed an objection, but there was no response.
I will tweet the English sentences on the tree, so please use it if you like.

— Jagariko (@ jyagariko0418) February 2, 2023
So, today's topic is the 'Frozen Festival', but there are rumors that it will be frozen if you cooperate with 'Marshmallow'.
In the first place, regulations and freezes are automatically performed by AI, but the standards probably changed around yesterday.
There must be places that are tough and places that are relaxed.

— Kasuke Nomura @ Kasumihime Wonderland (@KasumiWander) February 3, 2023
It hurts the most to lose a follower who says, 'I've been on TL for a long time, so I'm almost out of touch now, but I've been on TL for a long time.' It's the same for someone to me, and it's the same for me to someone else. I can't show my followers the object that I am...

— Mikane ????☀️ Futon ???? (@mika_tama) February 3, 2023
People are disappearing all over TL. Not long ago, the person who was speaking in front of me had turned into a mute pile of nothingness, and beyond that I could hear the heartrending voice of a friend of the person who had disappeared. Everything disappears... Manga artists, novelists, doujin writers, old friends, precious memories, and even hopes... everything...
--From a memoir of a TL citizen

— People of Hokkaido @ Hinabi Ryokan Book COMITIA143 (2/19) J11b (@North_ern2) February 2, 2023
User A: "Why the heck is that person…!? Let's try throwing marshmallows at someone who seems to know us!!"
User B 'Stop! Don't touch the marshmallows!'
Zugyan Earon 'You have fulfilled the activation conditions... There is no way to escape from my 'Fake Happiness'...'

— Jet Ryo (@ikazombie) February 2, 2023
Frozen festival flow (my prediction)
Twitter tries to crush spam dirt ↓
Leave the freezing work to AI ↓
AI mistakenly freezes automatic tweets such as marshmallows as spam ↓
If the frozen person creates a new account, it will be permanently frozen ↓
Twitter also acknowledged the mistake and made it possible to file an appeal.

— Light blue cat. (Light blue dragon.) (@water_color_cat) February 2, 2023
I get the feeling that they're probably trying to kill the rampant spam accounts, but somehow, I got irritated by the flies that kept popping up and sprayed a whole can of super-strong insecticide on them, and I had a dog and a cat. And all the birds and hamsters seem to have died... I can feel that...

— Ma (@m_kurogami) February 3, 2023
``Please let me know if your account was accidentally frozen!''https: //t.co/5eeTuI0VZN

— 602e (@ 602e3) February 3, 2023
I will share how I was able to recover from the freeze. The freeze will not be lifted unless you file an objection.

●Help Center ●Contact ●Appeal (OK in Japanese)
You will receive an automatic reply email from Twitter.

With this, it was canceled the next day❣️You will have 0 FFs for a while after the cancellation, but don't worry, it will recover within 24 hours.

— Wakana Yugiri ???? (@ugiri_w) February 3, 2023
#Frozen Festival #All Freeze
Twitter official ` `I may have frozen my account too much.

— Kibako Kyougahara ???? Vtuber Retro Game (@kyoutaigahara) February 3, 2023
There seems to be a lot of misunderstandings about Twitter freezes, so I will tweet as much as I can.
Oh, I used to be a programmer, and I also developed Twitter's API (an application that works with Twitter), so I'm going to know more about it than usual.

— Kasuke Nomura @ Kasumihime Wonderland (@KasumiWander) February 3, 2023
First of all, when you create an account, the upper limit of 'follow' is decided. It's 5000, but this will increase as the number of 'followers' increases.
It is unknown how many and to what extent it has not been made public.

— Kasuke Nomura @ Kasumihime Wonderland (@KasumiWander) February 3, 2023
・Frequently posting tweets with exactly the same text, such as Maro and question box tweets = bot misidentification ・Sending DMs to those who are not following or not following RT this tweet with your own name
・Phone number not approved ・100% follower ・3 or more hashtags

— Kubo Guppy ⚽️⛸???? (@kubomatsu) February 2, 2023
????️???? It's a frozen festival???? !! !!

Oh Horra!! !! Frozen????Everyone Frozen????????Frozen Frenzy??????????‍♀️????Frozen Festival???? !! Frozen????Everyone Frozen????????Frozen Frenzy??????????‍♀️????Frozen Festival???? !! Frozen????Everyone Frozen????????Frozen Frenzy??????????‍♀️????Frozen Festival???? !! Frozen????Everyone Frozen????????Frozen Frenzy??????????‍♀️????Frozen Festival???? !! frozen????

— Ichihyakuman Amahara Salome ???????? (@ 1000000lome) February 3, 2023
Don't make new grime when it's frozen! If you create another account in the same location or on the same device, you risk being permanently frozen.
First of all, let's calm down and apply for unfreezing from the objection form.
If it's the 1th freeze, it's almost unlocked if it's not malicious. https://t.co/S2Abvvyamm

— Hibikine Kage (@Hibikinefur) February 2, 2023
I understand that the twitter world is unstable, but I have a feeling that there is no better place to live than here

— Kasei (@kasei_san) February 2, 2023
Although the details are unknown, it seems that many of those who set automatic messages for marshmallow recruitment are currently experiencing account freezes. Marshmallow official account is also frozen. If you use similar functions, we recommend that you turn them off. Click here for Twitter's unfreeze application form https://t.co/99fdgOtEXN

— SS business card maker / paperback / new book page maker (@ 140sscard) February 2, 2023
If Twitter disappears, pictures will go to pixiv, videos to Niconico, and personal information to personal blogs. Eventually, all content will be posted on individual websites, and the time will come when a reciprocal link banner will be put up and an access counter will be set up at the bottom of the site saying, 'You are the XXth customer.' do not have

— Yamatakae (@yamatakae) February 2, 2023
It seems that the frozen festival is currently occurring, so please be careful as you can file an objection from the official help https://t.co/QSYiYPrdYE

— Mizune no Ne (@ Mizune_01_) February 2, 2023
I've figured out the cause of the Twitter freeze, so I'll tell you again!
Currently, Twitter is permanently frozen, mainly for distributors and artists.
The cause seems to be a question box called Marshmallow, so if you haven't frozen it yet, I recommend removing Marshmallow from the link now.
# spread hope
#Twitter freeze pic.twitter.com/FYh7T5wbkA

— Minamozuki Seiran (@seiran_0905) February 2, 2023
What we are linking with Twitter is life and life …………………

— Suica (@touchshite_pi) February 2, 2023
Let's live strong pic.twitter.com/qfJRhcWRQ9

— Chrysanthemum (@x873_) February 2, 2023
When you apply for cancellation, you will receive the following email, so let's reply with the content that you can use the email.
If it was accidentally frozen, this alone should unfreeze it immediately.
It's the Frozen Festival right now, and it's going to take a while until Twitter confirms it because it's on Saturday and Sunday. Wait a few days to a week. pic.twitter.com/TXNte0qUE8

— Hibikine Kage (@Hibikinefur) February 2, 2023
People who can move away from Twitter immediately at times like this haven't lived on Twitter for 14 years! ! ! ! !

— Tatsumi (@ ta23ru) February 2, 2023
Say goodbye to zenly.
Thank you for using it a lot ❤️
I'll be waiting for you at Snap Map

— zenly japan (@ZenlyJP) February 2, 2023
I got a Mastodon account when a large-scale freeze festival happened a long time ago, but I'm not sure if I was able to transfer it. stain dirt grudge

— Strawberry Anko (@10anweb) February 2, 2023
If all the accounts are frozen like this and it ends, we will be like dinosaurs.

— Kuzumochi @ቺቻቺቻ (@mozukumo29) February 2, 2023
【❗Very crowded】
Due to the influx and use of users far beyond normal times, it is currently difficult to access Kuruppu.
Errors occur frequently in posting, new registration, and ID acquisition.
Congestion is expected today. Please do not force yourself to obtain an ID when it is crowded. Sorry for the inconvenience pic.twitter.com/FqyrprKtpK

— [Official] Kuruppu | CREPU Management (@crepu_kuma) February 3, 2023
People who have violated some kind of taboo rule are 'frozen' one after another, and the remaining members deduce the activation conditions.

— Jet Ryo (@ikazombie) February 2, 2023
good morning????

About the situation where it is easy to be permanently frozen now.

●Those who post many tweets through question boxes or marshmallows. ⏩Recommend dissolving the link ●Those who tend to post similar tweets and fixed phrases on their TL every day (such as Oh V) Those who frequently post with URLs (including images) (delivery announcements, etc.)

It seems that it is thought that it is a bot and it is crackling.

— ???? Meat-chan ⚥ (@Sushi_sapo) February 2, 2023
We would like to inform you about the termination of the free provision of the Twitter API announced by Twitter today.
pixiv and related services have a policy of continuing similar services as much as possible.
We will report again as soon as Twitter makes a detailed announcement.

— pixiv (@pixiv) February 2, 2023
If Twitter becomes useless, which SNS ecosystem will be destroyed next and turned into a drain river? (equivalent to a specific alien species)

— ???? Dental floss ???? (@ff14mochi) February 3, 2023
I want to be in Twitterland, where nothing is maintained and trash cans flow, instead of a calm SNS where you can mumble as you like in a closed world like Kuruppu or Mastodon! ! ! ! ! ! ! ! !

— Nino (@nino_hyn) February 2, 2023
I don't know the exact information about the Frozen Festival, but after looking into it, it seems that this kind of account is targeted...! !
Stay safe everyone...:( ;´꒳`;):
#Frozen Festival #All frozen pic.twitter.com/h2DuXRggPX

— raul (@raul10580422) February 3, 2023
Twitter's large-scale freeze festival,
'Suspicious (and subject to the definition set by the management side) accounts will be banned for the time being, and the legitimate ones will be selected by objection.'
It's called a method, but I feel a great emptiness around the fact that accounts that are blatantly overly suspicious like '1 million monthly income from supplementary income!' are allowed across the board.

— Marai Mentoline @ Profession is German (@marei_de_pon) February 3, 2023
The address of the card company is such a blur pic.twitter.com/z9WZv35xZn

— 35th power (@ campura87) February 1, 2023
'If you register your phone number, it won't freeze,' or 'You shouldn't use more than one tag.' It seems like it's good to keep it.'

— Yu Shinonome @ Library Dragon has resumed not blowing fire (@doomsdayrag) February 2, 2023
I miss the old management days when I thought it was such a shit because of the changes that reduced the degree of freedom of Twitter since Elon became the management, but this, 'Shirakawa no Kiyoshiki even fish can't live.' I miss the original muddy Tanuma'

— Ju???? (@GirafFrance_74) February 2, 2023
I feel like I'm participating in a death game with unknown victory conditions because I don't know when I'll die

— Eh???? Ginsarashi (@Ag_sarashi) February 2, 2023
Apparently, Marshmallow users are not necessarily frozen, and if they tweet fixed phrases almost every day, whether manually or not, it seems that they are bot judged and frozen, if so, Twitter Isn't it too gaba

— Prince ???? (@immoral__prince) February 2, 2023
Dear VTuber,

There was an announcement that the account that has been frozen can now request the reactivation of the account from here.

Please let the appropriate person know. https://t.co/YZguU7M42K

— kentax | Material distribution designer for VTuber Uncle young girl (@kentax) February 2, 2023
In the freezing uproar, more people than usual said to TL that they weren't frozen, and even though it was a funeral, there were a lot of people gathered, so I felt like a dog wagging its tail in joy.

— Go to the hospital (@SnnnPure) February 2, 2023
A smartphone-style resin plate has arrived. It has no function other than resin, so it is strong against water and impact. pic.twitter.com/aRdVu10QE5

— Yukiya Hagiwara ®️ (@onipro) February 2, 2023
It's an API, but it's okay because you pay for Poipiku. Unless the amount is hefty.

— Kazuhiro Kawai @ The person who made Poipiku (@kawai_pipa) February 2, 2023
If Elon Musk's house was in Japan, I think it would be like Baki's house.

— Mochiko 6.0 (@ mochiko212) February 2, 2023
It's too scary to renew your Rakuten card, if you don't go through the procedure, it will be automatically revoked.
Thanks to the people on Twitter for letting me know.
Since April was the renewal month, I thought that I had received a notification email last week, so I took the procedure.
It's not something you can send quickly by email, is it?
I will not use the revolving payment no matter what. pic.twitter.com/CFIaKMimf3

— Riyo (@xxcapsulexx) February 2, 2023
If it is really necessary for operation, such as blocking out third clients and charging for API, you should do it. It's a private company, not a charity.
However, it boils down to the fact that it is not a credible act of a company that has a social impact, such as 'implementing it after a few hours after revising the terms' or 'notifying one week in advance'.

— ???? More rye fields (1996-2010) ???? (@hato_sarada) February 2, 2023


I took construction design certification (technical compliance) - Cookpad developer blog

Twitter Accounts Frozen One After Another Only in Japan? Analyzing it ...: Asahi Shimbun Digital

◆ Anime, games, manga (subculture)
Movie ``Suzume no Tobari'' Public Commemorative Special Number [3] Director Makoto Shinkai's Production Diary-YouTube


Demon Slayer TV-World Tour Screening Opening SP--YouTube


``CLAMP PREMIUM COLLECTION X'' Comics PV-YouTube


TV anime 'Spy classroom' no credit ending video 'Secret Code' ♪ Suzuki Konomi - YouTube


TV anime 'Shinigami-bochan and Black Maid' 2nd term teaser PV-YouTube


Tsutomu Nihei's latest work 'Kaina of the Daisetsukai' Episode 1 to Episode 4 Digest Movie-YouTube


`` Ys Memoire - Oath of Fergana - '' Prologue Movie-YouTube


'Ranch Story' Paper Craft Story ~ Memories of a Certain Family ~ Making Video - YouTube


'Square Enix Spring PC Game Festival' Lineup Introduction Special Movie - YouTube


'WILD HEARTS' | Gameplay: Aragane-YouTube



【Important Notices】
Today, Twitter announced changes to Twitter API specifications.

We have contacted Twitter and received a response that 'the account will not be affected', but just in case, please secure a login method such as 'YostarID' in advance.

▼Details https://t.co/FBySKET8FF #Bruakapic.twitter.com/ ZgQxJePuMP

— Blue Archive Official (@Blue_ArchiveJP) February 2, 2023
[Super important/must read]
Regarding the change in the Twitter API specification, we received a reply from Twitter that it does not affect the account linkage specification.

Just in case,
・Please secure other login methods such as transfer code issuance and YostarID linkage.

Please kindly check the attached image. #Azur Lane pic.twitter.com/4Q44QW6ief

— Azur Lane Official (@azurlane_staff) February 2, 2023


A story about drawing manga using AI | Kamome Ashizawa | note

Infinite Fruit Combo Beyond Akane Kotonoha's Sun [Fortune Landlord]-Nico Nico Douga



Akane! It's a ghost burn, and the cause of death is 'too much'! - Nico Nico Douga



Takahashi Padua [CeVIO Theater]-Nico Nico Douga



Q.What would Hatsumi think if he saw this? [Nijisanji / APEX / Eru]-Nico Nico Douga

#twintails day
Nekomimi Walnut-chan ????????? pic.twitter.com/x0DoSZoQ6u

— Aoi (@so_aoi22) February 2, 2023
On the way homepic.twitter.com/nLQ8QdNTlq

— L◇ M (@Zhibujiloom) February 2, 2023
Kainé pic.twitter.com/n80uouBEFB

— Dino (@Dino_illus) February 2, 2023
Wind pic.twitter.com/jlID4HsLsP

— Miful (@mifulu) February 2, 2023
[Nobody's Girl on Friday]
Moana-chan x Cheerleader✨ #Nobody girlpic.twitter.com/KtpoMESgaP

— Manabu Nii @COMITIA143 [te 20ab] (@aleos696) February 2, 2023


How Diomedia Became a Good Production Company


I don't care if there are potatoes in medieval fantasy, but I do wonder 'Why is it possible for this race to form a society like humans with this nature?'

I wonder why there are proper stairs in a town where there are only races that can fly

— Haruka Ito (@TKTKMTMTkkkk) February 2, 2023


The story of a simple high school 1st otaku going to in-high mountain climbing (part 2) [competitive mountaineering] | funny


Bandai Namco Film Works or Sunrise's stance is that ``there is no such thing as a parody or secondary creation doujinshi,'' and if the company booth at Comiket doesn't participate, it's not positive for good work books and original art books. However, in 'Gundam', it was a surprise. I hope the voice actor doesn't get mad.

— Naoto Misaki (@nmisaki) February 3, 2023
I got it from the staff at another site! I was healed by the heartwarming and cute story~~????
This tanuki sletter looks like Rukchan ????✨pic.twitter.com/ CKRqGpyRnZ

— Kana Ichinose (@ichinose_1220) February 2, 2023
Antidepressants and creativity pic.twitter.com/uqrmnDh0l3

— Deru Murakami (@shioaji_) February 2, 2023


``Ah, are you this person?'' At the personified expression of Yoshiharu Habu 9th dan, Sota Fujii laughed without thinking | Watch Shogi, Read Shogi | Bunshun Online

[Overseas reaction] Pandora's Melancholy Overseas 'Will Japanese people understand immediately?'


Ehomaki roll #Hashtag where you can read manga #Dog cartoon #Dog pic.twitter.com/RQtgUZmuBz

— Yoshimofuro (@yosimofurou) February 2, 2023
When a shy novelist (35) takes over his sister's orphan (middle 3) (1/9) pic.twitter.com/61MdPv0tvz

— Tomoko Yamashita (@animal_protein) February 3, 2023
Twitter now is this pic.twitter.com/SPrTRXVb0y

- dog. (@inu_draw) February 3, 2023
Frozen Matsuri-chan is not a relative of Natsuiro Matsuri! ! ! wwww

— Summer Festival ???? NatsuiroMatsuri (@natsuiromatsuri) February 3, 2023
Excuse me! Nijisanji management doesn't understand the vastness of Hokkaido!
Hokkaido = Sapporo or Asahikawa I think there is a clause, so I will complain! ! ! ! https://t.co/IFM39syFzY

— Shoichi Kanda ???? (@Kanda_Shoichi) February 3, 2023
A cartoon that tried to make me understand by risking my lifepic.twitter.com/mJhmIkWR6y

— Kunko Anzo (@ANZ_KNK) February 3, 2023
Alone pic.twitter.com/ssJj7kCVeD

— Keijin (@9ujin_) February 3, 2023
Goodbye higher existence pic.twitter.com/Z2GHqg6fZt

— Tetoru Celebrity (@ U_EN0602) February 2, 2023
????✨Commemorating the release of a new book✨????
Monster incidents are free for a limited time up to 10 volumes on a huge number of web comic sites and apps! ! (until 2/16)
It's a rare opportunity, so by all means ~~????
There is also an anime version up to about the middle of volume 6! #Monster Incident pic.twitter.com/7BcV0HcZ6G

— Matsu Aimoto (@aimoto1222) February 3, 2023
Dokkiri cat https://t.co/JijDtV8ppJ pic.twitter.com/F1OBVr1OzK

— Kyur Z @ 10/27 Volume 4 released (@kyuryuZ) February 3, 2023
[Latest issue cover released! ] The cover of the latest 22 volumes of #Jujutsu Kaisen Comics, which will be released on March 3 (Friday), has been lifted! Zenin Maki is on the cover! Please look forward to the release! ! pic.twitter.com/K9RI0WUdi7

— Magic Round [Official] (@jujutsu_PR) February 3, 2023
'Adult female Pretty Cure!? Eh! I'm curious!'

I wanted to see a 28-year-old adult Pretty Cure nervous about the color and exposure of her clothes, skip meetings and go to work to save the world, and get scolded by her boss... I wanted to see... ・

— Shinyuki Fluffy ????????? Tamagoken Official V (@No12_Miyukichi) February 2, 2023
The hanger that I pre-ordered has arrived. pic.twitter.com/f6dxdqJ5DU

— Cola (@cola_mushi) February 1, 2023
When the 25-year-old adult Pretty Cure said, '○○ is working, so we can't come! We have to do our best!' to beat up the enemy and return to the meeting as if nothing had happened

— Shirahoshi Uno @ Priste 28R (@ponchimint) February 2, 2023
Disciple awakening pic.twitter.com/LkuF5Ni4GI

— Takuji Kato @ "Mechanical Buddy Universe" now on sale! ️ (@isiyumi) February 2, 2023
February #Valentine #Setsubun pic.twitter.com/HQ2HuPEuQR

— Yasuda phenomenon (@gensho_yasuda) February 3, 2023
Replying to @KimKardashian @KimKardashian

— Shirakami Fubuki @ Hololive ????????? (@shirakamifubuki) February 2, 2023
Yesterday's childcare cartoon GO pic.twitter.com/NveqnBsmU9

— Dog dog (books & stamps on sale) (@inu_eat_inu) February 2, 2023
Please read Hyper Inflation comics.
It's really interesting, so please... I will put a link in the reply pic.twitter.com/tNj6fa2OPp

— Spring Manjaro (@manjarooo) February 2, 2023
A story of a certain master and Hatsune Miku (1/9) pic.twitter.com/qFsow0wKz2

— Merunomeru ???? (Shirayuki Towa) (@ MerunoMeru88) February 2, 2023
February 2, 2023


#Mobile Suit Gundam #Friends of Char's Counterattack Review (Spoiler alert) - #AQM

Mr. Tomino and Mr. Anno
'Didn't I spoil the future possibilities of my children?'
'In addition, it may have partially damaged the potential of Japanese society as it should be.'
Considering my position, I think it's only natural to feel this kind of responsibility and fear.


◆ Sports, entertainment, music, movies (entertainment)

I saw 'No Shark' and it blew me away.
A woman stares at the sea on the beach in order to fulfill her dream of 'I want to be eaten by a shark.' No sharks come out. Horror is in her head. A woman in a bikini in the cold sea and the gaze of the audience staring at it. Which one is really dangerous? The ultimate shark movie that I can never recommend. pic.twitter.com/NTLTsQ4hoa

— Tani Zaccheroni (@Tani_Zaccheroni) February 2, 2023


Wheelchair Tennis Prime Minister Shingo Kunieda to Award National Honor Award | NHK | Wheelchair Tennis

◆ New products (clothing, food, housing)
[Press release] Muroran / Aomori ferry route opening | Tsugaru Kaikyo Ferry Co., Ltd.