Microsoft announces new search engine Bing and browser Edge with upgraded AI of ChatGPT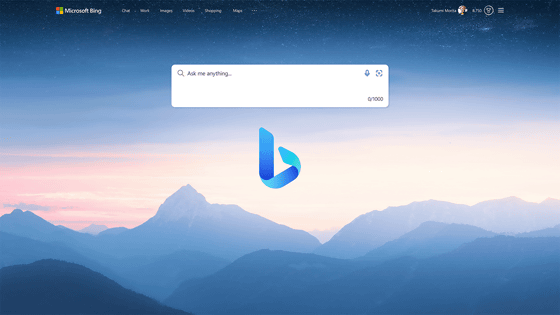 Microsoft has announced a new AI-integrated search engine, Bing , and browser, Edge , with better search, more complete answers, new chat experiences and content generation capabilities.

Reinventing search with a new AI-powered Bing and Edge, your copilot for the web

https://news.microsoft.com/the-new-Bing/
Reinventing search with a new AI-powered Microsoft Bing and Edge, your copilot for the web - The Official Microsoft Blog
https://blogs.microsoft.com/blog/2023/02/07/reinventing-search-with-a-new-ai-powered-microsoft-bing-and-edge-your-copilot-for-the-web/
Microsoft announces AI-powered Bing search and Edge browser | Ars Technica
https://arstechnica.com/information-technology/2023/02/microsoft-announces-ai-powered-bing-search-and-edge-browser/
Microsoft announces new Bing and Edge browser powered by upgraded ChatGPT AI - The Verge
https://www.theverge.com/2023/2/7/23587454/microsoft-bing-edge-chatgpt-ai
According to Microsoft, 10 billion search queries are used per day, half of which are returned unanswered. This shows that people are using search to do things they weren't originally meant to do. Existing search engines are great for finding specific websites, but fall short for more complex questions and tasks.
So Microsoft has released new Bing and Edge that integrate ChatGPT's upgraded AI. Features of the new Bing and Edge include:
◆ Better search
The new Bing offers an improved version of the familiar search experience. A new sidebar that provides more relevant results and more comprehensive answers when needed for simple things like sports results, stocks and weather.
A perfect answer
Bing reviews results from across the web to find and summarize the answers you're looking for. For example, you can get step-by-step instructions on how to replace another ingredient in a cake with an egg at that moment, without scrolling through multiple results.
A new chat experience
For more complex searches, such as planning a detailed travel itinerary or researching which TV to buy, Bing offers detailed and clear ideas in a new interactive chat. Users can also refine their search results until they get the perfect answer they're looking for.
◆Creative spark
If you need more than just an answer to a question, we can handle it. The new Bing uses AI to generate useful content for you. Write emails, create itineraries to Hawaii, book accommodations, prepare for job interviews, create trivia quizzes, and more. Also, since you're citing the source of your answer, you can also see links to the web content you're referring to.
◆ New Edge Experience
Edge has been upgraded with new AI features and a new look, specifically two new features: chat and compose. Edge's sidebar allows you to do things like extract key points from long financial report summaries. You can also use the chat function to compare your financials with those of your competitors and automatically tabulate. Alternatively, you can ask Edge to help you create content such as LinkedIn posts.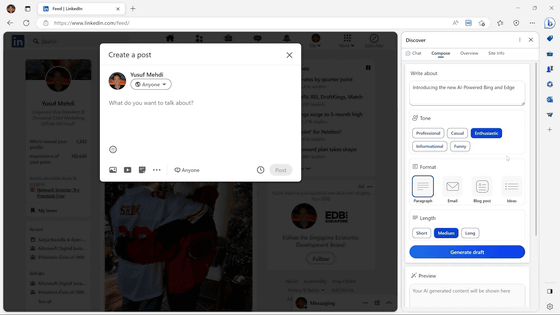 Microsoft appeals that the new Bing is the culmination of four technical breakthroughs:

◆ Next-generation OpenAI model
The new Bing uses a next-generation OpenAI large-scale language model that is more powerful than ChatGPT and specifically customized for search. This AI model incorporates important learnings and advances in ChatGPT and GPT-3.5, and is said to be even faster, more accurate, and more functional than these.

◆ Microsoft Prometheus model
As a unique way of using OpenAI models, Microsoft is developing the Prometheus model. The combination of the OpenAI model and the Prometheus model will provide more relevant, timely and targeted search results, as well as improve security.

◆ Applying AI to the core search algorithm
The application of AI models to the core Bing search ranking engine has led to the biggest leap in relevance in 20 years. AI models make even basic search queries more accurate and relevant.

◆ New user experience
By bringing search, browser, and chat into a unified experience, we're reimagining how users engage with them.

The new Bing is available in preview from
bing.com
. Additionally, you can join the new Bing waiting list here:
Microsoft Bing
https://www.bing.com/new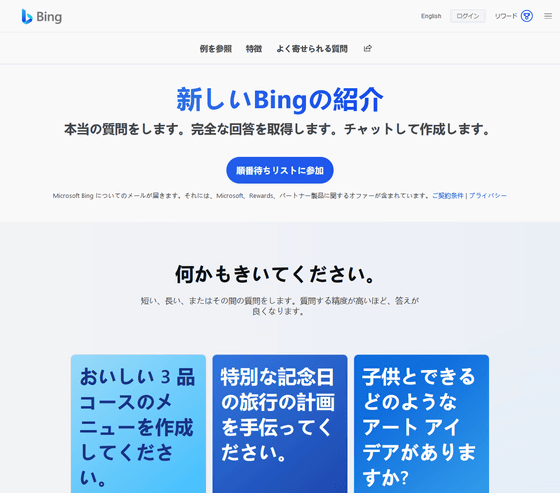 This waiting list page shows examples of how to search with the new Bing. Click this.


Then you'll experience state-of-the-art search with the new Bing. For example, if you enter 'I'm planning a trip for my wedding anniversary in September, can you tell me where I can go from Haneda or Narita within 3 hours?' You will see the answer by Click 'See more'.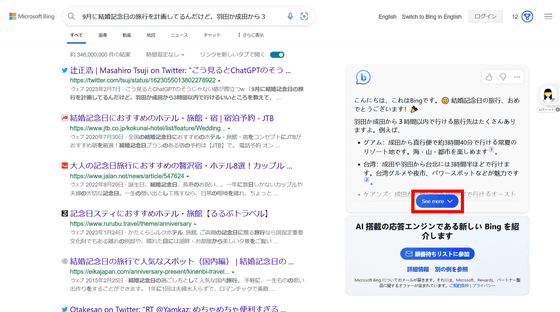 The answer by the chat function is as follows. By clicking the fixed phrase at the bottom of the screen, or clicking 'Let's chat' and entering sentences, it is also possible to make a more detailed itinerary while interacting with the chat.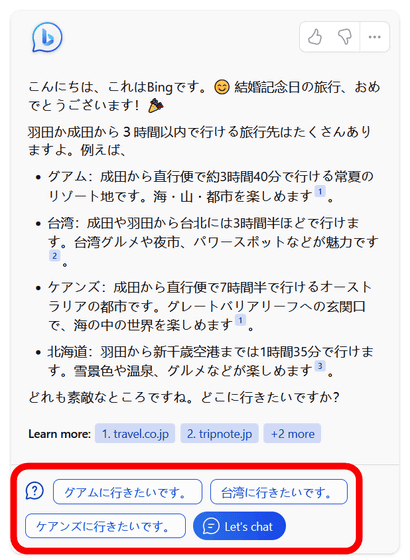 Microsoft has announced a new Bing at the event, and it seems that they were able to try the new Bing locally. Below is a video of me actually asking complex questions to the new Bing.

Tip: try things that search engines today aren't good at

Instead, treat it like a personal assistant, that has intelligence and can handle tasks and basic calculations

Example: "Will the IKEA Klippan loveseat fit into my 2019 Honda Odyssey if I fold down the seats?" pic.twitter.com/EvSgMIPlg9

— Karen X. Cheng (@karenxcheng) February 7, 2023