TikTok announces that it will impose a time limit of '60 minutes a day' for users under the age of 18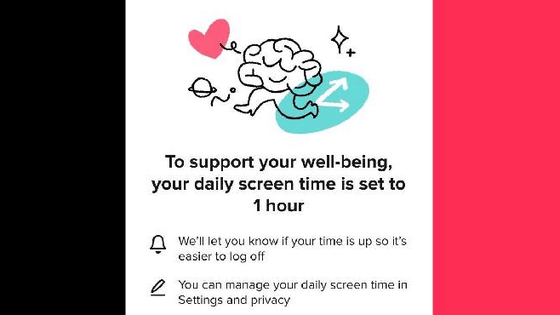 TikTok will automatically turn on the ability to limit the amount of time you can watch TikTok (screen time) to 60 minutes per day, a new feature to help teens manage their time on TikTok clarified the policy.

New features for teens and families on TikTok | TikTok Newsroom

https://newsroom.tiktok.com/en-us/new-features-for-teens-and-families-on-tiktok-us
According to TikTok, there's no widely held view on how much screen time is appropriate or how much screen time affects it, but it draws on the latest academic research and the Boston Children's Hospital Digital Wellness.・They heard opinions from experts in the lab.
Over the next few weeks, TikTok users' accounts under the age of 18 will automatically have a screen time limit of 60 minutes per day.
After reaching the time limit, if you still want to continue watching, you will be asked to enter a passcode, and you will have to actively decide whether to continue using it or not. If you are under the age of 13, you will need to set a new passcode or enter an existing passcode by your guardian in order to add 30 minutes of viewing time after the time limit is reached.
In addition, since there is a study that `` being aware of how to use time makes it possible to make more intentional decisions '', teenagers can cancel the default screen time limit and spend more than 100 minutes a day on TikTok , you'll be prompted to set a screen time limit. In a test conducted in 2022, the presence of this message increased screen time limit usage by 234%.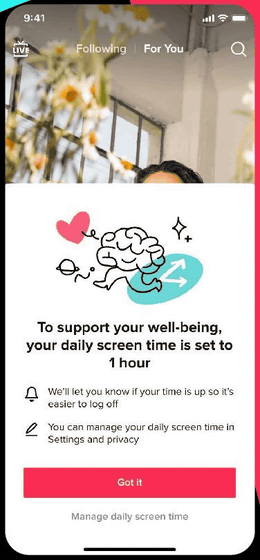 Parents are the first people teenagers rely on and are also important partners in TikTok, so the family pairing function includes `` changing the daily screen time limit '' and `` a dashboard showing how long the app is used, etc. " and "Mute Notifications" are added.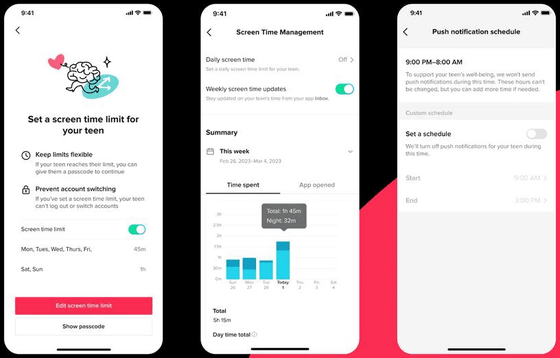 In addition, usage time limits and sleep reminders for each day of the week are added.