I have seen the famous scenes reproduced in the diorama at 'Mobile Suit Gundam Mercury's Witch EXPO'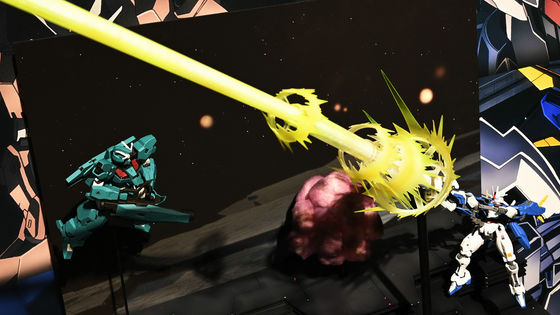 The ``
Mobile Suit Gundam Mercury Witch EXPO
'' held at Shibuya Cast from March 10th (Friday) to 12th (Sunday), 2023 has an outdoor and indoor venue. There are 2m tall Gundam Aerial & Gundam Aerial (refurbished) statues towering outside,
Guell's camp that appeared in the film has been recreated
, and there is
a kitchen car serving drinks with each character as a motif.
While they were coming, at the indoor venue there was a panel exhibition that looked back on Season 1 of 'Gundam Co., Ltd.' and a diorama exhibition that reproduced the famous scene.
Mobile Suit Gundam Witch of Mercury EXPO | Bandai Hobby Site
https://bandai-hobby.net/site/g-witch_expo2023/
To Shibuya Cast Space (indoor venue). Numbered tickets were distributed at the time of admission. The admission itself is free.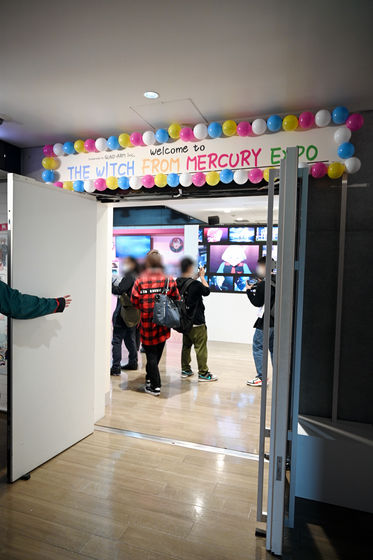 First of all, the video of Sleta and Season 1 welcomed us.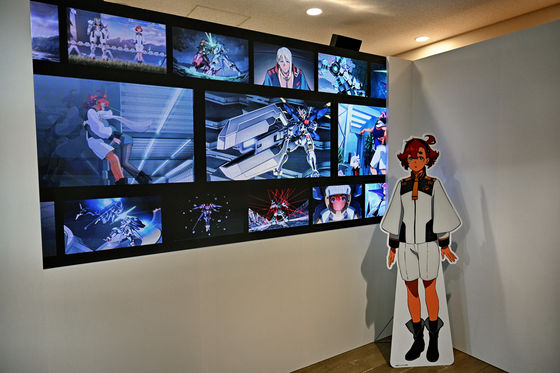 And this 'Mobile Suit Gundam Witch of Mercury EXPO' staff list. On the special event site, there was an explanation that 'Under the direction of President Mioline, all the employees of Gundam Co., Ltd., including Sureta, will work hard to make this event a success.' The Guells that should have been included may be that they helped me somehow.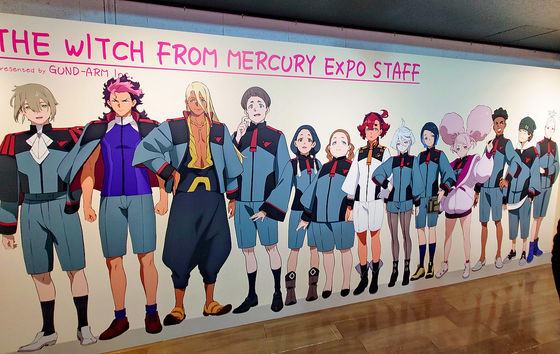 When you enter, you will receive one of eight types of stickers.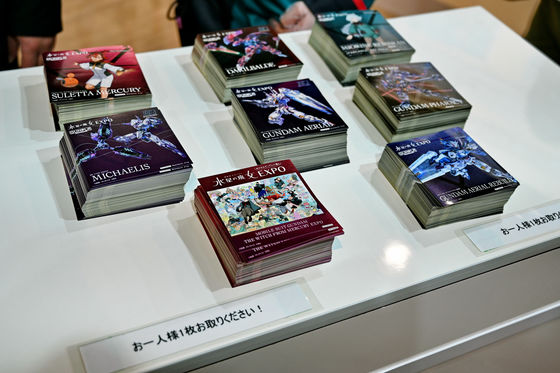 The panel is a combination of the character's self-introduction and the introduction of the episode with video. There is no problem with taking pictures of the panels, but it is prohibited to take videos of the moving images.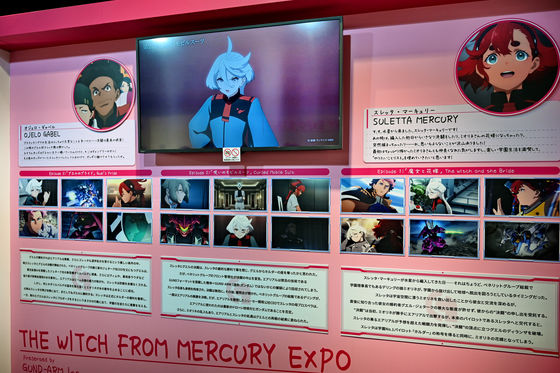 There was also 'Introduction to Asticasia College of Technology, where Gundam Co., Ltd. is located.'



And in between, a diorama that reproduces famous scenes using Gunpla is displayed.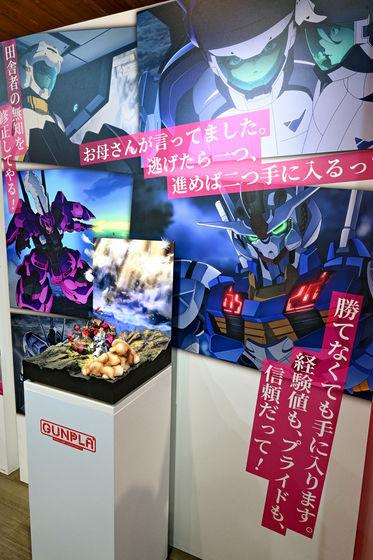 Dylanza
piloted by Guell has been splendidly shredded by Gundam Aerial piloted by Suretta.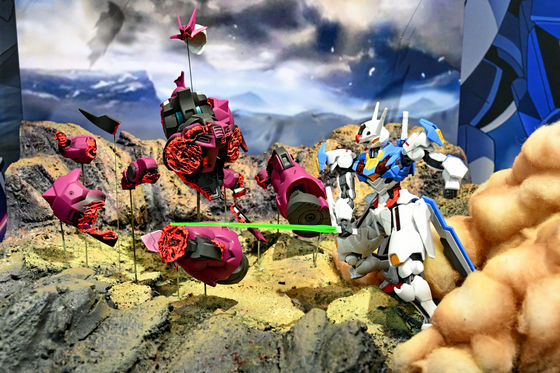 Aerial that throws Gambit at once. There is also a lighting gimmick.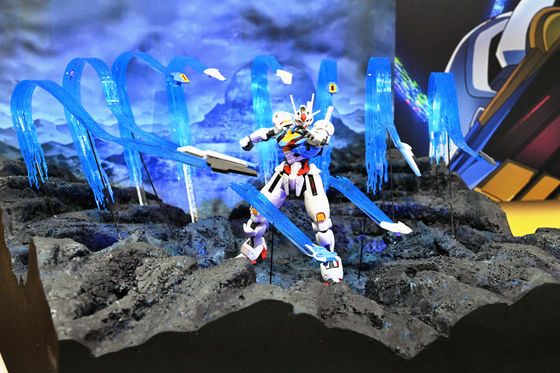 Guell who challenges aerial with
Daryl Balde
newly.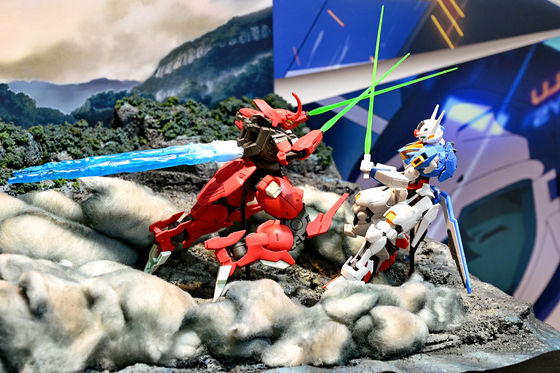 A mine avoidance test conducted with a mobile suit demi-trainer for training.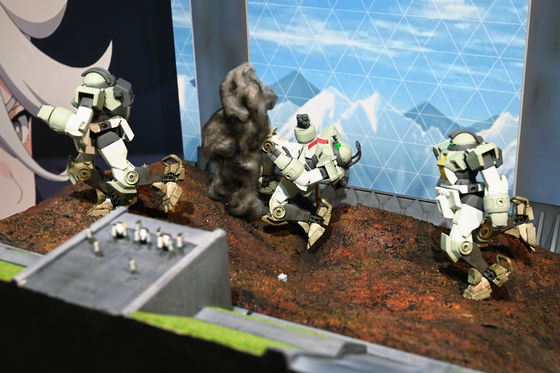 Dylanza (Lauda's personal machine)
piloted by Guell is completely silent after receiving a barrage of electromagnetic beams from Elan's
Gundam Falact
.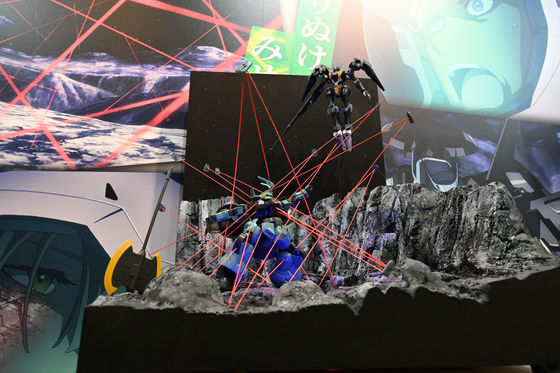 Fierce battle between farakt and aerial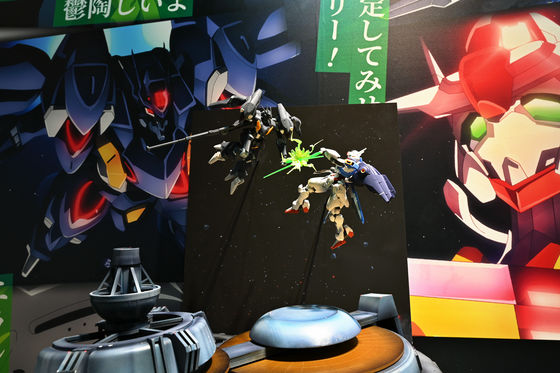 Michaelis
piloted by Shadyk was shot by Tutu's
Demi-Trainer
at the moment he was about to finish off Aerial in a group duel with Sretta.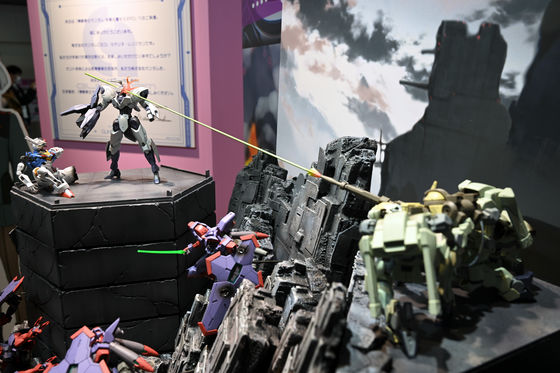 It is punched out from the side of the head splendidly.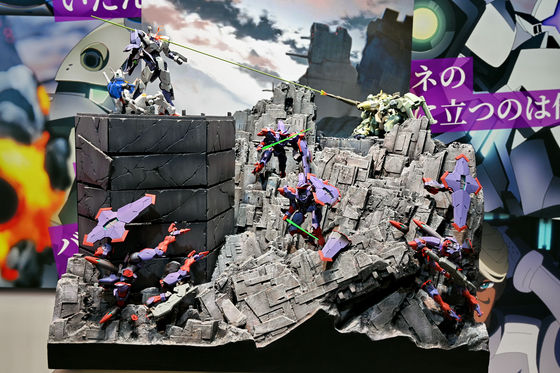 Between the dioramas, there is also a Gunpla exhibition.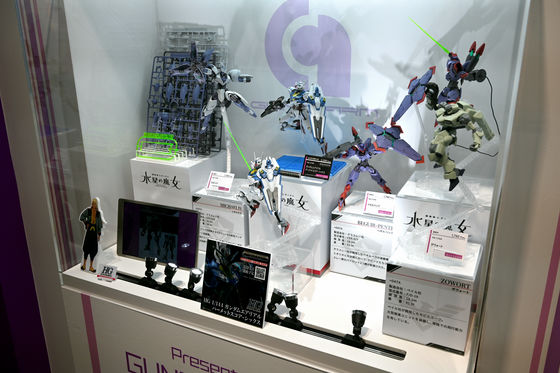 Among the items already on sale and those scheduled to be released in March and April, the 'HG 1/144 Gundam Aerial Parmet Score Six' was scheduled to start accepting orders soon. The price is 2200 yen including tax.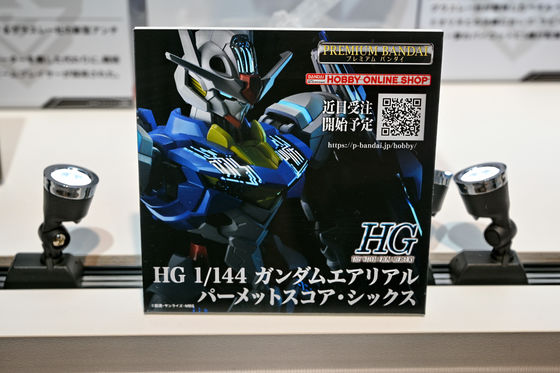 Aerial pushing out the shield and pulling the right hand.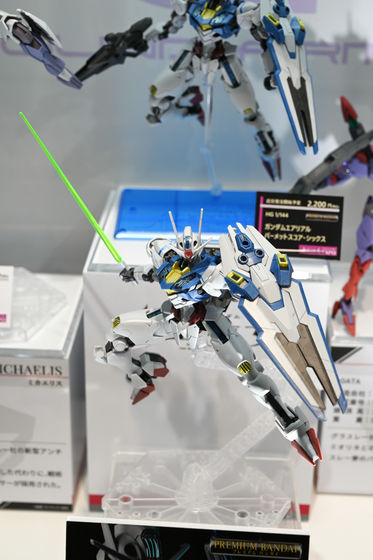 At the end of the panel exhibition area, there is also a message from Gundam Co., Ltd. CEO Mioline.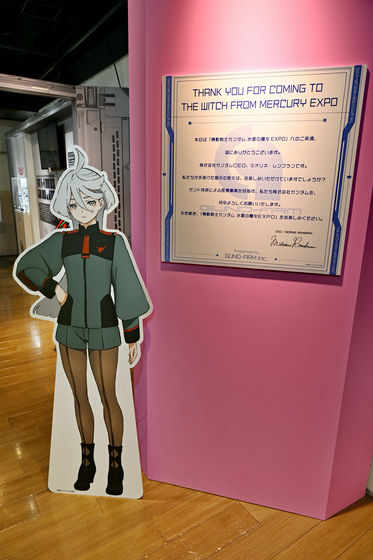 And the aerial that hits the Gambit rifle.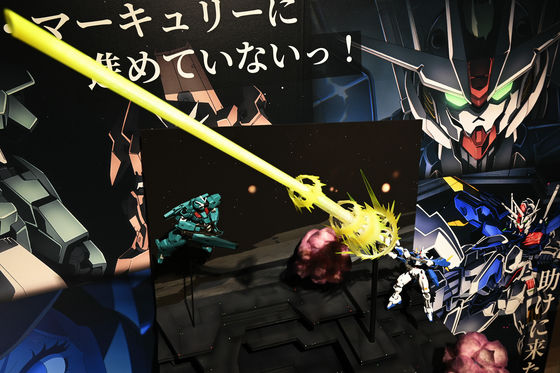 In the last aisle, products that are on sale or will be released soon were displayed in a row.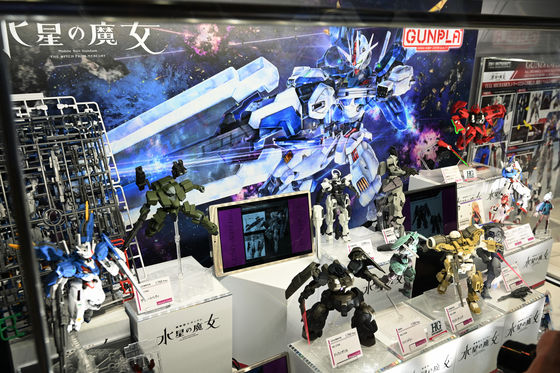 ROBOT soul, Figuarts mini, SHFiguarts, etc.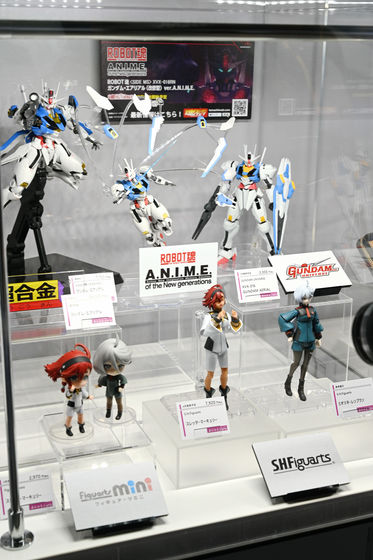 Small items such as wallets, business card cases, pass cases, and collaboration booster packs of 'Battle Spirits'.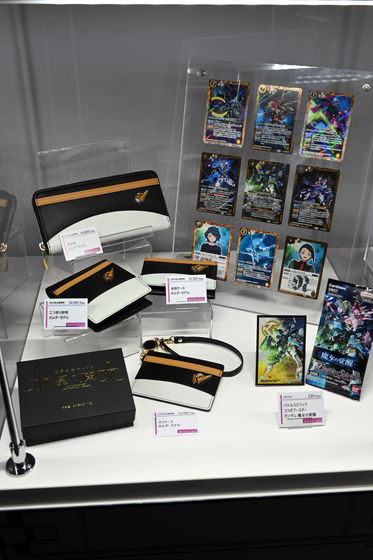 Acrylic stand and prize figure.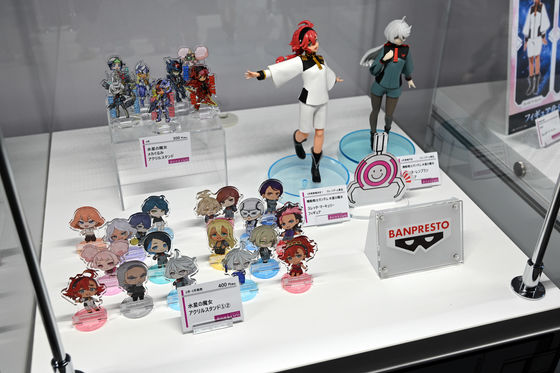 Sleta, Miolin, Guell, Elan, and Shadyk from the '
Rukappu
' series whose eyes meet.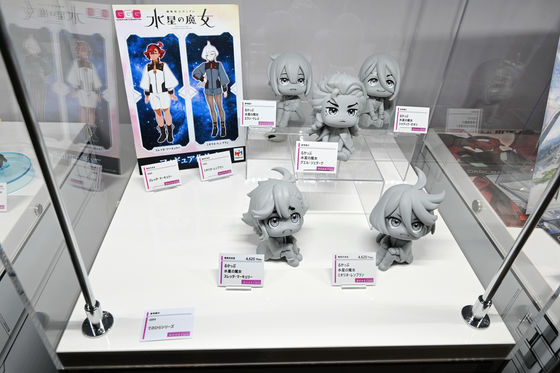 Holo clear file and badge collection.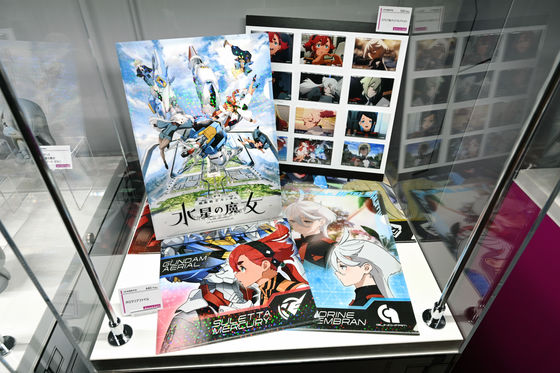 Tote bags, can badge sets, mini towels, clear files, etc.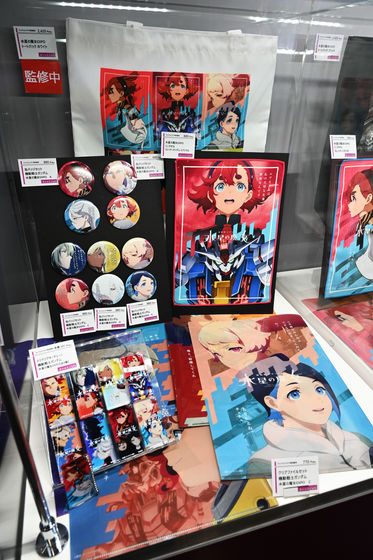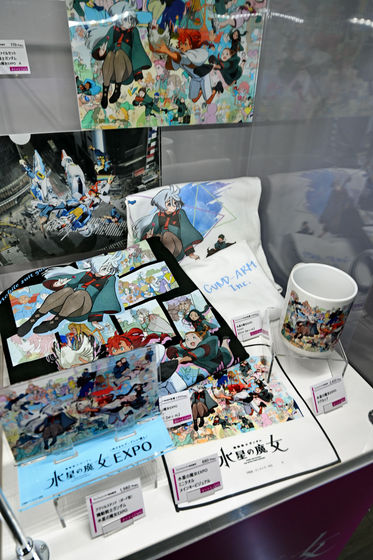 And finally,
the preview PV of Season 2
was waiting.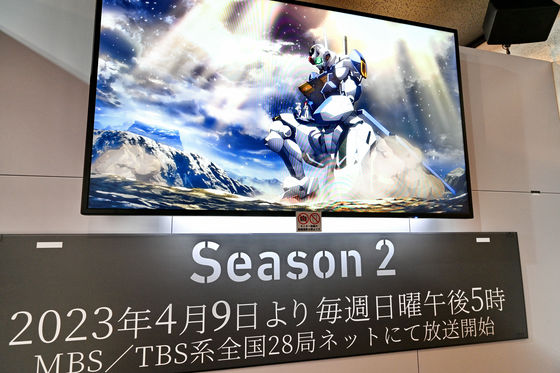 In addition, as a new project
, `` JNN affiliated 28 station interlocking project `` Mobile Suit Gundam Mercury Witch '' Sleta & Mioline Japan Tour
'' has been announced. This is an illustration project in which Sleta and Mioline visit sightseeing spots in prefectures with 28 MBS / TBS affiliated stations, and after March 13th, wall stand exhibitions will be held around each station. A special event will be held at Makuhari Messe on August 6th.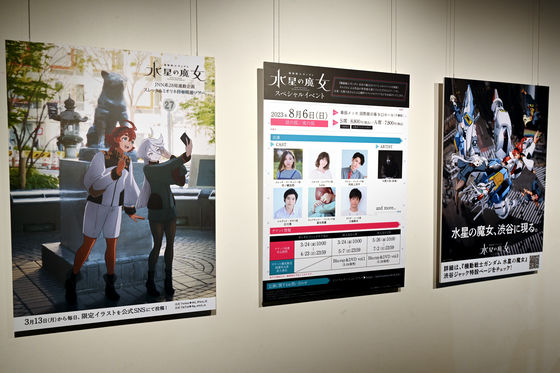 Even if you can't go to the site, you can get clear files, acrylic stands, T-shirts, etc. using the event visuals as special sales will be held at Premium Bandai 'Gundam Base Online Shop'.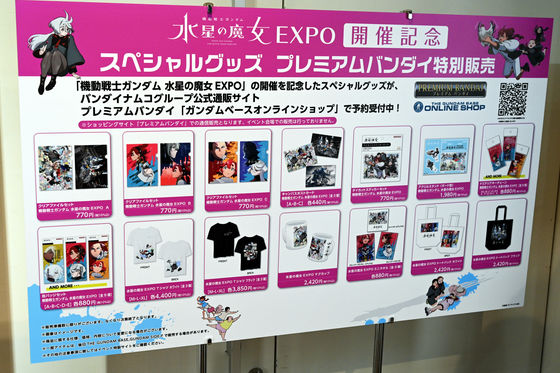 Gundam Base Online Shop | Witch of Mercury EXPO Commemorative Special Goods | Product List Page 1 | Bandai Namco Group Official Mail Order Site
https://p-bandai.jp/gundambase/g-witch-expo2023/list-da10-n0/