Microsoft reveals that the AI used by Bing, whose popularity is rapidly increasing, was 'GPT-4'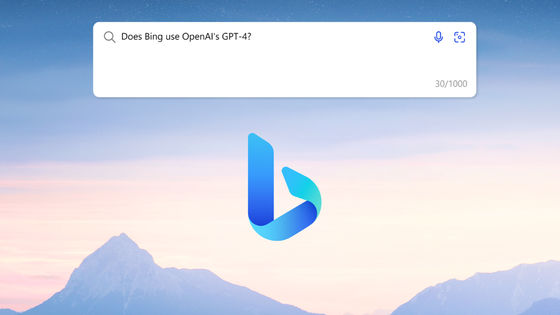 Immediately after OpenAI announced the next-generation large-scale language model 'GPT-4', Microsoft revealed that 'Chat AI integrated into Bing is GPT-4'. Prior to the announcement of GPT-4, users were using AI tools that used GPT-4.

Confirmed: the new Bing runs on OpenAI's GPT-4 | Bing Search Blog
https://blogs.bing.com/search/march_2023/Confirmed-the-new-Bing-runs-on-OpenAI%E2%80%99s-GPT-4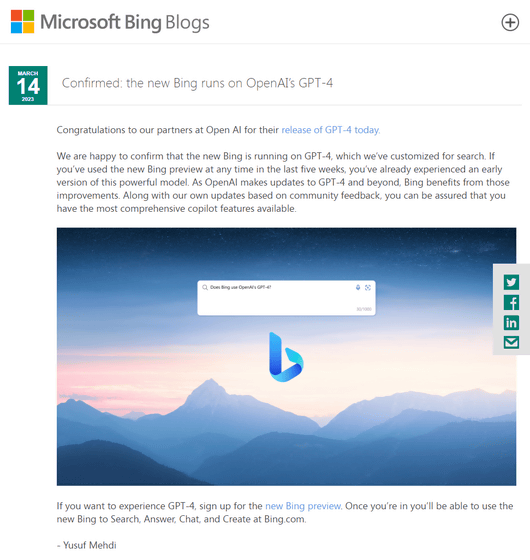 Microsoft confirms Bing's AI-powered search chatbot is running on OpenAI's new GPT-4 – GeekWire
https://www.geekwire.com/2023/microsoft-confirms-bings-ai-powered-search-chatbot-is-running-on-openais-new-gpt-4/

Microsoft was already using OpenAI's GPT-4 model for the Bing AI chatbot - The Verge
https://www.theverge.com/2023/3/14/23639928/microsoft-bing-chatbot-ai-gpt-4-llm

In February 2023, Microsoft announced that it would integrate ``ChatGPT's upgraded AI'' into the search engine Bing and web browser Edge. For this `` ChatGPT upgraded AI '', Microsoft uses the next-generation OpenAI large-scale language model, which is ``more powerful than ChatGPT and especially customized for search.This AI model is ChatGPT and GPT-3.5. It incorporates the important learnings and advancements of , and is even faster, more accurate, and more functional than these,' but did not specify which AI model it was specifically using.

Microsoft announces new search engine Bing and browser Edge integrating ChatGPT's upgraded AI - GIGAZINE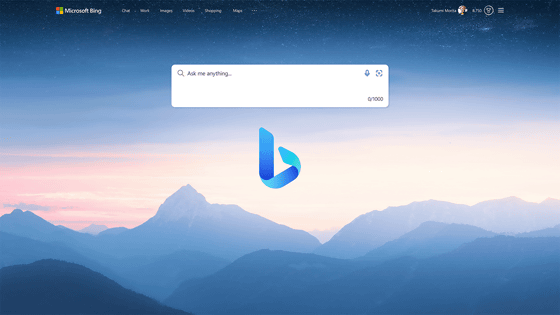 Bing, which integrates chat AI, has received tremendous attention, and according to Microsoft , the number of active users of Bing per day has surged to over 100 million . After that, Microsoft announced that it will integrate chat AI integrated into Bing into Skype and Windows 11 taskbar.

Microsoft announced that it will integrate the topic 'Bing's chat AI' into the Windows 11 taskbar, and pointed out that it is too exaggerated-GIGAZINE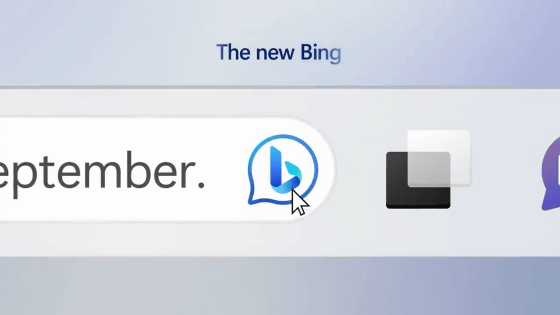 Regarding Bing's chat AI, Yusuf Medhi, head of consumer marketing at Microsoft, updated Microsoft Bing Blogs and revealed that Bing's AI is GPT-4 announced by OpenAI.

Mehdi said, "We are happy to confirm that the new Bing is running on GPT-4 customized for search. Anyone who has taken a preview of the new Bing in the last five weeks will appreciate this powerful It means that we've already experienced an early version of the model (GPT-4), and when OpenAI updates GPT-4, Bing will be able to benefit from those improvements, and we'll be adding our own updates based on community feedback. In addition, we can guarantee that you will have the most comprehensive copilot functionality available.'

In addition, after Microsoft announced Bing's chat AI, AI has restrictions such as 'up to 50 messages per day', 'up to 5 interactions in one conversation', and 'prohibition of questions about Bing AI itself'. However , on March 15th, we relaxed this limit to 150 messages per day.

Good news, we've increased our turn limits to 15/150. Also confirming that the next-gen model Bing uses in Prometheus is indeed OpenAI's GPT-4 which they just announced today. Congrats to the @OpenAI team. https:// t.co/WTVlVCVOyw pic.twitter.com/VA4Z1SDiEG

— Jordi Ribas (@JordiRib1) March 14, 2023