Steam won't work on Windows 7 or Windows 8.1 after 2024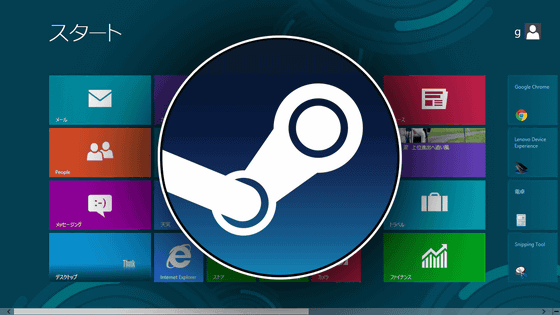 Valve, which operates Steam, a game sales platform, announced that it will end support for Steam on Windows 7, Windows 8, and Windows 8.1 on January 1, 2024. According to Valve, the Steam client will no longer work on Windows 7 and Windows 8 after 2024.

Steam Support :: Windows 7 and Windows 8 Support

https://help.steampowered.com/en/faqs/view/4784-4F2B-1321-800A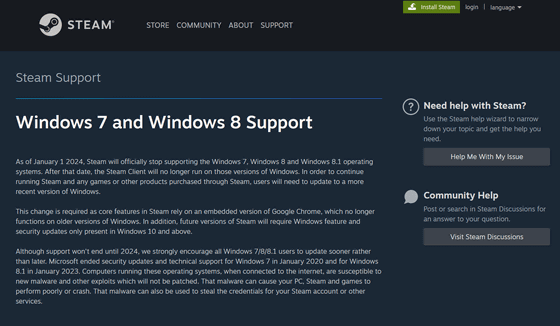 Game over: Steam won't run on Windows 7 or 8 after January 1, 2024 | Ars Technica
https://arstechnica.com/gadgets/2023/03/steam-will-end-support-for-windows-7-and-8-in-january-of-2024/
According to Valve, the core functionality of Steam relies on the built-in version of Google Chrome, and the reason for the discontinuation of support is that this version will not work on older Windows. Because it requires Windows functions and security updates that exist only in Windows 10 and later, it will not work on Windows 7 or Windows 8.1.
Valve said, ``Support will end in 2024, but we strongly encourage
Windows
7, Windows 8, and Windows 8.1 users to update as soon as possible. We ended security updates and technical support for Windows 8,1 in 2018. PCs with these operating systems are more susceptible to new malware and exploits when connected to the Internet, and malware can cause games and PC It can cause slow performance, crashes, and even malware can steal Steam accounts and credentials.'
Steam announces hardware and software surveys every month, and according to
the survey results as of February 2023
, Windows 7 (64bit) users account for 1.43% of the total, Windows 8.1 (64bit) accounts for 0.34%, and Windows 7 users account for 0.34%. (32bit) users are 0.09% of the total. In other words, about 1.86% of the total will be affected by this end of support.


In Steam, game purchase information is tied to your account, so basically your purchased games will not disappear due to the end of support. Also, depending on the game, save data can be saved in the cloud, so even if you move to a new environment, you may be able to continue playing the game as it is.

Although the free upgrade from Windows 7 to Windows 10 has ended via Windows Update, it can be done free of charge using the media creation tool.

Summary of how to upgrade from Windows 7 to Windows 10 for free now - GIGAZINE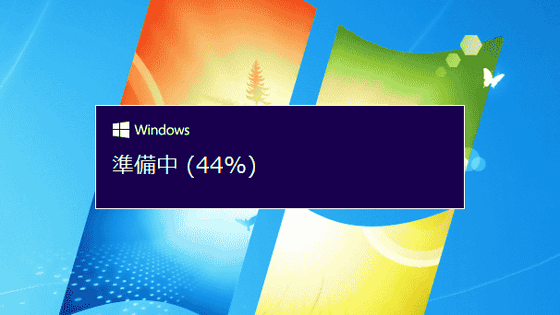 Also, Microsoft has announced that 'Windows 10 support will end in 2025,' so Windows 10 users are likely to be able to play with Steam for a while longer.

Microsoft plans to end support for Windows 10 by 2025 - GIGAZINE