Microsoft opens Bing's chat AI to all users, announces enhanced AI functions such as ``Answer questions with images and graphs'' and new functions to be added in the future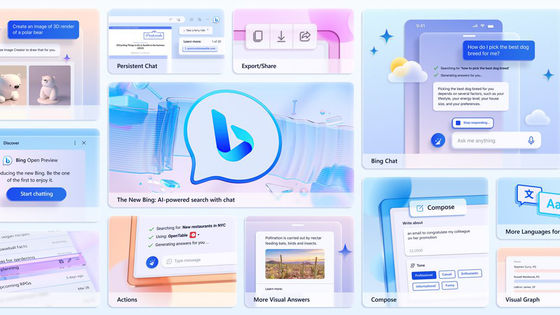 It has been revealed that
the chat AI
implemented by Microsoft for the search engine Bing in February 2023
adopts
OpenAI's large-scale language model ``
GPT-4
''. Meanwhile, on May 4, 2023, Microsoft announced an update to Bing's AI function and future additions.
Announcing the next wave of AI innovation with Microsoft Bing and Edge - The Official Microsoft Blog
https://blogs.microsoft.com/blog/2023/05/04/announcing-the-next-wave-of-ai-innovation-with-microsoft-bing-and-edge/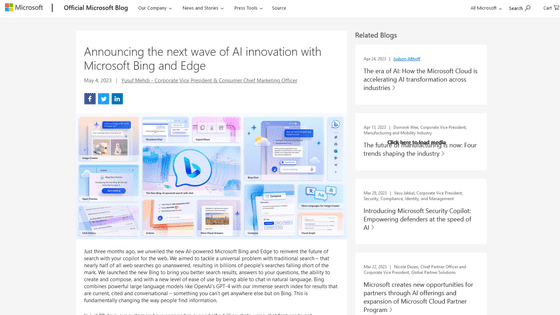 Microsoft barrels ahead with AI plans, opens up Bing Chat preview to everyone | Ars Technica

https://arstechnica.com/gadgets/2023/05/microsoft-barrels-ahead-with-ai-plans-opens-up-bing-chat-preview-to-everyone/
Microsoft's Bing chatbot gets smarter with restaurant bookings, image results, and more - The Verge
https://www.theverge.com/2023/5/4/23710022/microsoft-bing-chatbot-ai-image-video-chat-history-features
Microsoft's Bing Chat AI is now open to everyone, with plug-ins coming soon - The Verge
https://www.theverge.com/2023/5/4/23710071/microsoft-bing-chat-ai-public-preview-plug-in-support
The Next Wave of AI Innovation with Microsoft Bing and Edge-YouTube
Since Microsoft announced its new AI-integrated Bing and Edge, the number of Bing and Edge users has skyrocketed, with Bing reporting
more than 100 million daily active users
in March. It has been. Meanwhile, on May 4, 2023, Microsoft announced that it had implemented a major update to Bing's AI functions and that it planned to add functions in the future.
◆ Deleting the waiting list
Until now, in order to use Bing's AI features, it was necessary to register for a waiting list and participate in an early preview. However, after receiving feedback from many users, Microsoft has removed the waiting list for Chat AI, allowing anyone with a Microsoft account to sign in to Bing to use the AI features. became. With the removal of the waiting list, Bing and Edge's chat AI, which had been in limited preview until now, has moved to the open preview stage.
◆Answer questions with images and graphs
The updated Bing and Edge implement the ability to update the formatting of answers to user questions and provide more visual answers using charts and graphs. This function makes it possible to visually present the information the user is looking for, such as pictures and videos of objects, animals, places, etc., in addition to graphs.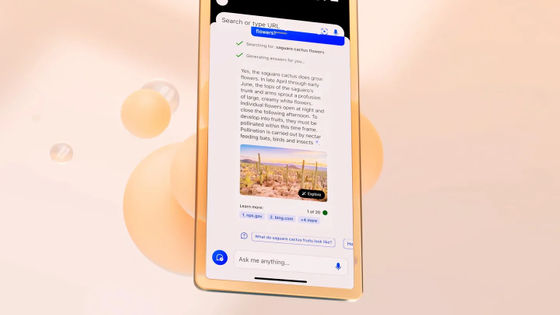 Furthermore, by extending the image generation AI '
Image Creator
' added to Edge to more than 100 languages, it will be possible to easily generate images using Bing chat.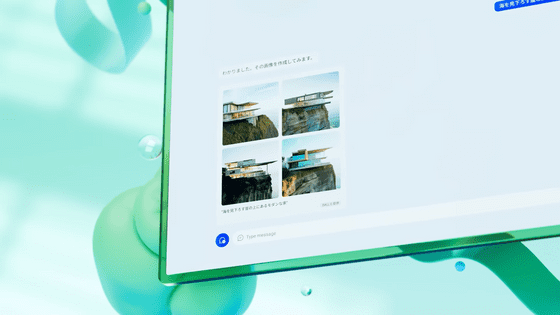 ◆ AI's new action function
Updated AI for Bing and Edge lets you complete tasks without navigating between open sites. As an example, Microsoft explains that when reserving a restaurant, it is possible to suggest an appropriate reservation time to the user while interacting on Bing chat, and to make a restaurant reservation on the chat.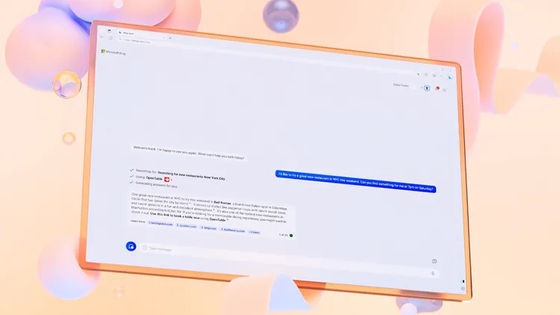 And when searching for a movie to watch, Bing's integrated AI can automatically select the appropriate video-watching service, open the site, and start playing the movie.



◆ Plans to add functions in the future
A future update will add the ability to use your chat history on Bing to share conversations with Chat AI across devices and use Bing Chat as a research tool, Microsoft said. In addition, Microsoft plans to add export and sharing functions to Bing Chat, share conversation content on SNS such as Twitter, and add a function to capture conversation content into sentences written in Word.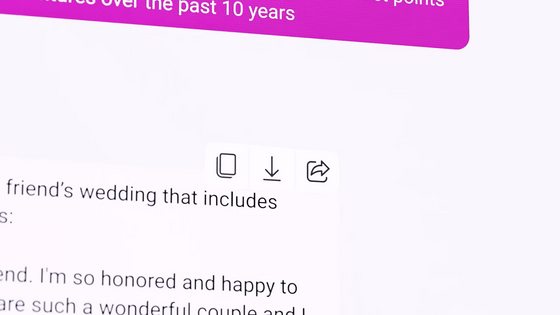 In addition, when you open a linked page from a Bing Chat answer, the ongoing chat will automatically move to the sidebar, allowing you to continue chatting while browsing the opened site. Microsoft has revealed plans for the future to introduce the ability to conduct personalized chat sessions for each user by incorporating some of the previous chat history into new conversations.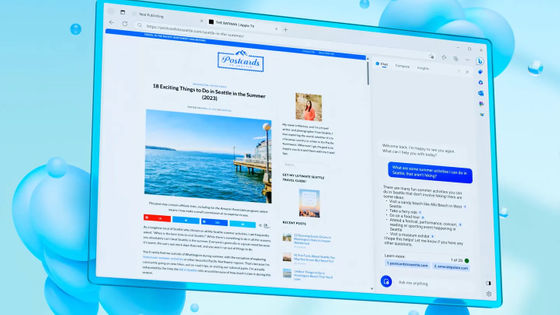 Microsoft says that these features will be available in the next few weeks.

Opening Bing Chat to Third Parties
In addition to the above set of features, Microsoft plans to incorporate third-party plugins into Bing Chat to create a platform for developers. Microsoft hasn't said when the platform will be available, but Microsoft has said OpenTable will support bookings over chat, Wolfram Alpha will provide visual answers with graphs and more, and developers will We are working with OpenAI on the function to access Bing chat, and we are reporting that we are developing new functions jointly with various companies.

``We believe these features are a game-changer in reinventing search and will drive search redevelopment opportunities,'' said Yousaf Mehdi, head of consumer marketing at Microsoft. We will inform you of the details at the Microsoft Build that will take place.'