Original animation movie ``Alice and Telles' illusion factory'' directed by Mari Okada, which depicts ``A tingling youth who is running backwards with all the sweet and sour youth stuff'' Special video release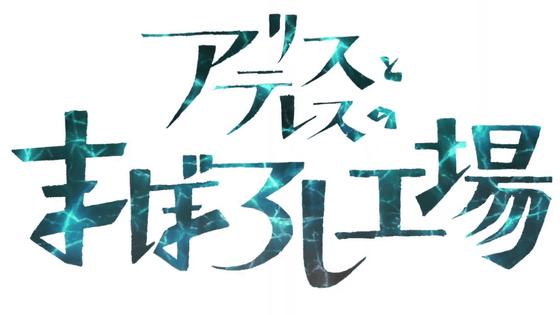 The animation 'Alice and Telles's Phantom Factory' directed by Mari Okada, a scriptwriter known for works such as 'We still don't know the name of the flower we saw that day' will be released on September 15, 2023. It was decided to be released on (Friday), and a teaser visual and a special video were released. The voices of the main cast have also been revealed.

'Alice and Telles' Phantom Factory' Official Site

https://maboroshi.movie/
Official (@maboroshi_2023) / Twitter
https://twitter.com/maboroshi_2023
Official (@maboroshi_2023) • Instagram photos and videos
https://www.instagram.com/maboroshi_2023/
[LIVE] ``MAPPA STAGE 2023'' Sunday, May 21, 15:30--YouTube
The story of 'Alice and Telles' illusion factory' is as follows.
Masamune is a third-year junior high school student who lives in a town where time has stopped because all exits have been lost due to a sudden explosion at a steel plant. In order to return to the original one someday, the residents are forbidden to change and spend their days depressed, guided by a mysterious classmate and set foot in the No. 5 blast furnace of the steel mill. There was a wild wolf-like girl who couldn't speak. The encounter between the two girls and Masamune throws the balance of the world into disarray, and the unstoppable [impulse to fall in love] of boys and girls who are tired of everyday life begins to destroy the world.


The following special video has been released.

Movie 'Alice and Teres' Magical Factory' Special News | maboroshi 2nd Trailer-YouTube

©新見伏製鐵保存会

Mari Okada said, 'We still don't know the name of the flower we saw that day.' 'My heart wants to scream.' Gundam Iron-Blooded Orphans', 'Kiznaiver', etc., and served as director for the first time with 'Let's decorate the promised flowers in the morning of goodbye' released in 2018. This is the director's second film.

The released teaser visual is a figure of a girl holding her hand up to the light with a catchphrase that reads, 'Don't get close to this girl.'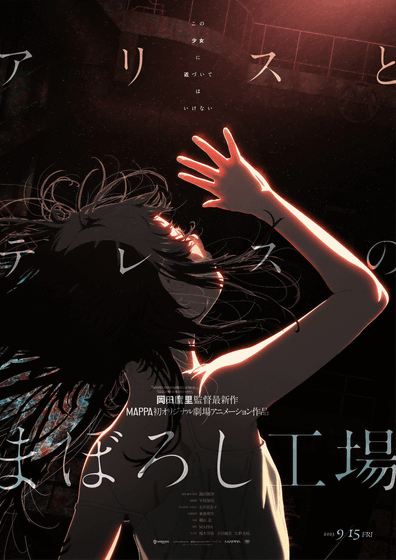 The following comments have been received from Director Okada.

With 'Alice and Telles no Illusion Factory', thanks to the passion of the many staff involved in the work, we are gradually seeing the completed form of the work.
One of the reasons I made this work was that I wanted to create the air of Japanese movies and theatrical animations that I admired as a child with modern grammar. I think it's becoming a video that's somewhat nostalgic, yet a bit like I've never seen before, while keeping the ideals I had.
Boys are the main characters in this work, but it depicts a tingling youth who is running in the opposite direction from the sweet and sour youth. All the staff will do their best so that everyone can enjoy it. Thank you very much.


A novel written by Director Okada will be released on Tuesday, June 13, 2023.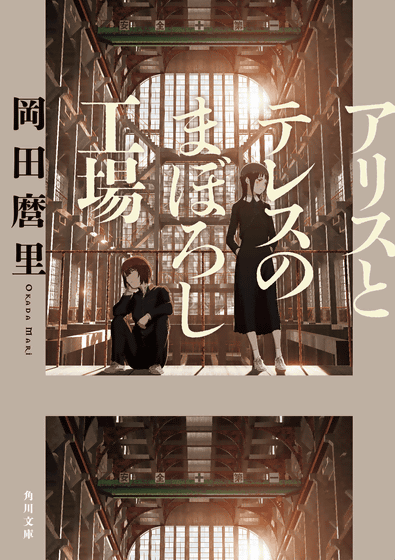 The movie 'Alice and Telles' Phantom Factory' will be released nationwide on Friday, September 15, 2023.

◆ Work information
Original story/screenplay/director: Mari Okada
Assistant Director: Tadashi Hiramatsu
Character design: Yuriko Ishii
Art Director: Kazuo Higashiji
Music: Masaru Yokoyama
Production: MAPPA

Starring: Junya Enoki, Rena Ueda, Misaki Kuno

Distributor: Warner Bros. Pictures, MAPPA
©新見伏製鐵保存会