Nikon regulates overseas sales of second-hand lenses at online auctions, and what is the answer to the question 'Who owns the camera I bought myself?'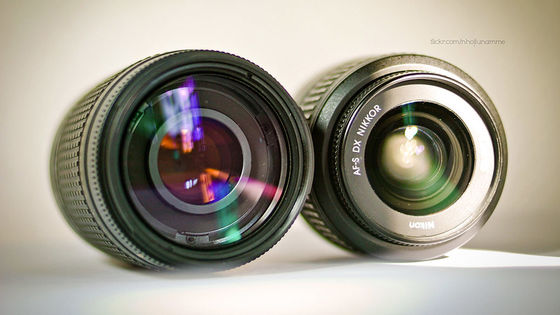 by
Jonathan Emmanuel Flores Tarello
YouTuber Louis Rothman, who runs a MacBook repair business personally, reports that when he sold Nikon lenses on eBay, an Internet auction site, Nikon restricted sales to foreign countries.
Who owns this camera, Nikon? Me or you?-YouTube
Mr. Rothman was selling used camera lenses on eBay and others. This lens is not the lens format of the current camera, but the lens of a camera that has already been discontinued at the time of writing the article. However, one day Mr. Rothman received a message that Nikon's lenses sold on eBay could not be shipped overseas.
In the email received from eBay, 'Through eBay's Verified Rightsholder Program, Nikon has notified eBay. Your listing is still being sold to domestic buyers. Removed from eBay's international shipping program.' 'eBay's international shipping program is designed to protect our customers and protect the intellectual property of rights owners under the Policy
of the Intellectual Property Protection (VeRO) Program,
' eBay said. It turned out that Nikon notified eBay from the viewpoint of intellectual property protection.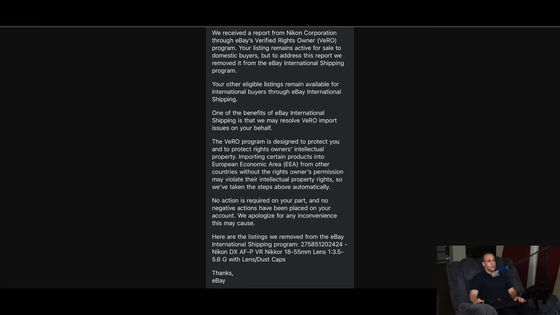 Rothman said, ``After Nikon sells me a lens, can I have a say in what I do with my property? Why should I sell Nikon lenses like sniper rifles and tanks? Did you think I was doing it?' criticized. Of course, the rights relationship differs depending on the country, so even if it conflicts with the rights problem due to the circumstances of the country, it is strange that the manufacturer called Nikon intervenes in the sales platform called eBay. .

However, Mr. Rothman said, ``Of course, I'm not an expert in mail-order lenses, so I may have overlooked something. However, it should be managed by the government, not by a specific company."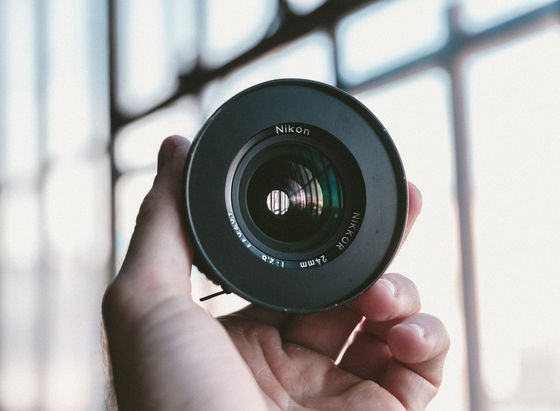 In response to Mr. Rothman's question, there were many comments showing understanding that Nikon worked on eBay in both the YouTube comment section and the social news site Hacker News.

According to Hacker News, 'My guess is that this was an attempt to block imports through the gray market, and this Nikon lens just got caught up in it. Nikon probably used eBay's veRO program. Manufacturers can vary greatly in price depending on the country or region, and in order to protect their own interests, most manufacturers do not provide services for lenses imported on
the
gray market.' There are many opinions that restricting the sale of lenses to such an extent is to protect their own interests.
According to one
comment
, a ruling
was handed down in 1998
that trademarked goods obtained on the 'grey market' that can be purchased outside the country such as Amazon can be effectively blocked in the EU. This is to prevent retailers from buying genuine products cheaply from markets such as Asia and the US and selling them below the official price within the EU. It seems that it was also
allowed
to return goods and destroy goods to exercise intellectual property rights.
In other words, even for the same camera lens, the company in charge, the details of the warranty, and the law to comply with differ depending on where it was purchased, so it can be said that it is extremely difficult for manufacturers to handle products sold on the gray market. Hacker News also
commented
, ``The gray market gray indicates that manufacturer support for updates and warranties is in the gray area, because much of it is limited to where you originally purchased it.'' It was done.