Discard the ``contract not to upload a specific movie'' that the pirated movie site had signed with the movie company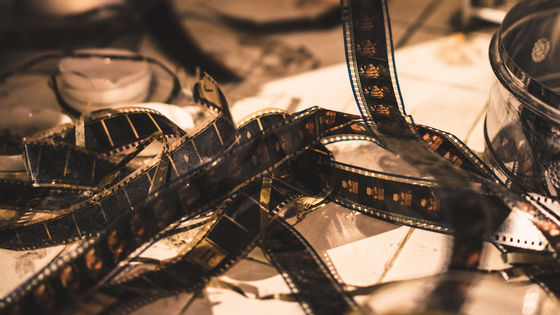 YIFY Torrents (YTS), which
is said to be the most accessed torrent site with millions of users, has a large amount of pirated movies uploaded, but some independent film companies and site operators have settled The agreement prevented the company's titles from being illicitly dealt with. However, it was reported that YTS has canceled the settlement agreement and started uploading the target content.
YTS Breaks Unique Settlement Agreement by Uploading Pirated Films (Updated) * TorrentFreak
https://torrentfreak.com/yts-breaks-unique-settlement-agreement-by-uploading-pirated-films-230708/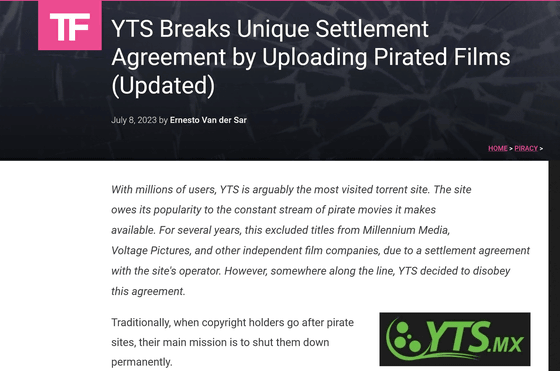 Torrent Site YTS 'Settles' Piracy Lawsuit with Movie Company but Stays Online * TorrentFreak
https://torrentfreak.com/torrent-site-yts-settles-piracy-lawsuit-with-movie-company-but-stays-online-200102/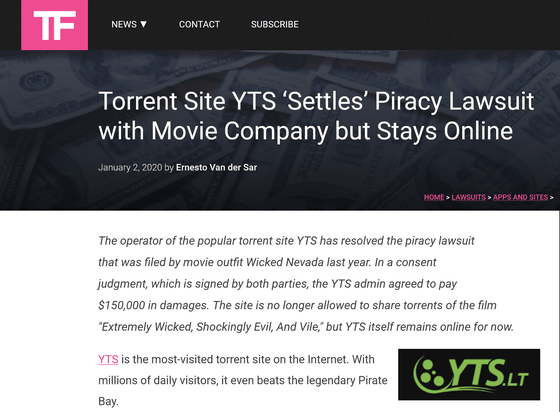 In 2019, independent film studios not affiliated with
the Motion Picture Association, Inc. (MPA),
including
Millennium Media
and
Voltage Pictures, said
popular torrent sites and their operators carried out or facilitated large-scale copyright infringements. It has filed multiple lawsuits. YTS is also included in the lawsuit.
In many cases, the purpose of copyright owners to sue piracy sites is to shut them down. However, in a lawsuit filed by a movie company called Wicked Nevada, YTS paid $ 150,000 (about 20 million yen) in damages and agreed to a settlement that YTS would not upload Wicked Nevada's work while it survived. was
reported
to have signed Reports suggest that lawsuits between Millennium Media and Voltage Pictures also agreed to remove from YTS torrents linking to works by those studios.



However, around the first week of July 2023, it was confirmed that some titles of Millennium Media and Voltage Pictures, which should have been prohibited by the settlement agreement, were uploaded to YTS.

The following image is a YTS page reported by TorrentFreak, which deals with news such as copyright infringement and piracy, and you can see that Millennium Media's ' Hitman's Wife's Bodyguard ' is handled. In addition, TorrentFreak said that uploads were confirmed mainly for those released after 2021, such as `` Marvelous '' `` The Offering '' produced by Millennium Media and `` Tojikome '' by Voltage Pictures.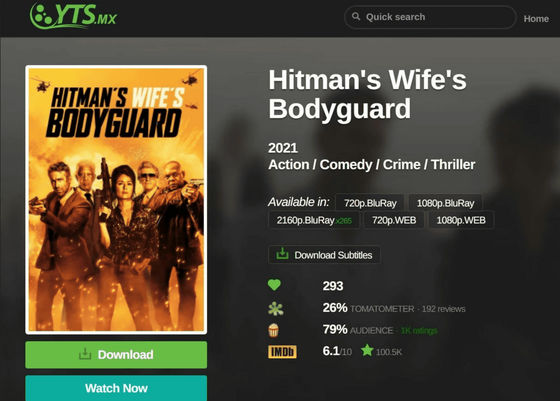 Kelly Culpepper, who represented the defense in the lawsuit at the time, said, 'YTS has responded to content removals in the past, but the court's jurisdiction over the matter expires at the end of 2021. The request appears to have had no effect.It is disappointing that YTS will not comply with a permanent injunction on the 2020 lawsuit.We will consider next steps.'

It's not clear what approach the film studios and lawyers will take as a 'next step', but TorrentFreak said 'the most likely option would be to somehow revitalize the legal battle. However, due to some trust issues, including this one, I doubt the filmmakers will settle again.'

The titles of Millennium Media and Voltage Pictures uploaded to YTS were deleted a few days later.