Hollywood actors and screenwriters strike for `` AI regulations that take away jobs ''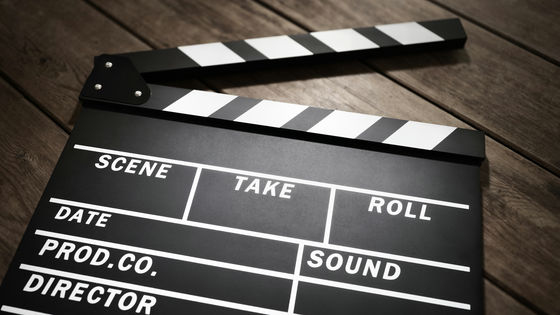 From June 2023, the Screen Actors Guild, the Federation of American Television and Radio Artists (SAG-AFTRA), and the Motion Picture and Television Producers Alliance (AMPTP) have been negotiating for several weeks. However, negotiations fell through and actors and staff affiliated with SAG-AFTRA announced a strike. In addition to raising wages and improving the working environment, SAG-AFTRA has presented a request to ' regulate the use of AI that deprives screenwriters and actors of their jobs .'

Hollywood Studios Respond To SAG-AFTRA Strike: "Financial Hardship For Countless Thousands" – Deadline
https://deadline.com/2023/07/actors-strike-studios-respond-sag-aftra-1235437389/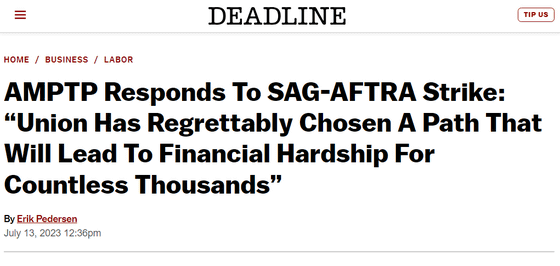 Hollywood studios proposed AI contract that would give them likeness rights 'for the rest of eternity' - The Verge
https://www.theverge.com/2023/7/13/23794224/sag-aftra-actors-strike-ai-image-rights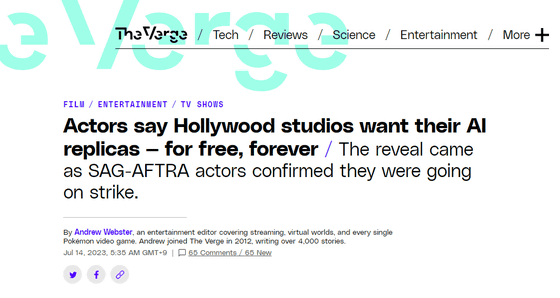 In May 2023, the Writers Guild of America (WGA) is also on strike, and both the WGA and SAG-AFTRA are concerned about low wages and the deterioration of the working environment in the film and television industry.

The Board of Directors of the @WGAwest and the Council of the @WGAeast , acting upon the authority granted to them by their memberships, have voted unanimously to call a strike, effective 12:01 AM, Tuesday, May 2.

— Writers Guild of America West (@WGAWest) May 2, 2023


Low wages and deteriorating working conditions in the film and television industry are said to have been accelerated by the spread of streaming services, and the WGA said, ``Each distribution company uses the shift to streaming to cut the salaries of screenwriters and write and production, making working conditions worse for screenwriters at all levels.'

Then, SAG-AFTRA negotiated with AMPTP at this time because the contract with the National Film Directors Guild (DGA) expired on June 30, requesting wage increases and improvements in the working environment. Twelve hours after talks between SAG-AFTRA and AMPTP broke down, AMPTP released the following statement during a press conference where SAG-AFTRA members formally announced the strike.

"The AMPTP and its affiliates entered into negotiations with the goal of signing a new reciprocal agreement with SAG-AFTRA. The AMPTP will provide historic pay increases, overtime pay increases, pension and health insurance premium caps. , a shorter series option period, and proposals for groundbreaking AI to protect actors' digital portrait rights for SAG-AFTRA members.Bringing TV shows and movies to life. A strike is not the result we wanted because studios cannot operate without performers, and SAG-AFTRA regrettably chose a path that will lead to financial hardship for the countless people who depend on this industry. "

The reason why the WGA and SAG-AFTRA went on strike this time is not only to improve the working environment, but also to ``regulate the use of AI so that human screenwriters and actors will not be deprived of the opportunity to work with AI.'' I also claim. Duncan Crabtree, who was a SAG-AFTRA negotiator, regarding the 'proposal for groundbreaking AI to protect actors' digital portrait rights for SAG-AFTRA members' in the AMPTPT statement above. Ireland said, ``The proposal for AI presented to us by AMPTP is that extras will have their faces and figures scanned and receive a day's salary, and in return, companies will agree or guarantee the scanned images and portraits. If you think this is a groundbreaking proposal, you should think again.'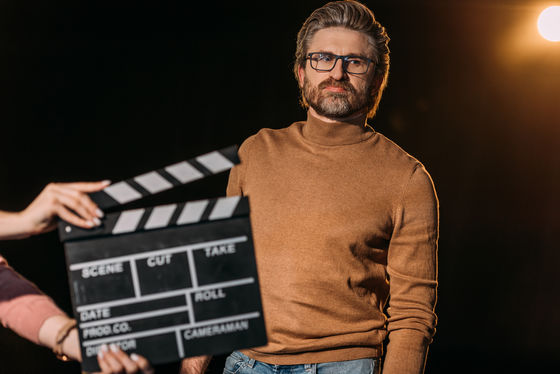 'If we don't stand firm now, we will all be at risk of being replaced by machines without solving our problems,' SAG-AFTRA President Fran Drescher said at a press conference. I commented.